Fantasy Football: Brian Robinson is a One Dimensional Back We Want On Our Teams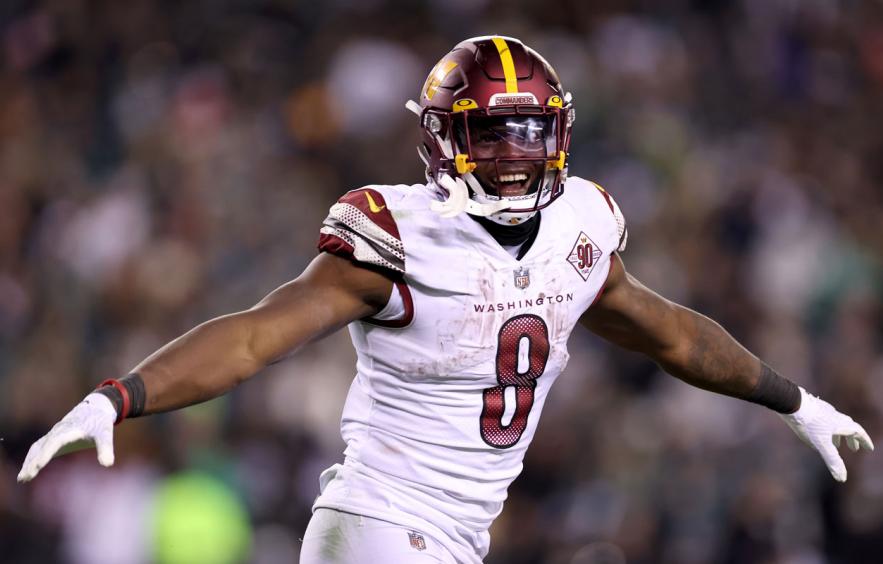 Scott Taetsch/Getty Images
Saying that Washington Commander running back Brian Robinson had a truly insane rookie year would be quite an understatement. Coming off the board as the 98th overall pick and sixth running back selected in the 2022 NFL Draft, the former Alabama back was presumably set for the early-down role for Washington leading up to the regular season kickoff when unbelievable news struck. Robinson was shot in his glute and lower leg during a botched armed robbery which resulted in surgery.
Not only did Robinson return to play early in the season, he wound up only missing the first four games of the year, seeing the field for the first time only six weeks after the incident. With a full, safe offseason in 2023, let's dig into what Brian Robinson can do on the field and for fantasy.
---
Click here for more 2023 Player Profiles!
---
A Minor Setback into a Moderate Role
It would shock no one to know that Brian Robinson had a slow start out of the gate when he eventually hit the field in Week 5 during a close loss to the Tennessee Titans. It would wind up being one of only two games during his rookie season in which he saw less than 20 snaps. Regardless, he still saw plenty of action over the course of the year, seeing at least 20 touches on six occasions over his ten starts and finishing fifth among rookie running backs in rush attempts. This, despite missing what amounted to four and a half games.
The positive takeaway we can find while digging through Robinson's 2022 usage is that if he was healthy and up-to-speed, he was hands-down the early down back, and that led to a number of usable fantasy weeks.
Now, with that, it's very important to point out his lack of involvement in the passing game. Among any rookie running back with any substantial workload, he was easily the least used in the receiving game, and that is even more painfully obvious when we look at his usage on third downs. According to Sports Info Solutions' numbers, not only was he never targeted on third down, he only ran two routes.
Compare that to teammates Antonio Gibson (61 routes run on third downs) or J.D. McKissic (67), and we see a gaping hole forming in one of fantasy's most important aspects. We would need to see a monstrous increase in his third-down role to improve his receiving numbers, but there's a small possibility that a free-agent loss could give him a slight opportunity.
Washington's Loss is a Sophomore Rookie's (Unlikely) Gain
The Commanders' season through the beginning and middle of the year was a murky mess of a three-headed backfield, with Brian Robinson on the outside looking in for any sort of passing game usage. Then the team was forced to place passing game specialist J.D. McKissic on the IR due to a neck injury, and, well, nothing really changed for the rookie. Rather, teammate Antonio Gibson's passing game involvement exploded to 30 routes run per game, up from the 11 routes he ran per game in the first eight weeks of the season.
Robinson's routes run per game jumped from 3.5 to a still-lowly 5.5 per game. As a matter of fact, those numbers are both lower than what journeyman running back Jonathan Williams, a special teamer, got in the back half of the year. So, while the loss of J.D. McKissic may help ensure that Robinson has a very healthy carry floor heading into his sophomore season, nothing is pointing toward it positively impacting his 2023 reception count.
How To Draft A Clear-Cut Washington Backfield
After harping on Brian Robinson's lack of passing game involvement in his rookie, and, very likely, sophomore years, it's important to reiterate that the team entrusted him with a heavy workload while coming back from a freak occurrence that unjustly sidelined him. He likely wouldn't have a massive fantasy ceiling no matter where he played, and things just feel exacerbated because Antonio Gibson —a former wide receiver and fantastic pass catcher— shares his backfield. Nonetheless, the team entrusted him with the second-most rush attempts from inside the opponents' 10-yard line (14 to Gibson's 16) and allowed him to average 19 carries per game in the second half of the season.
Robinson isn't exactly what we're looking for from a fantasy goldmine, but he should be considered a high-floor RB3, up to a borderline RB2 heading into the 2023 season, particularly in standard scoring leagues. There is a slight chance for more if Offensive Coordinator Eric Bieniemy is able to buoy Sam Howell and the offense as a whole.
While an injury to Antonio Gibson isn't likely to shoot Brian Robinson to the moon, the inverse is certainly true. Gibson should be thought of in that same RB3 region, but if anything were to happen to Robinson, Gibson would be a crazy value at his current RB38 ADP.
As for rookie sixth-rounder Chris Rodriguez, he doesn't need to be on fantasy radars until we hear otherwise. As with all rookies, he is "in a good place with his development" but remains no higher than No. 4 on the depth chart.

Bottom Line
Brian Robinson will get an entire preseason schedule ahead of him to attempt to soothe the unfortunate start to his rookie season.
A larger role in the passing game is still unlikely, even with the departure of J.D. McKissic.
The sophomore is going to see a lot of stacked boxes from game to game, but if he's looking at 20-25 touches a contest, we can (frustratingly) live with it.
Robinson is sitting at 107 in Underdog ADP, slightly ahead of teammate Antonio Gibson at 120, as the RB34 and RB38, respectively. The current rankings at 4for4 have them both right around that area, with Gibson coming in at a slightly better value. Both are options for RB-needy builds, but the ceiling is too questionable to select both on the same team.