7 Draft-Worthy Fantasy Football Players With Injury Concerns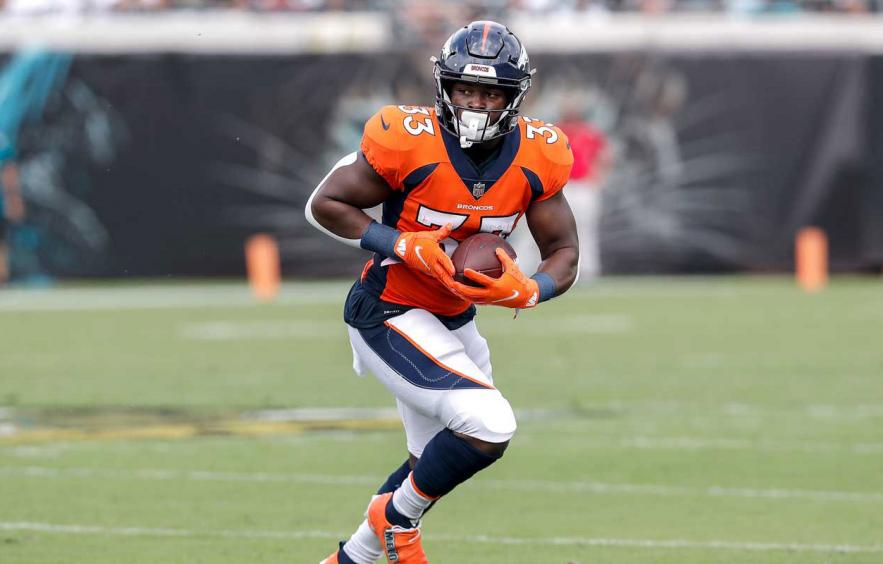 Don Juan Moore/Getty Images
As we approach the end of July and head into August we are approaching the best time of the fantasy football season. A pivotal part of preparing for your fantasy football season is understanding ADP. By familiarizing yourself with ADP, you can take advantage of value pockets when constructing your roster. With training camp underway we are likely to see ADPs spike and free fall with news, hype videos, and buzz from preseason games.
Another reason for discrepancies in ADP is injuries.
That's where I come in. Below I break down the ADPs and injury histories of players who are likely to be drafted in all fantasy football leagues. I will also discuss their 2023 outlook to help you decide if you are going to target or avoid them as you head into your draft(s) in the upcoming weeks.
---
Dominate your Fantasy League: Rankings | Sleepers & Traps | How to Win the Flex | Fantasy Football Team Names | In-Depth Player Profiles | 20 Winners and Losers in PPR Formats
---
RB
Breece Hall

,

Jets

(Multi-Site ADP: RB11, 3.03)

The data on RBs one-year post-ACL Reconstruction (ACLR) is not very good, but like anything, there are some exceptions. The select few of RBs who have done very well typically were very good athletes and heavily involved in the passing game. Breece Hall checks the first box and after a 12% target share his rookie season, the former Cyclone links up with Aaron Rodgers who kept Aaron Jones' target share above 13% the last three seasons.

Hall's ADP is surely to change if Dalvin Cook signs with the Jets but even if somehow dodges adding a veteran to the backfield, his draft point is getting to an uncomfortable stop for me personally. Examining historical comps, Hall is getting set up by fantasy managers to fail. If his ADP rises any further, the investment is far too rich.
RB
Javonte Williams

,

Broncos

(Multi-Site ADP: RB30, 7.08)

For all the reasons I mentioned above on why I am bullish on Breece Hall this year, I am concerned about Javonte Williams. Williams does not hit the same athletic measurables that RBs who have succeeded in the past have nor has he been a prolific receiver. Additionally, research has shown that athletes who have had the type of ACL tear Williams sustained take on average need an additional 100 days to recover.

With all that in mind, Williams was not placed on the PUP, he has been ahead of schedule, and appears to be on track to be the Broncos starter in Week 1. But there are enough data points that suggest betting against Williams is the right process. In late June Williams was a ninth-round pick but his ADP is on the rise and I expect it to continue moving upward.
Javonte Williams' ADP change remains odd — the bet was always on the position's historical lack of production following an ACL tear. Being in practice shouldn't move the needle.



Samaje Perine is becoming the heist of the century. pic.twitter.com/4wPVAGnLjV

— John Daigle (@notJDaigle) July 29, 2023
When it comes to deciding if picking Williams is the right move for you, pivoting to other players with much higher upsides is looking like the best choice.
QB
Joe Burrow

,

Bengals

(Multi-Site ADP: QB4, 3.10)

We all held our breath when the video circulated on Twitter…or is it "X" now? Burrow's non-contact was concerning. But video suggested Burrow merely sustained a calf strain and this was later confirmed by the team. Typically this injury would result in a two-week absence but Cincy's franchise QB was donning a new sleeve on his right leg suggesting this was an old/recurring injury. Based on this information and how important Burrow is to the Bengals' offense I would expect the team to proceed cautiously. Don't be surprised to see an extended absence but he should be ready for Week 1 with a low chance of aggravation. Draft Burrow. Draft Ja'Marr Chase. Draft Tee Higgins. Draft them all.
WR
Garrett Wilson

,

Jets

(Multi-Site ADP: WR9, 2.06)

Another player who sustained a scary injury at the start of training camp was second-year Jets' wideout Garrett Wilson. Per New York head coach Robert Saleh, Wilson is dealing with a low (inversion) ankle sprain. There are roughly six weeks until the NFL regular season kicks off and for most ankle sprains this is more than enough time.

The average return time of NFL WRs is two weeks with a moderate same-season re-injury risk of 11.3%. Because the Jets have said they are going to be cautious with Wilson it would not be surprising to see him miss 3-4 weeks to ensure his health for Week 1. This might hurt his chances of developing some much need rapport with his new QB Aaron Rodgers but it should not hurt his ADP or your willingness to draft him in fantasy football drafts.
TE
Kyle Pitts

,

Falcons

(Multi-Site ADP: TE5, 5.08)

Originally when Kyle Pitts sprained his right knee he believed the injury was "not serious". Further testing revealed that surgery was needed for his MCL. A normal return time following this surgery is around eight months which as of today (July 29) is exactly where Kyle Pitts is at. The largest vote of confidence is Atlanta not even keeping Pitts on the PUP to start training camp. He has been given the green light by the team, I am giving you the green light to draft him.
WR
Kadarius Toney

,

Chiefs

(Multi-Site ADP: WR40, 8.09)

While most players are clearing/avoiding the PUP, Kadarius Toney is heading in the opposite direction. In his first training camp practice, Toney injured his knee and would require surgery. Typical return-to-play timeline for Toney's procedure is about four weeks but it's worth noting two important details.

Toney had the exact same procedure on the same knee last season. During this extensive injury history, 40% of the time Toney has missed longer than the average return times for his position.

A six-week timeline is well within the range of outcomes for Toney, putting him on track to be ready just before the Chief's season kicks off on September 7. For a player who was traded mid-season in 2022, it felt like Toney needed a good training camp to mesh with Patrick Mahomes. Taking all of this into consideration, Toney becomes a player I'm fading in 2023.

QB
Brock Purdy

,

49ers

(Multi-Site ADP: QB24, 12.06)

Brock Purdy is a draft-worthy player depending on your league format. In more QB-needy leagues Purdy is a viable option. 49ers GM John Lynch announced at the start of training camp was "cleared without restrictions", a great sign. Doubters may point to the lack of success that Ben Roethlisberger and Matthew Stafford had post-elbow injuries but this is a different scenario. A UCL repair (surgery Brock Purdy had) has a timeline of about six months for return to play, nearly half of a reconstruction aka Tommy John. Additionally, both Roethlisberger and Stafford were at the back of their careers, while Purdy is nearly 24. All offseason Purdy has been ahead of schedule and this recent news further reinforces that. Trey Lance truthers will live in denial but Purdy is going to be under center in Week 1.