Breece Hall: Injury Profile and 2023 Fantasy Football Outlook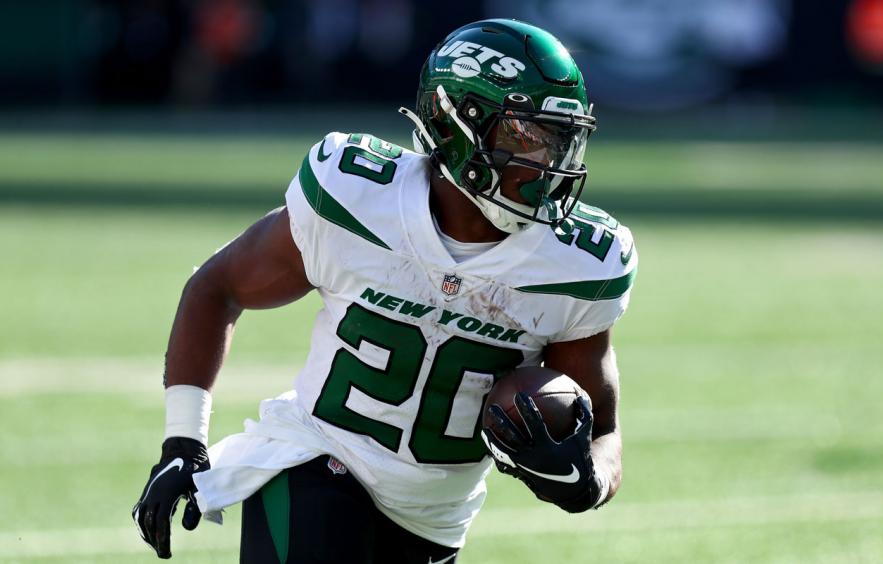 Edward Diller/Getty Images
Right when Breece Hall started getting rolling, his rookie campaign came to a screeching halt when he tore his ACL. These injuries are difficult for any player but as sports medicine continues to advance and with what data tells us about young players' recovery post-ACL reconstruction (ACLR), there is a glimmer of hope for the former Cyclone. I discuss Hall's 2023 outlook in more depth below.
---
Click here for more 2023 Player Profiles!
---
Breece Hall

's 2022 Recap

The Jets' offense was pretty dreadful last season ranking in the bottom five in almost every important statistic: total points scored, points per play, 3rd down conversion percentage, and they ranked dead last in Team Quarterback Rating (QBR) mostly because of this guy…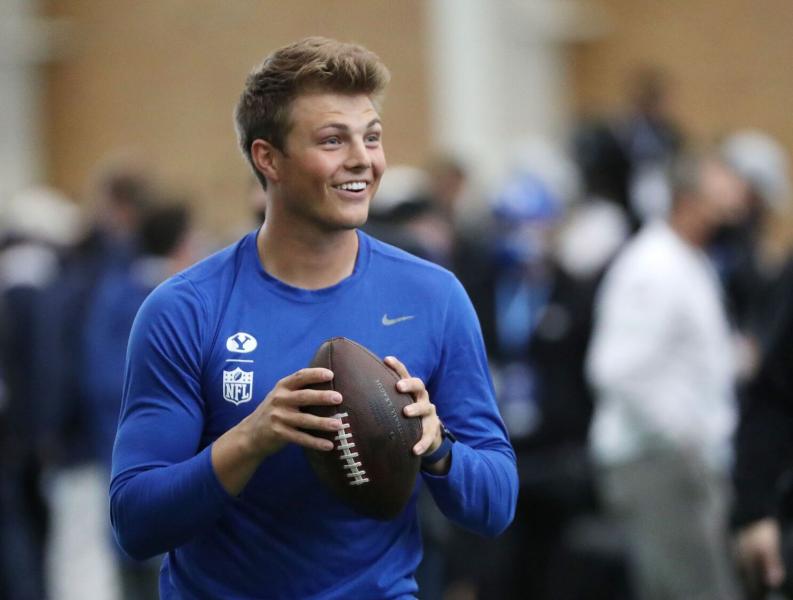 Combine the poor offensive production with a small sample size and it's difficult to get a beat of how Hall's 2022 fared before the injury. From the jump, Hall was heavily involved in the passing game, netting double-digit targets in two of his first three games—something he displayed at Iowa State and a skill he will need post-ACLR. Additionally, prior to his season-ending injury, Hall's snap share and carries were steadily increasing as he crested at 69% snap share with 20 carries.
In half-PPR leagues, Hall averaged over 15 fantasy points per game. Extrapolated across an entire season that would have had him inside the top 10 at the position. And thus the intrigue. Even in the poorest of situations, Hall was able to thrive and there was evidence his numbers were going to continue to improve.
Post-ACLR Data in Year 1
The year after an ACL tear is challenging. This applies to most positions but is especially true for RBs. Efficiency typically declines, which in turn negatively impacts fantasy production. To give you an idea of this impact, below are the averages from NFL RBs from 2001-2022
RB Production Pre vs. Post ACLR (%), 2001–2022

| Attempts per Game | Rush Yards per Game | Yards per Attempt | Target Share | Receiving Yards per Target | Fantasy Pts per Game |
| --- | --- | --- | --- | --- | --- |
| -9.2% | -15.7% | -16.4% | -16.9% | -2.5% | -26.9% |
The table above paints a pretty clear picture based on the averages but it is interesting to note that the RBs that did succeed in their first year back had a healthy target share and were relatively efficient in the passing game. Players like Jamal Lewis, Ronnie Brown, and Adrian Peterson (typically not viewed as a strong receiver) all did well by checking these boxes. Even though it is a small sample of players, measuring the change in target share can be helpful for predicting fantasy production.
It's also worth mentioning that 41% of these RBs were able to achieve at least 80% of their fantasy output from the previous season in the first quarter of the season (Weeks 1-4) but it was difficult to sustain. Only 17% were able to continue this to the halfway point of the season. This likely explains the drop in fantasy production as some players are able to get off to a good start but struggle as the season progresses.
Looking Ahead to 2023
Analyzing historical comps of running backs the first year after ACLR, here is a projection for the number of games Breece Hall will play in 2023: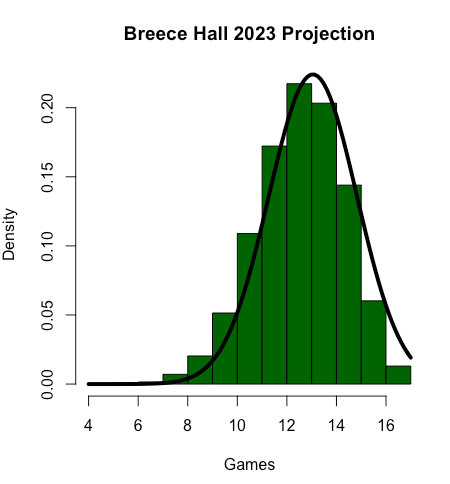 8.8% to play a full season
84.1% to play at least 12 games
My projection: 13.5 games
Additionally, if you want to use target share as a predictive metric for how an RB fares the following season, Hall would be projected to finish below his current 4for4 projection in half-PPR leagues. In his seven games played, Hall posted a healthy 12.0% target share. This is sustainable. Aaron Jones was able to secure at least a 13% target share his last 3 seasons playing alongside Aaron Rogers, so I would expect something similar for Hall in 2023. Combining the mini decline with my projection of 13.5 games played, Hall would slide into the RB12-14 range.
Breece Hall

's ADP
(updated 8.14.23 - post Dalvin Cook signing with the Jets)
As of mid-July, Hall was being selected in fantasy drafts as RB11 in the middle of the 3rd round. Overall I was okay with this spot but preferred other RBs in that range: Jahmyr Gibbs, Najee Harris, and Joe Mixon. Now with Dalvin Cook in New York I would expect Hall's draft slot to drop to somewhere in the 5th round. He is still the RB to roster in New York but with both efficiency and volume concerns his upside is capped. If you drafted early and took Hall, it is a sunk cost at this point.

Bottom Line
As we roll into training camp Breece Hall is currently on the PUP but based on his recovery timeline I do expect him to be ready for Week 1 of the 2023 season (players can come off PUP anytime before the start of the regular season) and there has been no real indication that he will not be before the Dalvin Cook signing. Even so, there are still some factors that have caused me to sour on Hall a bit.
Typically every major RB metric declines the first year back following ACLR, but those who succeeded did so with a healthy target share and/or no change in yards per rush attempt.
It's unlikely Hall plays a full season (most RBs don't) but 13-14 games seems very realistic.
With Aaron Rodgers, I would expect Hall to be heavily involved in the passing game but even so, there are enough risk factors for me to bump him outside the top-12 at the position.
Hall's current 3rd round ADP is sure to drop and I would be more comfortable with him in the 5th/6th round due to his capped ceiling.