2023 Dynasty Rookie Draft: First Look
Tim Warner/Getty Images
Welcome to the first in a series of dynasty content pieces here on 4for4. We at dynastyleaguefootball.com (DLF) are excited to see our partnership with 4for4 expand to bring you relevant dynasty content to keep you engaged all off-season. In 2006, I co-founded DLF and we're still going strong today as the world's oldest and largest dynasty-centric fantasy site. Give me a follow @DLF_Jeff and let me know if you like this content.
---
Dynasty Rankings: 4for4 Top 250 | 4for4 Top 250 Superflex | DLF 2023 Dynasty Rookies | DLF Dynasty Cornerstone Rankings | 2023 Rookie Superflex | Dynasty IDP Rankings
---
In dynasty, I'm fond of saying: "There is no offseason!" The end of the regular season ushers in an opportunity to get ahead of your competition through early assessment and scouting of the upcoming NFL Draft.
Regardless of how your dynasty team finished 2022, the NFL Draft has a significant role to play in your preparation for 2023. Whether you possess the first pick in the draft, the last, or a combination of selections, the talent quality and depth of each class is unique, with unique opportunities. But with those opportunities also comes pitfalls to be avoided. Before getting into my breakdown of this year's positional depth, let me say a few words about rookies, scouting, and one of the primary pitfalls I see dynasty coaches of all experience levels make.
For myself, there's no greater excitement than preparing for the annual NFL Draft. From rookie declaration day to the NFL Combine to the NFL Draft and dynasty rookie drafts to follow, it just doesn't get any better than that. I know I'm not alone in that feeling. But, it is very difficult to build a long-term, competitive, dynasty team using primarily rookie selections.
Until 2019, selecting an impact player from the first round of dynasty rookie drafts was typically a 50-50 proposition. The last four seasons have broken this trend to the upside but, whether this continues, remains to be seen. Unsurprisingly, the first half of the first round in dynasty rookie drafts produces the best results. Once we reach the second round, players bust at a significantly higher percentage. Despite these historical trends and annual rookie depth variance, draft "hype" is always present.
But the biggest threat to your rookie results rests in your level of trust in social networks such as Twitter. Twitter is rife with armchair analysts, scouts, and metric junkies seeking bold claims over tried-and-true research. Don't get caught up in the hype and be very careful whom you choose to follow in this regard. I've been scouting college players for over two decades and, while I will never consider myself a professional, I work very hard at my craft, watch countless hours of film, study the habits and traits of respected professional scouts, and stand behind my research and results. No single scout will possess 100% accuracy, but those who do the work are worthy of your time. Choose carefully.
Let's talk about the 2023 NFL Draft!
2023 Overview
As the 2021 regular season came to a close, a lot of dynasty players were looking beyond the 2022 NFL Draft to 2023. Boasting greater perceived depth at every position, many were quick to sell out of 2022 draft picks and roll them forward to 2023. Given the predicted strength of 2023 when compared to 2022, it was the first off-season I can recall in almost a decade where rookie selections weren't carrying the premium normally seen.
As the 2022 collegiate season played out, the erosion of 2023's rookie premium became a consistent theme. As the college season came to a close, the hype and value of the class were a fraction of what they were only a few short months before. As a keen evaluator of talent and depth of class, I came to the same conclusion, as well. Generally, I'm disappointed. That's not to say there won't be significant impact players from this year's rookie class, but identifying them prior to understanding their drafted situation is going to be a difficult proposition.
Let me briefly summarize the depth of the class by position.

Quarterbacks
2023's quarterback class is going to present a significant risk-on proposition for those needing to invest in the position, especially those playing within the superflex format. In single-quarterback formats, the first quarterback off the board will remain a second-round proposition. There's no transcendent name to push into the bottom of the first round.
At this juncture, Alabama's Bryce Young is expected to be the first quarterback selected, with Ohio State's C.J. Stroud to follow, and Kentucky's Will Levis in the mix. 2023's most intriguing upside talent remains Florida's Anthony Richardson. Richardson is a tremendous athlete with size (6'4/232) but also remains extremely raw with limited experience.
Young is undersized in nearly every prototypical physical metric but possesses leadership, arm strength, and instincts to remain a top selection. Stroud presents a prototypical talent with accuracy, vision, and arm strength protecting his draft stock, but concerns surrounding his ability to produce outside of structure are persistent. Levis played in a pro-style offense, under-center, and possesses this year's best arm strength though concerns about competition level and decision-making will likely keep him as 2023's QB3.
Beyond the top four, we have a mix of names who present well but won't push into dynasty's second round.
* DLF QB Dynasty Rankings & 2023 Rookie QB Rankings
Running Backs
The running back class has gained depth over 2022's collegiate season but remains headlined by Texas phenom Bijan Robinson, as good a prospect as we've seen since Saquon Barkley (2018) and Todd Gurley (2015). In fact, Robinson will remain my only tier-one rookie for 2023 without question.
The strength of Robinson places him squarely as the unquestioned 1.01 selection in upcoming dynasty drafts, regardless of format. But, as has been the case in recent years, the erosion of running back value due to committee and injury propensity is an increasing downward force upon the position as a whole.
Beyond Robinson, Alabama's Jahmyr Gibbs is an easy second choice drawing comps to Saints running back Alvin Kamara, a comp I can get behind. At this juncture, Gibbs will be my second-overall rookie at the top of the second tier.
Beyond Gibbs, the class thins out quickly with multiple backs vying for an elevation in status due to a combination of size, three-down potential, and drafted situation. I still have significant tape review to complete but preliminary results find UCLA's Zach Charbonnet, Syracuse's Sean Tucker, Mississippi's Zach Evans, and TCU's Kendre Miller as dynasty first-round potentials.
While I still believe 2023's class of running backs is a risk-on set of players, I'm intrigued by the size of the class and there's enough dynamic and potential to provide intrigue here, especially into any upside drafted situation. As is the case with every rookie draft pertaining to running backs, be especially careful with applying too much value on any particular player before learning more about his drafted situation. Every year we find top backs drafted into sub-par situations.
* DLF RB Dynasty Rankings & 2023 Rookie RB Rankings
Wide Receivers
Here's where the problem exists with 2023's draft class. The upside prospects of the receiver position took a significant shot to the hull as the 2022's collegiate season played out.
In most every dynasty draft, some combination of running backs and receivers form the body of the first round, with dynasty coaches making their selections based on a combination of positional need, talent, and applied premium. 2023's receiver class didn't pan out as expected. LSU's Kayshon Boutte had a miserable campaign and had decided to return for his senior season before reversing the decision and declaring for the draft. Ohio State phenom Jaxon Smith-Njigba suffered a hamstring injury which effectively ended his season. USC's undersized Jordan Addison percolated to the top of rankings, and rightly so, due to route running and production.
My largest concern about the 2023 receiver class is related to size. Outside of TCU's Quentin Johnston (6'4/215), this class underwhelms. As a scout who prefers size as a difference-making trait to forecast dominance at the next level, there's not enough intrigue here at the top of the first round.
Beyond these aforementioned top-four names, Boston College's Zay Flowers and North Carolina's Josh Downs, both undersized, will push for bottom-first selections in dynasty rookie drafts. I remain decidedly uninspired.
* DLF WR Dynasty Rankings & 2023 Rookie WR Rankings
Tight Ends
For anyone familiar with my scouting, it's well known I do not often overweight the tight end position in dynasty rookie drafts. This is due to a pair of beliefs:
Rookie tight ends are incredibly difficult to project and normally possess a long integration time into the NFL
Very few first-round selected NFL tight ends produce well at the next level
One only needs to look to historical scoring results to see where top fantasy tight ends emerge from. Dynasty coaches will find that tight ends selected in rounds two through four produce the greatest number of performing players. Beyond that fact, there exists little point differential between tight ends outside of the top five players. In recent years, this gap has closed even more. It's a very top-heavy list.
But the greatest reason not to overdraft the tight end is in the fact that even today's top options are usually found on the waiver wire just prior to their first big game(s). It's a much better approach to look for each year's out-of-nowhere player if you have need at the position unless you're willing to pay a premium for a top producer.
This played out with my well-known reduction in the value of 2021's Kyle Pitts. I cautioned against a high selection of Pitts and, in fact, had him ranked in the back half of the first round of rookie drafts. I remain unconvinced that dynasty players should apply a premium to his dynasty value as most still are.
In 2023, we have another dynasty rookie first-round talent in Notre Dame's Michael Mayer. I like Mayer as much as I liked T.J. Hockenson (2019) and even Kyle Pitts. He's certain to be an NFL first-round selection and is deserving of a dynasty first-round selection as well, though not within the first six selections in my estimation.
Beyond Mayer, while I like the athleticism of this class and have significant tape review remaining, it's not likely my second tight end will appear before the end of dynasty's rookie second round.
* DLF TE Dynasty Rankings & 2023 Rookie TE Rankings
Summary
Before viewing my top 12 rookies below, please note that it's still very early in my process, there's significant tape review remaining to be done and changes will occur.
You can find my full set of rankings, well beyond the first round, on DLF.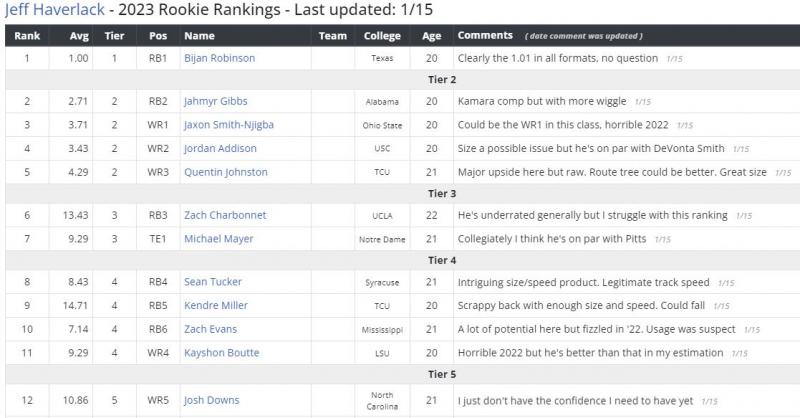 When surveying this list, I find myself quite uneasy outside of the top two rookie selections. The receivers in the 2023 class are varied, wide-ranging, and without enough certainty to provide for the level of confidence I like to possess entering pick 1.03 and beyond. Furthermore, this same thought perseveres into the remaining portion of Round 1.
When in 2022 we forecasted the 2023 dynasty first round to be strong and deep, I now find much more variability and risk than desired. On the positive side, this same risk-on component plays into the hands of competitive dynasty teams holding late-first selections, as talented players slip down draft boards due to less-than-ideal drafted situations.
In conclusion, if my research ended today, this is a draft in which I would prefer to sell draft capital after 1.02 in favor of known production (veterans) or execute a trade-back scenario to acquire multiple later selections, thus offloading the risk-on element to other coaches. In return, I would hope to acquire selections in the later picks (1.08-1.12) of the first round and into the top third of the second round to capitalize on falling talent.
Stay tuned for future updates to my research, tape review, and rankings. Until then, give me a follow on Twitter: @DLF_Jeff. I look forward to hearing your thoughts on this article.
As always, be safe, be well and, please, be good to each other!