Trey McBride and Arizona's Departure from the Horizontal Raid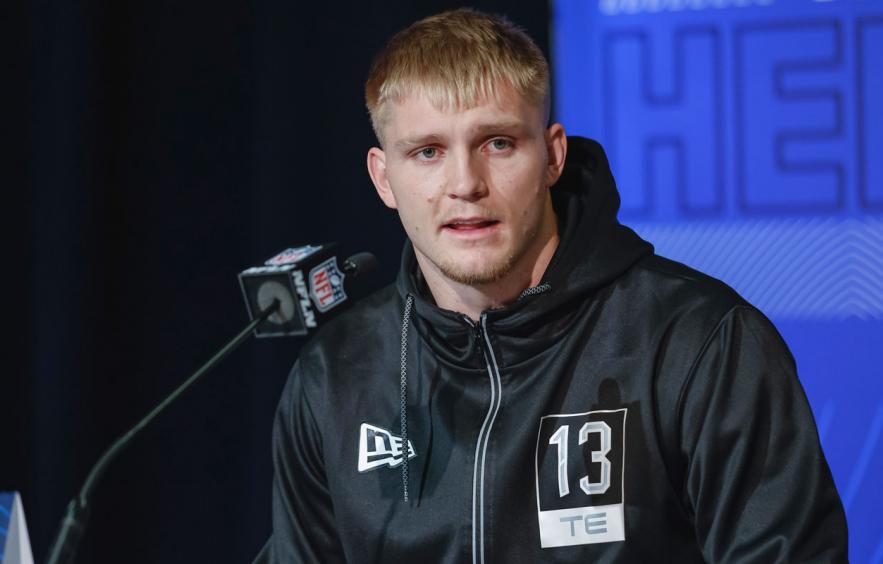 Michael Hickey/Getty Images
With the 55th pick (2.23) of the 2022 NFL Draft, the Arizona Cardinals selected the first tight end off the board, 6'4", 246-pound Trey McBride of Colorado State. The consensus TE1 in this class before, during, and after the NFL combine circuit, Arizona landed themselves 2021's Mackey Award winner (given to the nation's top tight end) and Colorado State's first-ever unanimous All-American in program history after a 90-catch explosion during his senior season.
---
Click here for more 2022 Player Profiles!
---
Though the partnership looks sunny at face value, the team had recently re-signed Zach Ertz to a three-year extension in the middle of March and still has Maxx Williams to soak up a portion of the snaps. Let's take a look at what —if any— path to fantasy usability there is for McBride during his rookie season.
A Mackey Award Winner on a Three-Win Team
Trey McBride had a respectable usage rate through his first three seasons with Colorado State, managing to accrue 74 receptions and 979 yards on 104 targets —all numbers we can live with, considering how TEs typically operate in a collegiate offense— but his involvement simply jumped the shark come the 2021 season. McBride led all of the nation's tight ends with an astronomical 34% target share (racking up a 99th-percentile college dominator in the process) and that led to him topping all other draft-eligible TEs in several other categories:
Without going into a scouting profile wormhole regarding McBride, it is worth noting that there were question marks about him getting consistent separation at the college level, and with his relatively small size as an every-down tight end, that's going to be an issue at the next level. Where some of that limitation may shine through is in the red zone; after a reasonable 12.1% touchdown rate through his first three seasons, McBride scored only one single touchdown (1.1% rate) in his 90-catch season, with the team's other pass-catchers combining for 14.
Simple lack-of-touchdown scares aren't to say that his prospects are doomed from the start —the Cardinals spent a second-round pick on him after all, and they certainly knew how tall he was— only that McBride carries some of the same red flags that almost all tight ends do when they enter the fantasy landscape in year one.
The Best in College in the NFL
We should take a brief aside here and address the elephant in the room; in the recent history of the John Mackey Award (as well as a four-year run between 2002-2005), we have seen winners go on to produce very valuable fantasy seasons, oftentimes as soon as they get into the league. Now, I think it is borderline silly to assume that a player will be a valuable fantasy commodity at the most difficult position to pin down simply because of an award they won in college, but admittedly, we have been seeing a common throughline.
Recent John Mackey Award Winners

| Player (Year) | Rookie Year PPG | Rookie Year TE1 Weeks | Best PPG Career Finish | Made Pro Bowl in Career? |
| --- | --- | --- | --- | --- |
| Jake Butt (2016) | N/A | N/A | 4.2 (TE43 - 2018) | No |
| Mark Andrews (2017) | 5.6 (TE23) | Six | 14.3 (TE1 - 2021) | Yes |
| T.J. Hockenson (2018) | 5.4 (TE33) | Two | 9.2 (TE7 - 2021) | Yes |
| Harrison Bryant (2019) | 4.5 (TE43) | One | 4.0 (TE41) - 2021) | No |
| Kyle Pitts (2020) | 8.4 (TE13) | Six | N/A | Yes |
Though there are more important data points, say, team fit, but I would be lying if I said I didn't want to value Trey McBride just a little bit more simply based solely on his Mackey brethren. Former Mackey winner Kyle Pitts and rookie Pat Freiermuth finished as the overall TE7 and TE13, respectively, last season, so we know there's a chance that tight ends are simply coming into the league more prepared to contribute as pass-catchers.
Arizona's TE Usage and Where
Trey McBride

Fits

Even with the trade for and utilization of Zach Ertz for the final 11 games of the 2021 season, the Arizona Cardinals haven't ranked better than 25th in tight end target share since drafting Kyler Murray in 2019. Conversely, they have targeted the wide receiver position on no less than 64.1% of their pass attempts in any of those three seasons, ranking first, sixth, and sixth under the Murray/Kliff Kingsbury partnership.

While it's possible that this usage could flip on its head towards the beginning of the year now that DeAndre Hopkins has decided to forego the appeal of his six-game suspension, it may be difficult for Trey McBride to push himself onto the field in a consistent manner by the time his target-hog teammate returns.

While I don't think there are many avenues for consistent production in McBride's rookie season, he does share something in common with the more elite spike-week tight ends in recent memory; a field-stretching teammate who can pull safeties out of the seam to help over the top. Just ask Mark Andrews. Marquise Brown (24) adds a new element to an offense that has been heavily reliant on underneath options and slowing, aging veterans. (Here is a deep look into what Brown brings to Arizona) What McBride may be lacking in size, he more than makes up for with his after-the-catch ability, and with a more fleshed-out skill position group in Arizona, he should have an opportunity to turn in a few borderline 2022 TE1 finishes at the least.

Though Maxx Williams is technically ahead of him on the depth chart at this exact moment, there's no question that McBride offers more explosiveness with the ball in his hands, and Kingsbury's spread offense would prefer to flex out his tight ends a majority of the time anyway, as Zach Ertz lined up in-line a paltry 29% of the time after joining the team. Even with that super-specialized role, Ertz still ranked 23rd in yards per reception (10.3) from Week 7 until the end of the season, so there's a chance that the rookie will take a nibble from Ertz's pie by the end of this upcoming season as well.

The Bottom Line
Tight ends are notoriously slow starters at the NFL level —particularly in fantasy— but there has been a recent track history of extremely successful college TEs making a quicker adjustment.
"Spike week" contributors at the tight end position typically either rely on scoring touchdowns —which can be fluky— or they find themselves on high-powered offenses with a field-stretching teammate. Trey McBride falls into the latter bucket.
McBride's Underdog ADP has drifted backward since the draft, dropping over three rounds (38.7). He now sits as the TE29 (18.06), and the drop has everything to do with Zach Ertz being his teammate, while drafters ignore the spike week opportunities at fantasy's most frustrating position. McBride makes for a perfect back-of-the-draft pick as your second TE if you spent early capital on the position.