The Fantasy Impact of Marquise Brown to Arizona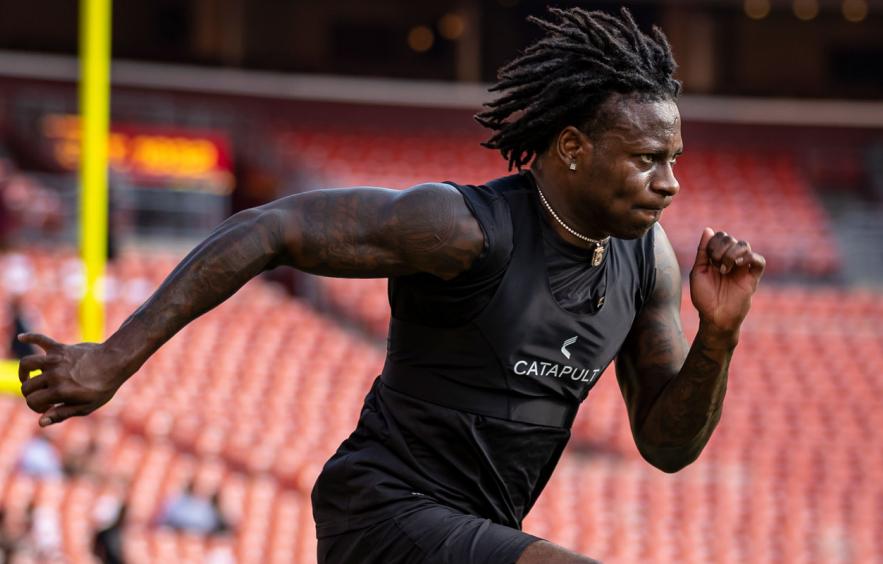 Scott Taetsch/Getty Images
At first, Marquise Brown's departure from Baltimore confused me. His role in the offense matched his skillset more in 2021. At least, the idea was there on paper. The Ravens drafted route-specialist Rashod Bateman and signed Sammy Watkins. Brown was free of the WR1 role. However, an onslaught of injuries had them stuck in transition. They wanted to rely on their passing game, but again, with only two options. I'll lay out how Baltimore deployed Brown, where he wins, and what to expect with his move to Arizona.
---
Click here for more 2022 Player Profiles!
---
An Ideal Fit In Baltimore
It was easy to see the plan for Brown when paired with Lamar Jackson. Jackson had already put the league on notice by racking up 556 rushing yards in his rookie season. He paralyzed defenses. And with a deep threat, the duo created a no-win scenario for the opposition.
The last time @Lj_era8 played in Miami?

324 yards

5 TDs

PERFECT passer rating



"Not bad for a running back." 😈



📺 : #BALvsMIA -- Tonight 8pm ET on NFLN/FOX/PRIME VIDEO

📱 : NFL app pic.twitter.com/i39XCAllSW

— NFL (@NFL) November 11, 2021
I'll never forget this game. Jackson's 33.6-point outing ranks fifth in season openers since 2012. And, at least for a time, it quieted the doubters of his passing acumen. But Marquise's immediate impact made it all possible. In their first game together, the two brought the team's vision to life. It was an ideal fit, and even a cursory glance at Brown's collegiate profile would highlight why.
Marquise Brown

's Production Ranks During Final Collegiate Season

| Metric | Rank |
| --- | --- |
| Yards After Catch | 4th |
| Receiving Efficiency | 2nd |
| Deep Targets | 9th |
| 40-Yard Dash Time* | 3rd |
* - Brown only ran on his Pro Day
I profiled Kyler Murray after Arizona drafted him, and Brown made cameos in many of Murray's highlights deep down the field. And the Ravens capitalized on his speed and elusiveness. Marquise couldn't always leverage his 181-pound frame to create separation. It's part of why he's faltered when relied upon as the primary receiving option. However, he's found the most success when he can use his athletic traits to win in the intermediate and deep areas of the field.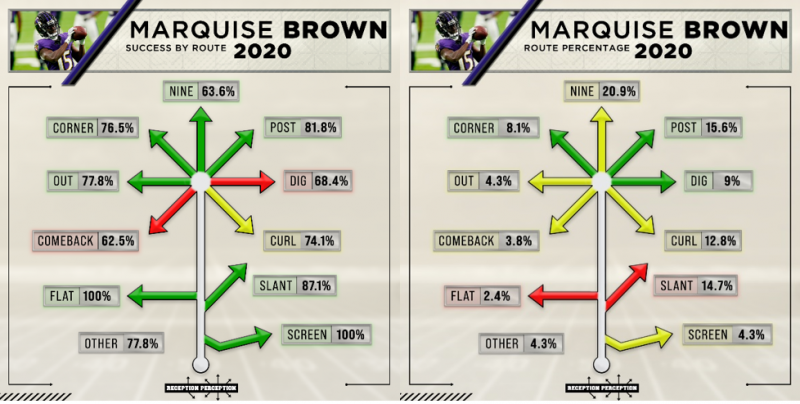 Matt Harmon's work over at Reception Perception continues to be an invaluable resource. Brown displayed an all-around skillset his rookie season, which became more focused in 2020. There was some hope he could evolve into a true alpha, but his ability to create after the catch was his trump card. Brown's expected points added (EPA) per target on intermediate passes increased from 0.25 in 2019 to 0.34. Despite the Ravens' bottom-3 passing game in neutral situations, his role appeared secure. Their following two draft classes certainly indicated it.
Tylan Wallace is the only receiver Baltimore has drafted with a final-season collegiate profile even closely resembling Brown's. The others fit Jackson's weaknesses. At least, they did in theory. Rashod Bateman's route-running prowess was behind only Mark Andrews in generating first downs. Devin Duvernay could have been another deep threat from the slot opening up the interior. Brown should have had complementary players to offset the negatives to his game. But, injuries and an insistence on featuring the running game kept the vision from becoming a reality.
Regardless, we can see how and where Brown wins on the field. Plus, last year wasn't a complete disaster. He was still top-30 in yards after the catch and forced missed tackles. He's still dynamic with the ball. And Arizona has all the incentive to give it to him.
Brown's Fit with Arizona
There's no analysis behind determining Brown's fantasy outlook for 2022. DeAndre Hopkins will miss the first six games. The remaining projected starters are 33-year-old A.J. Green and slot receiver Rondale Moore. Opportunity awaits Marquise. I was initially concerned but quickly remembered that he'll have a better surrounding cast, unlike in Baltimore. So, let's look at how Arizona used Hopkins.
DeAndre Hopkins

' Route Rate by Type, 2021

| Route Type | Route Percentage |
| --- | --- |
| Curl | 35.4% |
| Slant | 10.1% |
| Comeback | 10.1% |
| Out | 10.1% |
| Nine | 8.5% |
| Corner | 7.9% |
| Dig | 7.9% |
| Post | 5.8% |
| Screen | 3.7% |
| Flat | 0.5% |
Even at the tail-end of his prime, Hopkins can still use his size and speed to his advantage. His 13.1 aDOT was the highest since 2018. The majority of his routes were either intermediate or deep. However, the takeaway is how his usage overlaps with Brown's. Plus, A.J. Green can operate as the X receiver affording Marquise more space to work through coverage. Once Hopkins returns, Kliff Kingsbury could (for once) get creative and move Brown into the slot, but I may be asking too much.
Regardless, Marquise will have no shortage of opportunities. Even after the suspension, his skill set is something the team has been lacking.
Brown averaged 5.1 and 4.7 YAC per reception during his first two seasons. If you believe last year was the team's worst season offensively (I do), Brown's 4.4 YAC per reception is acceptable. Regardless, it's still better than the receivers he'll be joining at his target depth.
.@AZCardinals WR Christian Kirk had a CAREER day yesterday...



And racked up 37.8 @NFLFantasy points! 👏@ckirk



(by @GEICO) pic.twitter.com/AZjPkSN1Jm

— NFL (@NFL) November 11, 2019
It's a highlight reel, so we see the best-case scenario. But pay attention to the route depths and combinations. The 'horizontal raid' still requires multiple route combinations to succeed. And while Murray was top-12 in EPA per play and completion percentage over expectation (CPOE), he still has some flaws.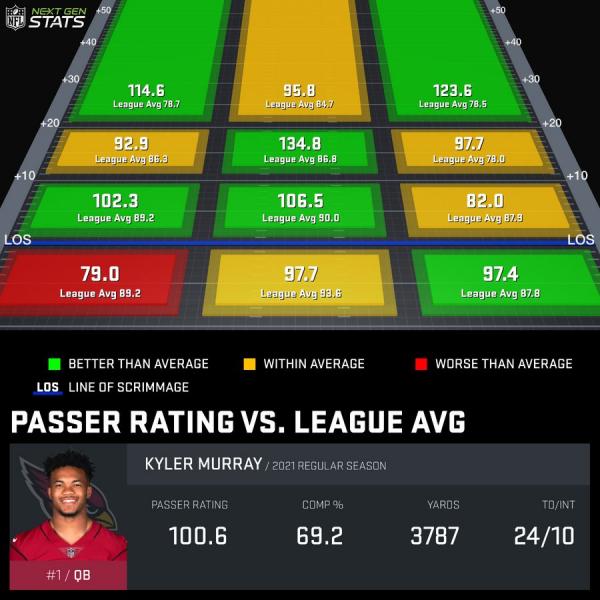 Murray was just over the league-average passer rating on intermediate throws to the boundary. Similar issues also show up on his charts from his first two seasons. Enter Marquise Brown. A receiver whose expertise cleanly fits the weaknesses of his quarterback. His collegiate connection with Murray is just the icing on the cake.
Arizona had a higher neutral passing rate, pace of play, and deep-ball rate than Baltimore in 2021 alone. Additionally, the Cardinals' offseason moves suggest a more substantial bias towards passing in 2022. In contrast, the Ravens seem to be turning back to their run-heavy ways. There aren't many other landing spots conducive to boosting Brown's real and fantasy value. But, with Arizona, he has a path to solidifying his place in the Top 24.

Bottom Line
Brown's early-season opportunity and fit within the Cardinals' offense give him a clear path to meet and exceed his WR19 positional rank on Underdog Fantasy.
Arizona had a higher neutral passing rate, pace of play, and deep-ball rate than Baltimore in 2021.
Brown's collegiate profile highlighted his broad skill set, but he's excelled in the intermediate and deep areas of the field.

He was the second-most efficient receiver and ranked fourth in YAC amongst his classmates.

He struggled against man/press coverage in the NFL but still found success on Out, Post, and Corner routes.

Baltimore's draft picks after Brown were primarily slot receivers or route technicians (e.g. Bateman, Duvernay, Proche), giving space for him to hone his craft.

Brown's route usage significantly overlaps Hopkins' 2021 on-field deployment and sets Brown up for a critical role early.

Over 50.0% of Hopkins' routes match where Brown was successful in his most-efficient season in Baltimore.

Murray's been slightly above the league-average passer rating on intermediate boundary attempts since he came to the NFL.

Brown has been most successful on those passes in 2019 and 2020.