T.J. Hockenson Has a Risky Fantasy Football Floor in 2022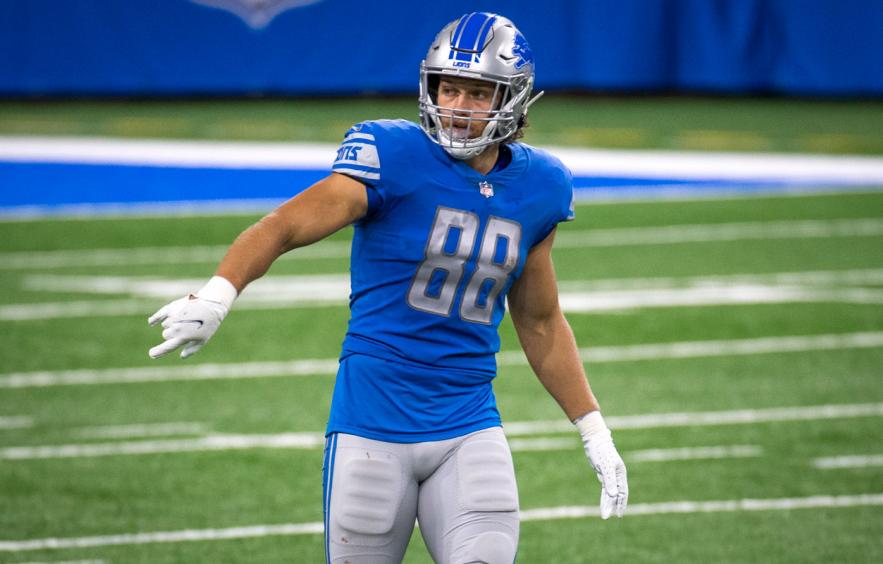 Nic Antaya/Getty Images
Based on the end-of-season production in 2021, you might be forgiven for thinking the Detroit Lions' only legitimate pass-catching weapon in the coming year is Amon-Ra St. Brown. St. Brown tore up the NFL in the season's final weeks, but if you can cast your mind back, you will remember that tight end T.J. Hockenson saw plenty of work earlier in the campaign. He was quite an asset for his fantasy managers too, so can we expect more of the same in the coming year?
---
Click here for more 2022 Player Profiles!
---
Volume Over Efficiency
In his third season in the NFL, Hockenson drew 83 targets, catching 61 for 583 yards. These numbers were enough for 14th, 9th and 16th among all tight ends. But Hockenson only played 12 games, and if we project these stats over a 17-game season, we're looking at almost 90 catches for 826 yards. Only Travis Kelce and Mark Andrews caught more than 85 passes among tight ends in 2021, while only seven players had more than 826 yards. Among all tight ends with at least 50 targets in 2021, Hockenson was 11th with 1.48 yards per route run.
Hockenson finished the season as the TE16 in half-PPR scoring, but in points per game (9.6), he was actually the TE7. His fantasy production was pretty much volume-driven, as evidenced by his relative lack of high-value opportunities. Hockenson saw four deep targets all season while only drawing nine targets inside the red zone. Only eight of his 61 grabs gained 20 yards or more.
But acting as a short-area target for Jared Goff, Hockenson was able to gobble up a career-high 5.1 receptions per game. But it was not exactly an efficient partnership, as Goff averaged a mere 5.82 adjusted yards per attempt (AYA) when looking for Hockenson.
Not All Change is Good For Everyone
Things did change for the Lions in the second half of the season, and it is fair to wonder whether these changes are actually beneficial for Hockenson and his fantasy appeal moving forward. In Week 9, Lions coach Dan Campbell seized play-calling duties from offensive coordinator Anthony Lynn. There is a distinct shift in Hockenson's production with Lynn calling the offense to Campbell. In Weeks 1-8, Hockenson commanded 57.3 receiving air yards per game and averaged 10.4 Half PPR points per game. In the three games he played under Campbell's guidance, the air yards fell to 23.3, and the fantasy points to 6.4.
There was also the emergence of St. Brown, whose late surge began in Week 12, with Hockenson still in the lineup. But once Hockenson suffered his season-ending injury, St. Brown proceeded to rock the NFL receiving landscape. From Week 13 onwards, Cooper Kupp was the only player with more receptions than St. Brown (53 to 51). Only Kupp, Mark Andrews and Justin Jefferson had more receiving yards than St. Brown's 560. Kupp was the only non-quarterback with more half-PPR points than St. Brown, who racked up 123.6.
I'm not here to tell you that St. Brown will sustain this production, nor does my colleague Pranav Rajaram in his look at the second-year wideout, but the Lions would be foolish to put him back in the box and not use him more than they were doing before Week 12. He might help Hockenson on the field, as teams will be unable to take away Hockenson completely with another livewire option operating close to the line of scrimmage. But while this is helpful in the real world, St. Brown is now a viable competitor for targets with Hockenson. He already has more potent chemistry with his quarterback, with Goff averaging 7.16 AYA when targeting St. Brown.
2022 Fantasy Outlook
Hockenson is currently being taken as the TE7 in Underdog leagues, with very few complaints regarding the six players going ahead of him. He is the TE8 according to our latest ranks. At his ADP, there are factors that even staunch supporters have to account for ahead of the new season. The offensive shift midway through the season deemphasized his role to an extent, leading to fewer opportunities and fantasy points. We, as fantasy managers, like fantasy points.
St. Brown emerged as a legitimate playmaker, taking away targets from a player who, in fantasy terms, only had his targets thanks to limited high-value opportunities. the fact that Hockenson has missed at least four games in two of his three seasons in the league is also a concern.
There are a few tight ends going after Hockenson that I would rather have on my roster, like Dallas Goedert or Dawson Knox. If the Lions look Hockenson's way inside the 20 a few more times, his ADP will pay off, but his volume alone is unlikely to carry him like it did in 2021.

The Bottom Line
Hockenson's fantasy value was based on volume and not efficiency. When he was last on the field, the offense was already beginning to show signs that it was moving away from him as a driver.
Hockenson has legitimate target competition, and his track record of seeing few high-value opportunities is a major cap on his ceiling.
Unless Hockenson can recapture the eye of his quarterback, or boost his weekly touchdown potential, then he is likely to struggle to live up to his present ADP.