Amon-Ra St. Brown: Fantasy Football's Ideal Insurance Policy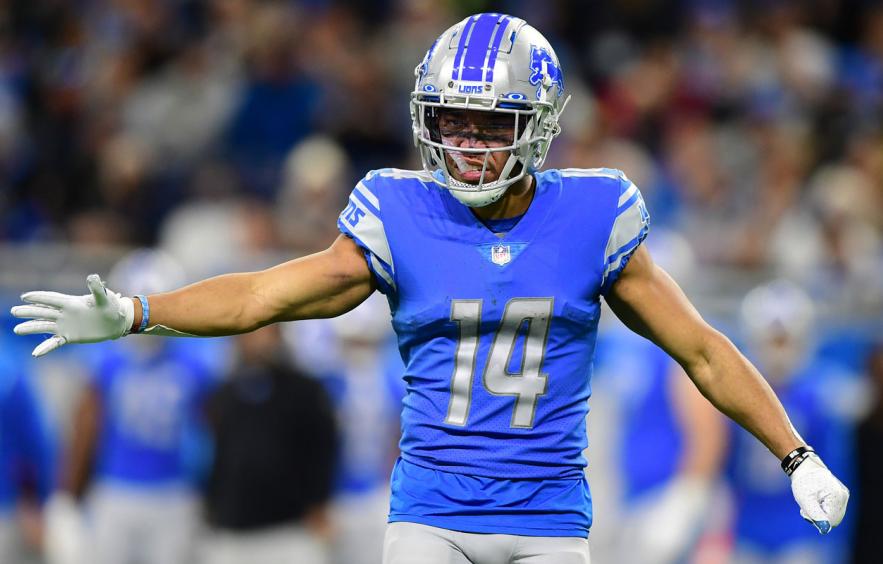 Emilee Chinn/Getty Images
Fantasy managers who tuned out during the end of the regular season last year would have missed out on the meteoric rise of Amon-Ra St. Brown. After being generally insignificant for fantasy for the first 12 weeks of his NFL career, St. Brown set the fantasy world on fire to end the year and was one of the best waiver wire picks you could have made—24% of finalists in ESPN fantasy leagues last year rostered the former USC star. Despite this fantastic finish to his rookie year, various outside factors see St. Brown priced as just the WR31 in fantasy leagues this year. Here's a look at why, at that spot in drafts, Amon-Ra could be the ideal WR3 for your fantasy team and is the perfect depth receiver.
---
Click here for more 2022 Player Profiles!
---
Rookie Year in Review
Here is a list of players: Cooper Kupp, Amon-Ra St. Brown, Davante Adams, Justin Jefferson, and Ja'Marr Chase. You might be confused—why am I showing you a list of four of the top five receivers in ADP this year, and then St. Brown, the WR31? It's because those were the top-5 receivers for fantasy over the final six weeks of last season. That's right: over Adams, Jefferson, Chase, and a multitude of other superstar receivers, St. Brown was the overall WR2 during the home stretch of the 2021 fantasy season. In short, Amon-Ra proved last year that he could hang with some of the best.
The bulk of St. Brown's dominance last year came from the slot, lining up on the inside nearly 70% of the time. This allowed him to be a target monster, giving him a very high floor for fantasy. In fact, during his electric final six weeks, St. Brown ranked 6th among all players in targets, ahead of the likes of Cooper Kupp and Stefon Diggs. He took the crown from Robert Woods for the honor of Jared Goff's safety blanket and should continue to be reliable for fantasy heading into this year.
What About the New Guys?
One reason why St. Brown was able to produce so well at the end of last season was that he had a monopoly on the targets in Detroit. Unfortunately, it is unlikely that Amon-Ra has that easy of a time commanding volume. Tight end TJ Hockenson is returning from injury and is bound to see some passes thrown his way, and the Lions selected receiver Jameson Williams with the 12th pick in this year's draft (they also signed DJ Chark in free agency). The presence of these three will likely make it a bit more difficult for St. Brown to consistently see double-digit targets.
With this being said, the newcomers don't signify all bad things. Jameson Williams is still rehabbing from a torn ACL, so it is very likely he will miss at least the first few weeks of the season. Even when Williams is healthy, his track star-like speed will open up the field for the Lions and might actually give Amon-Ra some wide-open opportunities underneath.
Assessing St. Brown's Ceiling and Floor
There is a chance that, despite the increased competition for volume, St. Brown takes strides in his games heading into his sophomore season and is simply just better than the rest of the Lions receiving options. In the past, the second season has been the time when plenty of receivers make the so-called "leap" into bonafide stardom—think D.K. Metcalf, A.J. Brown, or even JuJu Smith-Schuster.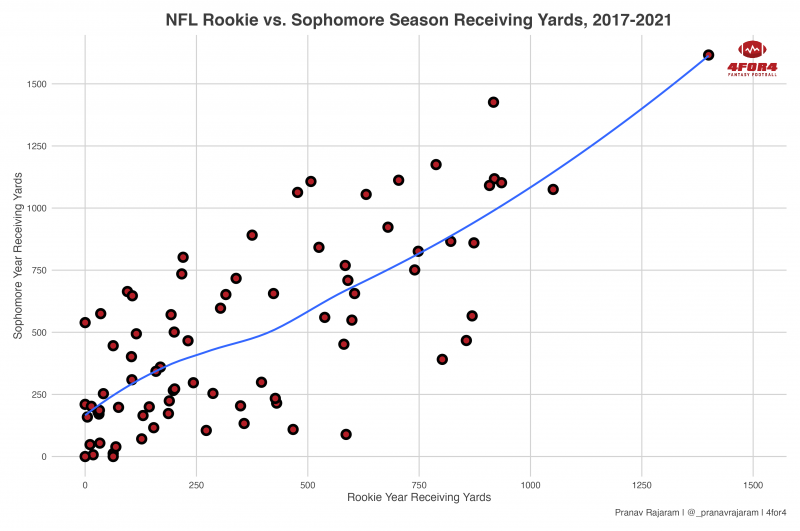 This graph reinforces the notion of the second-year receiver breakout: almost every receiver selected since 2017 was able to improve their receiving total in their second season. This means that St. Brown, who had 912 yards despite only really seeing volume in the second half of the season, could easily eclipse 1,000 receiving yards this year and assert himself as a star.
As for St. Brown's floor, it is reasonable to assume that it will be rather high. As mentioned above, he has a connection with Jared Goff that ensures a baseline level of volume that will make him reliable for fantasy. If you start off your draft with more volatile receivers (like Ja'Marr Chase or Mike Williams), Amon-Ra would be a wise pick later on in drafts to offer some stability to your receiving corps.

The Bottom Line
St. Brown is coming off of an incredible rookie season where he was a legitimate WR1 to finish the year. He was able to get into a rhythm with Jared Goff and will act as his safety blanket from the slot in 2022.
A few newcomers to the Detroit receiving room will make it more difficult for St. Brown to see the same elite volume as last year, decreasing his fantasy value a little bit.
There is a real chance that Amon-Ra continues the trend of breakout sophomore receivers and cements himself as a true star, which would do wonders for his fantasy upside.
St. Brown's current ADP in the sixth round of drafts is a great spot for him to go. After selecting more established receivers with your first few picks, St. Brown would be an excellent WR3 or first receiver off the bench for your fantasy team.