Miami's Fantasy RB Outlook with Chase Edmonds & Raheem Mostert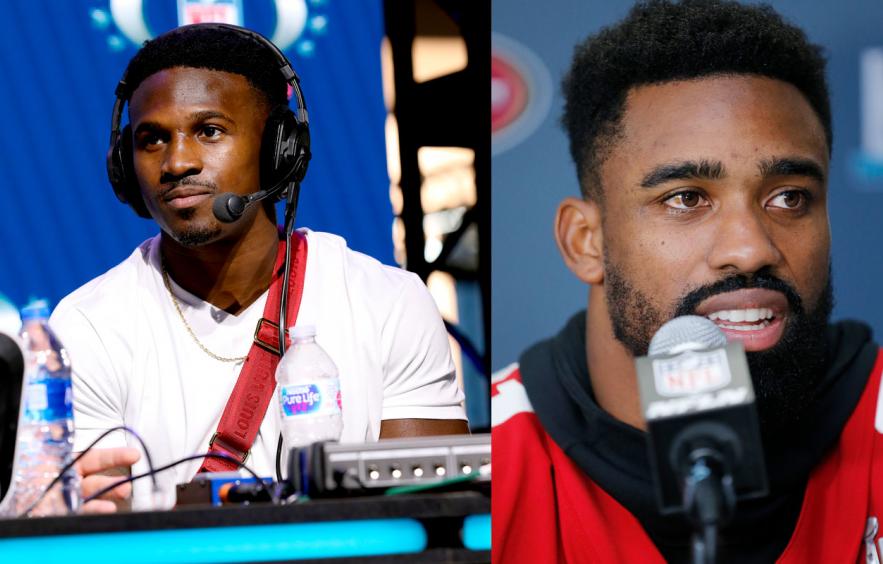 Cindy Ord & Michael Reaves/Getty Images
New Dolphins head coach Mike McDaniel is wasting no time putting his stamp on Miami's offense. McDaniel was the offensive coordinator in San Francisco last season, so it's no surprise that he values a strong running game. To that end, on Monday, March 14th the Dolphins signed Chase Edmonds to a two-year, $12.6 million contract. Two days later, they added Raheem Mostert on a one-year, $3.1 million deal.
---
Click here for more 2022 Player Profiles!
---
Edmonds and Mostert join Myles Gaskin, Salvon Ahmed, and Lynn Bowden in the Miami backfield.
The Dolphins signed the soon-to-be 26-year-old Edmonds to a significantly bigger deal, so he's the better bet to lead this backfield in touches, though that's no sure thing. Let's focus on him for now.
Rushing Ability
Edmonds is pretty good! He has a career 4.66 yards per carry, which is impressive but also tainted a bit by the fact that Edmonds is considered to be a satellite back. However, since 2018, he has averaged a very solid 4.38 yards per carry on 297 first- or second-down carries. That ranks 44th out of the 90 running backs with at least 150 such carries in the last four seasons. To put this into perspective, despite playing behind a very mediocre offensive line, he has fared better than Antonio Gibson, Josh Jacobs, James Conner, Leonard Fournette, Javonte Williams, David Montgomery, D'Andre Swift, and Najee Harris on early downs.
While his raw averages are pretty good, his rushing grades at PFF have been so-so, at best. In 2020 he finished 53rd/61 and in 2021 he was 33rd/61, using PFF's 20%-carry threshold.
Touchdown Upside
Edmonds has not been asked to handle goal-line duties thus far in his career, but that doesn't mean that he's not capable. In four seasons, he has a total of nine rushing touchdowns on 333 career carries. He's a bit on the short side at 5'9", but he weighs a solid 209-210 lbs, so size really isn't a problem. (Not that it matters, but Edmonds scored 67 rushing touchdowns in four seasons at Fordham!)
The issue thus far has been personnel. Last year, the Cardinals used 233-lb James Conner as their goal-line back, and in 2020 (and 2019) it was the 211-lb Kenyan Drake filling that role. Arizona pigeonholed Edmonds as a big satellite back, but that doesn't mean that Miami will utilize him in exactly the same manner.
Per Stathead, Edmonds has seen 18 career carries on third or fourth down and short (1-2 yards to go). He has converted a first down or scored a touchdown on 12 of those carries. This 67% short-yardage success rate ranks 28th out of the 66 running backs who have seen at least 15 short-yardage carries since the 2018 season.
So it's not like Edmonds is bad in short-yardage; he's been slightly above average. His yards per carry (4.56) is actually the 10th-highest in the 66-player sample, though that's in some small part due to his lack of pure goal-line work.
Receiving Upside
This is where Edmonds could really shine. Assuming McDaniel's offense resembles Kyle Shanahan's, there is opportunity in the passing game. Last year, San Francisco running backs accounted for 82 catches for 647 yards, including 30-296 from fullback Kyle Juszczyk. In 2020, 49er backs caught 79 total passes for 811 yards.
For his part, Edmonds has 96 catches for 713 yards and four scores in 28 games in the last two seasons. That's the 11th-most receptions and the eighth-most receiving yards by a running back in that span.
Some may think that McDaniel plans a Deebo Samuel-type role for Edmonds, and that may be the case. But Edmonds simply hasn't shown Samuel's yards-after-the-catch or tackle-breaking ability, so that seems like a major stretch.
Mostert's Likely Role
Prior to the Mostert news, I thought that Edmonds would be drafted as a third- or fourth-round fantasy RB2 and had RB1 upside if things—health, goal-line role, offensive line—broke his way.
The issue is that, when healthy, Mostert is the better pure runner. Remember that stat about yards per carry on early downs? Well, Mostert leads the league in that metric with an astounding 5.77 YPC on first and second down carries since 2018. His rushing grades at PFF have been better too: 4th/50 in 2019 and 24th/61 in 2020.
Mostert has 4.43-speed while Edmonds (4.55) simply isn't as fast. As we've seen, Shanahan has favored speed when choosing his primary ball-carrier, first leaning on Mostert as his RB1 and then handing the keys to Elijah Mitchell and his 4.40-speed once Mostert was done for the year.
And therein lies the rub with Mostert—injuries. He's currently recovering from an early-season meniscus injury, but should be ready for the season. He had a patella sprain in the same (right) knee in June of 2021 and has four total injuries to that knee since 2017. So while Mostert should have a significant role when healthy, how many games will the 30-year-old be able to play after missing 25 of his last 33 games due to injury?
On the other hand, it's not like Edmonds is some sort of iron man. He has missed eight games in four seasons, including five games last season with a high-ankle sprain and a rib injury.
The Offensive Line
Miami's offensive line wasn't good in 2021, ranking 30th in adjusted line yards (Football Outsiders). They did sign guard Connor Williams, who was one of the best run-blocking lineman available in free agency. This unit should improve in 2022 with McDaniel calling the shots.
The Bottom Line
Due to his contract and his dual-threat ability, Edmonds enters the season as the favorite to lead the backfield in touches, but if Mostert is able to stay healthy, he could very well lead the team in carries. Neither player has a reputation as a force around the goal-line, so that role is still up for grabs.
If either player misses time due to injury, the other will be a threat for fringe fantasy RB1 numbers. For now, Edmonds looks like a low-end RB2 while Mostert is in the RB3/RB4 mix.