FFPC Win Rates: Running Backs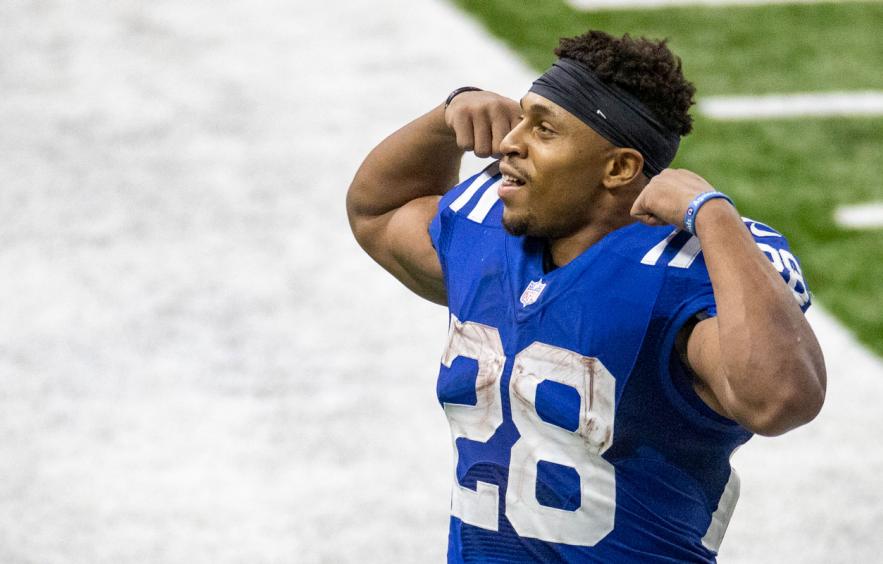 Bobby Ellis/Getty Images
Running-back draft strategies are an annual debate. From 'ZeroRB' to 'Robust RB,' the number and archetypes to target vary by strategy. But we can all agree we need them. And quite a few. Optimal builds revolve around eight, but savvy drafters know the total amount only scratches the surface. Like my quarterback piece, I'll break down the most impactful running backs from 2021 using data from our friends at FantasyMojo. Plus, I'll dissect each draft phase to see what worked last year and what edges we can find for 2022.
---
More Best Ball Content: FFPC Win Rates: QBs | Best Ball Mania Positional Allocation Guide | Best Ball Mania Roster Construction Guide | Best Ball Mania Positional Draft Strategies | How to Approach Underdog 3-Team Best Ball Drafts |
---
Highest RB Win Rates
I see bellcows, rookies, backups elevated to primary roles, third-down backs, and players returning from injury. We've got everything in the Top 12. I'll get to the profiles in a bit, but I wanted to set the stage for drafting running backs. Over the last two seasons, you can find running backs that can improve your odds of winning at any draft phase.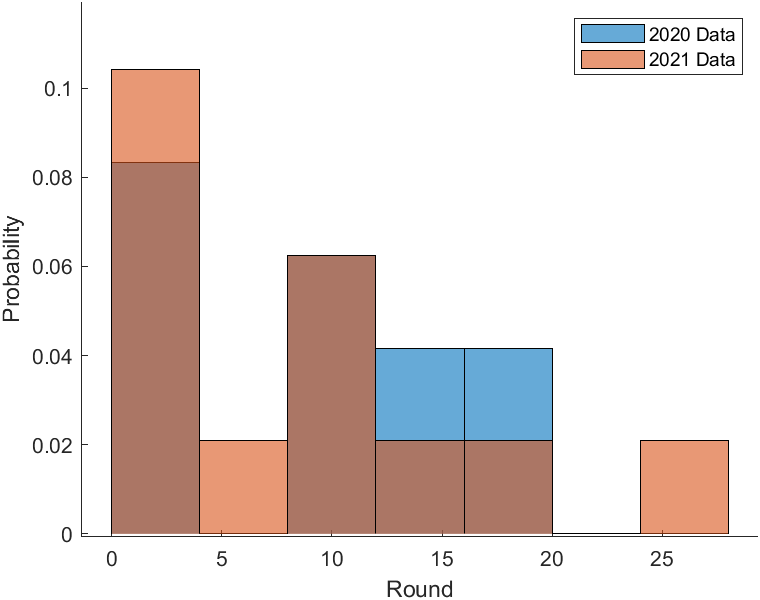 Compare this to quarterbacks, and it's no wonder multiple approaches are viable. The first three rounds are king, but the middle and late rounds give us some upside. Except for the 'Dead Zone. Last season was the worst for finding top-12 running backs in roster win rate between Rounds 5 and 8.
RB 'Dead Zone' hit rate, 2018-2021.

| R5-8 | Amount Drafted | Hit Rate |
| --- | --- | --- |
| 2021 | 14 | 0.0% |
| 2020 | 14 | 14.3% |
| 2019 | 17 | 23.5% |
| 2018 | 20 | 25.0% |
Admittedly, win rate has its flaws, and it's not as if the middle rounds are a total minefield. At worst, we have a risk timeframe or points in the draft to more carefully weigh our options. Every other position (minus defense and kicker) is in play. But as your league mates fight over receivers or tight-ends, running backs can slide, giving you the chance to pounce.
Your options will seem limited as the draft progresses. The names won't have the same appeal. To help, I'll highlight what production profiles to look for in each section, with some targets to look for in drafts this year.
Early Rounds
I typically use the first six rounds as 'early,' but even here, there's a chasm separating the two halves of this phase. Just look at the names on the list. It's unlikely you'll find a similar workload in the fourth round. And seasonal averages agree.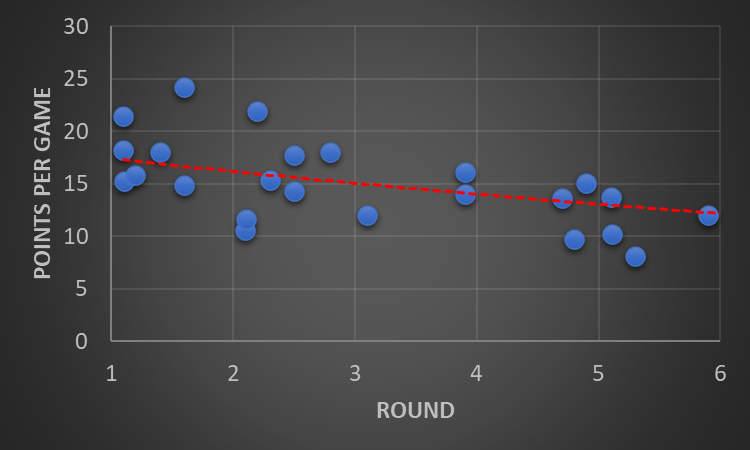 Every Robust RB zealot likely has a tattoo of something like this chart on their chest. The data is from 2021 only, but you get the idea. The slow, steady decline in points per game (PPG) through the early rounds justifies drafting running backs as much as possible. Sure, they'll be solid receivers available later. But averages, like my kids, only tell part of the story.
Looking at weekly ranks paints a *slightly* different picture. We'd love to see the guy we drafted at the No. 1 spot every week. But it's not required. Joe Mixon never got the top spot in 2021 and firmly made it into the roster win rate Top 12. Top 3 and Top 6 are where the early-rounders separate themselves. Regardless, 'elite' is preferred but 'very good' is just fine. However, there's another way to look at it.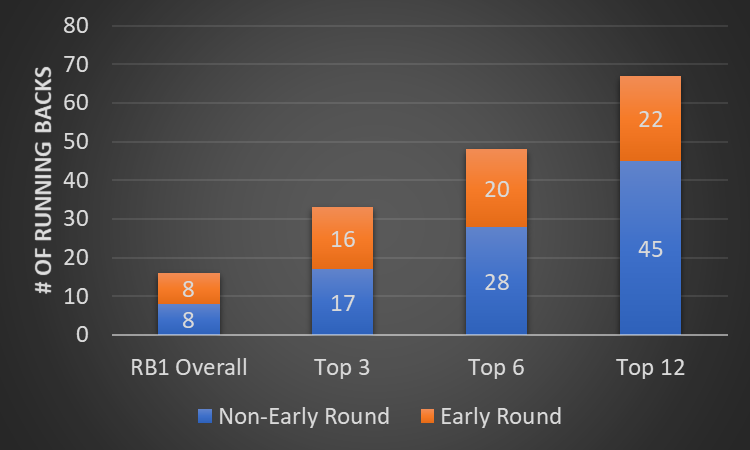 Locking up a high-end running back workload is as beneficial as it is risky. An injury or absence can zap your upside in an instant. (See: Henry, Derrick) And weekly fantasy superstars can come from anywhere. As many or more unique players outside of the sixth round made it into each ranking category. But, as the table above indicated, we need multiple weeks. So, let's do some math.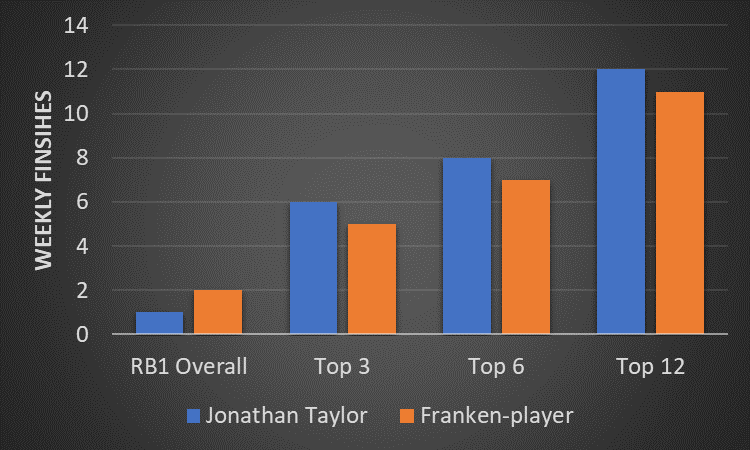 I took just two players, mashed their seasons together, and they compare well to this year's 1.01. The players? Leonard Fournette and James Conner.
Cherry-pick much, Chris? Absolutely.
From the chart, you see the thought process behind waiting. Or how to adjust to a late draft slot. Rashaad Penny, Darrel Williams, and Damien Harris are other examples of players you can megazord together to combat any bellcow. You'll just need more options (in this phase or the middle rounds) to string together fantasy-useful weeks.
Favorite Early-Round Targets: Leonard Fournette (2.11), Aaron Jones (3.02)
Middle Rounds
The options on the board feel bleaker by the seventh round. And, if you've focused on other positions, any available running back comes off as empty calories. They're filling a roster slot but not your strength. Only six running backs cracked the Top 36 in seasonal points per game. Plus, it's not like we've over-targeted the position pushing weaker players into the middle rounds.
ADP of the 24th RB, 2018-2021

| Season | RB24 ADP |
| --- | --- |
| 2022 | 5.02 |
| 2021 | 5.10 |
| 2020 | 5.02 |
| 2019 | 5.02 |
| 2018 | 5.07 |
So, we've got to get creative here. Seasonal projections won't help us. Well, they'll help us less as they look at the league as it is right then. But the season is full of changes. And leaning into the possibility of chaos has been the right approach.
There have been 15 running backs from the middle rounds on the roster win rate Top 12. Eleven have benefited from being in nebulous backfields. Each had stand-alone value to start the year. But injuries (Rashaad Penny), starters flaming out (Devin Singletary), and even a holdout (James Conner 2018) catapulted them into the limelight. It's not just that the player is good. We also need to see a chance at an increased workload if their workload competition suddenly decreases.
I've typically viewed uncertainty as a detriment and opt for secure production at another position. However, the running back position is fragile, as we've seen each year. Even if you draft running backs early, look for upside scenarios once you get to the middle rounds.
Favorite Mid-Round Targets: Chase Edmonds (8.12), Rhamondre Stevenson (10.03), Nyheim Hines (12.09), Khalil Herbert (14.03)
Late Rounds
It's dart-throwing time. If we had to dream up injury scenarios for the middle rounds, then going full galaxy brain to close out the draft isn't ridiculous. But let's see if there's a profile we can derive.
All three players leveraged injuries or missed games from their teammates for top-12 finishes. However, Sony Michel's profile was the most intriguing. His seven starts netted just two RB1 weeks, even with Darrell Henderson out multiple games. He had a Week 16 spike week, but just a couple of weeks in the Top 12 may be all we need.
To test my theory, I went back as far as I could. There weren't any late-round running backs in the roster win rate Top 12, but the profile held. They didn't even spike in the final few weeks of the season. All we need are at least two RB1 weeks to consider our darts a hit.
Favorite Late-Round Targets: Brian Robinson Jr. (16.04), D'Onta Foreman (19.03), Samaje Perine (23.12)

Bottom Line
In every draft phase, we can find running backs from the roster win rate Top 12. The 'Dead Zone' (Rounds 5-8) had the lowest hit rate since 2018, but we should weigh opportunity cost appropriately versus outright fading running backs here.
Early-round running backs account for just 33.3% of the roster win rate Top 12. It's the lowest hit rate over the last four seasons.
Mid-round running backs must have a path to an increased workload. Since 2017, 73.3% of the mid-round running backs on the roster win rate Top 12 were in nebulous backfields and benefited from changes in their situation.
Late-round running backs have a low bar. Since 2019 (no late-rounders made the list in 2018), two RB1 finishes were the threshold for being in the roster win rate Top 12.