Underdog Battle Royale Picks: Week 3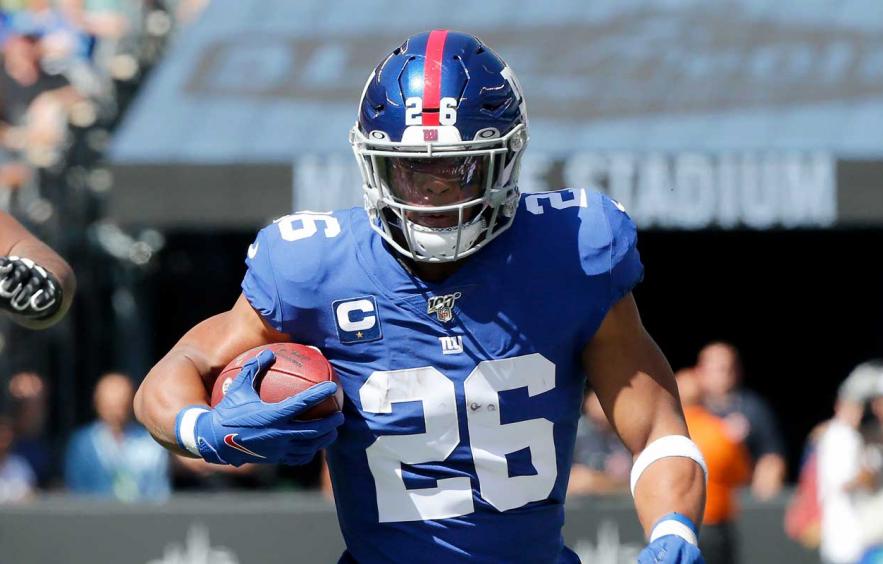 Jim McIsaac/Getty Images
With another week of Underdog's Battle Royale under our belt, we witnessed yet another week of the highest-projected games yielding the best possible team. Of course, hitting on the right players within those games is a whole other part of the process, but the highest Vegas totals on the DraftKings sportsbook have given us great plays so far.
The winner from the Week 2 Battle Royale tournament had five of their six players coming out of the three highest projected totals on the slate. Those games being:
Los Angeles Chargers (-3) vs. Dallas - o/u (55.5)
Baltimore (+2.5) vs. Kansas City - o/u (55.5)
Seattle (-6) vs. Tennessee - o/u (53.5)
Their only player outside of these top-3 games was Cooper Kupp, who I specifically pinpointed in last week's article as a player who could be worth targeting given the total projected in last week's Colts vs. Rams game (o/u - 47) and what we saw from Kupp in Week 1 (7/108/2, 20.3 fantasy points).
In all, the winning lineup, which posted 177.46 points in Week 2 looked like this: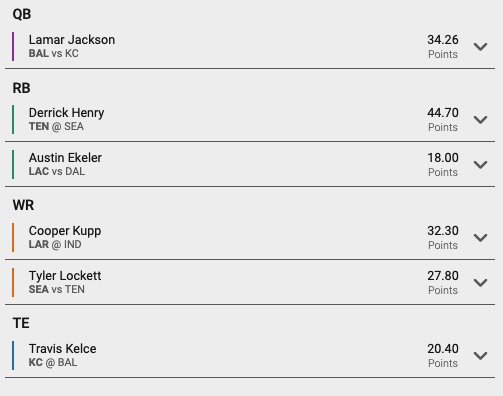 The moment we saw Derrick Henry rush for 182 yards and three touchdowns, we knew that the winning lineup likely would have had him. The top-10 lineups in last weekend's Battle Royale all had Henry on their roster. It's also interesting to note that of those top-10 lineups, nine of them used a second running back for their flex spot instead of another wide receiver. In Week 1, only seven teams had a second running back. Going forward, we may look to track this trend to get a better understanding of what percent of top-10 lineups are deploying a second RB as opposed to a third WR.
For those who may have forgotten, the roster construction for these Battle Royale tournaments is 1QB, 1RB, 2WR, 1TE and 1Flex.
Here is a look at this week's totals for Week 3, and players who we should consider heading into this weekend.
Week 3 Spread and Over/Under
Los Angeles Rams (-2) vs. Tampa Bay - O/U 56
Minnesota (-0.5) vs. Seattle - O/U 56
Kansas City (-7) vs. Los Angeles Chargers - O/U 55.5
Jacksonville (+7) vs. Arizona - O/U 52
Detroit (+7.5) vs. Baltimore - O/U 50
San Francisco (-3.5) vs. Green Bay - O/U 49.5
Tennessee (-6) vs. Indianapolis - O/U 48.5
New York Giants (-3) vs. Atlanta - O/U 48.5
Cleveland (-7.5) vs. Chicago - O/U 47
Buffalo (-9.5) vs. Washington - O/U 45.5
Quarterback
Kirk Cousins

, Minnesota

Vikings

Through the first two weeks, Kirk Cousins is the overall QB10 in fantasy points per game with 23.7. The Vikings have gotten off to a rough start as a team (0-2) and defensively. They allowed 27 points in Week 1 to the Bengals, which included 149 yards rushing. And they allowed 34 points to the Arizona Cardinals in a game that totaled 893 yards of offense between the two teams.

This game total is currently tied for the highest projection on the slate, and for good reason. In their last two matchups (2019, 2020), the Vikings and Seahawks have combined for 67 and 53 points, respectively.

It is worth noting that Cousins has struggled in each of these matchups, averaging just 15.6 fantasy points in those two games. But Cousins and the Vikings are at home in this game. It's the first time the Vikings have hosted the Seahawks in the regular season since 2015.

Cousins could be a solid play against the field in what could be another competitive, high-scoring game. Our rankings suggest that Cousins has the fourth-easiest matchup on the slate, and is projected for 18.6 points. Cousins would likely need to outperform his projections to get there, but he will be there at the end of drafts if you don't want to spend up on other players like Lamar Jackson at Detroit or Kyler Murray at Jacksonville.
Tom Brady

, Tampa Bay

Buccaneers

Like Cousins and the Vikings, Tom Brady and the Buccaneers are the other team sitting atop the weekly projected totals in their matchup against the Los Angeles Rams.

The Rams have been tremendous on defense through their first two games against the Bears and the Colts. They have allowed only three offensive touchdowns on the season, including just one passing touchdown. The problem here is that the Rams have played the Bears and the Colts, who each have three offensive touchdowns on the season.

Los Angeles gets its first real test of the season in Week 3 when they travel to Tampa Bay to face the Bucs, who lead the NFL with nine touchdown passes thanks to an offense that features Mike Evans, Chris Godwin, Antonio Brown and a revitalized Rob Gronkowski.

Brady is the overall QB3 on the season in fantasy points per game (28.4) and is fresh off a five-touchdown performance against the Falcons. Additionally, the Bucs have been one of the worst teams rushing the ball through the first two weeks. They have the second-fewest rushing yards on the season (114) and are one of four teams who have failed to score a rushing touchdown on the season.

In a game that could shoot out in a big way, I like Brady in this matchup, despite our rankings suggesting that he has the toughest matchup of any QB this weekend. Those sentiments could result in the field being lower on Brady and looking elsewhere for QBs with perceived stronger matchups.
Running Backs
Jonathan Taylor

, Indianapolis

Colts

Riding with Jonathan Taylor into this one feels risky, but our rankings do suggest that Taylor has the fifth easiest matchup on the Week 3 slate for opposing running backs.

Taylor is averaging only 10.2 fantasy points per game (RB27) on the season but could be asked to anchor an offense that may be without its starting quarterback. Carson Wentz is currently nursing not one, but two sprained ankles, and while his status remains up in the air, the Colts could lean more on the running game even if Wentz does suit up.

Taylor was decent in Week 1 against Seattle, rushing 17 times for 56 yards, while adding another six receptions for 60 yards and finishing with 14.6 fantasy points on the day. The Titans have only allowed 213 rushing yards on the season, but have surrendered three rushing touchdowns. We project Taylor for 15.7 points in this matchup.
Saquon Barkley

, New York

Giants

In Week 1 against the Giants, Saquon Barkley played on just 29 of his team's 61 snaps. In Week 2 against the Football Team, Barkley was on the field for 58 of 69 snaps, and saw a season-high in touches (15). The snaps are encouraging, and while the touches still aren't where we want them to be for a running back of Barkley's caliber and fantasy draft capital, his steady climb in both snaps and touches was to be expected.

Barkley is coming off a torn ACL suffered in Week 2 of the 2020 season, and head coach Joe Judge did suggest that his star running back could be eased back into the process.

If there were a game for the Giants to set Barkley loose, Week 3 against the Falcons may be it.

The Falcons have allowed the fifth-most rushing yards on the season and 4.9 yards per carry. In Week 1 against the Eagles, Miles Sanders finished with 15.3 fantasy points, while rookie running back Kenneth Gainwell finished with 11.3.

The difference between these running backs and Barkley is that they operate in a committee, while Barkley (when healthy) should be the bell cow back for the Giants.

Our rankings project Barkley for 14.1 points despite having the third toughest matchup on the slate. Underdog fantasy projects Barkley for 13.2 points and as the RB14 overall. He could be the perfect RB2 on your Battle Royale rosters if the Giants let Barkley roll in Week 3.
Wide Receiver
Tyler Lockett

, Seattle

Seahawks

It seems foolish to not draft Tyler Lockett in this format. After all, he's been on the winning Battle Royale team in each of the first two weeks, and is the overall WR2 in fantasy points per game (25.9).

Lockett gets what should be another generous matchup in Week 3 against the Vikings in a game that's O/U currently sits at 56. And the Vikings have already allowed big fantasy weeks to opposing wide receivers such as Ja'Marr Chase (18.4) and Rondale Moore (20.2).

Through two games, Lockett has posted a receiving line of 12/278/3 on 16 targets. Our rankings suggest that Lockett has the ninth easiest matchup on the week, and projects him as the overall WR7 with 15.4 fantasy points.

If you are unable to land Lockett, a pivot to DK Metcalf to secure a piece of this offense/matchup makes a lot of sense.
Tyreek Hill

, Kansas City

Chiefs

Tyreek Hill and the Chiefs are coming off a stunning loss to the Ravens in Week 2. Perhaps more stunning, was the fact that Hill managed just three receptions for 14 yards against a defense that in Week 1 allowed four catches for 81 yards to the Raiders Bryan Edwards in the fourth quarter alone.

The Chiefs and Chargers game is projected for the second-most points on the weekend (55.5) and Hill is projected as the overall WR1 in our rankings.

We are exceptionally bullish on Hill, who we are projecting for 21.2 fantasy points. Underdog projects him as the WR2 with 16.1 points.

In his lone matchup against the Chargers in 2020, Hill posted a receiving line of 5/99/1 and finished with 19.4 fantasy points.

Tight Ends
Mark Andrews

, Baltimore

Ravens

Ravens tight end Mark Andrews is averaging just 5.9 points per game through the first two weeks of the season, but gets a Week 3 matchup against the Lions. He's seen five targets in each of the first two games, and had a solid 5/57 receiving line in Week 2 against the Chiefs. Andrews remains one of Lamar Jackson's favorite targets but is third on the team in targets through two weeks.

Nevertheless, our projections have Andrews slated or 10.8 fantasy points this weekend (TE4) ahead of names like George Kittle, Kyle Pitts and Rob Gronkowski.

It wouldn't be shocking to see the market lower on Andrews in favor of some of these other players we have ranked behind him, which could make him a nice pick in this tournament format.
T.J. Hockenson

, Detroit

Lions

Sticking with the same game here, Lions' tight end T.J. Hockenson is quickly making his way into elite fantasy tight end territory just two weeks into the season.

Ironically, Hockenson and Andrews shared very similar ADPs throughout the majority of the offseason, but it was Hockenson who was perceived to have had the higher ceiling given the underwhelming group of receivers around him.

As it stands right now, the offseason narrative of Hockenson being the Lions' top receiving target in 2021 appears to be true. He leads all Lions pass catchers with 19 targets, and behind him in the target pecking order is not a wide receiver, but running back D'Andre Swift.

Hockenson is the overall TE3 in fantasy points per game (15.2) and gets a Ravens team that has struggled against tight ends - albeit elite ones, through the first two weeks. In Week 1, the Ravens allowed 16.5 points to Darren Waller and 16.9 points to Travis Kelce in Week 2.

If you're unable to land Kelce or Waller, or are looking for a pivot off of them, Hockenson is my preferred choice. Our rankings project him as the week's TE3 with 12.6 points.