Odell Beckham Jr. Injury Profile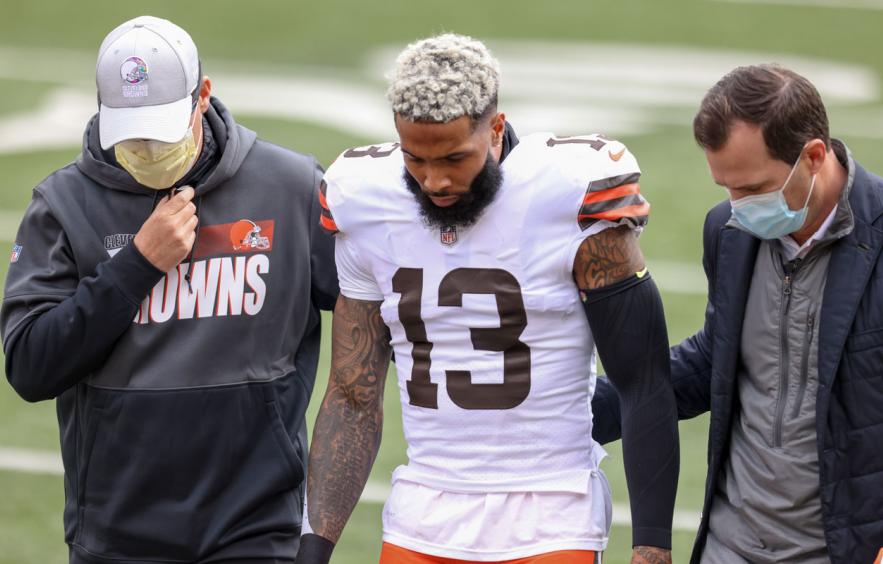 Justin Casterline/Getty Images
There was a time when Odell Beckham was a fantasy football cheat code. Prior to 2017 Beckham Jr. was an annual top-5 wide receiver, consistently providing fantasy managers with 20+ point weeks. A combination of various issues spearheaded by injuries has derailed the once-great receiver. Now, as we head into 2021 when it comes to drafting the Brown's wideout we are all forced to ask ourselves: "Am I going to do this again?" According to 4for4 multi-site ADP, Beckham Jr. is a late-sixth/early seventh-round pick in redraft leagues. So the question really should be if you're going to draft Odell Beckham Jr., are you comfortable with that investment?
---
More Injury Analysis: Dak Prescott | Saquon Barkley |
---
The ACL injury Beckham Jr. is coming off of only complicates matters. Beckham Jr. sustained the ACL tear in Week 7 last season. Although over recent years we have seen wide receivers return the season following an ACL reconstruction (ACLR) and have success, when it comes to OBJ, I am concerned. There are certain things that he does that an ACL injury might prevent him from doing. I explain my pessimism below.
The Injury
As stated above, Odell Beckham Jr. tore his left ACL against the Cincinnati Bengals, when he was trying to tackle a defender after an interception (video here). Suffering this injury midseason made the 2021 outlook hazy but not impossible. There was no indication that Beckham Jr. sustained any additional injuries to his left knee other than the ACL tear, and his surgery was soon afterward. Reports from NFL.com indicate the ACLR was on November 10th, 2020, and as a result, his return to play timeline was set at roughly 10 months post-op - a realistic timeline for 2021.
ACL Reconstruction Research
Regarding research in sports medicine, no injury has been studied more than ACL tears. How to avoid them, what to do for treatment, etc. All of this has been analyzed. When determining return to play criteria the overall consensus is this: timelines are based using a combination of both studied healing times for the ACL graft and clearing sport testing thresholds.
Healing Times
I discussed healing times at greater length when I wrote about Saquon Barkley's ACL tear. If you are interested in a more in-depth breakdown I recommend checking it out. This gist is that it takes 12 months on average for the ACL graft to fully heal, and the chance of re-injury is higher within that first year because of the graft not fully integrating in the knee. Athletes certainly can return to play sooner, but it carries some risk.
Return to Sport Testing
For a more in-depth breakdown regarding sport testing's part in the return to sports equation for athletes, you can also reference the 4for4 Saquon Barkley Injury Profile. Most of the information from return-to-sport testing consists of objective findings and rehabilitation findings that the general public does not have access to. However, because of social media, we have been able to see video of Beckham Jr. this offseason as he rehabs post-ACLR (video courtesy of @theMMWB).
Although this is a great sign, for ACL injuries I care less about the ability to accelerate and more about their ability to decelerate. Deceleration is important because controlling deceleration forces can reduce the strain on the ACL graft. Inadequacies here can be a common cause of an ACL tear. Deceleration training and proprioception can be difficult to get back and when it comes to Odell Beckham Jr., deceleration is key.
Positive Spin
When analyzing fantasy-relevant wide receivers since 2013 who returned from ACLR, there is reason for optimism. Unlike some other positions, wide receivers have been able to return to football a year removed from their ACL tear and put up equal production. A top-10 and or top-5 WR finish is within the range of outcomes the following season.
Additionally unlike running backs, wide receiver production is mostly unaltered. Even though the sample size is relatively small, the standard deviation (variance) is also small. The table below outlines the difference in these categories for wide receivers the year before and the year after their ACL tear.
WR Production Pre & Post ACL Tear

| Pre vs. Post Injury | Targets per Game | Receptions per Game | Yards per Game | Yards per Reception |
| --- | --- | --- | --- | --- |
| Average (%) | -2.20% | -0.07% | 1.22% | 2.56% |
| Standard Deviation (+/-) | 1.9 | 1.1 | 14.8 | 1.7 |
Amongst this group, there were no examples of re-injury to the ACL. Only 20% of them sustained a lower-body soft tissue injury. Although it's impossible to directly correlate these injuries solely to the ACL, it's certainly a possibility.
Negative Spin
Everyone remembers Odell Beckham for "The Catch" when he made the spectacular one-handed grab on Sunday Night Football against Dallas in 2014. However, Beckham's bread and butter has been his ability to create separation from opposing defenders. A measure of his athleticism is that ability to decelerate. Just like plays like this (video).
Odell Beckham's ability to stop on a dime and change direction is quantified in Yahoo Fantasy Football's very own Matt Harmon's Reception Perception.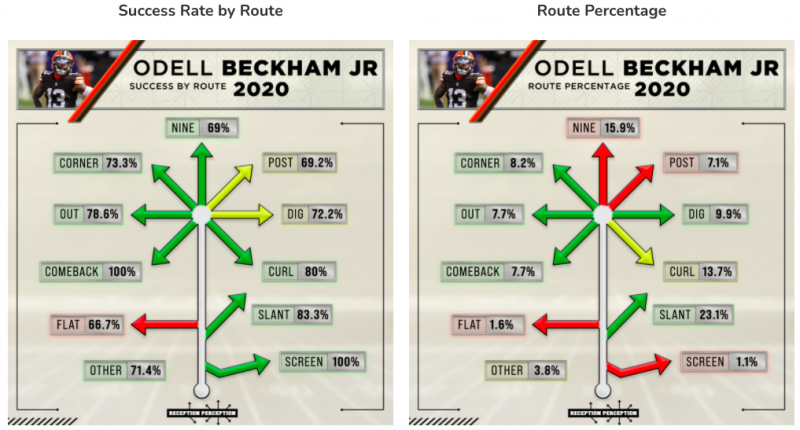 (This is an original image is from Matt Harmon's Reception Perception. Rights do not belong to the author or 4for4 nor are we advertising them as such).
Looking at Beckham's 2019 route tree, nearly 17% of the routes he ran consisted of comebacks and curls (when he accelerates up field stops and turns around to make himself open for his quarterback). 2019 was one of Beckham Jr.'s most disappointing seasons, considering he played all 16 games. As Harmon point's out, Freddie Kitchens did not properly utilize Beckham based on the routes he was running.
In 2020 under Kevin Stefanski, Beckham was looking like a bounce-back candidate with a revision to his route tree (pictured above). His comeback and curl routes were featured 21.4% of the time and he averaged a 90% success rate.
Coming off ACLR if Odell Beckham is not able to return to his masterful execution of decelerating on comeback and curl routes his production could revert back to his 2019 profile where he finished barely inside the top 25 amongst wide receivers.

Fantasy Outlook
Although wide receivers see a smaller decrease in their overall production the following season, Odell Beckham has been plagued with lower-body injuries the past few seasons from a quadriceps contusion, a broken fibula, a high ankle sprain and now an ACL tear. His pre-ACL tear production has not been up to par and I worry that following this injury his numbers will be below that of a WR2.
When studying Matt Harmon's reception perception for Beckham, a significant portion of his success consisted of running comeback and curl routes. The ability to decelerate is what makes running these routes possible.
Odell Beckham would have to be very efficient in 2021 considering the Cleveland Browns ranked 29th in the league in pass rate. Betting on him to be at maximum efficiency coming off a major injury is risky.
Based on Odell Beckham's ADP, I would rather invest in other wideouts like D.J. Chark with Trevor Lawerence at the helm, Jerry Jeudy in a second-year breakout, Deebo Samuel a year removed from his Jone's fracture, or even another player who suffered an ACL tear, Courtland Sutton. Sutton sustained his injury earlier and has had more time to recover. Not to mention his less sophisticated route tree could be advantageous since it mostly consists of nine routes, accelerating past defenders and bullying opposing defensive backs. Although I would like Odell Beckham Jr. to return to his old form because fantasy football is more fun with OBJ, in 2021 I cannot wrap my head around the idea.
Special Thanks
Thank you to Matt Harmon for allowing me to display his Reception Perception content in this article. I strongly suggest you consider subscribing to Reception Perception for a more detailed breakdown of Odell Beckham as a wide receiver along with others included.