Injury Profile - Can Saquon Barkley be Elite in 2021?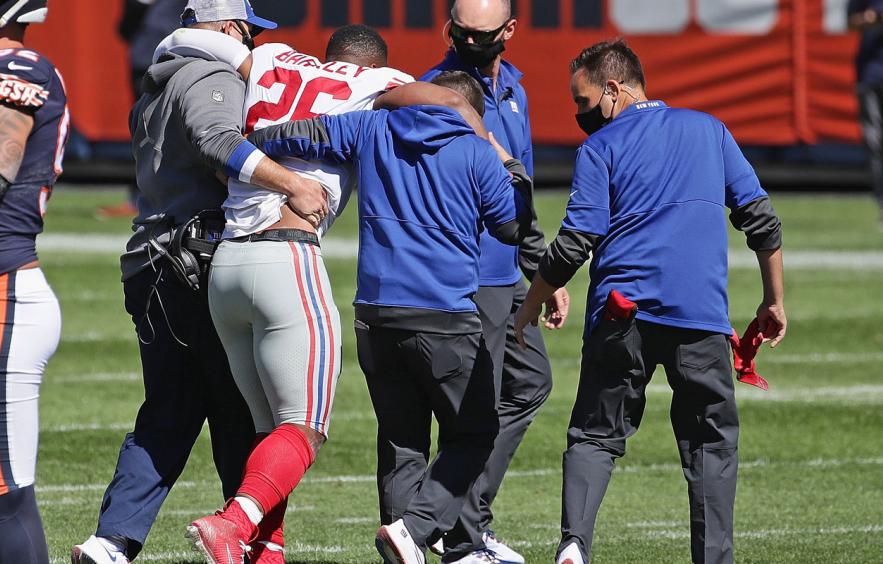 Jonathan Daniel/Getty Images
There might not be a single NFL player more polarizing as we head into the 2021 fantasy football season than Saquon Barkley as he returns following the injury to his right knee last season. Is he a first-round pick, or someone that should be avoided altogether? There does not seem to be an in-between. Even recent reports cast a shadow of uncertainty about Barkley's availability for the 2021 season. An article last week from ESPN revealed that when asked if he would be ready come Week 1, Barkley responded, 'I don't know. We'll see."
It's this ambiguous answer that has frustrated fantasy managers as they head into their drafts. Below I will discuss the medical aspects involved when rehabbing an ACL and meniscus reconstruction, what I have learned about Barkley's injury, and more importantly what to expect for fantasy football. By the end of this article, I will give you three realistic fantasy football projections for Saquon Barkley based on different variables. Then you can decide where it is worth picking Barkley.
---
More Injury Analysis: How Will Dak Prescott Rebound in 2021?
---
The Injury
In Week 2 of the 2020 season, Barkley suffered a non-contact right ACL tear. As if that wasn't bad enough, Barkley also tore his meniscus and sprained his MCL. The significance of the meniscus tear and MCL sprain is that it not only delays the recovery post-operation but it also delayed when Barkley was able to have surgery. Typically when a player sustains an ACL tear, surgery follows soon afterward. Although Barkley's injury was on September 20th he didn't have surgery until over a month later on October 30th. This extended timeline is not uncommon and was likely chosen to allow swelling to subside. By waiting, medical professionals are trying to improve Barkley's post-op outcomes. However, waiting to have surgery obviously delays his return-to-play timeline.
ACL Reconstruction Research
In the world of sports medicine, ACL tears without a doubt have been the most researched injury. A majority consensus believes that regarding rehab of ACL reconstruction (ACLRs), return to sport timelines are a combination of both healing times and meeting specific return to sport criteria.
Healing times
Following ACLRs, around three months post-surgery the ACL graft is still immature and healing. By six months the graft and the tunnel sites in the tibia and femur where the graft is inserted have healed but the body of the ACL graft has not. A systematic review in 2019 showed that ACL grafts experience collagen fibril alignment from six to 12 months. This is why many healthcare professionals exercise caution for a whole calendar year following ACLR. The chance of re-injuring the graft or not properly healing is higher during that first year. Week 1 of the 2021 season puts Barkley near 11 months after his surgery and right on the cusp of the healing timeline.
Return to Sport Testing
As I mentioned above, the other half of that equation is the return to football readiness. Most of this information will consist of objective findings and rehabilitation findings that the general public will not have access to. Luckily social media has somewhat helped with this issue. One of the first documented instances of Barkley returning to sports activities/plyometrics (running, jumping, cutting) was on June 22nd, roughly eight months post-op. Although this is a little bit later than I'd want to see, we need to remember that Barkley also had a meniscus repair. Also just because this is the first we saw of Saquon performing the sports-specific training it does not mean it was his first time doing so.
The Positives
Obviously, when a player suffers an injury it is bad, especially when it is a season-ending one like an ACL tear. However here are some positive things that we know about his injury and the procedures that he had. Research has shown that for every month between 6-9 months post-op that return to play is delayed, there is a 50% decrease in risk of re-injury. Additionally, a recent study from 2020 found that athletes who returned to sport nine months or sooner were seven times more likely to re-injure themselves than those who waited. This tells us that Barkley returning at the season start or later significantly reduces his chance of re-injury.
By having a meniscus repair, Barkley possibly prolonged his career. Meniscectomies (where the torn meniscus tissue is removed rather than preserved) have a higher rate of causing knee complications and inflammation later in a career. This procedure could help with Barkley's longevity in the league. One reason meniscus tissue is also important is that it serves as a spot block to anterior (forward) forces of the femur on the tibia. The excessive anterior slide of the femur on the tibia is how Barkley tore his ACL last season. Keeping that meniscus tissue helps reduce the chance he has the same injury (see video here).
The Negatives
In a recent conversation with ESPN's very own Stephania Bell conversation on Dave Kluge's podcast: "The Launch Pad", Stephania also indicated that she knows the New York Giants Director of Rehabilitation, Leigh Weiss. According to Stephania, Weiss is very conservative when it comes to rehabbing ACLRs which is likely why now the reports from New York are vague. If you remember, Dalvin Cook in 2018 had a productive season but eventually suffered a hamstring injury which possibly connected to his heavy playing time. Weiss is also on the hamstring committee for the NFL so it goes without saying that he is well aware of the potential pitfalls hamstring injuries can bring after ACLR. This could easily contribute to New York being cautious when it comes to Barkley's return.
It is well documented but for running backs in the NFL, outside of a few outliers, their performance levels post-ACLR take a substantial dip. On average, running back yards per carry (YPC) and yards per reception (YPR) drop 8% and 9% respectively The running back struggle could be linked to the difficulty with cutting, pivoting, sliding and jumping, movements that require not only a healthy and strong ACL graft but mature fast twitch muscle fibers in quadriceps and hamstrings, which are atrophied as a result of the ACL surgery.

Fantasy Outlook
Now that you know all about Barkley's injury, healing times, and the good/bad related to his injury, it is time to get into fantasy projections. As promised, here are three fantasy football projections based on Barkley's career output thus far in his career, what other running backs have been able to do post-ACLR, ACL specific research, anecdotes from other medical professionals and my clinical experience over the years.
Saquon Say Gone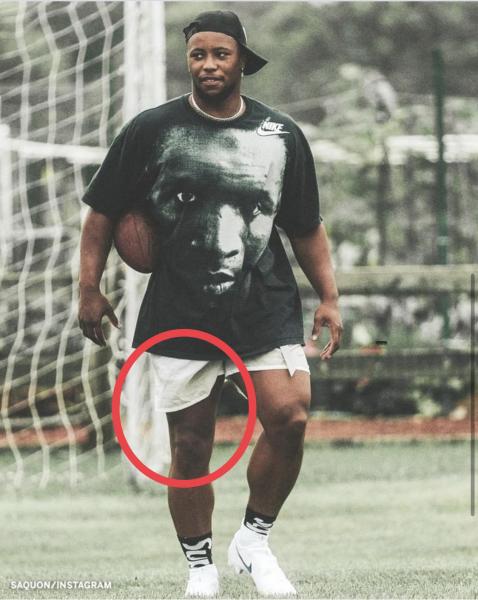 Based on the tip from Stephania Bell, I was able to track down a picture of Barkley (seen above) where you can see both his left and injured right knee together. The angle could be misleading but his right quadriceps would appear to be smaller than the left, which is typical for his injury, but not good for return-to-sport readiness. In this scenario, Barkley only plays a portion of the season after missing the start of the season. This is not the most likely situation but is in his range of outcomes and, for the record, I believe this is Barkley's least likely projection.
| Games | Fantasy Points | Points Per Game | Rank |
| --- | --- | --- | --- |
| 13 | 205 | 15.7 | RB16 |
Average Joe Saquon
As I mentioned above, running back efficiency declines the year after their ACL injury. However, from the data I gathered, the overall target volume stays the same. As most fantasy gamers know, a target is worth twice as many fantasy points as carry. Even if the Giants ease Barkley in, it is very possible that they use him in high leverage situations such as passing downs which keeps his target total high based on his career numbers. A fringy top-10 running back is a highly likely outcome here. Of all his projections this one is likely his most realistic and how I am personally treating him.
| Games | Fantasy Points | Points Per Game | Rank |
| --- | --- | --- | --- |
| 15 | 250 | 16.7 | RB8-10 |
Saquon The Great
Despite everything I have talked about here regarding how the Giants will likely protect Saquon this season with a fractioned workload, there is a scenario where he is widely efficient, proves to be ready sooner rather than later, and assumes a normal workload in the tune of early-season Dalvin Cook, Jamaal Charles and everyone's favorite example of why ACL tears don't matter Adrian Peterson. Barkley has massive upside and would even outperform his first-round ADP. If you are someone who swings for the fences come draft day, then this projection is for you.
| Games | Fantasy Points | Points Per Game | Rank |
| --- | --- | --- | --- |
| 15 | 280 | 18.7 | RB4 |
Depending on what type of fantasy manager you are, hopefully, you can take this information and make the right decision for your fantasy roster.