Fantasy Football Debate: A.J. Brown vs. Calvin Ridley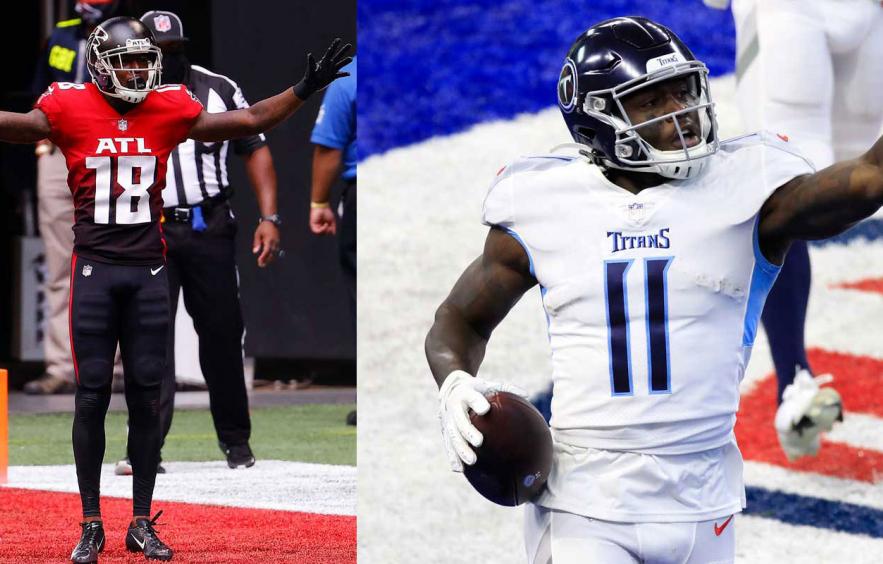 Kevin C.Cox & Andy Lyons/Getty Images
A.J. Brown and Calvin Ridley are both being drafted as top-seven fantasy wideouts on Underdog. In this debate, 4for4's Sal Stefanile will explain why he prefers Brown while Pranav Rajaram argues the Ridley side.
---
Other Fantasy Football Debates: Kyler Murray vs Lamar Jackson | Allen Robinson vs Terry McLaurin | D.J. Chark vs Laviska Shenault | Courtland Sutton vs Jerry Jeudy | Darren Waller vs George Kittle | Antonio Gibson vs Clyde Edwards-Helaire
---
The Case for
A.J. Brown
Sal: At one point early in the offseason, there was a strong contingent of fantasy players salivating over the thought of A.J. Brown having a massive fantasy campaign in 2021. If you looked at the Titans' pass-catching depth chart it was A.J. Brown and then a bunch of no-name assets. No-name might be a bit strong, I will admit, but when Josh Reynolds and Anthony Firkser are the best you can muster you get the point. It seemed Brown was in line for a massive target share and we were all on board with Brown being a top-three fantasy receiver. After returning from missing two games and a bye, Brown comfortably led the Titans in targets last season. From Weeks 5-16, Brown was targeted 87 times—25 more targets than the second-most targeted Titan (Corey Davis, 62) during that span. Even with two missed games, Brown was the team's target leader on the season. Davis has since packed his bags to the Big Apple and another one of the team's top-targeted players, Jonnu Smith, now resides in Timeshare City with Hunter Henry. Not to mention Adam Humphries is now a member of the more traditional Football Team.
It was reasonable to expect Brown to have a monster season both on the field and for fantasy purposes when it seemed likely he was going to see #ALL the targets. Then the Titans traded for Julio Jones. Fantasy managers soured on Brown and he began dropping down draft boards and fantasy ranks. He's currently the WR7 in Underdog drafts with an ADP of 20.5, going almost seven spots later than his debate nemesis, Calvin Ridley. I know, the point of this article is to persuade you to draft A.J. Brown over Calvin Ridley, and I've painted a not-so-rosy picture regarding Brown, but there are reasons to be optimistic he still racks up a multitude of receiving and fantasy stats.
The Titans desperately needed a reliable No. 2 WR—and that's exactly what they are getting with Julio Jones. According to John Paulsen, the losses of Corey Davis, Jonnu Smith and Adam Humphries adds up to 18.7 vacated targets per game available in the Tennessee offense. That's plenty of pigskin pie to be sliced up between Jones, Firkser and Reynolds, leaving Brown to be the team's leading target-getter, something he's accomplished in both of his seasons in Tennessee. So, why shouldn't we be worried about Julio Jones potentially eating into Brown's targets? As Spencer Babbitt pointed out in his scouting profile write-up on Brown, he doesn't need volume to produce. According to Babbitt, Brown was able to finish as the fantasy WR7 in PPR (WR6 in half-PPR) last season even though he saw the 30th-most targets at his position and ranked 27th in receptions by a wide receiver. The key to Brown's fantasy success is efficiency, not volume.
Another reason why fantasy managers should be thankful that the Titans signed Jones, rather than disgusted at how he could negatively impact Brown is that defenders will no longer be able to zero in on Brown and attempt to "eliminate" him with double coverage. Jones is a bonafide pass-catching asset who also requires defensive attention. There's room for both Jones and Brown to be fantasy contributors, assuaging any fears we may have of one canceling out the other. Something to consider: Corey Davis was 16 yards away from giving the Titans two receivers with 1,000+ yards in 2020, something that hasn't happened since 2004. Offenses can support two top-end fantasy assets at the same position, and that's the likely scenario we will witness play out in Tennessee in 2021. Just last season the Vikings had two top-10 fantasy wideouts in Justin Jefferson and Adam Thielen, for example.
While concerns of Jones bringing down Brown's fantasy value are valid, shouldn't we also have that same fear with Calvin Ridley and Kyle Pitts? It might be asinine to compare a rookie tight end to a Pro Bowl receiver, but Pitts is being viewed as a potential replacement for Jones, who could see time out wide or in the slot—roles traditionally reserved for receivers. As former 4for4 colleague Matt Gajewski noted, Pitts played out wide and out of the slot on a combined 43% of his snaps in college. Add in Mike Davis, who caught 59 of his 70 targets in 2020 now suiting up for the Falcons, and perhaps we should be more afraid of Calvin Ridley playing without Julio Jones than A.J. Brown playing with Julio Jones.

The Case for
Calvin Ridley
Pranav: Calvin Ridley is coming off the best season of his career. In 2020, the Alabama receiver put up 90 receptions, 1374 yards, and nine touchdowns en route to finishing as the WR4 on the year in half-PPR. He finds himself in an even better situation to produce this season given the changes in Atlanta. Currently being drafted as the WR4 in half-PPR Underdog Fantasy leagues, Ridley offers a high floor that few others can this season. He has a real chance at finishing as the overall WR1 this year and is more than justified in being selected over A.J. Brown (WR7) in drafts.
I'm the Captain Now
As we all know, the Falcons traded Julio Jones to the Titans back in June. This means that Ridley will step into the number one receiver role in the Falcons offense, with little competition for targets. While rookie tight end Kyle Pitts and slot receiver Russell Gage are bound to get their fair share of volume, neither of them are significant threats to Ridley, who commanded 143 targets last season. Barring injury, Ridley legitimately could be targeted at least 160 times this year, with an opportunity to get a historic number of targets. Suffice to say, he's the clear WR1 in the offense with a solid quarterback in Matt Ryan, who has historically supported an elite top receiver for fantasy football. Here's a look at how Ryan's WR1's have finished since he entered the league in 2008 (data from PFR):
As you can see, Matt Ryan's most targeted receiver has finished as a top-10 fantasy football wide receiver in all but one season. This bodes well for Ridley, as it's easy to see him putting up the same gaudy numbers as the receivers before him. Combine this with the fact that Ridley has always been a solid red-zone threat (26 receiving touchdowns since 2018, which ranks sixth in the league), and fantasy managers should be falling over themselves to grab Ridley in the second rounds of their drafts.
Julio Giveth, and Julio Taketh Away
Ironically enough, the reason why Ridley will be great this season is the same reason why A.J. Brown might not. Due to Julio Jones' arrival in Tennessee, Brown is no longer the clear top option in the Titans offense–he saw just 7.57 targets per game last season, and this number could get even lower if Julio plays up to his usual standards. The Titans will also likely continue to be a more run-focused team with Derrick Henry still in the backfield. Furthermore, Brown is due for some regression down to the mean in the touchdown department. Last season, he scored a whopping 5.7 touchdowns over expectation, which ranked fourth in the league. If he can't keep up this ridiculous touchdown efficiency, Brown has the makings of a volatile fantasy option in 2021.
At the end of the day, both Ridley and Brown are excellent wide receivers and will likely finish as top-15 options. However, Ridley offers a much higher floor than Brown this season, as he is the clear number one option in his offense. Adding on the fact that Brown is due for some touchdown regression, and it is clear that Ridley is the pick to make in fantasy drafts this year.