Can Rondale Moore Contribute Immediately for Arizona?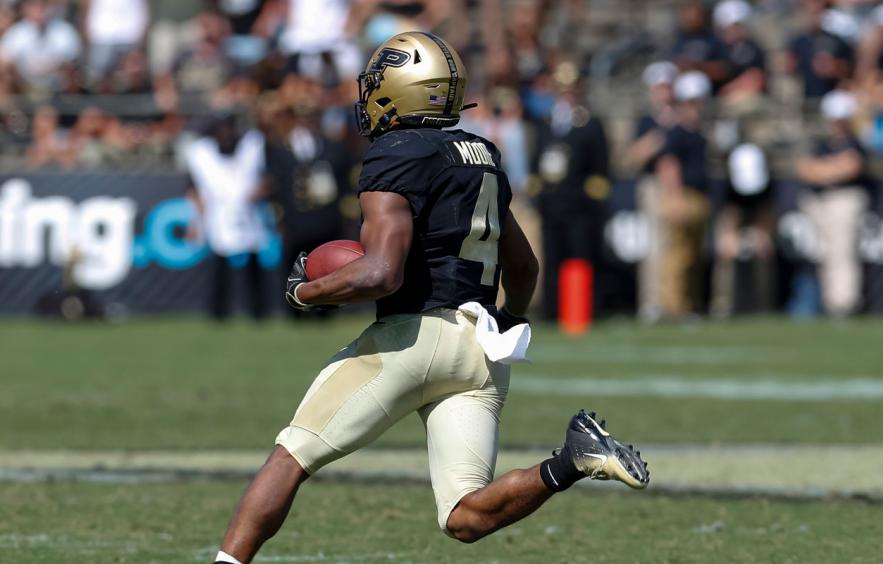 Michael Hickey/Getty Images
Continually adding more weapons to their arsenal, the Arizona Cardinals selected Purdue's Ronalde Moore with the 49th overall pick in the 2021 NFL Draft. Injured throughout most of his career, Moore still found himself as a Day 2 pick after producing at an early age and displaying elite athleticism. Despite entering a pass-heavy offense, Moore now belongs to one of the more crowded receiver depth charts in football. However, Kyler Murray's continued ascent leads to intrigue in year one as well.
This piece will first examine Moore's collegiate production and what to expect at the NFL level. Next, we will dive into Moore's potential fit with the Arizona Cardinals and how this could influence the offense as a whole.
---
Editor's Note: Read more player profiles from the rest of the 4for4 staff!
---
Rondale Moore

Day One Contributor

A rare four-star recruit for Purdue, Moore immediately stepped on campus as the Boilermakers' best athlete. Standing 5-foot-7, 181 pounds, Moore ran a 4.29 40-yard dash at Purdue's Pro Day. Moore also registered one of the shortest wingspans at the position (69.5 inches), which ranks in the first percentile. With this size, many viewed Moore as a slot-only prospect coming out of college. However, previous short-armed prospects like Doug Baldwin have already carved out successful NFL careers.

Despite the limited size, Moore produced elite numbers at an early age against Big Ten competition. In his first season with Purdue, Moore racked up 114 catches, 1,258 receiving yards, and 12 touchdowns in 13 games. This included elite performances against the conference's best defenses. Moore notched 12 catches for 170 yards and a pair of scores against Ohio State. He also produced nine receptions, 114 yards and a pair of scores against Wisconsin.
Rondale Moore

2018 Game Logs

| Opponent | Targets | Receptions | Yards | Touchdowns |
| --- | --- | --- | --- | --- |
| Northwestern | 14 | 11 | 109 | 1 |
| Eastern Michigan | 6 | 3 | 16 | 0 |
| Missouri | 13 | 11 | 137 | 1 |
| Boston College | 9 | 8 | 110 | 2 |
| Nebraska | 9 | 8 | 85 | 0 |
| Illinois | 6 | 4 | 101 | 1 |
| Ohio State | 18 | 12 | 170 | 2 |
| Michigan State | 16 | 11 | 74 | 0 |
| Iowa | 10 | 6 | 31 | 0 |
| Minnesota | 13 | 8 | 76 | 1 |
| Wisconsin | 14 | 9 | 114 | 2 |
| Indiana | 14 | 12 | 141 | 2 |
| Auburn | 12 | 11 | 94 | 0 |
These numbers gave Moore an elite 18.2 Breakout Age and 37.2% College Dominator in his first collegiate season. College Dominator refers to the total percentage of receiving yardage and touchdown production a player accounted for in their final season, while Breakout Age refers to the age of a player during their first season accounting for 20% of receiving yards and touchdowns in their offense. Adding a 36.4% target share, Moore produced one of the best freshman seasons in recent memory.
Unfortunately, Moore's college career took a turn for the worst following his freshman season. Moore only appeared in four games as a sophomore after a severe hamstring injury in Week 4. Moore finished with 29 catches, 387 yards, and two scores that year. 2020 proved much the same. Initially opting out, Moore eventually decided to play. However, an undisclosed lower-body injury held him to 35 catches and 270 scoreless yards in three games. With very little tape in the last two years, Moore became one of the draft's most difficult evaluations.
From an efficiency perspective, Moore looked even more curious. Playing 92% of his snaps in the slot, Purdue deployed Moore largely in an underneath role. He only secured two catches beyond 10 yards in all of 2020. However, this came as the result of play design, rather than physical limitations. Moore secured eight catches beyond 20 yards in his college career, but Purdue lacked the offensive line to protect long enough to expand his route tree.
In addition to the requisite speed to attack the deeper portions of the field, Moore constantly created after the catch. Moore notched 892 yards after the catch, which equated to 7.8 per reception in 2018. He also played on special teams, returning 42 kicks and 17 punts in his career at Purdue. This amounted to 1,001 additional yards on special teams.

Offensive Fit in Arizona
The toughest part of Moore's evaluation will be his fit in Arizona. Moore actually closely compares to former Arizona Cardinals 2018 draft pick Andy Isabella. Coming out of UMass, Isabella stood 5-foot-9, 188 pounds, with a 4.31 40-yard dash. While Isabella failed at the NFL level to this point, Arizona clearly has ideas in mind for players with this physical profile.
With that said, snaps and targets could be hard to come by in 2021. All-pro DeAndre Hopkins turned 160 targets into 115 receptions, 1,407 yards, and six scores in his first year with the Cardinals. Christian Kirk battled injury during the season, but still notched 48 receptions, 621 yards, and six scores. The team also signed former Bengals receiver A.J. Green to a one-year deal after securing 523 yards on 47 receptions last year. With Larry Fitzgerald allegedly mulling over another season, this depth chart looks exceedingly complicated.
Unlike other NFL teams, Arizona actually paced the league in four-wide receiver sets in Kliff Kingsbury's air raid system (20%). This was also the case in 2019 when the Cardinals used four-wide on 33% of their plays. Now with additional depth, Arizona may truly embrace Kingsbury's offensive concepts.
Hopkins already played on the boundary for 88.8% of his snaps last year and projects for a similar role. According to general manager Steve Keim, Green will line up primarily as a boundary receiver with Kirk kicking inside. Kirk only played in the slot on 16.3% of his snaps last year, but he produced his best NFL season in 2019 with a higher slot rate. Fitzgerald potentially muddles this situation after playing 86.7% of his snaps in the slot last year, but Moore could find an immediate path to playing time in Fitzgerald's absence.
As mentioned above, Moore played primarily in the slot during his college career. If Fitzgerald decides not to return, the Cardinals lose a significant portion of their slot production from last year. On top of Fitzgerald's 62 slot targets last year, the Cardinals also let move tight end Dan Arnold walk in free agency. Arnold spent 45.4% of his snaps in the slot last year, often functioning as Arizona's fourth receiver. Catching 11 of 16 targets for 179 yards and three scores from this alignment, his departure holds significance.
Interestingly, Moore has seen his stock rise significantly post-draft. Currently coming off the board before Kirk and Green in redraft leagues, Moore's current draft position assumes he overtakes the two elder receivers. With Isabella functioning as a cautionary tale, this cannot be assumed. With that said, Arizona ranked third in plays per game last year and continues to work towards a pass-heavy approach. Still outside the top 100, taking a shot on one of these cheap Arizona receivers makes sense.
From a dynasty perspective, Moore holds more long-term intrigue. Green remains signed to a one-year contract and Kirk enters the final season of his rookie deal. With only Hopkins locked up long term, Moore could find himself in an elevated role as soon as next season. 4for4's dynasty expert George Kritikos currently ranks Moore WR4 in rookie drafts, WR27 overall, and 49th overall player in dynasty leagues.
Bottom Line
An elite athlete and college producer, Moore landed in one of the NFL's strongest wide receiver rooms for 2021. While Moore may struggle for targets in year one, he still possesses paths to playing time. On Underdog Fantasy, Moore currently comes off the board at pick 135.8. With Kirk and Green coming off the board 164.1 and 190.8, taking a stab on one of the veterans could provide more value and security. While Moore perhaps brings more upside, he also brings a floor of almost zero. Regardless of offensive additions, Hopkins holds his role as team alpha and top-five receiver in the NFL.