8 Kickers to Avoid in 2021 Fantasy Football Drafts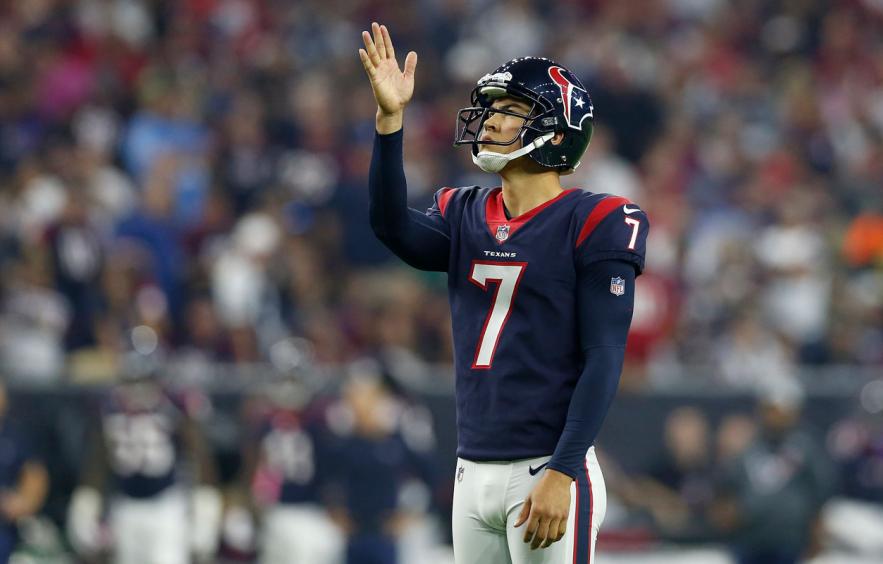 Tim Warner/Getty Images
My obligation as one of the few pro-kicker fantasy analysts in this space is to provide helpful information on who to draft, but I'm also here to assist with which kickers you should shy away from this season. I've already debunked the randomness of kicker points in a previously written article and using those same data points, this piece will guide you on which legs to avoid in 2021.
---
More Kicker Resources: Fantasy Kickers to Target in 2021 | Debunking the Randomness of Kickers | How to Pick a Kicker | Full-Season Kicker Projections
---
The Worst of the Worst
Kickers on squads with high implied team totals who are favored (preferably at home) are best for predicting fantasy outcomes from week to week. The following kickers are not on such teams and will struggle to put points on the board along with their respective offenses.
Based on current 2021 look-ahead lines
Detroit is currently not favored to win one single game during the 2021 season. There are 12 contests where the Lions are projected to lose by five or more points, with nine of those spreads equaling a touchdown or more. Randy Bullock's offense boasts an implied team total under 20 points in eight of their 17 games which means he won't have much opportunity to add to your roster. Take an enormous pass on Bullock this season.
As much as Ka'imi Fairbairn has given us some fantastic fantasy performances in the past, this year won't be added to his positive resume. The Texans are going to be pretty bad and despite the potential for garbage time, it just won't be enough. Like the Lions, Houston is facing 12 contests where they're projected to lose by at least five points, with double-digit spreads in five of those. When you have the second-lowest average implied team total in the NFL it's nearly impossible for Fairbairn to deliver any fantasy relevance to your squad.
While the Jets are on the up and up, at least on paper, Sam Ficken is not ready for fantasy rosters yet. We have no idea how this new-look offense will actually perform, so for now, he's best left as a possible streaming candidate if by chance Zach Wilson steps in and immediately crushes New York's projections of losing seven games by five or more points. The Jets also have the most contests (tied with Detroit) where their implied team total is under 20 points.
Folks seem to be pretty excited about the Jaguars this season, but we need to pump those brakes when it comes to kicker points. Jacksonville's average implied team total for the season is the seventh-lowest in the league, with six contests where they're projected to lose by five or more points. Josh Lambo also has a brutal stretch of games to close out the year where the Jags are on the road for 4-of-5 games between Weeks 13-17, with expectations to lose all four of those contests. Feel free to invest in other pieces of this young Jacksonville offense if you feel compelled, but leave Lambo on the waiver wire in favor of a leg on a more stable, proven offense.

Kickers for Possible Streaming, but Probably Not
Similar to the guys above, these four kickers are on offenses that aren't among the best in the league. However, there is some potential for weekly streaming based on matchups and the unknown heading into 2021.
The Giants are the only team in this tier without a major change in their offense, but we still need to see more out of Daniel Jones to deem Graham Gano roster-worthy. New York has five contests where they are projected to lose by five or more points and only five other NFL teams have a lower average implied team total for the 2021 season. If this offense does take a step along with Jones, Gano could be used sporadically if the matchup is right, but probably not.
Joey Slye was K16 in fantasy points last season which was alright, but he gets a new QB in Sam Darnold who's in a prove-it situation after a rough start to his career in New York. The Panthers are expected to have a losing record, with six games coming at losses with over five points. Slye also gets a really difficult end to the season which isn't great for fantasy football either, as Weeks 15-18 are projected losses by 6.5 points or more with three of the implied team totals under 20.75. Leave Slye for someone else to deal with unless Darnold has this offense humming way beyond expectations.
The Bears have had their share of kicking woes—and general woes if I'm being honest—and this is not the year to invest in the place kicking side of things. Despite all the excitement surrounding rookie QB Justin Fields, we may see Andy Dalton under center for a chunk to start this season and Vegas doesn't like their scoring potential at all for 2021. There are only three offenses estimated to put up fewer weekly points than Chicago this season, which is not ideal for Cairo Santos' output.
Rookie kicker alert! Last season was great for fresh legs, as both Tyler Bass and Rodridgo Blankenship ended among the Top 5 kickers in fantasy output. This season we get Evan McPherson who was actually drafted by the Bengals in the fifth round, which is great for their future, but probably not for 2021. There is plenty of hype around the offensive pieces of the Cincinnati offense for fantasy purposes, but the reality is they probably won't win too many games. Their defense is bad which is a plus in the fake football world, but garbage time doesn't necessarily trickle down to the kicker position. The Bengals have six contests where they are projected to lose by over five points, and three where their implied team total falls under 20 points. McPherson may be a nice stash for dynasty leagues but avoid him this year in redraft formats.