TJ's #Taek: Week 7 NFL DFS Recap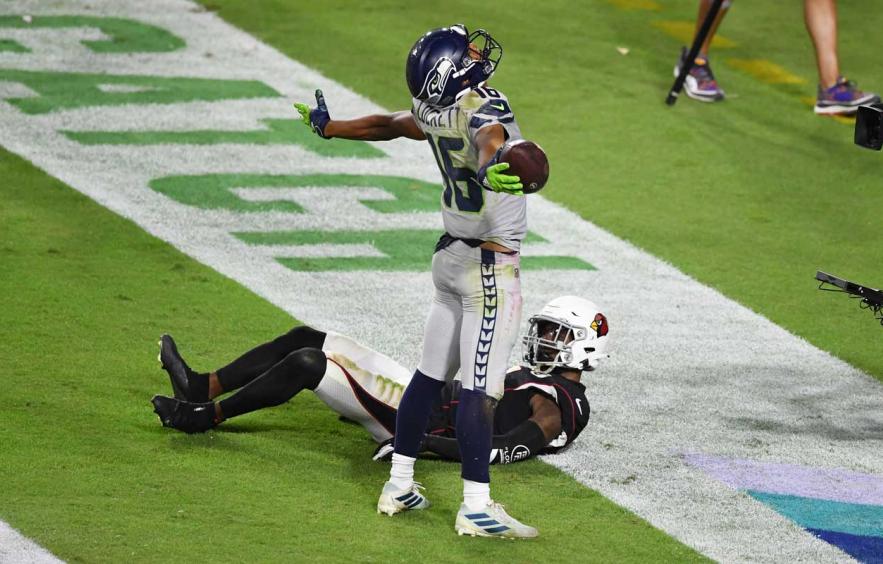 Norm Hall/Getty Images
Week 7's winning lineups from the biggest contests on FanDuel and DraftKings can be used to tease out lineup-building strategies and offer clues on how you could have landed on a similar team. Reviewing your hits and misses each week is imperative if you want to be a profitable DFS player but examining winning lineups is also a useful exercise in cultivating a winning approach.
DraftKings Week 7 Millionaire Winning Lineup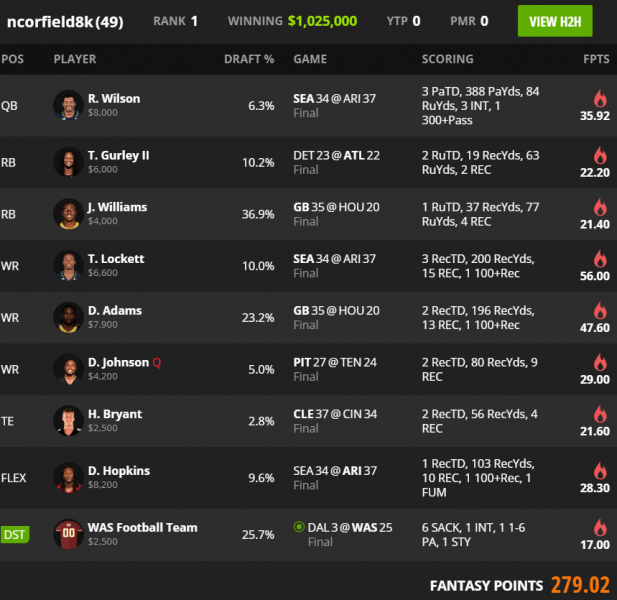 The main slate usually doesn't include Sunday Night Football but we saw the impact that rostering late players can have. The Cardinals and Seahawks were going to be the most popular teams to stack going into the week but DeAndre Hopkins was questionable for the late game, which drove his ownership down to single-digits. All we have to do is look to a similarly priced Davante Adams at 23% to understand that Hopkins's low ownership wasn't necessarily salary-driven. With COVID wreaking havoc on weekly schedules, it's possible that we see a similar situation arise by season's end. In that case, recall this situation to understand how low a player's ownership can be driven down, even in a great spot.
This lineup tied for the most chalky Millionaire winner of the season, with an average ownership of 14.4%. This was just the second winner of the season to roster two running backs that were in at least 10% of lineups, but not the first time a winner has paid down for their top backs. This marks the third time that the lineup at the top of the Millionaire leaderboard paid $6,000 or less for their most expensive running back. In a week where Alvin Kamara was the most popular player on the slate, something as simple as changing roster-construction by avoiding the high-priced chalk is a great start to building a unique team.
What Were the Indicators for the Low-Owned Plays?
Diontae Johnson hadn't played a full game since Week 2, a situation that Chase Claypool took advantage of and question Johnson's status as the WR1 in Pittsburgh, despite the fact that he saw double-digit targets in his two healthy games. Understanding that Johnson would likely step back into his lead role, especially after Claypool saw just four targets in Week 6, was enough to exploit his low salary in a spot where Pittsburgh was expected to be in a relatively high-scoring game.
With Austin Hooper ruled out on Sunday, the expectations were that David Njoku would be the lead tight end for Cleveland but Harrison Bryant was officially named the Browns starter on Sunday morning. He was already an interesting option because of the salary relief he provided, but once Aaron Jones and Joe Mixon were both ruled out, most players likely figured it unnecessary to completely punt tight end.
FanDuel Week 7 Sunday Million Winning Lineup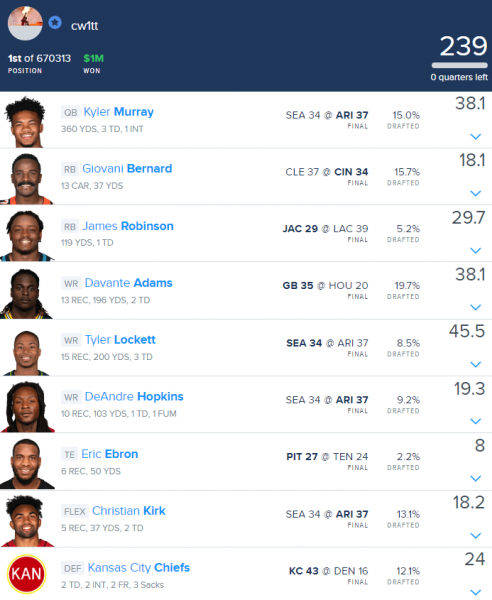 There was a potentially fatal error in this lineup build, putting Christian Kirk in the flex over DeAndre Hopkins, who had a questionable tag. Even if Hopkins wasn't dealing with an injury, the highest-salary player possible in the latest game should always be in the flex in order to maximize available options for a late swap. Obviously, that didn't hurt cw1tt, but it is certainly worth noting.
Like the DraftKings winner, the Sunday Million winner avoided rostering an expensive running back at all in a week where a high-priced back was the mega-chalk. James Robinson's workload is unmatched, going into Week 7 as the leader in backfield touch share with 83% of the running back work for Jacksonville. That kind of opportunity is always going to make a running back a viable option in tournaments, even in a perceived tough matchup.
This was one of the worst tight end weeks in recent memory, making a contrarian strategy especially appealing. Eric Ebron's usage doesn't jump off the page but it has been consistent enough to exploit a Titans defense that went into the week ranked 31st in schedule-adjusted points allowed to tight ends.
TJ's Final #Taek
Week 7 was especially unique in that there were essentially two "free squares" in Jamaal Williams and Giovani Bernard. Both did enough with their opportunity to show up in winning main event lineups but neither winner had them together. To be fair, there were multiple top-10 lineups with that running back combo but the point is that it is very difficult to be unique enough to climb all the way to the top of a leaderboard with two chalk free squares.
The issue isn't just that they both have high ownership, but that their price tags are almost certainly going to pigeon hole every lineup that uses that combination into a very similar lineup build. Deconstructing potential lineups beyond just projected ownership and understanding the impacts of something like the availability of cheap, chalky running backs can help DFS players predict how most lineups will look. For example, in Week 7, a lot of players were going to use Bernard or Williams to be able to afford Alvin Kamara. Others were going to play Williams and Bernard together to load up on the high-end receivers like Davante Adams. Not coincidentally, neither winner this week went with those running back combos.
On this week's DFS MVP podcast, we will dive even deeper into predicting running back range of outcomes and how to exploit that in your tournament builds