Wild Card Weekend NFL Betting Picks: Game and Team Totals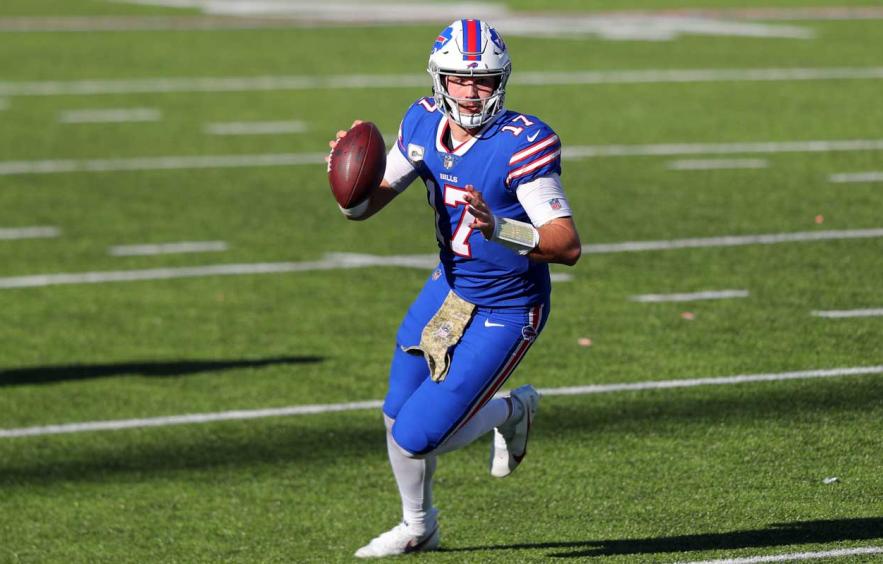 Timothy T Ludwig/Getty Images
The only thing better than football is playoff football. It's been a pretty challenging year for most, but hopefully, we can all take respite in knowing that we get two extra football games this weekend. Ideal you spent Friday evening with your significant other and/or children in preparation for this weekend. A 3-game Saturday will likely catch your family off guard if you didn't take the necessary precautions in advance.
I'm 43-30-1 here on the season, hovering around the 58% mark. Here are the plays that I'm confident about this week.
Buffalo
Bills

- Over 28.5 (PointsBet)

For starters, I'd take this up to 29.5, which is the price at both DraftKings and FanDuel. I've also bet this game total at 51, which is also still available right now at PointsBet, but my favorite play is the Bills team total over at the lowest number you can find.

The Bills have won six straight and nine of their last 10. Over that 10 game stretch, they're second in EPA per play, EPA per dropback, and points per drive. The strides that Josh Allen has made as a passer, they're truly difficult to fathom. Over his first two seasons in the league, Allen was plagued with questions surrounding his accuracy, bared out in his Completion Percent Over Expectation (CPOE%) numbers. Allen ranked 41st out of 43 qualifying quarterbacks and 34th in EPA per play. This season, Allen ranks second in CPOE% and 3rd in EPA per play, and he's exceeded those season-long rates over their current six-game winning streak, trailing only presumptive-MVP Aaron Rodgers in both categories.

The Colts are limping into the playoffs. Over their past six quarters of football, they've allowed bearded-statue Ben Roethlisberger to torch them for three straight touchdown drives to put Indy away in Week 16 and then needed a Jonathan Taylor touchdown late in the fourth to put away the hapless Jaguars. Former Bills' playoff legend Frank Reich brings his team to western New York to play in front of what I suspect will be a well-lubricated 6,700 of Buffalo's finest who've been dying to root for this team in person all season long.

Allen has fared better against man-heavy schemes compared to the zone looks that Colts' DC Matt Eberflus will show him, but the Colts have allowed the fifth-worse success rate over the past six weeks, and Allen has proven to be matchup proof. Look for Brian Daboll to wisely abandon the run against Indianapolis' stout front, and lean on Josh Allen to get this done.
Los Angeles
Rams

@ Seattle

Seahawks

- Under 42.5 (FanDuel Sportsbook)

As of this writing, we don't know who'll be under center for the Los Angeles Rams this week. What I find to be interesting is that books left this on the board all week. Do you think if Josh Allen was legitimately questionable this week that the game's spread and total would stay posted? How about Russell Wilson, or Tom Brady?

The previous three meetings here, including both this season, have gone under 41 points. Familiarity breeds contempt, and also, boring football. I spent the first six weeks jumping on Seahawks' team totals anytime they were under 30, but here we are. All of the spreads and totals are juiced up slightly this week because books know that the public wants to bet favorites and overs, so we benefit here by taking this under when it's over the key number of 41.
Washington
Football Team

- Under 18.5 (FanDuel Sportsbook)

The game total under 45.5 is appealing, but I want to isolate Washington here. I'm looking to protect myself from a 3-4 touchdown outing from Tom Brady, which I believe is wildly within his range of outcomes right now.

Much has been made this week about Washington's strength up front, and their presumed ability to get pressure on Brady by rushing only four down linemen. While I certainly agree that success with this approach is Washington's best path to victory, I think the story of this game is going to be Tampa Bay's success doing the exact same thing to Alex Smith. The Buccaneers have a higher adjusted sack rate and pressure rate than The Football Team, and Alex Smith is equally immobile compared to his 43-year old counterpart. With Terry McLaurin and Antonio Gibson both struggling to stay healthy in recent weeks, Washington is not rolling out the best version of themselves here, and likely need a defensive touchdown to get over this mark. Good to 17.5 at -110.
Baltimore
Ravens

@ Tennessee

Titans

- Over 54.5

I originally bet this at 54, a key number when you're in the 50s, but I'm still interested at 54.5 if you want in on this game. If you have a strong lean on this game, both team totals are viable (Ravens o29.5 and the Titans o25.5), but I'm intrigued but how these offenses interact with each other.

Perhaps only the Bills are playing better football right now than the Baltimore Ravens, who've curb-stomped everyone over the past month of play. You can essentially pick any metric that you'd like, and it'll show you that the Titans are a bottom-five defense over the past few months of the season. It's nowhere near the unit that went into Baltimore and upset the Ravens last season, and while we'll always remember the upset, Lamar Jackson had over 500 total yards of offense in that game. This iteration of the offense, aided by a superior lead back in J.K. Dobbins, along with Mark Andrews and the best version of Marquise Brown that we've seen as a pro, sets up for another 30+ point day for Baltimore.

On the other side, the Titans play with pace and have elite playmakers touch the ball on 95% of their snaps. Ryan Tannehill has been exceptional this season. Tennessee's offense is 2nd in EPA per play, 3rd in DVOA, and points per drive on the season, scoring 30 or more in 11 of 16 contests.

This sets up to be one of the best games of the weekend, one I can't wait to watch.

Good luck this week!