Monkey Knife Fight Plays: Week 12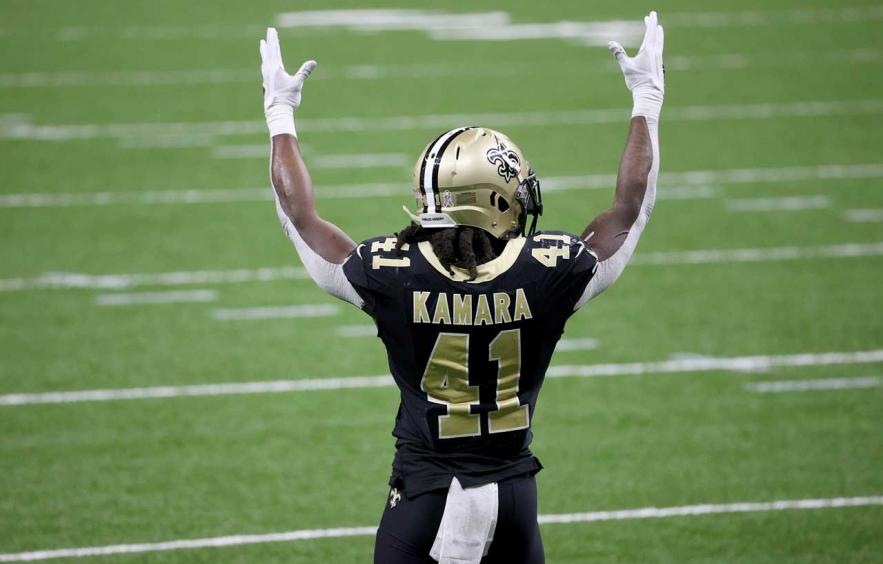 Chris Graythen/Getty Images
Week 11 Recap: We are coming off a solid week of plays, hitting 7-of-10 recommendations. We doubled down on the Less Than side with Micheal Thomas for his receptions and yards lines and that backfired in a big way. It's like Taysom Hill only watched Drew Brees throw to Thomas over the past few years and decided that was his best course of action in his first start at quarterback. Hill targeted Thomas on over 50% of his throws, easily busting both of our Less Than plays, as he went 9/104. Nelson Agholor was our other loss as he popped off for a 6/88/1 stat line.
For those reading this column for the first time, we scrape Monkey Knife Fight's contests against our projections. I'll go through 10 plays we feel confident in exceeding (More Than) or failing to reach (Less Than) MKF's projections by the percent likelihood we give the outcome. The percentage you see in parentheses next to each player's name is the chance we believe the More Than or Less Than hits, according to our projections.
Most of our recommendations will be to side with the Less Than on MKF, as they know the majority of fantasy players like to root for more of everything—more points, more yards, more receptions, etc.—and set their numbers higher than a normal median projection. Be sure to check out our Discord server and the #mkf channel where I'll post the full list of how our projections stack up against those of Monkey Knife Fight.
On to Week 12…
---
Before we dive in, a quick More or Less refresher:
More or Less - You will be drafting your team by choosing More or Less for a group of player statistics presented. You will be squaring off with your own predictions. Choose the coinciding number of tiers correctly to win the prize shown prior to entry.
Top Week 12 MKF More or Less Plays
Alvin Kamara

, RB –

Saints

(75.6%)
MKF Line: 4.5 receptions
4for4 Projection: 3.4 receptions
I may have been dead wrong about Michael Thomas last week but we were on the money with Alvin Kamara. He saw just one target with Taysom Hill at quarterback last week. I expect the Saints to make an effort to get Kamara more involved but that probably means something close to 2-3 receptions, not five. I like this Less Than down to four receptions as long as Taysom Hill remains the starting quarterback.
Nyheim Hines

, RB –

Colts

(74%)
MKF Line: 4.5 receptions
4for4 Projection: 3.5 receptions
Nyheim Hines may be a good pass-catching back but he hasn't seen enough volume to support a 4.5 reception line. He has only recorded more than 4.5 receptions in 3-of-10 games this season. Hines also took a bit of a backseat to Jonathan Taylor in terms of touch share last week. With the Colts riding the hot hand, it wouldn't be surprising for Taylor to continue his ascension while Hines's usage diminishes.
Davante Adams

, WR –

Packers

(70.1%)
MKF Line: 8.5 receptions
4for4 Projection: 7.7 receptions
There's no denying Davante Adams is a baller but MKF's line already has that baked into the number. Looking at Adams's stats this season, he has 9+ receptions in 3-of-8 games. Siding with the Less Than—no matter how uncomfortable—is the sharp play.
Wayne Gallman

, RB –

Giants

(68.3%)
MKF Line: 56.5 rushing yards
4for4 Projection: 46.6 rushing yards
Wayne Gallman has been getting fed but he hasn't been very efficient with his touches. He has rushed for 34, 44, 68, and 53 yards, respectively, in each of the past four games he carried the ball 10+ times. I think our projection of 46.6 yards more accurately represents his median outcome.
Trey Burton

, TE –

Colts

(68.1%)
MKF Line: 3.5 receptions
4for4 Projection: 2.8 receptions
Trey Burton has caught 4+ passes in just 2-of-7 games this season. He hasn't gone over that number since Week 6, though, where he played a season-high 56% of snaps. Burton's reception totals the last four games: 3, 1, 3, and 2.
Jimmy Graham

, TE –

Bears

(68.1%)
MKF Line: 3.5 receptions
4for4 Projection: 2.8 receptions
Mitch Trubisky is expected to start this week. A look at Jimmy Graham's production with Trubisky under center... In the two full games Trubisky played, Graham caught a total of four passes (3 in Week 1, 1 in Week 2). Versus Atlanta in Week 3, a game Trubisky was benched early in the third quarter, Graham caught two passes from Trubiksy (on three targets).
Allen Lazard

, WR –

Packers

(67.3%)
MKF Line: 3.5 receptions
4for4 Projection: 2.8 receptions
Allen Lazard has played in four games this season, recording 4, 3, 6, and 2 receptions. Davante Adams didn't play against New Orleans in Lazard's blow-up game, which led to him seeing massive volume (a season-high 8 targets for 6 receptions). He had just 2 receptions in his return to action last week.
Damien Harris

, RB –

Patriots

(63.7%)
MKF Line: 50.5 rushing yards
4for4 Projection: 70.6 rushing yards
Damien Harris's rushing yards by game this season: 100, 19, 58, 102, 71, 121, and 43. He recorded over five yards per carry in all but two games this season, and now Rex Burkhead is out. There's a chance the Patriots work in Sony Michel a little bit but Harris has been playing so well it's hard to envision a sizeable role for Michel. Arizona also ranks 27th in rushing EPA allowed over the past five weeks. I expect the Patriots to focus on attacking the Cardinals on the ground as long as the game is within reason.
Jerry Jeudy

, WR –

Broncos

(62%)
MKF Line: 3.5 receptions
4for4 Projection: 4.2 receptions
With all the rookie receivers crushing, Jerry Jeudy has gone under the radar a bit with just one 100-yard game this season. He has seen immense amounts of volume the past four weeks, however, with more than eight targets in every game and double-digit targets twice. He has more than three receptions in 3-of-4 games in that span. He should have another successful outing against the Saints this week.
Travis Kelce

, TE –

Chiefs

(51.9%)
MKF Line: 78.5 receiving yards
4for4 Projection: 93.3 receiving yards
Travis Kelce has gone over 78.5 receiving yards in 6-of-10 games this season and now draw a Buccaneers defense that has allowed tight ends to be targeted at the fifth-highest rate in the NFL. Kelce has also been on a tear lately, going over 100 yards in each of his past three games.
Editor's Note: The More or Less plays and projections were available at the time of this article being published. Please refer to MKF for the most up-to-date offerings.