Monkey Knife Fight Plays: Week 11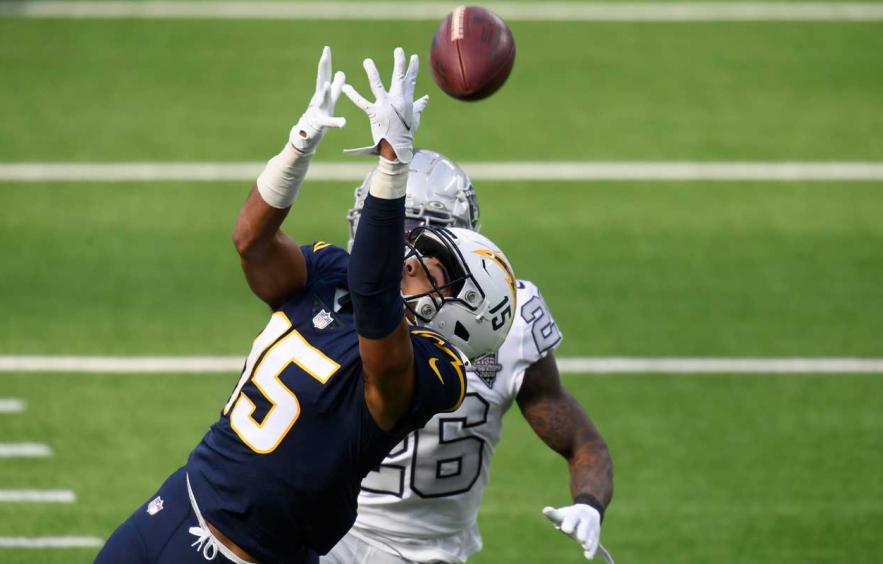 Harry How/Getty Images
Week 10 Recap: Last week was our best week yet on Monkey Knife Fight, hitting on nine out of our 10 More or Less recommended plays. The only loss was Washington wideout Cam Sims Less Than 3.5 receptions. We projected him for just 1.9 receptions—he wound up with four receptions for 54 yards. Part of his success was fueled by Alex Smith throwing a career-high 55 passes for 390 yards as Washington furiously came back against the Lions. I think there could be spots in the near future to hit some Less Than plays on Sims, with his recent performance likely driving lines higher.
For those reading this column for the first time, we scrape Monkey Knife Fight's contests against our projections. I'll go through 10 plays we feel confident in exceeding (More Than) or failing to reach (Less Than) MKF's projections by the percent likelihood we give the outcome. The percentage you see in parentheses next to each player's name is the chance we believe the More Than or Less Than hits, according to our projections.
Most of our recommendations will be to side with the Less Than on MKF, as they know the majority of fantasy players like to root for more of everything—more points, more yards, more receptions, etc.—and set their numbers higher than a normal median projection. Be sure to check out our Discord server and the #mkf channel where I'll post the full list of how our projections stack up against those of Monkey Knife Fight.
On to Week 11…
---
Before we dive in, a quick More or Less refresher:
More or Less - You will be drafting your team by choosing More or Less for a group of player statistics presented. You will be squaring off with your own predictions. Choose the coinciding number of tiers correctly to win the prize shown prior to entry.
Top Week 11 MKF More or Less Plays
Jalen Guyton

, WR – Chargers (91.4%)
MKF Line: 3.5 receptions
4for4 Projection: 1.5 receptions
This line is soaked in recency bias. Guyton saw a season-high six targets last week, which he converted into four receptions. This was the only game all season he recorded more than two receptions in a game. Grab the Less Than here and enjoy the benefits when he finishes with one or two receptions.
Michael Thomas

, WR – Saints (80.5%)
MKF Lines: 6.5 receptions and 80.5 receiving yards
4for4 Projections: 4.9 receptions and 62.9 receiving yards
I think both of these lines and our projections will go down a good bit. Most of the world expected Jameis Winston to get the start this weekend but that changed on Friday. Taysom Hill is not only expected to start but Jameis Winston won't be involved in any offensive packages. I'm not entirely sure why they threw Winston in last week in emergency relief of Drew Brees over Hill since he is now seeing the bench entirely. My guess would be the Saints' confidence in having an entire week to put together a legitimate offense with just Hill at quarterback. Either way, it significantly lowers Micheal Thomas's receiving floor and ceiling. The Saints figure to scheme up a run-heavy offense against the Falcons via Hill, Alvin Kamara, and Latavius Murray.
D.J. Moore

, WR – Panthers (79.9%)
MKF Line: 4.5 receptions
4for4 Projection: 3.1 receptions
This is an easy one. We were on it each of the past two weeks and we should continue to ride it if they want to float this number. Moore has fewer than five receptions in 8-of-10 games this season. The Panthers are also probably starting XFL MVP P.J. Walker at quarterback. Don't let Walker's impressive XFL accomplishments fool you, though, as he will not be anywhere near as good as Teddy Bridgewater.
Alvin Kamara

, RB – Saints (73.7%)
MKF Line: 5.5 receptions
4for4 Projection: 4.4 receptions
You can copy and paste most of the analysis for this play from the Michael Thomas section above. I think Kamara's going to be especially impacted in the receiving game with the quarterback change. Running quarterbacks like Hill don't throw the ball to running backs as frequently.
Nelson Agholor

, WR – Raiders (71.4%)
MKF Line: 3.5 receptions
4for4 Projection: 2.6 receptions
Agholor has just two games this season with more than 3.5 receptions. The last time he played against the Chiefs he broke off a long catch but still was held to just two receptions.
Damiere Byrd

, WR – Patriots (71.4%)
MKF Line: 3.5 receptions
4for4 Projection: 2.6 receptions
Byrd has more than 3.5 receptions in just 3-of-9 games this season. The Patriots now match up against the Houston Texans, who struggle to defend the run. That will very likely be the Patriots' plan of attack as they limit Cam Newton's mistakes in the passing game.
Mark Andrews

, TE – Ravens (66%)
MKF Line: 3.5 receptions
4for4 Projection: 5.1 receptions
The key here for Andrews is Nick Boyle. I never thought I'd say a key to another player has to do with Nick Boyle, but it's true. With Boyle out last week, Andrews caught seven passes for 61 yards. He may not catch seven balls this week, but he is much more likely to wind up in the 4-to-5 catch range.
Diontae Johnson

, WR – Steelers (74.9%)
MKF Line: 56.5 receiving yards
4for4 Projection: 74.9 receiving yards
I mentioned this in the Discord chat earlier in the week, and the analysis rings true here as well.
Johnson has played over 70% of the snaps in six games this year:
Week 1: 6/57 on 10 targets
Week 2: 8/92 on 13 targets
Week 7: 9/80 on 15 targets
Week 8: 1/6 on 3 targets
Week 9: 6/77 on 10 targets
Week 10: 6/116 on 11 targets
Pittsburgh is also starting to become more pass-heavy. In Weeks 1-8, they had a 56% pass rate. In weeks 9-10, that shot up to a 71% pass rate. This was despite beating up Cincinnati for the entire game. I think it could be a trend as Ben Roethlisberger starts to take over the offense. In another great matchup with the Jaguars, Johnson should have plenty of success.
DeVante Parker

, WR – Dolphins (60%)
MKF Line: 3.5 receptions
4for4 Projection: 4.4 receptions
Parker has seven targets in each of the past two weeks with Tua Tagovailoa starting and Preston Williams out. Last week didn't turn into a big box score (2-31) but the target share is encouraging. The line of 3.5 receptions is a touch too low and something we should take advantage of.
Editor's Note: The More or Less plays and projections were available at the time of this article being published. Please refer to MKF for the most up-to-date offerings.