The Kicker Process: How to Find Fantasy Football Value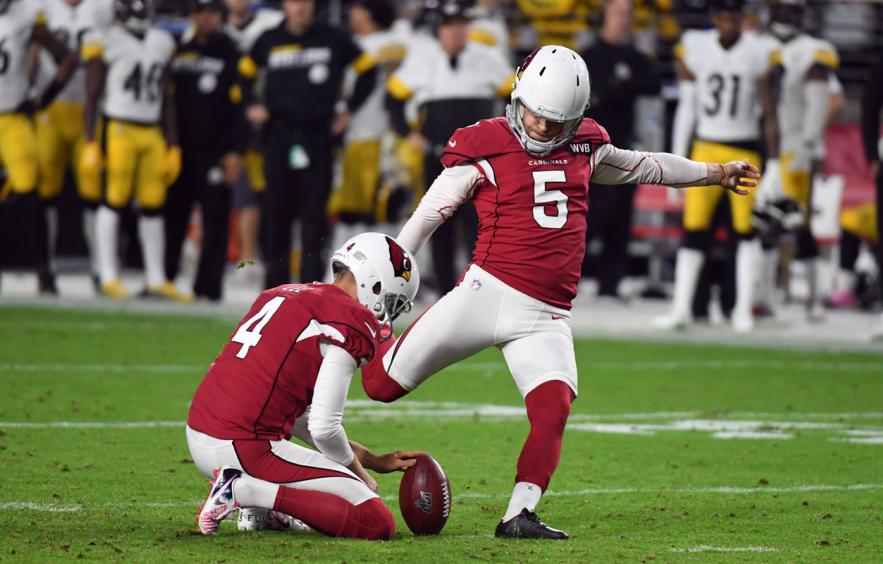 Norm Hall/Getty Images
You might say I, along with the legions of kicker process truthers, were owned online and offline in 2019.
You'd be wrong for two reasons: First, I've never been owned (this is scientifically provable) and second, the process actually worked quite well last season.
The process for selecting a good kicker in fantasy football, in case you've somehow forgotten, is to spot a kicker on a team favored to win with a decent implied total, preferably at home, preferably in weather that doesn't include gale-force winds.
If you've managed to read this far and not work yourself into a frothy anti-kicker rage, you might ask why this is the process for pinpointing viable streaming kickers in fantasy. It's not all that complicated. We want kickers on teams that will likely see lots of neutral or positive game script, meaning they'll be in position to attempt field goals well into the second half. No one besides Kliff Kingsbury—the cold-blooded murderer of the kicker process—is trying field goals while down multiple scores in the fourth quarter.
An even shorter explanation of the kicker process: we want kickers attached to good teams. They tend to get the most opportunity, also known as the only thing that matters in fantasy football.
This is the part where you poke your finger in my chest, call me a feckless nerd, and ask why six of 2019's top-10 kickers played on losing teams. And this is where I plead for civility and explain that I am not, in fact, owned by this inconvenient fact. 2019 was certainly an outlier in where we found top kickers. The 2018 season saw just three of the top-10 kickers come from losing teams; precisely one kicker on a losing team cracked the top-10 in 2017 (otherwise known as The Year Of The Process).
Last year's six statistical kicker apostates were Zane Gonzalez (ARI), Matt Gay (TB), Josh Lambo (JAC), Matt Prater (DET), Brandon McManus (DEN), and Joey Slye (CAR). Here's how these kickers managed top-10 fantasy numbers despite their teams being, ya know, terrible. There might be a lesson or three to learn.
Field goal attempts in 2019 wins/ties: 2.0
Field goal attempts in 2019 losses: 2.3
Only kicker royalty (Harrison Butker and Wil Lutz) finished 2019 with more field goal tries than Gay, whose Bucs lost seven of their first 10 games before winning four of their final six.
Gay, like most of the kickers in this space, didn't exactly upend the kicker process. He notched slightly more field goal tries in Tampa losses, but considering the Bucs lost by more than seven points just thrice (meaning they saw plenty of neutral script), this isn't quite shocking. You might recall that Gay—fantasy's No. 10 kicker at midseason—was nothing more than useable for the season's first half.
One (relatively) quiet factor on Gay's 2019 fantasy usefulness: Tampa's offense was a yardage machine, churning out the yards in both wins and losses. Only the Ravens and Cowboys put up more total yardage. You might recall that total yards have a less-than-hateful correlation with a kicker's fantasy production.
Gay profiles as a premiere final-round kicker selection in 2020 drafts. More on that next week.
Field goal attempts in 2019 wins/ties: 2.8
Field goal attempts in 2019 losses: 1.8
The bane of the kicker process movement, Crazy Zane—as the zoomers are calling him—averaged a whole field goal more per game in Arizona wins last season. So maybe he isn't the bane of the process disciples. My interns are looking into this very strongly.
While Cardinals head coach Kliff Kingsbury decided to kick more than a couple of field goal while chasing points in the second half, it's not like Gonzalez was racking up more attempts in Arizona losses than he did in wins. It's just that when the Cards actually won, Gonzalez ended up with plenty of attempts (he averaged 11.2 fantasy points in five wins and one tie).
Kingsbury's Low-T ways inside the 10-yard line played into Gonzalez's favor, as the Arizona kicker tried a league-high 12 field goals from 20-29 yards. No one attempted more field goals in the 30-39 yard range.
Field goal attempts in 2019 wins/ties: 3.0
Field goal attempts in 2019 losses: 1.6
That's quite the win-loss split from Lambo/Rambo, last year's No. 6 fantasy kicker. A mere four kickers tried more field goals than Lambo last season almost entirely thanks to the Jags kicker's absurd opportunity in the team's six victories. It didn't hurt that he had multiple field-goal tries every time Jacksonville lost by seven or less.
The best lesson here is that Lambo—like most kickers—is a viable option if the Jaguars are favored or slight underdogs. He's not someone we'd target for long-term purposes though.
Field goal attempts in 2019 wins/ties: 2.0
Field goal attempts in 2019 losses: 1.97
Prater's 2019 consistency can be credited to Detroit (mostly) avoiding blowouts even after Matthew Stafford went down to injury and their season was effectively over—11 of the team's 16 games had a point differential of fewer than seven points. So it comes as little surprise that Prater had multiple field-goal tries in 10 games, scoring at least eight fantasy points nine times.
It didn't hurt that Prater nailed seven field goals of 50 yards or more—the second-most in the league. This is a good time to remind you that long field goals don't matter at all in fantasy football. Don't chase the long ball.
The Lions somehow were in the top half of the league in average total yards per game too. This appears to be an underrated factor in how we might select kickers going forward. If an offense is marching up and down the field—even if their defense can't stop anyone and they lose week after week—their kicker deserves a look.
Field goal attempts in 2019 wins/ties: 2.4
Field goal attempts in 2019 losses: 1.9
McManus finishing as fantasy's ninth highest-scoring kicker is quite the blow for process truthers: the Denver offense was abysmal (fifth-fewest yards per game) and the team suffered a bunch of double-digit losses. It's not like McManus was a top-3 fantasy producer, but slipping inside the top-10 is quite the feat for a kicker on a garbage offense like the 2019 Broncos.
I'm obliged to note that McManus averaged 2.2 field-goal tries in Drew Lock starts last season, when the Denver offense got a bit of a bump in yardage and points. That could portend not-horrible things for Prater in 2020.
Field goal attempts in 2019 wins/ties: 2.6
Field goal attempts in 2019 losses: 1.72
And then there was poor Joey Slye, the kicker streamer de joure in September who promptly turned into a pumpkin in October—pumpkins, of course, having famously low confidence in high-pressure situations.
Slye's opportunity predictably vanished during Carolina's eight-game slide to end the 2019 season. This was after the team started the season 4-2, providing plenty of positive game script for their rookie kicker.
Slye's 2019 production was inflated by a league-leading eight 50-plus yard field goals on a league-high 11 attempts. Without all that long field goal opportunity, there's no way Slye would have made the top-10. The best lesson here is that Slye was a startable kicker while the Carolina offense was halfway functional and before the team's defense started getting hammered by opposing running attacks.
The Bottom Line
Did it give me heartburn bordering on a full-scale cardiac event to see six kickers on bad teams make it into the top-10? Yes. Do I think there are important takeaways from this outlier of a season? Also yes.
We can and should have confidence in kickers attached to high-yardage offenses even if those teams aren't winning a ton of games. And we can't outright dismiss kickers on teams that are likely to keep games close (if the more process-friendly kicker options aren't available).
Again, I'm not owned.
About Author