Fanball Best-Ball Win Rates: Tight Ends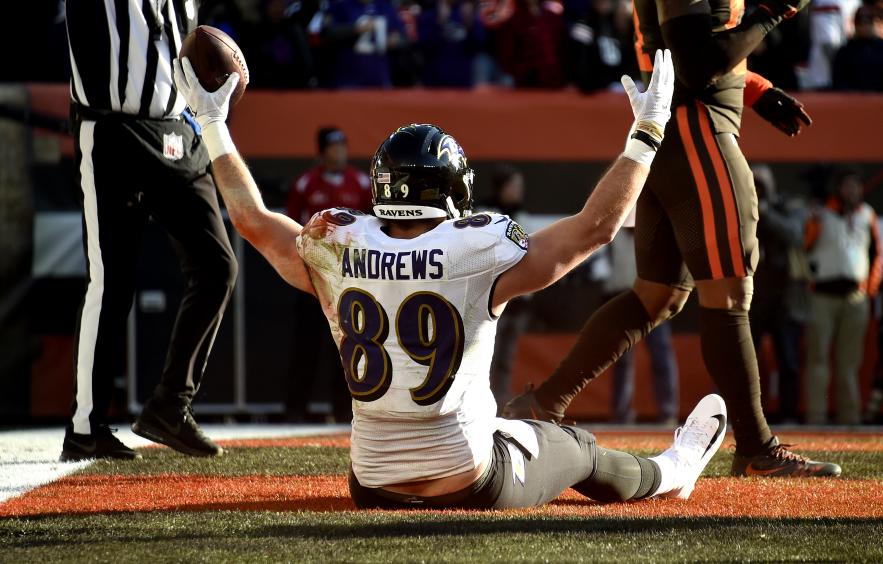 Jason Miller/Getty Images
It's time to take a look at everyone's favorite onesie position—the tight end. Sure, they get a bad rap for fantasy purposes, but grabbing the right ones in best-ball formats can be advantageous to your wallet at the end of the football season.
This piece will delve into the 12 tight ends with the highest win rate percentages in Fanball leagues from 2019, pointing out any patterns or trends we can utilize for drafting the position in 2020.
Highest TE Win Rates
The first thing to stand out is that Travis Kelce is not on this list, which is certainly of note. His ADP was 1.12 in 2019 and looking at opportunity cost around him, only Michael Thomas made his respective top 12 in win rate percentage within five draft spots in either direction of the KC tight end. Kelce ended the season first among tight ends in PPR points, targets, receptions and yards, which goes to show that it's sometimes not enough in best-ball formats.
It's no secret that volume is king when it comes to fantasy production and this list is packed with target leaders last season. The top five tight ends with the highest win rate percentage were Andrews (TE5), Kittle (TE4), Hooper (TE6), Waller (TE3), Ertz (TE2) in total targets, with Goedert, Olsen, Doyle and Gesicki all within the top 15 in target volume for 2020.
Early-Round Review
The following section will examine the tight ends drafted within the first six rounds who ended up on the highest percentage of winning Fanball teams in 2019.
Only two tight ends from Rounds 1-6 made the cut and they were both from the second round. Managers who paid up for George Kittle and Zach Ertz were rewarded, as Kittle was on 14.9% of winning teams and Ertz on 12.5%. However, if we dig a little deeper, we see that only 25% of winning teams drafted their tight end by the third round and a whopping 75% of winners took their tight end by the ninth, with an average of the mid-sixth round for all winning Fanball teams.
Taking a tight end early is certainly a choice that has proven successful in redraft leagues in recent years, but it may behoove players to diversify their best-ball leagues to cover all ends of this volatile position.
Favorite 2020 Early-Round Picks: George Kittle (2.07), Mark Andrews (4.04)
Mid-Round Review
This portion will take a look at the tight ends who left draft boards in the seventh through 14th rounds in 2019, and found themselves with the highest win rates among Fanball drafted teams.
This is where the meat was last season when it came to best-ball value for tight ends. Eight of the top 12 players in win rate percentage came from these eight rounds, and if drafters decide to skip the top five tight ends in 2020, look no further.
Jared Cook was the lone seventh-rounder, but had an impressive 2019 considering he lost his starting quarterback for most of the season. With Drew Brees back from Weeks 10–17, Cook was TE2 in PPR points and his season totals were career bests in yards per target (10.8), touchdowns (9) and yards per reception (16.4). The 33-year old remains in the TE1 conversation for 2020 but could see a downgrade in volume with Emmanuel Sanders now potentially the WR2 the Saints have been missing. Drafters have taken notice, as his ADP fell from the eighth round to the 12th after free agency.
Austin Hooper's ADP was 9.03 in 2019 and he was on 14.2% of winning best-ball teams at Fanball. He's as unsexy as they come for fantasy purposes but finished as TE6 in total PPR points as Matt Ryan's safety valve in the middle of the field. He's now in Cleveland as the second-highest paid tight end in the game which is a massive head-scratcher, but whatever. Hooper's new situation in the Browns' crowded offense and questionable volume are of concern, making him a lower TE1 target this season. Similar to Cook, Hooper's ADP dropped from 6.11 to 8.02 after his move to Cleveland.
I'm sure you're just as surprised to find Kyle Rudolph on this list as I am, but let's try to find out why. In best-ball formats, we want really big highs to separate us from the pack. Rudolph being touchdown-dependent is nothing new, but in 2019 his six scores were the fourth-most among tight ends which probably helped his managers. He had one week with two touchdowns, propelling those with the 30-year old on their rosters to a higher level that week compared to other 11th-rounders. With Irv Smith Jr. flashing as a rookie, time is ticking for Rudolph, but with his 19th-round ADP, it may not be such a bad idea to throw a dart or two his way for the touchdowns alone.
The 12th round brought us Mark Andrews, the tight end with the highest win rate percentage in 2019. He absolutely crushed his APD, ending as TE5 in overall PPR points. Andrews was TE1 in total targets, TE1 in total touchdowns with 10, and TE7 in receptions. He achieved it all while battling late-season knee and ankle injuries, yet still played in every game except Week 17. His touchdowns may regress, but we should see an uptick in his usage this season in Year 3 of the Lamar Jackson- Mark Andrews era in Baltimore.
Dallas Goedert and Jack Doyle both came out of the 13th round to end up on 10.3% and 8.3% of winning teams, respectively. Both of these tight ends were higher-volume guys, finishing as TE9 and TE13 in total targets last season. Goedert's usage was a bit surprising as he essentially doubled his volume in his second year in the NFL from 44 to 87 balls, but the Eagles were also without DeSean Jackson, Alshon Jeffery and Nelson Agholor for part of the season. The 25-year old proved he can have stand-alone value with Ertz in the mix though, and Philly should continue to call his number in 2020. Goedert presents some value right now as he's being drafted as TE12 at 13.09.
Doyle didn't have a spectacular 2019, finishing as TE15 in PPR points, with most of that coming in the early part of the season. His quarterback had knee issues down the stretch which played a role in his rough final four contests. He was TE13 in total targets with 72 though, which he turned into 448 yards and four touchdowns. Doyle did stay healthy himself, and if he can remain on the field in 2020, has the potential to best his current mid-15th ADP.
Greg Olsen and T.J. Hockenson came out the 14th round in 2019 and were eight and 10 in win rate percentages on Fanball. Olsen managed to play in 14 contests last season with Hockenson only hitting the field for 12. I talked about super highs above and Hockenson came out blazing in Week 1 with six catches for 131 yards and a score, getting a sizable start for his owners. Olsen was steady throughout the season and was TE11 in total targets. It's Year 2 for Hockenson which can be tricky, but his 14.10 ADP seems about right. Olsen is now in Seattle and is no more than a late-round stab in best-ball.
Favorite 2020 Mid-Round Picks: Tyler Higbee (10.02), Noah Fant (13.08), Mike Gesicki (14.08), Dallas Goedert (13.10)
Late-Round Review
Below you'll find the highest win rate tight ends from the latter part of drafts - Rounds 15-20.
Both Darren Waller and Mike Gesicki outproduced in 2019, propelling those who drafted them into winning contention. Waller was on the radar as a sleeper, but we weren't exactly sure how the former wideout would translate. He saw the third-highest targets at his position with 117 (24th overall among all players) and finished the season as TE3 in total fantasy points. With a healthy Tyrell Williams and Hunter Renfrow back in the mix, we have to expect Waller's usage to take a hit. Plus, his lack of touchdowns (3) is also of concern for a player with an ADP of 5.02.
Gesicki, on the other hand, is a tight end who presents value at his current ADP. Looking back, he was dart throw last year after a rough rookie campaign on a brutal Miami offense. He ended up finding success in Chan Galey's shotgun-heavy game scripts and should have the edge on targets after Devante Parker and Preston Williams this season. He had four touchdowns over the last six weeks, and could be in for that third-year leap we saw from Kittle. Gesicki is a mid-14th rounder who could crack the top 10 in 2020.
Favorite 2020 Late-Round Picks: Jonnu Smith (15.03), Jack Doyle (15.06), Blake Jarwin (15.08), Irv Smith Jr. (17.02)