The Top DFS Contrarian Stacks: Week 9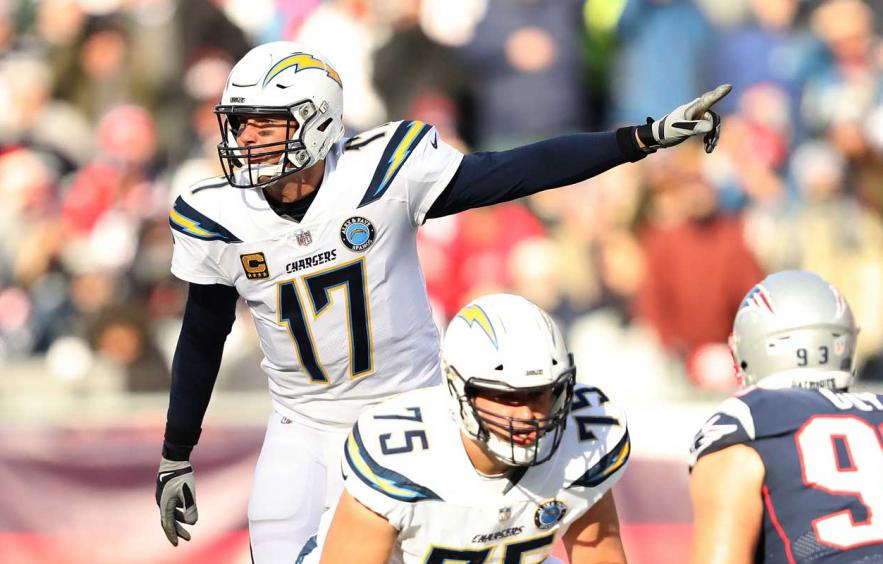 Elsa/Getty Images
When laying out Week 9 NFL DFS contrarian stacks, I'll be using a combination of our Stack Value Reports and GPP Leverage Scores to find unique stacks that can take down a tournament. I encourage you to read the series on how to win a GPP in the DFS Strategy Hub. You'll quickly realize that taking down a tournament requires a balance of players ranging from low-owned to chalky.
I like building contrarian stacks around my chalkier core of players because you only have to get one instance correct for it to hit. For example, if we hit on a contrarian quarterback play while having a pass-catcher or two from that same game, the positive correlation of those stacks is technically getting one contrarian play correct despite filling multiple roster slots. I feel this is easier than having a chalkier stack while trying to hit multiple individual low-owned plays throughout the rest of your lineup. Keep in mind that these are contrarian stacks, so you don't have to use these stacks in a large percentage of lineups to be overweight on the field. They should be used in tandem with a chalkier core of players.
QB/WR2/Opp RB1 Stack
QB
Philip Rivers

($5,100 DK/$7,200 FD)

WR

Mike Williams

($4,600 DK/$5,700 FD)

RB

Aaron Jones

($7,000 DK/$7,700 FD)

Philip Rivers comes in way underpriced, but I still believe he will go overlooked. Rivers has hit the 300-yard mark in 5-of-8 games and has also thrown for multiple scores in 5-of-8 games. He has a ton of boom potential when the Chargers are forced to throw the ball and in a could-be shootout with the Packers, I like the odds of Rivers eclipsing the 300-yard mark. This game boasts a 47-point total, which is a number I like to target in tournaments. It falls just under some of the top over/under totals of the week and is likely to not stand out. However the Packers and Chargers both have offenses that can score in bunches, so this is a sneaky shootout I want to target. The Chargers firing their offensive coordinator Ken Whisenhunt has raised questions about the identity they will assume with a new play-caller, but this game script will force the Chargers into throw mode despite what the future plans are for the offense.

You can add to this game stack with guys like Keenan Allen, Hunter Henry or the running backs, but my favorite option is to continue targeting the unrealized potential of Mike Williams. Over the course of the last four weeks, Williams has garnered the most air yards of any receiver in the NFL, he also sees a massive share of the Chargers' team air yards at 37%. I have watched most of Williams' targets through the last four weeks and he's very close to breaking one. He's averaging nine targets per game and those a few of those targets each week have the potential to be long touchdowns. At some point, he and Rivers will click and connect for multiple scores in a game. No one can be sure of an NFL team's game plan, but I would imagine Keenan Allen draws Jaire Alexander.

Aaron Jones will likely be a popular option this week and stacking some Chargers around him is the ideal way to differentiate your lineups as they won't be nearly as popular. If Jamaal Williams wasn't in the picture, Jones would probably be the most owned player on the slate. I'm enamored with Jones's involvement in the passing game more so than the running game. The Packers are using him almost identically to how the Chargers use Austin Ekeler. They are moving him all around the formation. He's running out routes from bunch formations, receiving designed screen calls, and splitting out wide and running go routes. With the lack of depth and talent at the receiver position for the Packers, he's become a go-to option. Jones has been targeted seven or more times in four of his last five games. The Chargers rank fouth-worst in the league in adjusted Fantasy Points Allowed (aFPA) to running backs. Additionally, FootballOutsiders.com has the Packers as a top-10 run-blocking unit.
QB/WR1/Opp RB Stack
QB
Mitch Trubisky

($5,000 DK/$6,500 FD)

WR

Allen Robinson

($6,800 DK/$7,200 FD)

TE

Zach Ertz

($4,700 DK/$6,000 FD)

The Eagles have been absolutely abysmal at defending the wide receiver position. The Eagles have allowed 100 yards and/or a touchdown to Terry McLaurin, Julio Jones, Calvin Ridley, Marvin Jones, Davante Adams, Stefon Diggs, and Amari Cooper. The only reason John Brown didn't make the list is that the weather conditions last week put a damper on the passing game in Buffalo. That list will most likely include Allen Robinson come Monday morning. Robinson has a 41% air yards share and 27% target share in the Bears' offense. The Eagles 29th ranked defense in aFPA to wide receivers is going to have a difficult time slowing him down. As for Trubisky, he's been mostly bust, but he has amassed more than 20 fantasy points in two of his outings this season, one against the Saints and the other against the Redskins on the road. If he can't take advantage of this matchup, I'll write him off for good.

We've reached the perfect time to roster Zach Ertz. He reached a season-low in targets and production last week but now gets to face a Bears defense that funnels targets to the tight end. They rank 26th in aFPA to tight ends but are sixth in aFPA to wide receivers. Ertz has dipped below $5,000 which I'd never thought I'd see this season. We have to remember that the sample size during a football season is very small, and all though he hasn't produced over the course of the last three games, he's still Zach Ertz. If the emergence of Dallas Goedert continues this week and beyond, then obviously we will have to adjust our thoughts on the Eagles' tight end position. Despite only seeing four and six targets respectively, he's just two weeks removed from averaging nine targets per game. If Miles Sanders misses this game, we could see a larger onus put on Ertz and the passing game to move the ball in short-yardage situations as well.
QB/RB1/WR2/Opposing WR1 Stack
QB
Kirk Cousins

($6,700 DK/$7,800 FD)

RB

Dalvin Cook

($9,500 DK/$9,000 FD)

WR

Stefon Diggs

($7,600 DK/$7,900 FD)

WR

Tyreek Hill

($7,400 DK/$7,700 FD)

What I love about stacking this game is why know exactly who will benefit from a shootout. The Vikings offense has an extremely concentrated target and carry share in their offense. Stefon Diggs boasts a 44% market share of targets and a 23% target share. Adam Thielen for 29% of air yards and 21% of targets. Dalvin Cook ranks third on the team with a 16% target share. With Thielen's health in question, I like targeting Diggs and Cook with Cousins. If the Vikings put up a few touchdowns they both are the odds on favorites to get the scores. Though the Chiefs have played pretty solid defense at home, they've been gashed by running backs ranking second to last in aFPA to running backs. They've been somewhat of a run funnel, meaning Dalvin Cook shouldn't have any trouble finding holes.

Though they've been stout against opposing wide receivers, ranking eighth in aFPA, a successful run game early does wonders to suck linebackers and safeties forward and allow deep shots over the top. Diggs has been an absolute monster over his last three games with 7/167/3, 7/143. and 7/143 stat lines. I'll give Kirk Cousins a pass for the short turn around on Thursday night last week, but before that he was averaging more than 300 passing yards and three touchdowns in his previous three games since his receivers got their squeaky wheels greased in regards to throwing the ball more. We've seen both the passing and running games succeed simultaneously this year. This is a spot where we can take advantage of low ownership of talented players because they are facing what looks like a tough matchup.

Tyreek Hill didn't dominate hasn't dominated in his return to action, but 14/230/3 in three games since returning a pretty serious injury shows promise. In fact, both Diggs and Hill are tied for the largest share of their team's air yards over the last three weeks. We all know what Hill is capable of and the Vikings have been beaten handily by receivers this year. They currently rank 24th in aFPA to wide receivers. Xavier Rhodes hasn't been anything special in coverage this year and has actually been targeted by certain teams. Two weeks ago when Marvin Jones scored four touchdowns against the Vikings, it wasn't because they were avoiding Rhodes. Rhodes actually covered Jones for a portion of the game and was responsible for allowing part of Jones' massive stat line. If Cook and Diggs smash, the Chiefs' most likely option is to turn to Hill and the passing game. This stack is rather expensive, but a solid build around your core value plays.