O-Line Rankings and Matchups to Exploit: Week 14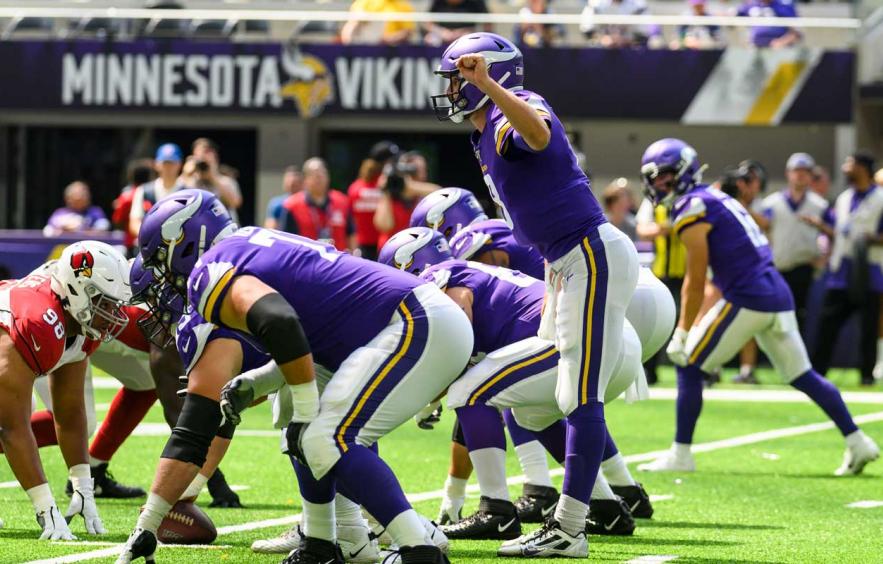 Stephen Maturen/Getty Images
Evaluating offensive line play regarding its effect on fantasy football output has been a stone unturned throughout the course of our game within a game. Here at 4for4, we're dedicated to looking at fantasy pieces from all angles, and that includes the positive and negative impact an offensive line has on that team's fantasy assets.
Below I'm going to be digging into specific weekly matchups between offensive lines and the opposing defense's aFPA —one of the many useful tools available to us here at 4for4. Many sites publish raw fantasy points allowed by position, but 4for4 goes a step further and adjusts those numbers for a defense's relative year-to-date schedule strength. Beginning this week and moving forward, aFPA will reflect the current season since we believe the three weeks of information begins to show reliable numbers and patterns.
Let's begin by diving into the passing game to see what o-line/defense matchups we can exploit.
Favorable Quarterback Matchups
Basically, what we're looking for here is a tall bar (a team ranked low in aFPA) towards the left of the graph (a team ranked high in offensive line play) for a positive correlation to offense and a small bar towards the right to a positive correlation for a defense. Here are the plays that stick out to me:
Steelers

@

Cardinals

Pittsburgh's usual slow-down-the-game tempo will be tested by an Arizona team that still ranks second in the NFL in situation neutral seconds per play (27.43 seconds) despite cutting down on the early season No Huddle offense. This has forced the Cardinals defense into seeing the most opponent snaps per game and the cracks have shown with opposing offenses gaining the most yards per drive in the NFL (39.68). Outside of an admittedly talented Chandler Jones, the Arizona pass rush is anchored by a long in the tooth Terrell Suggs and not much else. They'll face off against a Steelers offensive line boasting the third-best Adjusted Sack Rate and will be returning center, Maurkice Pouncey, from suspension after he laid down the law on Myles Garrett in Week 11.

With the matchup laid out in front of us, now we have to decipher who on this Pittsburgh passing offense is going to take advantage. With James Conner possibly returning to action on a snap count, Benny Snell Jr. taking over the 'bruiser' role, Jaylen Samuels catching passes (when he's not throwing them) and Kerrith Whyte operating as a type of satellite back, it's safe to say this backfield shouldn't be used unless you're in a very, very desperate situation. I don't imagine you're in that situation if you're in the playoffs. Thus, we should turn our attention to this group of receivers who are seeing more equitable usage since the switch from Mason Rudolph to Devlin Hodges. After Rudolph averaged 243 Air Yards through his eight starts this season (excluding his Week 12 benching), Duck Hodges tested the vertical game right out of the gate, racking up 10.6 Average Intended Air Yards, good enough for second-most in Week 13. Hunting buddy James Washington was the main benefactor, turning his four targets into a hyper-efficient 4-111-1 line. Vance McDonald has fallen out of sight in the offense over the last two games, accumulating a paltry six Air Yards. If his usage continues it may create a unique opportunity for Diontae Johnson who hasn't yet capitalized on his 11 targets in the same time span. If you need to talk yourself into Vance in your fantasy playoffs the #TEflowchart is a good counter-argument.

*James Conner has been ruled out of this contest*
Vikings

vs.

Lions

Vegas is not a fan of the Detroit Lions this week, as the Vikings are currently 12.5-point home favorites in a game with an over/under of 43.0. Gameflow becomes a concern as a conservative Minnesota team is not likely to get into another boat race as they had in Week 13's game against the Seattle Seahawks. The Vikings also rush the ball at a 48.51% clip, the third-highest in the league. Nevertheless, if they are going to reach their implied team total of 27.75 we're going to have paths to cash in on this leaky coverage. Detroit ranks in the bottom four in aFPA to quarterbacks (31st), wide receivers (28th), and tight ends (28th), so if Dalvin Cook and Alexander Mattison don't soak up all of the goal-line work, there will be plenty for Kirk Cousins and his pass catchers to capitalize on.

Stefon Diggs —who went for 7-143 on eight targets in these teams' first game— will look to bounce back from a 4-25 (nine targets) game and his best chance to do that will be a return by teammate Adam Thielen. Diggs has easily led the team with a 36% market share of air yards in the last three games without Thielen, but his 12 receptions on 20 targets paint a picture of a lack of efficiency owing to added defensive attention. It will be hard to have any real DFS shares of Stefon Diggs if the team's WR2 isn't in the lineup as he's the fourth-highest priced wide receiver on the main slate.

Kyle Rudolph seems to be on the opposite end of the if-Adam-doesn't-play spectrum, as his efficiency and red zone usage reminds one of his 2016 132 target season. Rudolph has compiled a 13-131-4 line on 16 targets while easily doubling fellow tight end Irv Smith's 3.6 aDOT with a 9.4 aDOT of his own. This feels a whole lot like point chasing, but Kyle Rudolph has scored six touchdowns in his last six games and it's worth going back to the well in this tight end hellscape.
Colts

@

Buccaneers

Indianapolis draws a pretty decent matchup against DVOA's number one rush defense but the number 19 pass defense in Tampa Bay. While the Buccaneers' pass rush has been turning it on as of late, their last two games were against offensive lines ranked in the back half of the league. Shaq Barrett and company will have a much more difficult time putting pressure on Jacoby Brissett behind one of the sturdiest o-lines in the game.

Less pressure on the quarterback will mean more strain on a less-than-stellar coverage team, and the biggest beneficiary should be Parris Campbell, who has lined up in the slot on 44% of his snaps this season. This should give him a lot of face time with Sean Murphy-Bunting, currently allowing a 104.9 QBR when a wide receiver is targeted in his coverage, per Sports Info Solutions. Parris has collected five receptions in both of the games he has played without T.Y. Hilton this season and his $3,200 price tag on Draftkings will be hard to fade with the big games Tampa Bay has allowed and his explosive speed.

Jack Doyle makes for just as enticing of a play, as Tampa Bay comes into the game ranking 29th in aFPA to tight ends. One week after Eric Ebron was sent to the IR, Doyle set season highs in snaps, targets, receptions and yards.
Favorable Defensive Matchups
Panthers

@

Falcons

I applauded Atlanta in the offseason for taking what I saw as a number of positive steps towards bolstering their offensive line, including using their first two draft picks on protecting Matt Ryan. Well, the 14th overall pick, right guard Chris Lindstrom, sadly only lasted 45 snaps into 2019 before an injury derailed his rookie year, and right tackle —and 31st overall pick— has had an up-and-down season, though it's mostly just 'down'. Thus, this refurbished offensive line ranks 29th in Adjusted Line Yards, 31st in QB hits allowed and ranks sixth in SIS' Blown Blocks, which is their metric to encapsulate "whiffs".

Carolina comes into town just days after sacking their head coach and will look to stick with the theme and see how many times they can leave Matt Ryan horizontal on the field. The Panthers lead the league with 46 sacks which gives them a nice floor and with secondary coach Perry Fewell being promoted to interim head coach it would be more than a disappointment if the team didn't snatch at least one interception on Sunday.
Packers

vs. Redskins

This is set up to be an ugly game, and Draftkings knows at. The Green Bay defense is priced up at $4,000 as they come into the game as 13-point favorites in a game with a 41.5 over/under. Washington's offensive line has been shakier than Atlanta's in the pass blocking department (30th ranked 10.4% Adjusted Sack Rate) but if the Redskins had their way they would be just fine finishing the game with a 75% rush rate and be on their way out of town. While Dwayne Haskins has a questionable NFL career ahead of him, it's going to be hard to exploit his shortcomings adequately if he's only going to be attempting 20-25 passes a week.

The Packers are an easy play in season-long but I would reserve their usage to tournaments in DFS with that lofty price tag.
Favorable Running Back Matchups
The above rushing aFPA graph will work exactly the same way as the QB aFPA graph worked; tall lines on the left are areas we want to attack and short lines on the right should make you second guess the fantasy pieces associated with those offenses.
Patriots

vs.

Chiefs

It's no secret that the Patriots defense has been the key to their success this season. Whether by forcing three-and-outs or outright turnovers, the defense has helped set up the offense with the league's best average starting field position, yet New England ranks 15th in points per drive (1.97). If the Patriots are going to keep pace in a game with some important playoff seeding implications, it will behoove them to attack a Kansas City defense allowing the third-highest rushing yards and yards per carry on the year on the ground. Just by glancing at the last few games we can see the kind of damage the Chiefs have allowed to the running back position; Josh Jacobs went 17-104, Melvin Gordon and Austin Ekeler combined for 29-93 on the ground and 11-129 through the air, while Derrick Henry utterly embarrassed them with a 23-188-2 line.

As is typically the case with the Patriots backfield, it will be difficult to know with certainty who will benefit from a matchup but I'm willing to put some money on it being Sony Michel this week. Despite James White going bonkers for 177 total yards last week, I think New England will go out of their way to gameplan a between-the-tackles attack against this soft KC front seven. Even with New England's stout defense, this game still has the highest total of the week. If that Bears out, having the Patriots locked-in goalline back will be profitable.
Raiders

vs.

Titans

Oakland made it clear in Week 13 that if they want to run the ball, they're going to run the damn ball. Even if it doesn't make any damn sense. Down 27-3 in the third quarter of a game that could decide their playoff fate, the Raiders were still plugging away with Josh Jacobs instead of incorporating their shiftier backs into the passing game. Whatever, if teams want to make our jobs easier then I'm all for it.

For better or for worse, Josh Jacobs' back will be ridden, and he gets another great matchup against a Tennessee team that ranks 22nd in aFPA to running backs. It's clear that Jacobs has a solid floor, and if they can improve on his goose egg in the target department from last week, that floor rises even higher.
Running Backs with Bad Matchups
As opposed to breaking down every bad match-up through the rest of the slate, here are some running backs I'm looking to avoid because of their poor offensive line and the strong defensive fronts they will be facing:
That's all I've got for this week, everyone. If there's something you'd like me to dig into specifically with regards to offensive line vs. defensive lines please give me a shout! For further reading regarding our aFPA statistic and how to use it in your favor, give John Paulsen's Sneaky Starts series a read!