The Rundown: Week 11 Stats to Know & Steelers vs Browns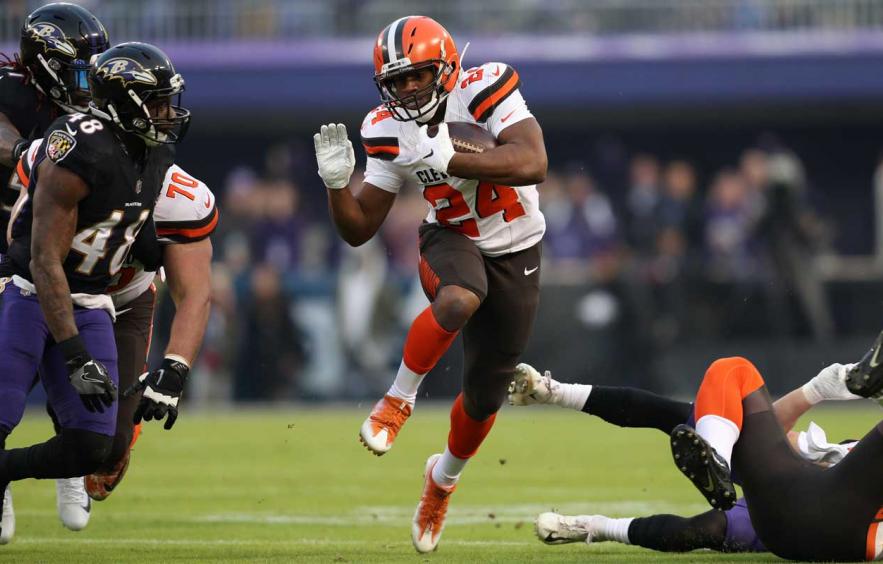 Patrick Smith/Getty Images
Week 10 showed a few minor injuries can lead to some major opportunities for backups. Devonta Freeman made way for Brian Hill, Emmanuel Sanders limped aside for Deebo Samuel, and JD McKissic is basically the only back left in Detroit after a Ty Johnson concussion. Now is the time to spend whatever is left and get a few weeks of production for that last surge prior to the playoffs.
Each week, I will provide a preview article with some key overall stats to watch for along with the Thursday game preview that includes start/sit ratings. Then, there will be subsequent previews later in the week with all the other games in time for the remaining fantasy decisions before kickoff. For much of this data, I will be using 4for4's Snaps, Touches, and Targets Apps as well as analyzing each team's pace and play-calling tendencies.
Ten Stats to Know for Week 11
Like a rock: Christian McCaffrey has just one fantasy finish below RB8 and just two below RB6 in 2019.
Alley-oop: Nine of Kenny Golladay's 10 red-zone targets have come from within the 10-yard line. That leads the NFL with his four touchdowns from that distance tied for the lead.
Catch them all: Michael Thomas' target pace of 183 would break the NFL single-season record. He accounts for 66% of the Saints' wide receiver targets this year.
20/15 club: Dalvin Cook could become the 16th player to have 20 or more touches in at least 15 games in a season. He has nine such games in 10 instances so far (he missed the 10th by two touches). It would only be the second time since 2006.
Missed the hoop: Austin Hooper, before his knee injury, was on pace to be just the ninth tight end to reach 270 PPR points in a season.
Repeat pretenders: Five different players came into the year with two or more 300 PPR point seasons in a row. Two are no longer playing (Andrew Luck and Antonio Brown) and the other three are short of the pace to reach 300 again (Todd Gurley, DeAndre Hopkins, and Alvin Kamara).
No breaks: Chris Carson is the only running back to play over 300 snaps (307) in the last four weeks. LeVeon Bell is second with 271 offensive snaps played.
Unconventional RB1: Taking into account only Lamar Jackson's rushing numbers, he would be the RB12 this season (106.2), which is astonishing considering the zero receiving numbers.
Passing 40: Oakland ranks third with 11 plays of 40-plus yards allowed. Every one of them was through the air, the most plays allowed with one being a rush.
Seeing double: The Chargers have 61 straight games with 10 or more points scored. That's the ninth longest streak since the NFL merger.
Steelers

@

Browns

Spread: Browns -2.5 | Total: 40

Somehow, the Steelers have only totaled 300 yards of offense once in the past five games but have a 4-1 record with the only loss occurring in overtime. It has to do with a defense that has improved and an offense relying on top five average starting position. The Browns have four straight games of 300-plus yards of offense and are 1-3 during that time. The defense has only held one opponent under that threshold and haven't forced multiple turnovers since Week 4.
Pittsburgh
Steelers
As of this writing, James Conner seems convinced he will return this week. That is fortunate as the Browns struggle against the run and this is the best path to a positive Steeler outcome. It will also give Mason Rudolph a break from being the sole catalyst for the offense. It may be a conservative approach but it could give a few fringe fantasy options.
Team Trends That Matter
Rank first with a 23.8% forced turnover rate on defense.
The Steelers have not had a 300-yard passing quarterback this year.
One of five teams that have not turned the ball over in the red zone.
Fantasy Rating and a Stat to Know
Cleveland
Browns
The Browns will need to protect Baker Mayfield from mistakes as the Steelers rank second with 14 interceptions this year. That could make him less appealing, but the receivers should have chances. Nick Chubb has struggled (for him) over the past few weeks with no touchdowns so this could be a rebound game against an uninspiring run defense.
Team Trends That Matter
Luke Falk is the only quarterback they have held under 14 fantasy points this year.
One of five teams that have not forced a turnover in the red zone this season.
Rank third with 11.5% of their offensive drives ending in an interception.
Fantasy Rating and a Stat to Know
Fantasy Rating Key
(5) - Elite option. Must start.
(4) - Strong option. Likely start.
(3) - Good option. Low-end starter to high-end backup.
(2) - Weak option. Possible flex or desperation play.
(1) - Bad option. Bench in nearly all cases.
(0) - Not an option. Injured, bench, or waivers.