Why You Should Target Mike Williams in Your Draft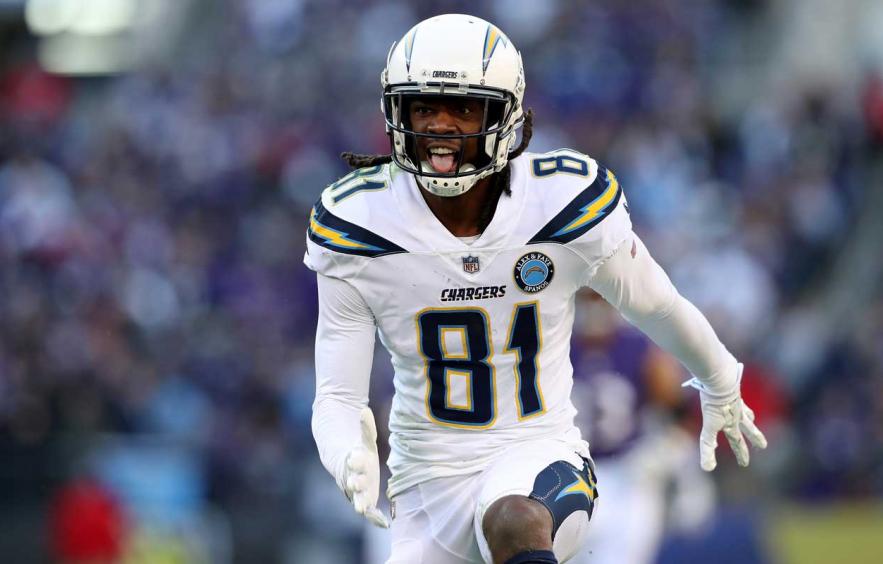 Rob Carr/Getty Images
Outside of a dynasty league, fantasy football players are not rewarded for their patience. Roster churn in the form of trades and the waiver wire are encouraged in seasonal leagues and roster size is usually not set with the goal of holding onto players who don't have immediate opportunity. While the idea of waiting on players within a season is a risky proposition, the mentality has crept into career trajectories. It has become harder for many fantasy drafters to take a chance on a player who hasn't emerged already.
Remember when the third-year breakout was a thing? For every Michael Thomas, there is a Tyler Boyd. For every Odell Beckham, there is a Davante Adams. While immediate satisfaction is nice, especially on an investment, most NFL players take a few seasons to reach their potential. And while Mike Williams had a nice year in 2018 with 10 receiving touchdowns, it is hard to bank on a repeat with just 43 receptions. Luckily for Williams, his situation has improved heading into 2019 and another step is likely for his NFL and fantasy output.
What's Changed for the
Chargers

?

Roster turnover is inevitable in the NFL, just like fantasy, and the Chargers waved goodbye this offseason to Tyrell Williams and Antonio Gates. They represented 22% of the team's targets in 2018 along with nearly 1,000 receiving yards and seven touchdowns. This not only opens up their production in the form of targets but also their time on the field. While Mike Williams played 622 offensive plays per 4for4's Snap App, Tyrell Williams was on the field for another 140 (761 total) while Gates had 364 plays in 2018.

There is also the return of Hunter Henry from an ACL injury, but it is likely he cuts more into Virgil Green's time, a player who inexplicably saw the field on 68% of the team's offensive plays. Beyond Henry, the Chargers did little to bolster the offensive weapons heading into the season. The threat from Henry to Williams is in the red zone. In 2018, Williams led the team with six touchdowns inside the 20 and had the most targets (15) of any Chargers receiver in the red zone. In 2017, Henry's last healthy season, he was second in red zone touchdowns and targets behind Keenan Allen. The pecking order behind Allen will be an ongoing story that will impact fantasy relevance.

The elephant in the room is Melvin Gordon. As of this writing, Gordon is holding out for a new contract and refuses to report or play until it happens. The ripple effect could be massive if this truly goes into the season as currently expected. The offense has been historically efficient, partly the reason they ranked fifth in points per drive but just 21st in plays per drive, limiting the number of opportunities for players. It also led to Philip Rivers throwing just 508 passes, his lowest figure since 2009 and well below his average of 596 the four seasons prior. A return to that number, a near certainty if Gordon is out for an extended period, would provide more chances for receivers to accumulate some additional numbers.
Why
Mike Williams

?

To answer this, it's best to start back at Clemson. In his last year before the NFL Draft, Williams showed some of the key attributes that make his current situation potentially fruitful. The departure of Tyrell Williams has opened up a role in the intermediate to deep parts of the field, an area where Keenan Allen rarely operates but requires from a teammate in order to maximize his impact. Big-bodied players like Malcolm Floyd and Vincent Jackson have excelled in this role for Philip Rivers and Williams should be the next. Almost 25% of Mike Williams' receptions in 2016 for Clemson went for 20 or more yards, a strong number for a player who isn't known for his deep speed. Those receptions are attributed to Williams' ability to track and win jump ball situations using his 220-pound frame and 87th percentile arm length.

That frame is also helpful in the red zone, another place where the Chargers need to establish answers. Williams showed it last year, catching eight passes on 15 targets with six touchdowns but it wasn't a fluke. In 2016, Williams caught 16 of 28 targets in the red zone for Clemson and converted nine for touchdowns with just three of them coming inside the 10-yard line. Some of those similar traits regarding jump ball and contested-catch situations are how Williams wins here and creates above-average catch rates and touchdown conversion rates. It also gives the Chargers an option if Melvin Gordon fails to reach an agreement before the season.
What's to Expect in 2019?
Asking any receiver outside of the elite options to repeat a double-digit touchdown season is unfair. Fantasy players shouldn't expect it but Mike Williams doesn't need to deliver it to have a successful 2019. Even with some touchdown regression, Williams will make up for it with additional receptions and yards. That will come as he is on the field more, sees some vacated targets come his way, and the team see an increase in overall pass volume closer to the 2014-2017 seasons.
Williams won't take over the top receiver spot from Keenan Allen, but he doesn't have to. This offense has supported multiple fantasy receivers and a tight end before. In 2014, the Chargers had three top 40 wide receivers along with Antonio Gates finishing third among tight ends. That season also saw Branden Oliver as the leading rusher, not far off from a Melvin Gordon-less backfield.
Being drafted 37th among wide receivers, Mike Williams is a low-risk chance worth taking. The only patience you need is during your fantasy draft.