How Tyrell Williams to Oakland Impacts Fantasy Football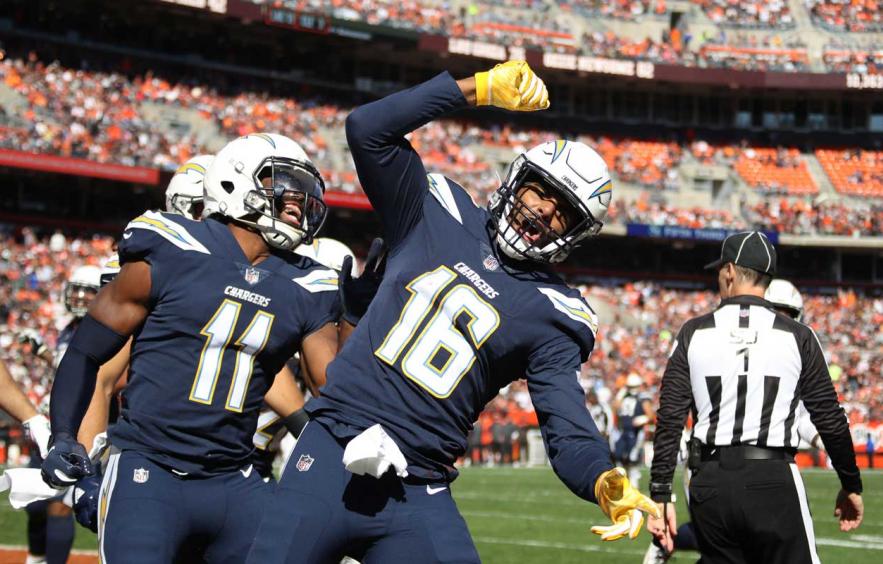 Gregory Shamus/Getty Images
Underneath the hoopla of two giant wide receiver trades (Odell Beckham and Antonio Brown), lies the signing of Tyrell Williams to the Oakland Raiders. The contract exceeded all other free agent wide receivers, and at four years/$44m, it is nearly $7 million more than the next highest UFA contract.
Is the money worth it? Will the Chargers be able to fill the hole left behind by Tyrell? We'll dig into each topic below.
Impact on the Oakland Raiders
Let us begin with the man who will be throwing the ball to the newly-inked wide receiver, Derek Carr. Carr will be looking at a completely revamped receiver crew, headlined by the aforementioned Antonio Brown, J.J. Nelson and Tyrell Williams. It remains to be seen how the losses of both Jordy Nelson and Jared Cook will affect the quarterback. But any time you can add a top-three receiver to your repertoire it should be considered a net positive.
As for Tyrell Williams in specific, let's look at where he and Derek Carr win in the field of play and see if we notice any overlap.
Charts are used courtesy of SharpFootballStats.com
Tyrell Williams' chart above spans his last three seasons as a member of the Chargers and the percentages are his Success Rate Over Average in comparison to the rest of the wide receivers in the league. Derek Carr's (second chart) shows passer rating both by direction and length. By far Tyrell's greatest strength in the field of play is in the deep left of the field, a section of the field Derek Carr has the most difficulty getting to.
The other strength of Tyrell's game looks to be the dead center of the field, a strip of the defense that Carr has also been punishing recently. Look no further than Jared Cook's career-high 101 targets in 2018 to see how a large-bodied receiving threat can benefit from this new dink-and-dunk Derek Carr that we've seen Jon Gruden create.
Williams would theoretically generate a higher production ceiling for his new quarterback over the departed (and recently retired) Jordy Nelson, but let's not get too carried away. Jordy's 2.7 average yards of separation in 2018 was nearly identical to the younger, faster Tyrell Williams' 2.8 average yards of separation. All-in-all, this signing doesn't change my outlook on Carr as a QB15 – QB20 for fantasy purposes.
At 6'3", 205 pounds, Tyrell's sub-4.5 40-yard dash puts him in the 80th percentile for speed score coming out of college. San Diego/Los Angeles has done well getting him the ball in open space down the field to allow him to work his magic, as you can see in the chart below. In fact, Williams has been above average as a downfield receiver according to RACR, a metric that captures the number of receiving yards a player creates for every air yard thrown at him.
The only problem with this is the sincere lack of downfield throws his new quarterback is attempting compared to Philip Rivers. Both signal callers have become more conservative over the last few seasons but Derek Carr has fallen off the Air Yards cliff, finishing 2018 tied with Cody Kessler for the least amount of IAY (Average Intended Air Yards)
Philip Rivers

and

Derek Carr

Average Intended Air Yards

| Player | 2016 IAY | 2017 IAY | 2018 IAY |
| --- | --- | --- | --- |
| Philip Rivers | 8.8 | 8.3 | 7.9 |
| Derek Carr | 8.4 | 7.9 | 6.7 |
With the addition of Antonio Brown, a lot of the missing targets and yards tied up with Jordy Nelson and Jared Cook will be gobbled up, but I still think 85 targets is reasonable for Tyrell. Even if we give him the most targets he's ever had (outside of a season in which Keenan Allen missed 15 games), give him a career-high catch rate of 65%, and assume Derek Carr pushes the ball an extra three yards down the field when targeting Williams, we still end up with about 500 yards for Tyrell the Gazelle. A fantasy season for the ages this does not make for the former undrafted free agent from Western Oregon.
I don't envision myself sticking a less productive boom-or-bust DeSean Jackson type on the end of my roster in re-draft leagues. That being said, I see nothing wrong with adding Tyrell Williams deep into a Bestball draft to inject a little risk into your lineup.
Impact on the Los Angeles Chargers
The clearest winner of Williams moving north to Oakland is…well, Williams. Mike Williams, that is. In what should turn out to be a more target-congested three-headed attack, the Chargers will have Mike Williams fully entrenched as the WR2 behind Keenan Allen, with a healthy Hunter Henry poised to make his triumphant return.
Keenan Allen's usage is unlikely to climb any higher than the 10-12 targets per game range that he was already at, and the same can be said about field-stretch specialist Travis Benjamin. This leaves a whopping 63 targets (and 789 air yards) to be spread amongst Mike Williams and Hunter Henry, with a vast majority going to the former. (Henry will likely absorb most of the 74 targets Antonio Gates and Virgil Green had in '18)
Mike Williams smells like a Tyler Boyd-esque complementary piece that could catch fire in his third season. He is currently coming off the early Spring draft board as the WR33, sandwiched by the likes of LeSean McCoy, Sammy Watkins and teammate Austin Ekeler. More than any player involved in either of these two teams, Mike Williams feels like the one outlook that has been changed the most.