FanBall Week 4 AAF Breakdown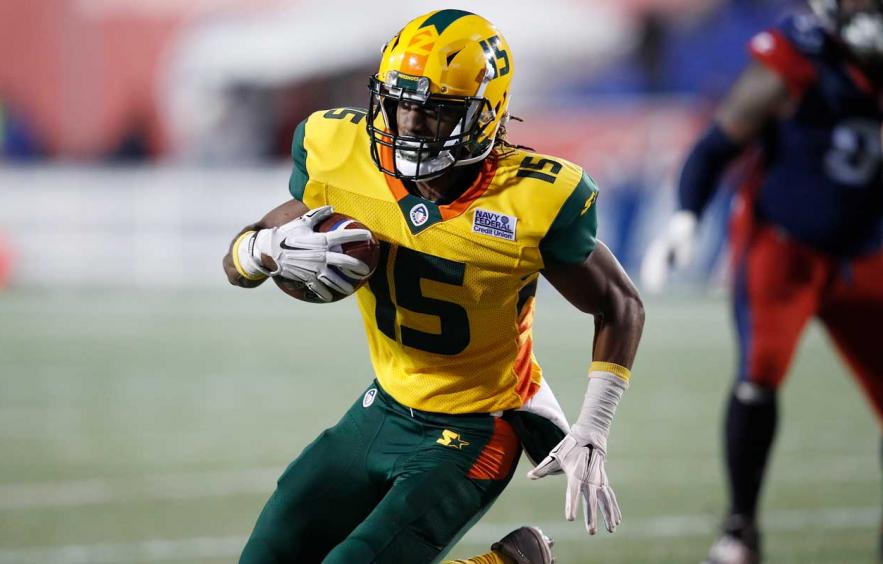 Joe Robbins/Getty Images
Note: All stat lines reference the previous week's game, unless otherwise noted. If there is no injury news about a team, the team has not released injury reports to the public/beat writers so be sure to check back for updates as injury news continues to be released closer to lock!
Jump to Season-Long Touch and Target Shares
San Diego Fleet (-5.5) vs Memphis Express (+5.5) O/U 41
San Diego Running Game
San Diego has the best rushing attack in the AAF and it's taken Mike Martz almost half of the season to figure it out. Best put, we have an undersized bonafide athlete who got no looks from NFL teams out of college in Ja'Quan Gardner (12 car, 122 yds, 10.2 yds/car, 1 TD) and an amazing power back in Terrell Watson (13 car, 73 yds, 5.6 yds/car, 2 2PT). This rushing attack is comparable to that of the NFL's Alvin Kamara/Mark Ingram tandem and in the AAF, this is a huge premium that we shouldn't overlook when players we roster need to have the workload and efficiency to pay off. The Express defense, coached by Mike Singletary, has been mediocre at best, especially at stopping the run. They have allowed total yardage counts of 183, 209, and 103 in the first three weeks of the season. The 103-yard game came against Trent Richardson, but the Express did allow an excess of RB dump-off passes and two rushing touchdowns in that game, as well.
San Diego Passing Game
The San Diego passing game flourished last week, with the Nelson- to-Nelson connection. Philip Nelson instantly made the Fleet regret taking QB Mike Bercovici in the draft, posting a passing line of 17/25, 193 yds, 7.7 yds/att, 2 TD, and 1 INT. As the connection suggests, the number one option on this team is former Los Angeles Rams WR Nelson Spruce (7 tgts, 4 rec, 50 yds, 2 TD), who seems to have great chemistry with his QB as shown with his two red zone targets when it mattered most. From there, TE Gavin Escobar (4 tgts, 4 rec, 40 yds) is the only one in this offense that has a consistent role in the passing game notching four, three, and four targets, respectively, in the last three weeks.
Memphis Running Game
San Diego's defense has been exploitable in all facets this year and with Zach Mettenberger at the helm now, the Fleet have to respect the pass a little more than if Christian Hackenberg was still the QB for Memphis. Over the last three weeks, the Fleet have allowed yardage counts of 202, 185, and 125 to opposing rushing attacks. This puts workhorse back Zac Stacy (14 car, 29 yds, 2.1 yds/car) in a perfect bounce-back spot against one of the worst defenses in the league. The only problem here is that last week after Stacy struggled, he was supplemented by fellow backfield mates Sherman Badie (8 car, 59 yds, 7.4 yds/car) and Terrence Magee (4 car, 28 yds, 7 yds/car). We can expect Singletary to run with the hot hand here, but it's worth noting that Stacy received five targets out of the backfield last game so he has the PPR upside to go along with his depressed price after last weeks dud.
Memphis Passing Game
Last week, we finally saw Zach Mettenberger take the reins from Christian Hackenberg and it was everything we expected it to be. With a passing line of 9/12, 120 yds, 10 yds/att, 2 TD, and 1 2PT, Mettenberger is here to stay and Hackenberg will resume his usual clipboard-holding role. Unfortunately, even though we have a decent starting QB to roster here now, the receiving corps is going to be hard to dissect and predict who's going to get the targets.
Target counts for the Express with Mettenberger at the helm last week are as follows:
Of these targets, Devin Lucien (3 tgts, 3 rec, 51 yds, 1 TD), Gerrard Sheppard (2 tgts, 1 rec, 40 yds, 1 TD), and Dontez Byrd (3 tgts, 2 rec, 51 yds) were the only ones to have (somewhat) relevant fantasy days. All three are volatile plays, even against this porous Fleet defense. It should be noted that Reece Horn (albeit mostly with Hackenberg at QB) ranks 11th in total air yards on the season.
Pat's Thoughts
Nelson ($6,100) to Nelson ($6,100) is going to popular this week and deservingly so, but I'm not too high on taking players who Singletary knows he has to stop. For me, Gardner ($7,000) and Watson ($4,900) will be finding a way into my lineups a lot easier as a way to corner the whole rushing attack from the Fleet.
On the Express side, I can't trust the receiving game too much with the targets being as spread out as they are, but Mettenberger ($5,500) at a huge discount paired with Zac Stacy ($6,200) looks to be a successful stack from this side.
Orlando Apollos (-4) vs Salt Lake Stallions (+4) O/U 42
Apollos Running Game
The Apollos' running backs have their work cut out for them this week as they take on the Salt Lake Stallions who, outside of Week 1, have held opposing backfields to less than 100 yards rushing in each game. To make this rushing attack even less appealing, lead back D'Ernest Johnson (13 car, 79 yds, 6.1 yds/car, 1 TD) has a very efficient backup in De'Veon Smith (8 car, 52 yds, 6.5 yds/car) and there's still former Kansas City Chief Akeem Hunt (2 car, 9 yds, 4.5 yds/car) to worry about. Johnson scored a touchdown last game and will need one to reach value this week in a game where his ceiling may remain intact, but probabilities point towards regression against the Stallions' defense.
Apollos Passing Game
Garrett Gilbert has been nothing short of amazing this season and last week he continued his push for MVP in the AAF with a passing line of 14/28, 207 yds, 7.4 yds/att, 1 TD. Charles Johnson (5 tgts, 3 rec, 53 yds) and Rannell Hall (6 tgts, 4 rec, 68 yds, 1 TD) continue to highlight the receiving corps and I don't expect this week to be any different, as the way to attack the Stallions is through the air. One player who had his best game of the season last week and I expect to go overlooked because of the typical volatility of the TE position is Scott Orndoff (3 tgts, 2 rec, 41 yds). The Stallions' linebackers and safeties tend to prioritize wide receivers in coverage and, in turn, have allowed fantasy relevant games to the likes of Thomas Duarte, and Gerald Christian.
Stallions Running Game
The Stallions running game lacks a true workhorse and is average at best when it comes to efficiency, but last week, even with QB Josh Woodrum returning, we saw them turn to the running game to put points on the board. It was a split backfield approach with Joel Bouagnon (12 car, 45 yds, 3.8 yds/car, 1 TD) and Branden Oliver (15 car, 40 yds, 2.7 yds/car, 1 TD), so it's fair to project both players the same, which creates merit for rostering both in your lineups this week.
Stallions Passing Game
Last week, the Stallions got their QB back in Josh Woodrum (22/31, 178 yds, 5.7 yds/att, 1 TD, 1 2PT) and he did not disappoint against an otherwise stout secondary in the Hotshots. De'Mornay Pierson-El (8 tgts, 8 rec, 90 yds, 1 TD, 1 2PT) had a career game last week and carried his team to victory over the Hotshots but it should be noted that of his 90 yards, 61 of them came after the catch. Outside of Pierson-El, Kaelin Clay (7 tgts, 5 rec, 27 yds) and Kenny Bell (4 tgts, 4 rec, 39 yds) will be active, as well, but draw much tougher matchups on the outside versus Keith Reaser and Marquez White who PFF grades out to 93.9 and 73.2, respectively. Pierson-El will draw the easiest matchup in a game where he'll look to continue his hot streak in a cupcake matchup versus Apollos slot cornerback Bryce Canady.
Pat's Thoughts
From the Apollos side, there's a lot of merit to rostering Charles Johnson ($7,200), even with his price being so high just based on athleticism. Gilbert ($7,100) is about as safe as a cash game quarterback as you can get. Outside of them, D'Ernest Johnson ($5,500) has a solid role, provides much-needed salary savings, and has the upside to absolutely crush his salary.
The Stallions haven't been a team to provide fantasy relevant scores all around, but as stated above, Pierson-El's ($6,200) cornerback matchup may be too good to not have a few shares when making multiple lineups. It should be noted that if you play Pierson-El, it will be hard for him to replicate his yardage total with his role being so dependent on yards after the catch.
San Antonio Commanders (+7) vs Birmingham Iron (-7) O/U 37.5
Commanders Running Game
The Commanders middle-of-the-road rushing game gets a matchup with the Iron's middle-of-the-road rush defense in a game where old school clock control will take place, which is evident with the lowest game total on the slate. Last week, it was a split backfield between Kenneth Farrow II (3 car, 8 yds, 3 yds/car), Trey Williams (7 car, 75 yds, 10.7 yds/car) and mobile QB Marquise Williams (5 car, 33 yds, 6.6 yds/car). A lot of this could be due to the Commanders falling behind and leaning towards Williams, who they like targeting out of the backfield—he showed last week he is the best back on the team. If you take away his 30-yard run, he still would have had six carries for 40 yards. Against a tough Iron's secondary, if the team gets in the red zone, I'd expect one of Williams or Farrow to get an opportunity at the very least to get in the end zone.
Commanders Passing Game
Logan Woodside (12/23, 151 yds, 6.6 yds/att, 1 TD, 2 INT, 1 2PT) had a disappointing game last weekend against a weak Fleet defense and it won't get any easier against a stout Iron secondary. Woodside was replaced at the end of the game by mobile QB Marquise Williams (4/4, 21 yds, 5.3 yds/att, 5 car, 33 yds, 6.6 yds/car) who managed a decent outing against the Fleet so there is a chance that if Woodside will be on a short leash.
The receiving corps will be once again be headlined by Mekale McKay (6 tgts, 4 rec, 1 TD) and De'Marcus Ayers (5 tgts, 2 rec, 14 yds). Mckay will draw star cornerback Jamar Summers over a third of the time if their playcalling is similar to what it's been while Ayers will draw the much more susceptible Ryan White in the slot whom PFF grades out to the lowest grade on the team. In a game that will more than likely be about clock control and gaining bits at a time, Ayers and McKay will still make it into my lineups.
Iron Running Game
The Iron run game is far from efficient, but week in and week out we'll have to turn to Trent Richardson (17 car, 46 yds, 2.7 yds/car, 3 TD) just because he has so much touchdown equity compared to the other backs in this league. Outside of Richardson, there's Ladarius Perkins, who lost his third-down role to Richardson—we can really only expect to see Perkins get work if the Iron gain a big lead or something happens to Richardson. That said, in such an unpredictable league, there are worse spots than Trent Richardson's handcuff. (Think Austin Ekeler for Melvin Gordon)
Iron Passing Game
Luis Perez had a subpar game last weekend against the Legends, completing 17 of his 24 passes for 160 yards, 1 INT, and a 2PT. He gets a perfect bounce-back spot against a Commanders defense that allowed Philip Nelson to have a career game against them last week. Lead receiver Quinton Patton (5 tgts, 4 rec, 58 yds) leads the league in air yards and there is a great supporting cast in L'Damian Washington (5 tgts, 3 rec, 28 yds) and Wes Saxton Jr (5 tgts, 3 rec, 25 yds). It's noted that Richardson has a huge role out of the backfield as a pass-catching back, receiving seven and five targets, respectively, over the last two weeks.
Pat's Thoughts
I'm not necessarily a big fan of rostering anyone from the Commanders but there's always a case for McKay ($6,300) just because he is the number one target and ranks third in the league in air yards. Other than that, there isn't much that has me salivating when the rest of the team is pretty volatile.
From the Iron's side, we now know that no matter how much we hate playing Trent Richardson ($7,600), we always have to consider him despite his lack of efficiency just because his red zone role is unmatched. Quinton Patton ($6,500) leads the league in air yards and is very much in the conversation every week and he is just waiting to break out since his Week 1 explosion versus Memphis. Like I mentioned above, anything can happen in the AAF so rostering Ladarius Perkins ($3,700) has merit in case of the game blowing out or Richardson getting pulled for some reason—a dud at Perkins' price won't exactly kill your lineups.
Atlanta Legends (+13.5) vs Arizona Hotshots (-13.5) O/U 41.5
Legends Running Game
The Legends have quickly become the Cleveland Browns of old in the AAF. There's not much to love here, especially from the rushing side. Atlanta tends to get behind in games quite often, so they're running game gets abandoned and their leading rusher becomes QB Matt Simms, who had to scramble for 27 yards last week. We can expect a split backfield every time they're on offense between Akrum Wadley (3car, 9 yds, 3 yds/car), Denard Robinson (3 car, 7 yds, 2.3 yds/car) and Lawrence Pittman (5 car, 6 yds, 1.2 yds/car) but each of these plays are extremely thin.
Legends Passing Game
This is the highlight of this offense from a fantasy perspective and has a lot to like with depressed pricing in a game where they are expected to be trailing. Matt Simms hasn't been amazing, but he's shown improvement over the last few weeks posting a 28/48, 328 yds, 6.8 yds/att, 1 TD, and 3 INT. Lead receiver Seantavious Jones (8 tgts, 4 rec, 72 yds) is third in the league in air yards with Malachi Jones (5 tgts, 3 rec, 58 yds) ranked 14th. Due to the lack of touchdowns so far, you'll get a discount on these guys and this is a great way to pivot off the field and go contrarian.
Hotshots Running Game
The Hotshots running game has been anything but hot of late, especially last week against the Stallions. Workhorse Jhurell Pressley (10 car, 34 yds, 3.4 yds/car) and backup Justin Stockton (5 car, 13 yds, 2.6 yds/car) will split the work—more than likely, the coaching staff will go with the hot hand, trying to find any spark possible. With the Legends defense being as bad as it is and the spread dictating that the Hotshots will get ahead, this is definitely a plus matchup for both players and we should be able to project a boost in workload for both.
Hotshots Passing Game
John Wolford (14/22, 127 yds, 5.8 yds/att, 1 TD, 1 INT) had a decent showing last week but after throwing an interception, he was replaced by Trevor Knight (8/17, 95 yds, 5.6 yds/att). Wolford will remain the starter and there is one name to know beyond that. Rashad Ross. Ross (8 tgts, 6 rec, 1 TD) has been on an 2016 Antonio Brown-like tear and it does not look like this week is when it will stop. He obviously has the trust of Walford—outside of him it gets pretty thin with the likes of Josh Huff (8 tgts, 4 rec, 33 yds) and Marquis Bundy (8 tgts, 3 rec, 40 yds) all dropping more than half of their targets. Thomas Duarte and Gerald Christian have split time at TE and there are better ways to use roster spots this week.
Pat's Thoughts
From a contrarian point of view, I LOVE the Legends side of the ball here, particularly the passing game. Simms ($5,900) has shown improvement throughout the season and he will have to throw the ball this game if the Legends want to have a shot. I'm definitely looking at the Jones Bros. here in Malachi ($6,100) and Seantavious ($5,800) to keep the game close at a time where the Legends seem to be written off by everyone in the league.
Wolford ($5,700) hasn't performed well enough for me to be drooling over this matchup like I thought I would after Week 1, but Ross ($6,900) makes up for Wolford's lack of excitement. The stack won't cost a lot and with Wolford's recent performance, most lineups will likely roster Ross without his QB. With the savings provided by Wolford, this is a great place to start your lineups and where I'll be starting mine just to try to have an edge over the field.
---
AAF Target Leaders, Weeks 1–3
Click Headers to Sort
AAF RB Touch Leaders, Weeks 1–3
Click headers to sort