Deshaun Watson Can Be 2019's QB1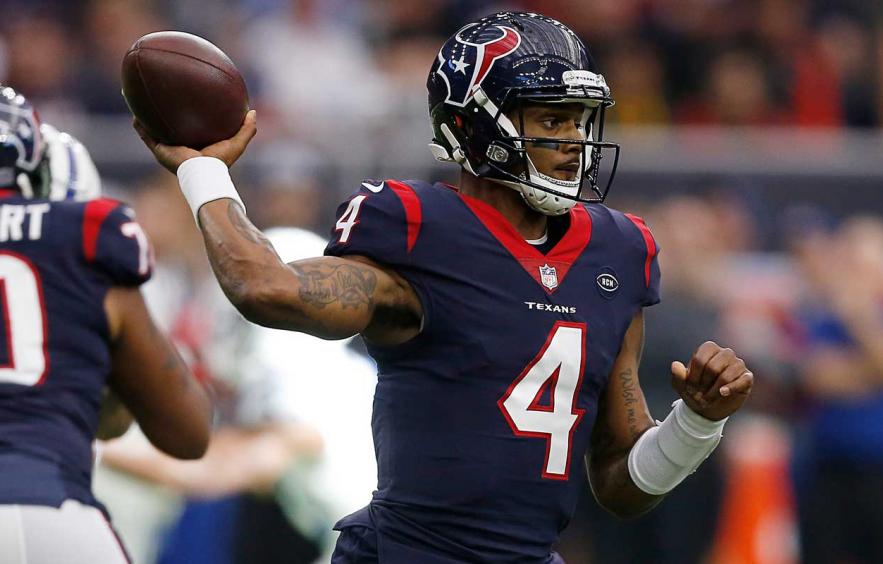 Bob Levey/Getty Images
It's been 15 years since a quarterback had back-to-back seasons as the fantasy QB1 overall. Ironically, 2004 was actually Daunte Culpepper's third consecutive season to outperform all of his peers, but while other quarterbacks have topped the fantasy quarterback leaderboard multiple times since then, none have managed it in consecutive years. It's absolutely possible that Patrick Mahomes could break that streak, but betting heavily on that outcome means turning a blind eye to recent historical outcomes, and with an ADP currently hovering around pick 30, you're paying valuable third-round draft capital to acquire him. Meanwhile, there's a quarterback with an ADP around 60 who's often available in the sixth round, who finished 2018 as the QB4, and who's got an excellent shot at the QB1 crown in 2019. His name? Derrick Deshaun Watson.
Rushing To Fantasy Success
Below are the top five scoring fantasy quarterbacks from 2018:
Top-Five Fantasy QBs Stats, 2018

| Player | FPTS | Rush ATTS | Rush Yds | Rush TDs | YPA | FPTS | Pass Atts | Pass Yds | Pass TDs | Pass INTs |
| --- | --- | --- | --- | --- | --- | --- | --- | --- | --- | --- |
| Patrick Mahomes | 415.1 | 60 | 272 | 2 | 4.5 | 39.2 | 580 | 5,097 | 50 | 12 |
| Matt Ryan | 349.9 | 34 | 125 | 3 | 3.7 | 30.5 | 609 | 4,924 | 35 | 7 |
| Ben Roethlisberger | 332.9 | 31 | 98 | 3 | 3.2 | 27.8 | 675 | 5,129 | 34 | 16 |
| Deshaun Watson | 331.7 | 100 | 550 | 5 | 5.5 | 85.0 | 505 | 4,165 | 26 | 9 |
| Andrew Luck | 322.9 | 46 | 148 | 0 | 3.2 | 14.8 | 639 | 4,593 | 39 | 15 |
Rushing separates Watson from the surrounding quarterbacks. His 100 rushing attempts were more than double the number of all the above quarterbacks but Mahomes, and Watson was the most efficient runner of the group, gaining 5.5 yards per rushing attempt. In the vast majority of leagues, rushing yards and touchdowns are more valuable than their passing counterparts. There are other dual-threat quarterbacks whose rushing opportunities offer a similarly high floor—namely, Lamar Jackson, Josh Allen, Cam Newton, and Dak Prescott—but Watson's passing upside arguably makes for a higher ceiling than any of them.
Can the
Texans

Protect Watson?

A limiting factor for Watson's expected performance is the Texans' offensive line. Houston earned a 71.3 pass blocking grade via PFF, 20th out of 32 teams, while each of the remaining top quarterbacks was protected by offensive lines that graded out inside the top 12. The Texans did draft offensive linemen in both the first and second rounds of the 2019 draft, which should create some optimism for improvement. There's a low bar to clear there because 4for4's own Justin Edwards' O-line metric ranked the Texans' line dead last in 2018. This is what makes a closer look at Watson's rushing totals informative. Watson had the third-most rushing attempts among quarterbacks, but only 40 of his 100 attempts were designed runs, per PFF. The remaining 60 were all quarterback scrambles, and the 429 yards gained on them accounted for 78% of Watson's rushing yardage, the second-highest mark behind Josh Allen's 81%. In fact, every single one of the top-five rushing quarterbacks had a significantly higher YPA (yards per attempt) on scrambles versus designed runs. Houston's offensive line struggles often left Watson with a scramble as his best play available, and he was extremely productive with those plays.

Any offensive line improvement for the Texans should help lower Watson's league-leading 126 quarterback hits last season, and increase his ceiling for fantasy points coming from passing alone, which would likely offset any dip in fantasy production from fewer scrambles.
Watson's Pass Catchers
The health of the receiving corps around Watson will also be key for an improvement in his passing totals. Looking at 4for4's Player Touches App, DeAndre Hopkins' 1.85 Fantasy Points Per Touch (FFPts/TCH) was second among all wide receivers to touch the ball 100 times or more. If we increase the field to all receivers with at least 20 touches, Will Fuller's 2.32 FFPts/TCH was 13th-highest among the group. Fuller's skill set in particular fits Watson's deep-ball prowess like a glove. Below are the catch rates and average depths of target for Hopkins and Fuller, via airyards.com: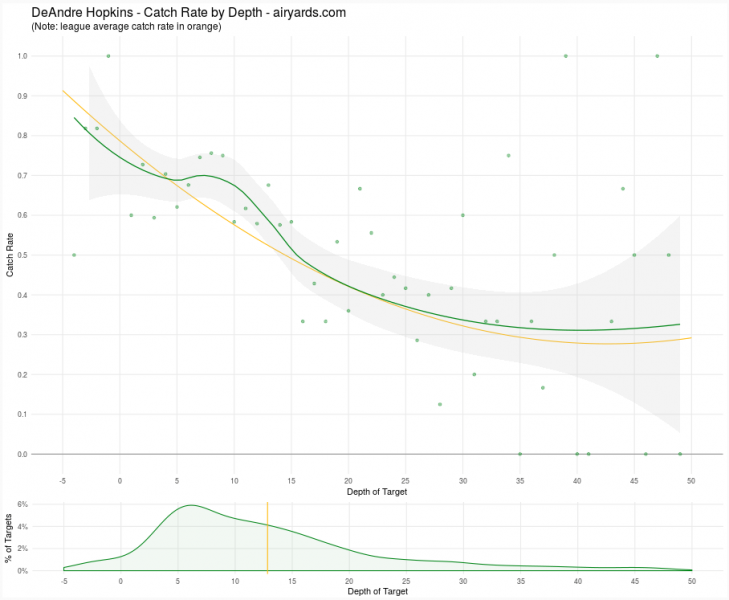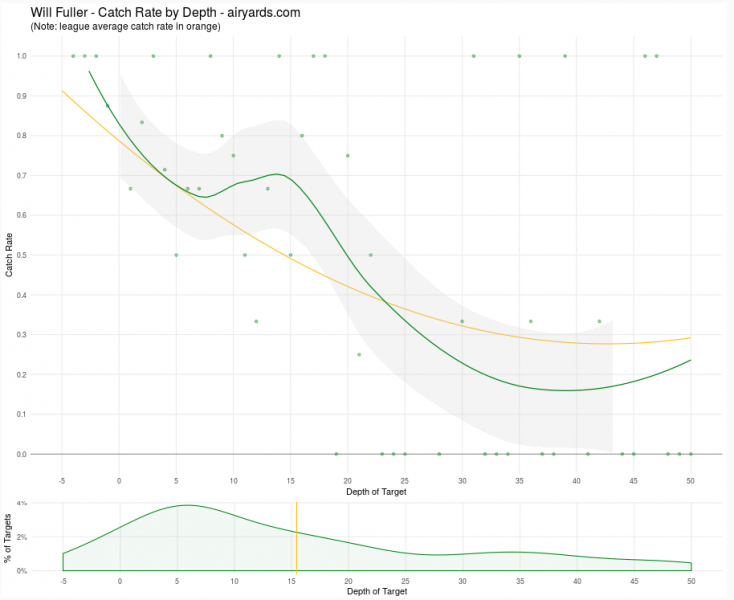 Will Fuller's 2018 catch rate was actually higher when he was targeted 10 to 15 yards down the field than it was when his depth of target was inside 10 yards, and remained at 50% or above as far as 20 yards down the field. In his 2017 injury-shortened rookie season that included both Fuller and Hopkins for four of his seven games played, Watson put up the third-highest adjusted completion percentage on throws of 20-plus yards at 47.5%, and a full 19.6% of his throws were of the deep variety, most among all quarterbacks with at least 200 attempts (per PFF).
Watson's deep-passing efficiency was lower in 2018, both in his adjusted completion percentage on deep passes and his percentage of deep passes overall, but his overall efficiency improved significantly. He followed up his 68.1 overall PFF grade in 2017 with an 80.9 overall PFF grade for his performance in 2018. After throwing eight interceptions on just 204 pass attempts through seven games in 2017, Watson threw nine total interceptions in 505 passing attempts through 16 games in 2018.
Texans

Play Calling

Another potential hiccup for Watson's 2019 QB1 potential is his team's run/pass tendencies. Per sharpfootballstats.com, Houston passed the ball on only 56% off their offensive possessions, versus rushing on 44% of them. This was the eighth-lowest run/pass ratio in the NFL last season, and it was not an aberration under head coach Bill O'Brien. The Texans passed 56% of the time in 2017 (13th-lowest) and 57% of the time in 2016 (seventh-lowest). By comparison, the other four quarterbacks whose ADPs fall in the top five among quarterbacks play for teams with pass/run ratios that favor the pass: Patrick Mahomes' Chiefs (59%/41%), Andrew Luck's Colts (61%/39%), Aaron Rodgers' Packers (65%/35%), and Baker Mayfield's Browns (64%/36%).

Fortunately, this ratio isn't disqualifying for Watson. When the Texans got into their opponent's red zone in 2018, their run/pass ratio jumped to 60%/40%, a ratio bested only by the Packers among the teams mentioned above. The Texans also snapped the ball 1,094 times in 2018, the third-highest total of any team, and for Watson, that equated to 68.3 snaps per game—only Andrew Luck averaged more among the top five quarterbacks by ADP. This combination of team pace-of-play along with a heavy reliance on passing in the opponent's red zone can more than make up for Houston's overall lower passing percentage.
The Bottom Line
Watson heads into the 2019 preseason two years removed from his ACL tear, and he's reportedly been able to focus entirely on mastering the offense. With a bit more luck on the injury front from Fuller, continued health from Hopkins, and some second-year improvement from Keke Coutee, Watson should have all the weapons he needs to lay siege to the fantasy QB1 throne.