2019 Offensive Line Rankings: 22–32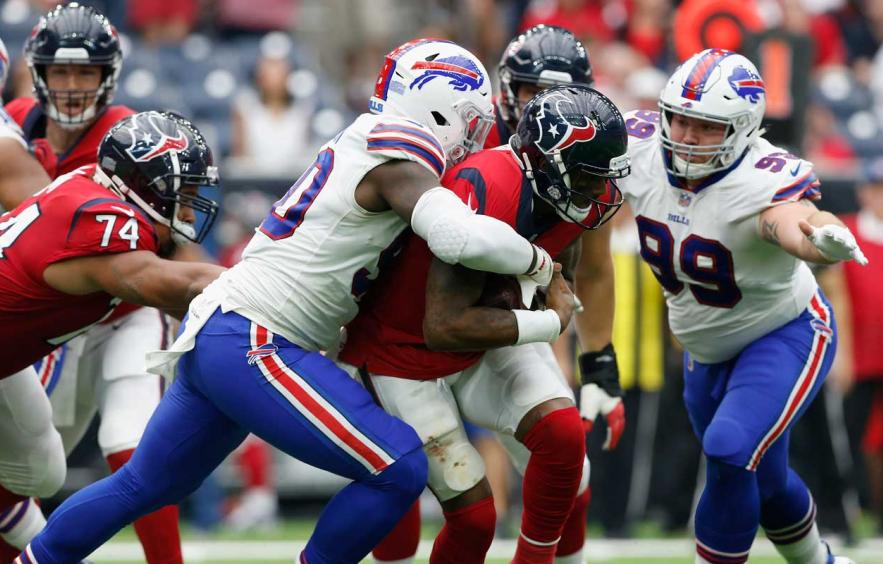 Tim Warner/Getty Images
Evaluating offensive line play in regard to its effect on fantasy football output has been a stone unturned throughout the course of our game within a game. I touched on some of the information I use to spit out my O-Line metric in my first article for 4for4, and followed up with five fantasy football assets whose outputs were shifted directly because of their offensive line's play.
Today we dig in even deeper and begin to rank every single offensive line in the NFL, from 32 down to 22. This first set of rankings should shine light on some situations that need monitoring as we look for players to draft in the upcoming months.
32. Houston
Texans
The Texans spent about as much draft capital as you can on improving the offensive line at the end of April but did so in a peculiar way. They opted to spend both their first and second-round picks on small-school linemen. After being leapfrogged for Washington State's OT Andre Dillard at the No. 23 overall pick by the Philadelphia Eagles, Houston was "left" with Alabama State's Tytus Howard. A former high school quarterback, Howard has athleticism and potential, but ultimately needs a lot of development before taking on NFL-caliber edge rushers. The Draft Network had Tytus Howard as a consensus Day 3 prospect before the draft.
Both Howard and second-round selection Max Scharping of Northern Illinois will be fighting for jobs through the preseason, at right tackle and left guard, respectively. Head coach Bill O'Brien is encouraging camp battles and building versatility among his group through OTAs which is great to see. The fact remains that Houston's Week 1 O-Line may not be any better than 2018's product.
31. Miami
Dolphins
Despite glaring needs at nearly every spot along the offensive line, the Dolphins maneuvered back in the draft, gathering picks for 2020 and trading for quarterback Josh Rosen. The trade was one of the smartest moves made all draft weekend—buying a former top-10 pick of the 2018 draft for pennies on the dollar is a bold value move that all of us can apply to our own fantasy franchises. However, Rosen (or Ryan Fitzpatrick) will be forced to play behind a line that allowed a 10.5% Adjusted Sack Rate last season, the second-worst rate in all of football.
While the Dolphins did eventually take the plunge with the number 78 overall pick and grab Michael Deiter of Wisconsin, they will be plugging him in at left guard on the least experienced offensive line in the NFL. Miami's projected starting five have a combined 115 career starts, 25 fewer games than the 31st-ranked team. Deiter started 54 straight games with Wisconsin, which can be interpreted as nothing if not a positive, but he doesn't yet have the pass protection acumen to make up for his lack of length. Over the last three seasons, Wisconsin ranks 113th (of 130) in the nation in terms of pass attempts per game (22.7). With the state of things heading into the 2019 season, Miami will not be allowed the pleasure of running the ball 60% of the time while playing from behind.
30. Buffalo
Bills
Buffalo added….let me check my notes…seven? Seven offensive linemen to their roster since February. It wouldn't be outlandish if they're starting a completely new front five in September. The Bills have done nothing to hide their disgust at the performance of 2018's iteration of an offensive line. Selfishly, I very much enjoy watching Josh Allen run for his life but it's no way to run an offense. Speaking of running, Buffalo wasn't great at creating lanes for their running backs either. Their 3.89 Adjusted Line Yards ranked them 30th in the league, heavily contributing to a franchise record-low 77.3 rushing yards per game by their running backs.
First-round pick Cody Ford is an immediate incursion of talent but it's unknown at this point if the Bills will have the luxury of playing him at guard to really maximize his talent ceiling. If forced to play him at right tackle, we'll have to wonder if some of his pre-draft worries of technical issues will be realized. Regardless of Ford's position, the Bills have a lot of work to do before they work as a cohesive unit.
29. Tampa Bay
Buccaneers
Working in the exact opposite manner of the projected 2019 Bills offensive line, Tampa Bay had the most cohesive O-Line unit in all of football last year, missing only one game amongst all five of their starters (Demar Dotson missed one start due to a hamstring injury), but that didn't help them hold down the fort while run blocking. The Buccaneers' 3.78 Adjusted Line Yards ranked 31st in the league. With no added talent coming out of the draft, it looks like the same starting five will be making their way into 2019. Hopefully, they can coalesce into a stronger run blocking unit as Bruce Arians continues to mold Jameis Winston into an air-it-out quarterback.
There is something to be said for an offensive line that is allowed to work together year over year, and if one group in the bottom-five were to jump up the rankings a sizeable amount, I would peg the Bucs to be that team. They were a top-half team in terms of Adjusted Sack Rate, and that number could get even better without notorious Wildman Ryan Fitzpatrick running around making their jobs a little harder. If interested in getting even deeper in the trenches with the Tampa Bay linemen, I would recommend listening to this podcast in which Center Ryan Jensen talks about his dynamic with left guard Ali Marpet after playing next to him every snap of the 2018 season.
28. Arizona
Cardinals
I had this Arizona unit ranked even lower after a dreadful 2018 that saw them ranked 26th in Adjusted Sack Rate and 25th in Adjusted Line Yards before I came across some stats that made me raise my eyebrows:
Also found this interesting:



Texas Tech has had *one* offensive lineman drafted into NFL in the last decade.



Over the course of Kingsbury's six years as head coach, the Red Raiders' sack rate allowed ranked fourth lowest in D-1 college football.

— Evan Silva (@evansilva) May 14, 2019
Though new Cardinals' head coach Kliff Kingsbury very rarely had NFL-caliber offensive linemen come out of his program, he was able to use his scheme to keep his quarterback clean. If he is able to adapt a similar scheme while in the NFL, we should be able to overlook some of the talent holes in this Arizona team.
There has been a lot of turnover across the line after Arizona acquired free agent guards J.R. Sweezy and Max Garcia before trading for Marcus Gilbert but these veterans bring in their own style of red flags. I try to avoid using the "injury-prone" tag, but we can't ignore the 134 total regular season games that the full Arizona Cardinals offensive line starting five have missed over their careers. The depth of this unit is shaky, as the only two offensive linemen the Cardinals selected this year were in the sixth (Lamont Gaillard, Georgia) and seventh (Joshua Miles, Morgan State) rounds. I expect Kyler Murray to see more collapsed pockets than he ever witnessed in college.
27. Cincinnati
Bengals
After months of debate over which Devin (Devin White or Devin Bush) Cincinnati was going to take, they did their offensive line a great service by selecting the first offensive tackle of the draft; Jonah Williams. I'll throw a deep dive from @Cover_1_ below if you want to get into the nuts and bolts about what he does well.
Below is a fantastic pre-draft cut-up of the #Bengals first round rookie:

⚡️ "Jonah Williams, LT, Alabama" by @Cover_1_https://t.co/cMfKnYAxKw

— Justin Edwards (@Justin_Redwards) May 15, 2019
Whether Williams lines up at left tackle (most probable) or right tackle (preferable), he should mark an immediate upgrade over either incumbent Cordy Glenn (LT) and/or Bobby Hart (RT).
Alabama OT Jonah Williams tied for second in the draft class in run-blocking grade. pic.twitter.com/2LgVdrn3Yu

— Pro Football Focus (@PFF) April 6, 2019
Praise for one man does not secure the role of every other player on the team. It is more than likely that both Glenn and Hart will end up starting at some position along the line, especially considering Bobby Hart's three-year, $21 million extension signed just a couple months ago. The problem with this is that Bobby Hart is not a starter-worthy NFL offensive tackle. He wasn't in 2018, he wasn't in 2017, and he wasn't in 2016. Hart has been beaten by edge rushers for three seasons. It's unfair to pick out one bad play and attempt to describe a player from that single mistake, but it doesn't mean this video isn't hilarious;
Von Miller one-hand pancaked Bobby Hart so hard the refs assumed it was illegal hands to the face and called a penalty pic.twitter.com/E9hC75pSiB

— Josh Liskiewitz (@PFF_Josh) December 2, 2018
As many of you may well know, Andy Dalton is notoriously a summation of the parts around him. If he has an elite offensive line and healthy weapons, he will provide consistent QB1 numbers for you. If not, he is the epitome of mediocrity. The latter will be true if they leave Bobby Hart as a starting tackle once the season begins.
26. New York
Jets
The Jets added a big name in the offseason in Kelechi Osemele, but it's unsure exactly what he will bring to the team. Though he has a resume with two Pro Bowls on it, he had an injury-riddled 2018 in which he played only 11 games. His performance was no doubt hampered by playing next to Kolton Miller, who had a disastrous rookie season at left tackle. The hope is Osemele will fortify a line that can't create holes in the run game, leaving the Jets with a 32nd-ranked 3.59 Adjusted Line Yards in 2018. Using a visualization via SharpFootballStats.com we can see the run game was below average no matter what gap the play ran through but was the worst at left guard, where the veteran addition was signed to help.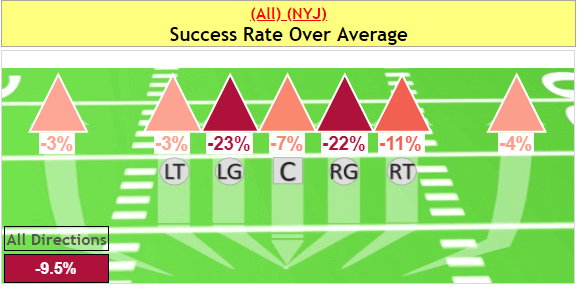 Although the Jets will carry over most of their offensive line from last year, all those players are (obviously) a year older, adding wear and tear to a team that has refused to spend meaningful draft capital on the line. Over the last five drafts (34 selections), the Jets have spent a third-round (Chuma Edoga, 2019), a fifth-round (Brandon Shell, 2016) and a second fifth-round (Jarvis Harrison, 2015) pick on offensive linemen. The improvement of the O-Line in 2019 rests almost solely on the shoulders of a healthy season from Kelechi Osemele.
25. Jacksonville
Jaguars
The Jaguars had the unlucky distinction of starting the most offensive linemen in 2018, 12 different players in all. Right guard A.J. Cann was the only Week 1 starter who finished the season. The big question mark lays on the left side of the line where tackle Cam Robinson's torn ACL will probably make for a slow-moving training camp. Jacksonville added tackles Leonard Wester, Cedric Ogbuehi and Donnell Greene to compensate in case Robinson takes longer than expected to return to action, but the hope should be that none of those three see the field during regular season action.
On the other side of the line, Jawaan Taylor was snagged in the second round of the NFL Draft after a fall sent him packing out of his first-round projection. I'm still not entirely sure why he fell so far, but it's a gift to Jacksonville who desperately needed to fortify the edge after allowing 111 QB hits last season, the third-highest mark in the league. If the Jaguars can maintain health along the front five this summer, Leonard Fournette begins to become more intriguing with his injury discount.
Below are a couple of clips of Jawaan Taylor taking on (now teammate) edge rushing behemoth Josh Allen
Similar action in the third quarter. Jawaan Taylor gets out of his stance (again a bit early) and beats Josh Allen to his spot. Allen tries to go inside this time, but Taylor slides and walls him off, blocking him out of the play. pic.twitter.com/YMu9fiN54P

— Fed Scivittaro (@MeshPointScout) January 2, 2019
24. Washington Redskins
In the same ilk as the team directly before the Redskins, it's difficult to evaluate "what could have been" after they suffered so many injuries. Eleven different players started across the offensive line, just one less than Jacksonville who led the league. As I've mentioned before (and I'll continue to mention), having the entire group fusing together through snaps and in-game reps is important, and having nine linemen play over 200 snaps is a difficult way to strengthen the base.
Having hit on the injury bug that clearly had a large part in Washington's below average 2018, I believe looking forward that the pure talent they have from their big men can translate into a top-15 or top-10 unit. Left tackle Trent Williams has been selected to seven straight pro bowls, center Chase Roullier improved his pass blocking in his sophomore season, and right guard Brandon Scherff has been rock solid since being selected with the fifth overall pick in 2015.
Since Scherff missed almost exactly half of the season, it presents us with a perfect opportunity to look at his injury's impact on the offense. Below is a table from TheQuantEdge.com titled "Injury Impact". It simply splits all of an offense's production by when a player is on or off the field. Brandon Scherff played 482 snaps in 2018 and the Washington Redskins played 485 snaps without him.
Everything seems pretty much the same until you get down to the "Explosive Plays" and "Sack%". There were clearly more explosive plays in both the run and pass game but look at that outlandish jump in sack percentage. Redskins quarterbacks were sacked more than twice as often with Scherff out of the lineup than in the lineup. His—and his teammates—returns will be a welcome site for rookie QB Dwayne Haskins.
23. Minnesota
Vikings
For as much hate as the Minnesota offensive line gets from Kirk Cousins apologists, they were middle-of-the-road in most metrics, only allowing 95 quarterback hits (18th) and a 6.1% Adjusted Sack Rate (10th). What was really the biggest detriment to the Vikings offense as a whole were the number of blown blocks by the offensive line. Via Sports Info Solutions, a "blown block" is
"any time a blocker does not successfully block the defender they attempted to engage with and, as a result, gives the defender an opportunity to negatively affect the play".
The Vikings led the league in this category, by a lot. Minnesota's 142 blown blocks were 34 more than the second-most and their blown block percentage of 2.8% is also by far the highest number. A reason for optimism, Mike Remmer is taking his team-leading 28 blown blocks with him to the New York Giants after signing with them this offseason.
Someone in the NFC North is following Pro Football Focus closely, as their favorite center has gone to the division in back-to-back years. Frank Ragnow to Detroit in 2018 and now Garrett Bradbury to Minnesota.
Garrett Bradbury fills a major need for the Minnesota Vikings. He's an all-around solid offensive lineman. #NFLDraft pic.twitter.com/BDpt8DNrh1

— Pro Football Focus (@PFF) April 26, 2019
The Draft Network was equally as high on Bradbury, with all three of his write-ups containing zero red flags about his game. His arrival will move Pat Elfein to left guard, and it would seem that their starting five is already set barring setbacks along the preseason.
22. New York
Giants
This is a perfect follow-up team, as we can move directly to the Giants, who signed Mike Remmers and his 28 blown blocks away from the Vikings. The good news is, the contract only cost Dave Gettleman $2.5 million so it wasn't much of a cash dump. Playing beside Remmers will be another offseason acquisition in Kevin Zeitler, a consistently phenomenal pass-blocking guard. Perhaps the pristine play of Zeitler will help next door neighbor Mike Remmers shake off his poor 2018. With those two additions, the Giants saw the second biggest improvement of O-Line experience, boasting a full 48 games of projected starter game starts since the end of the 2018 season.
With Mike Remmers coming off back surgery, it will be important to also keep an eye on the tackle on the left side of the line;
Might be something to watch.

Typically ankle scope recovery measured in weeks not months. Not sure why #NateSolder would be ruled out for all of spring is simple minor scope. https://t.co/AZ8r3WvsOt

— David J. Chao, MD (@ProFootballDoc) May 17, 2019
Missing Nate Solder for any amount of time would be a huge detriment to a line that saw Eli Manning get sacked a career-high 47 last season. As Manning continues to get slower and older, it's even more important that the G-Men can set the edge.
---
Didn't see your favorite team in this iteration of the rankings? Lucky you! Keep your eyes peeled as we continue counting down the NFL's Offensive Lines in the coming weeks.