DraftKings Thanksgiving Slate Breakdown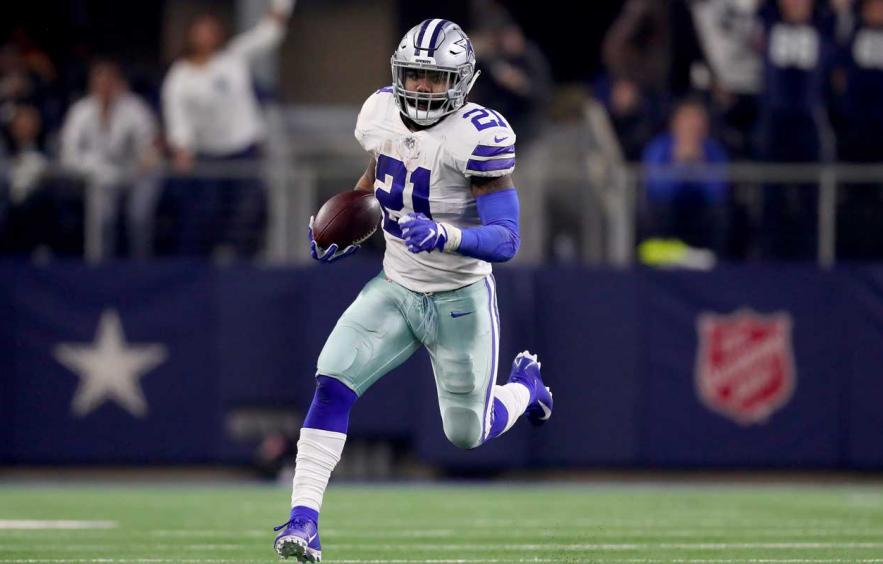 The Thanksgiving DFS slate is hands down the most exciting short slate of the year. What better way to spend the holiday than covering an entire meal with the liquid fat of a bird, comatosing on the couch, then waking up to find out you took down the $20 Wishbone Classic on DraftKings. The overarching theme of this article will be GPP focused. On a short slate, one or two players can decide the entire slate. When that's the case, I like to play strictly tournaments with a portfolio of players, rather than one cash game lineup that can get destroyed by one-player variance.
Core Plays - These players will have the highest ownership in my player pool. Usually, they'll be a mix of my favorite high-floor and high-upside players.
Contrarian Plays - These are generally players who may be going overlooked or usually have volatile fantasy production. They will be sprinkled in to lineups around the core plays to make them a bit unique.
This is a free offering in our weekly content contained in the 4for4 DFS subscription. To get access to all of our weekly DFS analysis, sign up here!
Quarterbacks
Core Plays
Drew Brees

($6,700)

It's no secret that Brees has put together a stellar year thus far. From a raw point projection, he is easily the top quarterback play on the slate. The Falcons have been eaten alive by opposing quarterbacks this year, giving up the most fantasy points and 284 yards per game. Brees' home/road splits are double-take worthy as well. Brees averages 30 fantasy points per game in New Orleans, nine points more than his 21-point average away from home. Furthermore, he's just playing at another level this year, completing 76.9 percent of his passes despite having an expected completion rate of 67 percent. His +9.9 completion plus-minus dwarfs every other quarterback in the league. With a 36-point implied point total and a two-touchdown home favorite, it wouldn't be smart to fade Brees. We'll save that for cold road games. The key with rostering Brees is nailing the pieces to stack around him, which will be discussed later.
Matt Ryan

($6,100)

Ryan will be lower owned than Brees with a ton of upside. The Saints defense have planted a manhandling of the Eagles in the forefront of everyone's mind. I suspect this, coupled with Mitch Trubisky (health pending) being a bit cheaper and facing a sputtering Lions' defense could limit Ryan's ownership, at least for a three-game slate. The Saints put the clamps on the Eagles and Bengals in consecutive weeks, but I'm not sure we should put much stock in a two-game sample size. The week prior to the Bengals game, they were lit up by Jared Goff for 390 yards and three touchdowns. Even Kirk Cousins and Joe Flacco had multiple touchdowns in the weeks before Goff went off. Ryan's fantasy points have come in bunches this season, scoring 30 fantasy points in five out of 10 games this season, including a 40-burger against the Saints earlier this season.
Mitch Trubisky

($5,900)

Trubisky popped up on the inury report with an injury to his throwing shoulder, which should be monitored. It sounds like he'll be a game-time decision. He's only two weeks removed from dropping 39 fantasy points on this Lions' defense. Believe it or not, that actually gives me pause in rostering him. You'd better believe Matt Patricia has been scheming up adjustments to prevent him from repeating that performance in Detroit. Do the Lions have the horses to stop this Bears' offense? When Trubisky went off in Week 10, the Lions were without Darius Slay. Trubisky is another quarterback that strengthens the home quarterback narrative, averaging 29 fantasy points at home compared to 15 on the road. He tacks on around 40 yards on the ground as well, basically adding a passing touchdown to his total.
Contrarian Plays
Paying down at quarterback is a good way to create a unique lineup because you don't have to take as many chances with low-usage, low-salary skill players at other spots. Matthew Stafford ($5,300) may go as the lowest owned quarterback on this slate and for good reason. He will likely be without Marvin Jones and Kerryon Johnson against a fierce Bears' pass rush that sacked him six times two weeks ago. I can't envision a scenario where Stafford wins the slate, especially since the Lions rank will most likely try to make the game a slow-paced slugfest. They already operate at the second-slowest pace in the league, and grinding the game to a hault may be their only chance at a win.
Dak Prescott ($5,100) is my favorite of the cheap signal-callers. He has rushing upside and rushing touchdown equity. Additionally, the Redskins have struggled defending opposing passing games recently. They gave up 400 yards to Ryan Fitzpatrick, 350 to Matt Ryan, and 316 to Eli Manning. The Redskins play a "bend-don't-break" defense, allowing teams to march up and down the field, but tightening up in the red zone. This style benefits a team with a mobile quarterback because they can be more creative when the field shrinks. Colt McCoy ($4,700) is intriguing. He doesn't need to do much to pay off his salary, he has rushing upside, and the Cowboys don't even have a full week to prepare for his tendencies. A dart throw in one or two lineups is fine, but only if he unlocks a lineup combination that you can't achieve with any other quarterback.
Running Back
Core Plays
Theo Riddick

($4,500)

Riddick has amassed 22 targets through the last three weeks and now doesn't have to contend with Kerryon Johnson for snaps this week. Though Riddick works mostly on third down, I always like to target check-down Charlies when the opposing team has an aggressive pass rush. Two weeks ago, Riddick snagged six passes for 60 yards. In his price range, he'll be the most heavily owned. It's going to be difficult to pass up near double digit targets on a PPR site.
Alvin Kamara

($8,300) /

Mark Ingram

($6,100)

It seems as though game script is going to determine which Saints' running back has the better fantasy production. In the three games Mark Ingram has turned in better fantasy days than Kamara, the Saints have blown out their opponent. Kamara, on the other hand, has produced at a higher rate in closer games. This makes sense as Kamara sees more snaps when the Saints are in pass-heavy mode. Kamara continues to out-snap Ingram by about 10 per game. Choose between Kamara and Ingram based on how you think the game plays out. Roster Ingram if you think the Saints are going to run the Falcons out of the building. Roster Kamara if you think the game will be more of a back and forth affair. I'm expecting a Kamara game.
Ezekiel Elliott

($8,600)

On a slate with only two stud running backs, I'll have both in my player pool. In fact, I'll probably have a hefty number of lineups with both Elliott and Kamara. The presence of Mark Ingram in the Saints' backfield is going to make Elliott the most owned running back on this slate. He's been hot as of late too, going over 30 DraftKings points in his last two games. The most impressive part of his game has been his involvement in the passing game this season, averaging 6.5 targets in his last four games. The Redskins present a challenge for Elliott however, as they are more of a pass-funnel defense. They've allowed only 95 yards per game on the ground to opposing running backs, including shutting down Elliott just a few weeks ago. Despite struggling in the first matchup, Elliott should be able to redeem himself as a home favorite and a recent increased involvement in the passing game. Kamara remains my top play, however.
Contrarian Plays
If Mitch Trubisky can't suit up I like Tarik Cohen ($5,300) as a lower-owned dart throw. The Bears will most likely turn to a run-centric approach with both he and Jordan Howard, but Cohen is the home run hitter in that backfield. Furthermore, Matt Nagy should give Chase Daniel high percentage throws throughout the game which would suggest a potential uptick in targets for Cohen. Adrian Peterson ($5,100) may have the most touchdown upside outside of the top two studs. When the Redskins get inside the five-yard line, they'll lean on him especially with McCoy under center. Tevin Coleman ($5,200) hasn't popped lately in terms of fantasy production, but he flashed 30-point upside three weeks ago against the Redskins. In the highest total game on the board, he possesses PPR and touchdown upside if you think the Falcons can hang with the Saints.
Wide Receiver
Core Plays
Michael Thomas

($8,900) /

Julio Jones

($8,300)

Unless you are fading both top running backs, you're going to have to choose between Thomas or Jones. If you're multi-entering, a Thomas/Jones lineup would definitely be unique as it will be hard for most owners to pass up Kamara or Elliott. Both receivers have an equally favorable matchup as the Saints are 30th in aFPA to WR and the Falcons are 26th. Both teams are in the bottom eight of adjusted yards allowed to number one receivers. Jones currently owns a 28 percent share of his team's targets, while Thomas sits at 27 percent target share. Jones edges Thomas in market share of air yards, 48 percent to 28 percent, meaning he sees deeper targets, a good box to check in tournaments. Thomas edges Jones in implied points, meaning he has higher touchdown equity. Much like Kamara and Elliott, I'll have a piece of both in my portfolio, but at this point, I prefer Thomas solely based on the ceiling of the Saints offense.
Amari Cooper

($5,700)

Coming off a week in which he busted as chalk, Cooper presents an opportunity to get a number one wide receiver at low ownership. The Redskins rank third from the bottom in adjusted yards allowed to opposing WR1. Cooper makes an interesting leverage play from Elliott, as I'm not sure they both can go off in the same game. Cooper barely saw a target in the first half last week against the Falcons, but they came out in the second half with an emphasis to get him the football. Cooper is the only legitimate end zone threat the Cowboys have. Hopefully, their game plan is to force feed him the ball as they did in Week 10.
Mohammed Sanu ($4,500)
I'm planting my flag on Sanu this week as my favorite non-stud play. The Saints rank dead last in adjusted yards allowed to opposing teams WR2. Sanu's only two games with 90 percent or more of snaps played came in the last two weeks. Those games also included an average of seven targets. With the game script in Sanu's favor, he has the potential to be peppered with targets late in this game.
TreQuan Smith ($4,700)
As long as he's active and he has no restrictions, there's no reason to think Smith won't see upwards of eight targets again. He has had his monster games in high-scoring games at home in the dome which this is setting up to be. The Falcons rank 26th in aFPA to the wide receiver position. He will be very chalky, so I think it's smart to include him in Saints' stacks, but potentially fade him in lineups that are betting on a down game from Brees and company.
Contrarian Plays
The Bears pass-catchers are a conundrum without Trubisky's status up in the air. With Darius Slay back and a backup quarterback, Allen Robinson won't make it into many lineups of mine this week, which leaves us to decide between Taylor Gabriel ($3,700) and Anthony Miller ($4,400). Gabriel has the higher upside play because of his ability to get behind the defense or turn a screen into a long touchdown. Miller presents a higher floor as his targets are generally of lower depth. Kenny Golladay ($6,400) may not be as heavily owned as we think, which is a situation to leverage. The narrative surrounding the week is that the Lions won't be able to move the ball. Additionally, the Bears defense is going to be uber-chalk which will shy people away from rostering the opposing WR1. Additional dart throws in the lower price range that have merit include Keith Kirkwood ($3,200) if TreQuan Smith were to sit, Bruce Ellington ($3,200), and Trey Quinn ($3,500) thanks to his second unit chemistry with Colt McCoy.
Tight End
Core Plays
Austin Hooper

($4,200)

The Saints just nearly blanked one of the best tight ends in the league, Zach Ertz. They also have one of the highest-rated defenses in terms of points allowed to tight ends. All of this isn't going to make Hooper low owned. On a three-game slate, any tight end worth their salt should carry decent ownership, but Hooper may end up under-owned relative to his ceiling. Hooper has four games of eight or more targets and three games of nine or more receptions. In a catch-up mode game script, he has the potential to push for double-digit targets. The difference between Ertz and Hooper is clear. Ertz was coming off a monster game and is the Eagles' top pass-catcher. Watching the game, it was evident the Saints were focused on limiting Ertz. They were running a linebacker underneath him and had safety help over the top, essentially bracketing him with multiple players on almost every down. With Jones and Sanu, Hooper will most likely be able to find holes in the zone or beat his single man-to-man coverage.
Contrarian Plays
I'm going to own a lot of Austin Hooper but I do like Jordan Reed ($4,700), as the Cowboys rank 26th in aFPA to tight ends. McCoy connected with Reed for a touchdown and he's coming off his most productive fantasy performance of the year. Reed will be popular, but tight end on this slate comes down to him and Hooper. I wouldn't fault anyone for playing Trey Burton, but he just doesn't get the requisite volume to win the slate.
Defense and Special Teams
Core Plays
Bears

($2,900)

Someone check the algorithm. The Bears rank ninth in adjusted sack rate while the Lions check in at 20th in offensive adjusted sack rate. Keep in mind the Bears' ranking is a bit skewed from the games that Khalil Mack didn't play. The ownership on the Bears' defense is going to be through the roof. The issue with fading them is they aren't even cost prohibitive. If they were the highest-salaried defense by a few hundred dollars, we can potentially make a case that dropping down gets allows you to roster more studs, but at their current price, you can do that anyway. They sacked Stafford six times and forced three turnovers just two weeks ago. Without Kerryon Johnson and Marvin Jones, the Lions are going to struggle to move the ball. Despite the fact they are going to be heavily owned, eating chalk somewhere is inevitable on a three-game slate.
Cowboys

($3,200)

The Cowboys may not receive adequate ownership this week as a result of being priced higher than the mighty Bears' defense. Many players will automatically drop down to the cheaper Bears without much thought. The Redskins offensive weapons are depleted as they will be down Alex Smith and Paul Richardson, with the likes of Chris Thompson and Jamison Crowder in limbo. The offensive line has been banged up as well, so keep an eye out for inactives along the front five, which could make this play even stronger. The Redskins currently have the lowest implied total on the slate, projected for 16.75 points. I can't envision a scenario in which the Cowboys' defense loses control of this game. McCoy is a serviceable backup, but his first start in a long while coming in a hostile environment should produce some turnovers.
Contrarian Plays
I like both the Redskins ($2,600) and the Saints ($2,300) as cheap alternatives. The second game of a divisional rivalry tends to be lower scoring than the first. The Redskins have registered four games of 10 or more fantasy points in their last five outings. Despite having to go on the road, their defense will be called on to keep them in the game and we've seen Dak Prescott have three multiple turnover games already this season. The Saints have put back-to-back solid defensive performances on the board. This is also the second meeting between the two. The Saints are two-touchdown favorites, which is the game script that we like for our defense. Ryan should have to throw a bunch in the second half, leading to an increased likelihood of sacks and turnovers. If Trubisky were to sit, the Lions ($2,400) are in play as well.
Roster Construction Notes
Four of Tevin Coleman's six touchdowns have come through the air this season. Oftentimes, the goal of rostering a running back is to leverage the passing game, but I think it's smart to stack Coleman with the Falcons' passing attack. If Coleman erupts, it will probably be in a fast-paced comeback effort in the second half rather than a ground-and-pound approach.
The same goes for Alvin Kamara and Mark Ingram. Kamara and Ingram usually produce fantasy points when the Saints' passing game is clicking, rather than detracting from its success.
On the other hand, with such a low implied total, I would roster Ezekiel Elliott and Amari Cooper independent of each other. If Prescott and Cooper connect for multiple scores, it probably means Elliott was a victim of touchdown variance and vice versa. There just aren't enough implied points for me to trust them in the same lineup
When creating lineups, think in terms of the lineup as a whole instead of raw points per position. Rostering Dak Prescott can be the optimal move even if Drew Brees or Matt Ryan outscores him, as it may allow you to move onto higher ceiling players at other positions.
You don't have to fade every opposing player of your rostered defense. On a short slate, rostering a player and their opposing defense is a strategy that can be deployed. Using an entire team stack with an opposing defense isn't smart, but a single position player is fine.
Don't try to cover all your bases. On a short slate, it can be tempting to try and get a piece of every rosterable player. The more optimal strategy is to take a stand on a small core of players and rotate low-owned contrarian plays around them.
Photo by Tom Pennington/Getty Images.