Royce Freeman and 8 Other Best-Ball ADP Risers & Fallers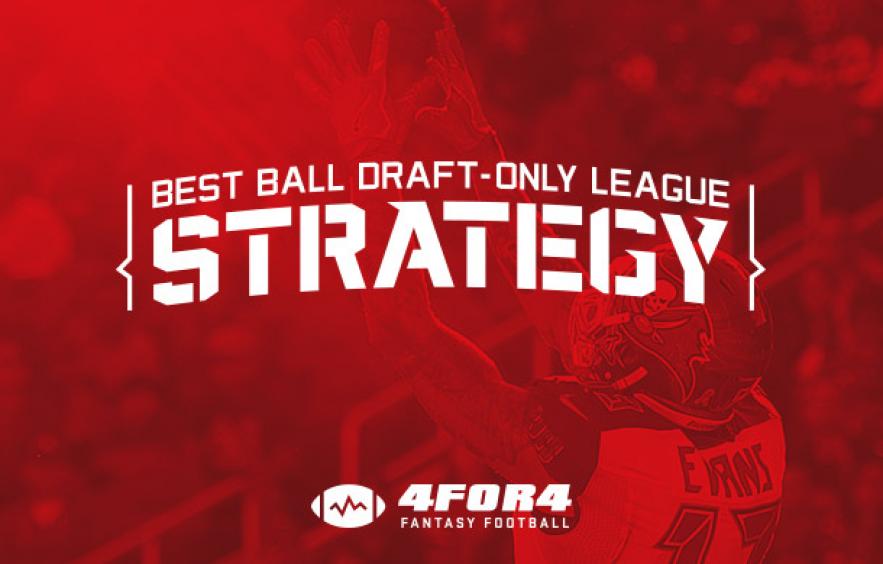 With the NFL Draft now more than two weeks behind us, we can finally take a look at how best-ball owners are reacting to the 2018 class. Comparing MFL10 ADP from two weeks before the draft to ADP the two weeks since*, I will highlight some of the most notable swings in recent pricing.
*Most fantasy drafts came to a screeching halt during the NFL Draft, so data from those three days has been omitted.
---
Risers
RB
Royce Freeman

, DEN
MFL10 ADP One-Month Change

| Player | Team | Position | 4/12–4/26 | 4/29–5/14 | Diff. |
| --- | --- | --- | --- | --- | --- |
| Royce Freeman | DEN | RB | 108.6 | 61.6 | +47.0 |
Many of the biggest risers since the draft are rookie running backs who landed in backfields where they have a chance to be the team's No. 1 RB—and no rookie saw a bigger jump in ADP than Royce Freeman. Going into draft weekend, 365 of Denver's 493 backfield touches had been vacated, a big reason Freeman has seen his price move up nearly four full rounds to the RB28.
Last season, C.J. Anderson finished as the PPR RB18 while accounting for just over 55 percent of the Broncos' backfield work, but that was in a season where Denver offered their running backs the sixth-highest touch share in the league. With a viable quarterback now under center, the overall running back pie may be smaller than it was in 2017, meaning Freeman may need well more than the 55 percent share Anderson saw last season if the rookie wants to pay off his climbing price tag.
Related: Royce Freeman is the Bronco Back to Own
---
RB
Kerryon Johnson

, DET
MFL10 ADP One-Month Change

| Player | Team | Position | 4/12–4/26 | 4/29–5/14 | Diff. |
| --- | --- | --- | --- | --- | --- |
| Kerryon Johnson | DET | RB | 127.1 | 87.9 | +39.2 |
Despite going to one of the most pass-heavy teams in the league with an already crowded backfield, the second-round draft capital the Lions spent on Kerryon Johnson has caused the rookie's price to jump nearly 40 picks and currently sees him going off the board as a fringe RB3. Detroit ranked in the bottom 10 in the league last season in percentage of touches allocated to running backs and they've added LeGarrette Blount to the mix, and only eliminating Tion Green and his 46 touches from a season ago. While Blount will threaten Johnson's chance at maximizing his touchdown potential, Theo Riddick will continue to see his fair share of work during passing downs. Detroit has a recent history of spending significant draft capital on a running back—Ameer Abdullah was a second-round pick in 2015—without forcing a huge workload to that player. Unless the post-draft hype cools off, Johnson will have trouble meeting value.
---
RB
Ronald Jones

, TB
MFL10 ADP One-Month Change

| Player | Team | Position | 4/12–4/26 | 4/29–5/14 | Diff. |
| --- | --- | --- | --- | --- | --- |
| Ronald Jones | TB | RB | 89.6 | 57.4 | +32.3 |
Ronald Jones was already one of the few running backs going in the top 100 of MFL10s before the NFL Draft, and his excellent landing spot has pushed his price up squarely to the middle of the fifth round. Tampa Bay's running backs fought injuries and were one of the least efficient units in the league, which helps explain why no player saw more than 36 percent of their backfield touches last season. With those backfield struggles, the Buccaneers gave their running backs just 52.1 percent of total team touches, the second-lowest running back touch rate in the league. That number was an uncharacteristically low one for a Dirk Koetter offense—usuall,y his running backs hover around the 60 percent touch mark.
While the door is wide open for Jones to take over the lead back role in Tampa, his ascent up the ADP ranks is a bit concerning. The re-signing of Charles Sims suggests Jones isn't a lock for passing-down work and Vegas projects the Bucs for just 6.5 wins, raising game script concerns. Owners paying an RB26 price for Jones need to be supremely confident that Peyton Barber or Jacquizz Rodgers don't put too much of a dent into Jones' workload.
Related: Ronald Jones' Landing Spot Boosts His Fantasy Appeal
---
RB
Rashaad Penny

, SEA
MFL10 ADP One-Month Change

| Player | Team | Position | 4/12–4/26 | 4/29–5/14 | Diff. |
| --- | --- | --- | --- | --- | --- |
| Rashaad Penny | SEA | RB | 75.6 | 45.5 | +30.1 |
Already going as an RB3 in MFL10s before the draft, Rashaad Penny would have needed to land in the perfect situation for his price to climb much more and that's exactly what happened. After the Seahawks made the surprise pick of Penny in the first round, the former San Diego State star has seen his price climb more than two rounds, now sitting in the top 50. The departure of Eddie Lacy and Thomas Rawls left Seattle with more than 40 percent of their running back touches vacated and the running backs that do remain on the roster have underwhelmed in a committee. Because Penny will be given the opportunity to be a workhorse in Seattle, he's fairly valued as an RB2, but the offensive line—which ranked finished 31st in Football Outsiders adjusted line yards last season—will have to be better if fantasy owners want the rookie back to offer any upside.
Related: Don't Leave Your Fantasy Draft Without Rashaad Penny
---
RBs
Marlon Mack

,

Nyheim Hines

, IND
MFL10 ADP One-Month Change

| Player | Team | Position | 4/12–4/26 | 4/29–5/14 | Diff. |
| --- | --- | --- | --- | --- | --- |
| Nyheim Hines | IND | RB | 182.5 | 163.6 | +18.9 |
| Marlon Mack | IND | RB | 112.3 | 95.7 | +16.6 |
The Colts didn't take a running back until the third day of the draft, suggesting they are comfortable with Marlon Mack as their starting running back. Immediately following the draft, though, Frank Reich indicated he was open to a backfield committee. While Nyheim Hines and Marlon Mack are both fourth-round picks, Hines was taken almost 40 picks earlier in 2018 than Mack was last year. In terms of positional value, neither back has jumped much in value but both have seen their absolute price rise well over a full round. For those loading up on best-ball leagues before training camps open, it would be wise to get fair exposure to both of these backs throughout the summer.
---
Fallers
RB
Samaje Perine

, WAS
MFL10 ADP One-Month Change

| Player | Team | Position | 4/12–4/26 | 4/29–5/14 | Diff. |
| --- | --- | --- | --- | --- | --- |
| Samaje Perine | WAS | RB | 163.6 | 181.6 | -18.0 |
Derrius Guice's off-field issues forced him to fall to the seventh running back taken in this year's draft, but the second-round capital Washington spent on the rookie was still enough to get owners off of Samaje Perine. Guice was already going as the RB20 before the NFL Draft, so his price has barely moved—especially after Jay Gruden emphasized that Chris Thompson will retain his third-down duties—but Perine is now undraftable in most formats.
---
RB
Rex Burkhead

, NE
MFL10 ADP One-Month Change

| Player | Team | Position | 4/12–4/26 | 4/29–5/14 | Diff. |
| --- | --- | --- | --- | --- | --- |
| Rex Burkhead | NE | RB | 75.1 | 91.0 | -15.9 |
Rex Burkhead is the only player who was going in the top 100 in MFL10s before the NFL Draft to see his price drop more than a full round since the draft. The addition of Sony Michel to the Patriots' backfield puts a huge dent in Burkhead's upside, but the new discount makes Burkhead a nice value. Now going as the RB37, Burkhead has some wiggle room to outperform his ADP. Burkhead should continue to see work in the passing game and Michel's fumbling issues in college could push him to a smaller workload than expected if his issues persist under Bill Belichick. Even if we project the Patriots for their three-year low of 456 total PPR running back points, Burkhead would need to account for just a third of that production to push for RB2 numbers.
---
Related: Buyer Beware: Sony Michel
RB
Nick Chubb

, CLE
MFL10 ADP One-Month Change

| Player | Team | Position | 4/12–4/26 | 4/29–5/14 | Diff. |
| --- | --- | --- | --- | --- | --- |
| Nick Chubb | CLE | RB | 56.8 | 67.1 | -10.3 |
Before the draft, Nick Chubb was being touted as one of the best running backs in this class, leading to an early asking price of a fringe RB2. After landing in maybe the most crowded backfield in the league, Chubb has fallen outside the top 30 backs—and that still may be too much to pay. With Todd Haley taking over as the offensive coordinator in Cleveland, the offense figures to at least somewhat shift from Hue Jackson's running back-first philosophy while Chubb will battle Duke Johnson and Carlos Hyde for touches. As one of the best pass-catching backs in the league, Johnson doesn't figure to relent his role as the primary receiver out of the backfield. The Browns also have the lowest win total projection in the league, presenting game script issues for Chubb even if he does win the starting job over Hyde.
Related: Pass on Nick Chubb in Your Fantasy Drafts
---
Related Articles