Ronald Jones' Landing Spot Boosts His Fantasy Appeal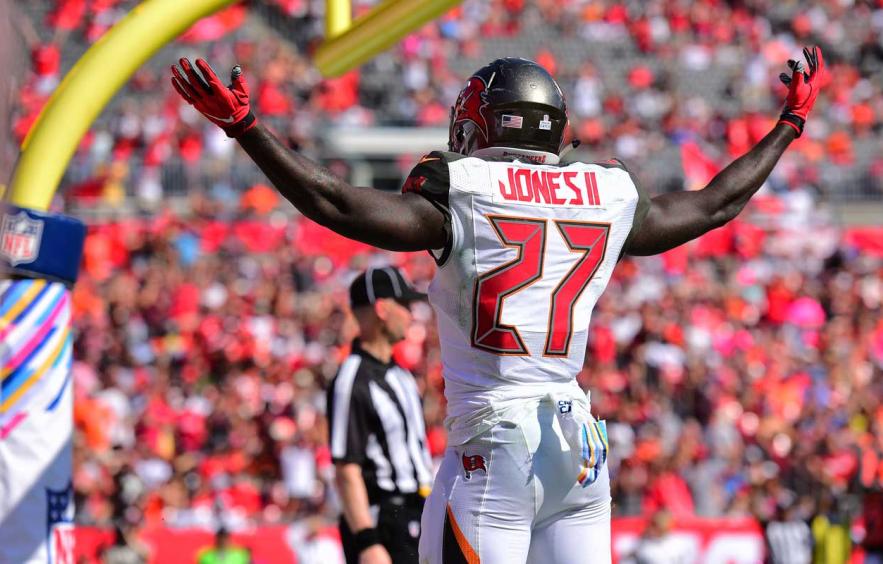 The Tampa Bay Buccaneers selected USC running back Ronald Jones with the 38th pick in the 2018 NFL Draft. This was the domino the fantasy community was waiting to fall, as Jones got the landing spot everyone wanted for their favorite running back prospect.
Ronald Jones III is an explosive jump-cut runner; once he is in the open field, it's time to put the kids to bed because it's over. He has the perfect game for a running back in a zone blocking scheme, which the Buccaneers run a majority of the time. He has good patience and vision, and on outside stretch plays, he waits for a hole to open before exploding through it. Jones isn't a guy who likes to go off script; if there are three yards available, he will take the three yards instead of trying to bounce outside for a bigger play.
Editor's Note: Find all our 2018 Player Profiles here. If you're in a dynasty league or you're looking for more information on the incoming rookies class, you should definitely check out all the content from our friends at Dynasty League Football.
Jones' success is all about trying to get to the second level. He can struggle with contact near the line of scrimmage, lacking the leg drive and power to gain the hidden yardage. But once he takes advantage of his explosive burst he can run through contact, using his speed and lateral agility to make defenders miss and create big plays.
The major question for Jones lies in his receiving ability. USC doesn't run an offense like LSU or Ohio State, where the running back isn't featured in the passing game. They will target their running backs, but Jones came off the field on a majority of third downs for freshman Stephen Carr. Jones has a very limited route tree and has never caught more than 14 passes in a season (college or high school). His ability to contribute in the passing game is strictly a projection of traits and a major question mark for now.
Opportunity
The up-and-down Doug Martin is gone, leaving behind 289 open snaps. However, just because Charles Sims, Peyton Barber, and Jacquizz Rodgers are still on the team it doesn't mean they will be getting the same snap share in 2018 as they did last season.
Buccaneers

RB Points Per Snap

| Player | Pos | Team | G | Snaps | Snap % | STD/Snp | PPR/Snp | PPR/Snap Rank |
| --- | --- | --- | --- | --- | --- | --- | --- | --- |
| Doug Martin | RB | OAK | 11 | 289/769 | 38% | 0.22 | 0.26 | 83rd |
| Charles Sims | RB | TB | 16 | 383/1094 | 35% | 0.1 | 0.19 | 94th |
| Peyton Barber | RB | TB | 16 | 254/1094 | 23% | 0.27 | 0.34 | 42nd |
| Jacquizz Rodgers | RB | TB | 16 | 168/1094 | 15% | 0.23 | 0.28 | 75th* |
*Rodgers didn't meet 20% snap threshold for ranking (his ranking is as if he had).
Jones comes into the season with a leg up on his competition on the depth chart. Not only was serious draft capital spent on him, but he is a far superior talent to any of his Buccaneer running back teammates. The Bucs may have had the league's worst group of running backs in 2017. Peyton Barber was their most effective running back, finishing with 0.34 PPR points per snap, which ranked 42nd among all NFL backs with at least 20 percent of the snaps played. With just Sims, Barber, and Rodgers on the roster, Jones should have no problem beating them out and seeing most of the workload. Even if he gets fewer carries than one might desire, his game-breaking ability gives him the opportunity to make the most of every touch.
With Jones' 205-pound frame, one concern is that he'll wear down. Jones himself even admitted coming into his junior campaign that he felt like he had worn down as games went on. He dedicated his offseason prior to his junior year to improve his endurance and it paid off for him. In 2017, he had five games with 20 or more carries. In those games, he averaged 142.8 yards per and 5.36 yards per carry. Jones also got stronger as the game went on. Per Adam Spinks of RBScout.com, the fourth quarter of games was when Jones did his most damage, averaging 6.3 yards per carry, compared to 5.4 in the first quarter. Jones will be given the opportunity in Tampa to prove he won't wear down.
Receiving Work
I mentioned in his scouting report that Jones has major questions as a receiver. He lands on a Buccaneers roster that targeted running backs only 16 percent of the time in 2017, fourth-fewest in the NFL. Sims returns to the Bucs in 2018, after dominating the target share last season—49 percent of total running back targets.
On the surface, this doesn't paint a pretty picture for Ronald Jones developing into a fantasy contributor at receiver. However, when you look further into the numbers you see an opportunity for Jones to contribute in the passing game. Despite their low target numbers, Barber and Martin saw most of their targets in the games the other did not receive a target. In the five games when Martin wasn't targeted, Barber saw 16 targets; in the five games Barber wasn't targeted, Martin saw 12 targets. Assuming Jones takes the combined role of Barber and Martin this year, he should see about 2.8 targets a game. Over the course of a 16-game season that equals 44.8 targets. This is more than enough passing upside for the Bucs to determine the level of receiver Jones is. If he excels in this area, he could earn even more work.
Bottom Line
Jones is a talented player, but the landing spot may be what has the most appeal—high draft capital spent on a player going to a backfield with maybe the least amount of talent in the NFL. Jones brings his game-breaking ability to an open opportunity where he will get a chance to prove he can handle a big workload and is a capable receiver. That opportunity combined with his upside makes him a great buy at his current ADP of RB41. He's a player I am looking to target in 2018.
Photo by Julio Aguilar/Getty Images.
---
Related Articles