Matthew Stafford Is a Middle-Round Quarterback Value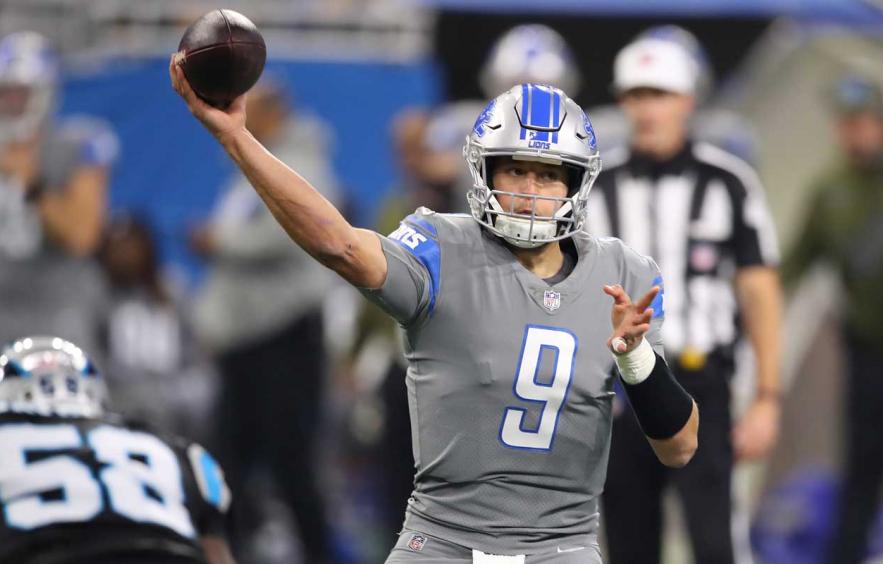 At his current ninth- or 10th-round price, Matthew Stafford jumps out as a great value.
Stafford has finished in the top 10 in six of the last seven seasons, including a No. 6 finish in 2016 and a No. 7 finish in 2017. On average, he is currently the 11th quarterback off the board. Maybe drafters don't see him as a sexy pick since he only has one top-five finish in his career, and that was back in 2011.
Editor's Note: Find all our 2018 Player Profiles here.
In 2015, Stafford was the No. 9 quarterback off the board and he finished No. 10. In 2016, he was the No. 14 quarterback off the board and finished No. 7. Last year, he was drafted as the No. 12 quarterback and finished No. 6, so he has a recent history of meeting or beating his price.
New head coach Matt Patricia elected to retain offensive coordinator Jim Bob Cooter, and that's good news for Stafford. In 41 games since Cooter has taken over the play-calling duties, Stafford has completed 66.3 percent of his passes for a 7.51 yards-per-attempt average. He has posted a 4.9 percent touchdown rate and a 1.6 percent interception rate in that span. Compare that to the 61.0 percent completion/7.19 YPA/4.3% TD rate/2.5% interception rate that Stafford posted in his previous 71 games dating back to 2011, and his numbers are up across the board now that Cooter is coordinating the offense.
Stafford endorsed the retention of Cooter, per MLive.com:
"Jim Bob* and I have a great relationship," Stafford said. "Ever since he's had the opportunity to take the reins, this offense has moved in the right direction in my opinion. I feel like I'm playing some of the best football in my career. So I would love to have the opportunity to keep working with him. He's been good for us, and good for me."
* I love that Stafford refers to his offensive coordinator as "Jim Bob."
Moreover, Stafford hasn't missed a game since 2010 and will have most of his weapons back, as Marvin Jones, Golden Tate, Theo Riddick, and Kenny Golladay are all under contract in 2018.
On the whole, Stafford's schedule doesn't project to be great. But it is very favorable through the first seven weeks of the season, with five "green" matchups in his first six games. Preseason passing strength of schedule is notoriously unreliable, so I'm not too worried about Stafford's tough schedule down the stretch. If he's not posting great numbers in his first six games, owners can begin to stream the position in Week 6, when the Lions are on bye.
Bottom Line
Stafford is an extremely safe pick in the ninth or 10th round. At his current price, owners can draft eight or nine players at other positions before adding a legit top-10 quarterback who has posted top-seven numbers in each of the last two seasons. At that point in the draft, owners who have already drafted a quarterback will be prospecting at receiver or running back.
Photo by Gregory Shamus/Getty Images.
---
Related Articles