How to Handle Deshaun Watson in 2018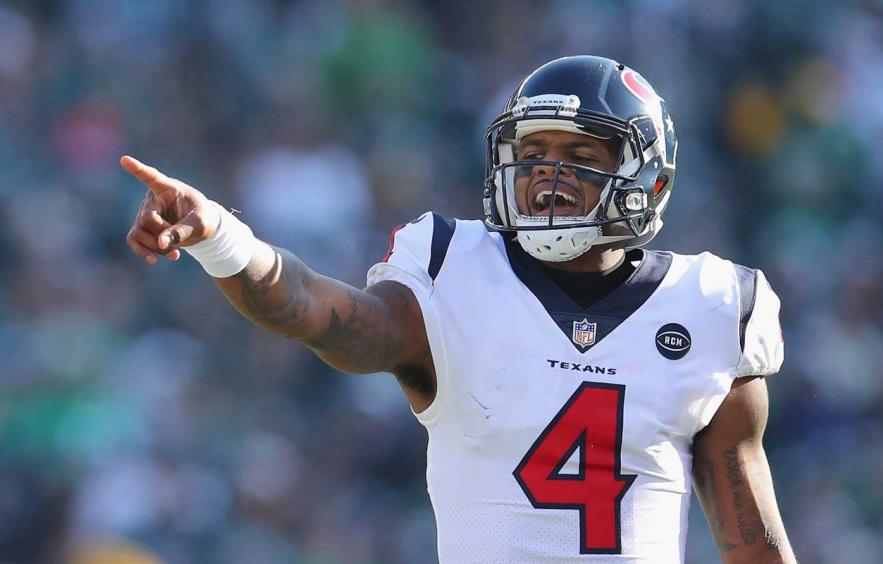 It's hard to remember a Houston Texans game in 2016 that wasn't met with ridicule of the quarterback play. Brock Osweiler's height, albeit impressive, never translated into useful fantasy production. Osweiler was 27th in passing yards, 29th in TDs, sixth in interceptions, and his 2.9 percent touchdown rate was well below the 4.2 percent average of all passers with over 100 attempts in 2016. Tom Savage came in relief of Osweiler and averaged even less fantasy output (5.87 fantasy points per game compared to Osweiler's 11.29 PPG). DeAndre Hopkins owners were upset, with Hopkins himself expressing frustration. We all looked for an answer.
We got one in the form of Deshaun Watson.
Deshaun Watson

's 2017 Season

What Deshaun Watson did in six NFL starts exceeded all expectations for the rookie QB, even with his 12th overall draft capital. He threw 19 TDs in less than half a season when the league leader, Russell Wilson, threw 34 over a full season. His 9.3 percent TD rate more than doubled the league average for qualifying QBs (4.1%). Rushing gave him a safe floor, especially the 49-yard dash for a touchdown during his first start against Cincinnati. The QB duel between Watson and Wilson in Week 8 produced the third-most points of any game during the regular season. It was nothing but highlight reels and happy fantasy owners who were propelled to the finals.

Editor's Note: Find all our 2018 Player Profiles here.

Watson's per game rate extended to 16 games would have resulted in 377 total fantasy points on the season, which would have made him the fantasy QB1. But, that's the problem. He didn't do those things. As enjoyable as he was to watch, fantasy owners need to look at the situation rationally before considering him for 2018. His QB4 price Bears some consideration. Let's examine some of the components that led to Watson's rookie season and see if they can be repeated in 2018.

Five of Watson's six starts were against teams that were either bottom-ranked or allowed an average QB1 performance.
QB aFPA-Point Differentials

| Team | Rank | QB aFPA | Point Diff | Run% | Pass% |
| --- | --- | --- | --- | --- | --- |
| CIN | 22 | 6.8 | +7 | 0.593 | 0.407 |
| NWE | 17 | 26.6 | -8 | 0.492 | 0.508 |
| TEN | 21 | 20.67 | +30 | 0.553 | 0.447 |
| KAN | 3 | 19.93 | -16 | 0.426 | 0.574 |
| CLE | 9 | 19.98 | +30 | 0.532 | 0.468 |
| SEA | 3 | 11.1 | +7 | 0.531 | 0.469 |
Watson saw positive game scripts (point differential of +7 or less) in four of those six games keeping the passing game involved. However, only two games featured a Run/Pass ratio biased towards passing. Offensive passing during the Titans and Browns games, where the Texans generated the greatest point differentials, were derailed after defensive touchdowns helped seal the win. In each, the ratio shifted in the late-third quarter from over 52 percent passing to only 30 percent once the game was out of reach for their opponent.
While we can't predict game flow, the Run/Pass ratio gives us a look into how Bill O'Brien wants to run the offense. Despite having a below-average offensive line, the offense executed running plays 51.9 percent of the time Watson started—well above the NFL average of 44.01 percent. Houston's offensive line personnel has not improved, but there's nothing to suggest their philosophy will shift. Also, if disruptions by the Houston defense tipped the scales in favor of the run game, a fully healthy squad only lessens the chance for Watson's production to spike. We should also be worried about the mechanical deficiencies Watson brought over from his college game.
College Deficiencies
Mark Schofield of Inside the Pylon analyzed all of Watson's interceptions to highlight common themes across his mistakes. While some could be explained by the receiver tipping the ball or the defender making a solid play, the others came down to:
Each error highlighted competencies that Watson can improve upon, given time to develop. They're not fundamental flaws that should keep him from the field but they could prove costly in NFL situations. In some cases, they weren't—already pulling away from Tennesse, Watson attempted to force an end zone pass off an unbalanced platform to DeAndre Hopkins. He didn't see Titans safety Kevin Byard drop into coverage, resulting in an interception ending the half. The Texans still won, but on second down with 21 seconds on the clock, they had enough time to either run another play or kick a field goal.
Watson's interceptions against New England and Seattle were much more devastating. He stared down Hopkins on a seam route in the early second quarter giving New England CB Stephon Gilmore an easy interception. Late into the third quarter in Seattle, Richard Sherman baited Watson into taking a crossing route pattern after the out route by Hopkins was neutralized. Here, his processing speed when diagnosing the zone coverage gave the opposing team an edge. All fixable with film study and experience, but Watson only saw limited time on the field to expand his understanding of the game. However, he has shown marked improvement in other areas that indicate he's making the right strides towards a positive NFL career.
Improvement in the NFL
While his red zone habits are still a concern, Watson has shown some improvement and is outpacing his peers in that regard. He has the highest completion percentage inside the 10 and second-highest from within the 20 of all quarterbacks selected in the first round from the last four years. His ability to hit tight windows at the professional level speaks to the strides he's made and he can continue to do in 2018.


Additionally, Watson's footwork and adjustment to the blitz has properly transitioned to the NFL. It's led to some improvised plays, but as shown in the early-second quarter against Kansas City, he can quickly decimate a defense with his arm. Here, he shifts to avoid pressure and correctly resets his feet prior to the throw. Plus, the Texans use of run-pass options (RPOs) spotlights Watson's ability to manipulate defenders as he does against Dwight Freeney in this play. Watson patiently holds the ball until Freeney has committed to the rush, and then he pulls back for the pass. He executed these plays throughout college and continues do the same to veteran defenders at the next level.
There are positive and negative elements to Watson's game that emphasize both how far he's come and what he still needs to grasp as a passer. He can avoid a sack to throw a deep pass for a touchdown and then come back the next series, misread the coverage, and throw an interception. He'll start off a game with less than 100 yards passing throughout most of the first half and then run for almost a 50-yard touchdown. While watching can be a rollercoaster ride, he's produced at an elite level (not just by rookie standards) and there are no indications he can't continue to play at this level in 2018.
Draft Like Watson Plays Football
Gamer. Risk taker. Playmaker. Think of any other positive narrative-based description and it'll apply to Watson. NFL fans are boastful when describing their favorite players this way. That hasn't been how fantasy owners have described their quarterback. Quarterbacks, specifically those with early draft capital, are considered safe with a measurable track record. That brings us to a fork in the road. Watson's small starting sample is a valid cause for concern, he averaged 32.9 fantasy points per game over his six starts, and his five-game streak of 22+ points is tied for fourth all-time. If you're looking to catch lightning in a bottle and win your league in 2018, Watson will take you there.
Bottom Line
The TD rate is sure to regress, but the talent clearly hasn't. His supporting cast is set to return healthy and their schedule projects to be one of the easier ones in the league. The offensive line is an issue, but Watson overcame the deficiencies, despite getting sacked at the second highest rate in the league. If the Texans' defense does come back strong, it could hinder Watson's performance as shown in two of his 2017 games. But otherwise, there's not enough evidence to suggest the Texans' offensive approach won't be the same in 2018. Our projections have Watson as the QB4 with over a 297-3,753-29.4 passing stat line and a 79-545-2.9 rushing line. His 5.01 ADP has him drafted after Russell Wilson and before Tom Brady. If there's a year to buy in on the talent, it's this year. Owners know what type of quarterback they're drafting when they select Watson. The only thing left is to wait for the highlight reels.
Photo by Brett Carlsen/Getty Images.
---
Related Articles