Perfect Draft Series: Drafting 3rd in a 14 Team League The last thing we want to do here at 4for4 Fantasy Football is leave someone out in the dark before their fantasy draft.
When a subscriber recently contacted me regarding a PC Drafter question, he said he wished there was a Perfect Draft Series article for deeper leagues. He was in a 22-round, 14-team standard league that used IDP, but thought an article would be helpful even if it was based on just offensive players.
So, here we go…
Note: For IDP leagues that start 1-3 IDPs we recommend treating them much like you would a kicker or defense. Wait until the final rounds of your draft, then leverage our IDP Rankings to mine some good value that will inevitably still be available.
I like deep leagues. In fact, the more owners, the merrier. Not everyone agrees with that, and I find a lot of people I talk to about fantasy football just want to stick with the basic 10-team leagues where the talent is plentiful. I don't mind having to think a little, and I like leagues where late round draft picks can make or break your team. In 14-team leagues the waiver wire can be thin, and a lot of times you need to get a guy with the hope he'll play in a few weeks. There's a lot of using your gut, and when you're right, it's a great feeling of accomplishment.
So in this piece, I'm going to draft third in a 14-team, standard league with the hopes of outscoring 13 other teams. I used a Performance 2 setting with a lineup of 1 QB, 2 RB, 2 WR, 1 flex (WR, RB, TE), 1 TE, 1 K and 1 defense. I made it so computer teams wouldn't draft more than one defensive team or kicker and no more than two tight ends and two QBs. So, the focus was loading up on RBs and WRs. I set WR starters to 2.33, RB starters to 2.33 and TE to 1.33 to account for the flex.
Of course, once again, I'll be doing this mock on PC Drafter, which comes free with your subscription to 4for4. If this is the first and only piece of mine you're read, I'll simply say I'm a big fan of using PC Drafter for these stories, for practice mock drafts, and then as my only draft day source. You can check out my other stories for background about my success with PC Drafter.
Let's get started:
Round 1, Pick 3
This is a pretty good spot to be in no matter how many teams are in your league, especially if you like to take a RB with your first pick. I wasn't quite sure who would be here and it turned out my choices were Jamaal Charles and Arian Foster. I will admit, had this been an actual league draft, I may have selected Charles. I love Charles and love him under Andy Reid. But with Foster projected to get more points this year, and that's the name of this game, I went with Foster. His workload the last few years and early injuries have me worried a little bit about how he'll hold up, but there's no denying what he can do in the Houston offense. I will say if you draft Foster this year, draft Ben Tate. That's something I did not do in this mock, but would have made sure to do in an actual draft.
The Pick – Arian Foster, RB
Round 2, Pick 12
I know with this pick I'm still going to get a pretty good player. And I know I get a pretty quick turnaround for my third pick, so I want to look ahead a bit and try to make the best two decisions possible. PCD tells me there are some pretty good RBs on the board in DeMarco Murray, Reggie Bush, Darren McFadden, Lamar Miller, David Wilson and Frank Gore. Some of those backs are better in PPR format, but with that group I think I can wait and go with another position first. Larry Fitzgerald just went so we're already in what I think is the next tier of WRs with Roddy White, Randall Cobb, Andre Johnson and Victory Cruz. I don't really like the value of WR here so I'm going with QB Peyton Manning. Waiting on QB is one thing in a 10-team league, but a 14-team league it's a little more important to make sure you get a good QB as 14 teams need starters. I think he presents the best value right here so adding him to a top-four RB is a nice start.
The Pick – Peyton Manning, QB
Round 3, Pick 3
All the running backs I mentioned above are still on the board at this pick. WRs White, Cobb and Andre Johnson were taken so I'm picking DeMarco Murray here. Of course, the danger in this pick is waiting many picks until I have a shot at a WR. But knowing the position is deep, I don't want to wait and see what options I would have for my RB2 in round 4 with this many teams…
The Pick – DeMarco Murray, RB
Round 4, Pick 12
There are actually some decent RBs who fell to this pick in Eddie Lacy and Ahmad Bradshaw, but there is still a nice group of WRs remaining as well, and that's where I see the most value. My hope is to get two here with the quick turnaround on my next pick. Reggie Wayne, Pierre Garcon, Antonio Brown, Mike Wallace and Eric Decker are all on the board here. Wayne is rated the highest of the group and is PCD's selection. I think Wayne is a little better suited for a PPR league, but taking him late in drafts last year, I really liked what I saw so I'll take him and his points with this pick. I also think taking Murray where I did was a good move even with Lacy and Bradshaw still around.
The Pick – Reggie Wayne, WR
Round 5, Pick 3
Only Garcon and Brown came off the board. I was hoping to get Brown, but my pick here is Wallace. Waiting on WR wasn't all that bad in the fifth round of a 14-team league, and I really like my first five picks.
The Pick – Mike Wallace, WR
Round 6, Pick 12
Looking at me team so far I have:
QB – Manning
RB – Foster, Murray
WR – Wayne, Wallace
I like having picks either back-to-back or close so that I can lump them together in my strategy. With one of these next two I'd like to address TE. Greg Olsen, Kyle Rudolph, Jermichael Finley and Antonio Gates are all available and with that group pretty much lumped together, I'll wait and go another direction first. Wanting to make sure I have a serviceable RB3, I'm going with Daryl Richardson here. I know Pead is going to take away work, but I like Richardson better than BenJarvus Green-Ellis, who is trending down with Gio Benard splitting carries, and Mark Ingram with Pierre Thomas and Darren Sproles. Richardson is expected to start and should get a consistent workload.
The Pick – Daryl Richardson, RB
Round 7, Pick 3
The four picks between this one and my last were all WRs. I may have been tempted to wait again on TE but Greg Jennings, Kenny Britt, TY Hilton and Miles Austin were all taken. Lance Moore and Michael Floyd are next on the list but that's a bit of a drop off from the four previous names. I was planning on taking a TE so I'm going to stick with my plan. I mentioned the available names above and of that group I'm going with Greg Olsen, who is ranked the highest.
The Pick – Greg Olsen, TE
Round 8, Pick 12
Now that I secured a TE, and I'm pretty balanced everywhere else on my roster and have a lot of flexibility with my next two picks. When in doubt, at this point of the draft, I like to go RB/WR just to keep that flexibility. DeAngelo Williams, Pierre Thomas, Vick Ballard, Ronnie Hillman are some running backs with Justin Blackmon, Aaron Dobson, Rueben Randle, Brian Hartline and Golden Tate the wide receivers. With no Percy Harvin right now, I like Tate here, who has also got some praise in camp as of late. He ranks highest of the before-mentioned WRs.
The Pick – Golden Tate, WR
Round 9, Pick 3
I had a feeling Pierre Thomas would slip to this pick and sure enough he did. Ingram was already taken but we still like the value of Thomas later in drafts as someone who could still get a lot of touches with no more Chris Ivory. Thomas as an RB4 in a 14-team league isn't all that bad.
The Pick – Pierre Thomas, RB
Round 10, Pick 12
So let's get an update:
QB – Manning
RB – Foster, Murray, Richardson, Thomas
WR – Wayne, Wallace, Tate
TE – Olsen
Coming into these next two picks, it's probably a good idea to target a WR with at least one of them. It's also a good idea to get a backup QB. This is an area I've been targeting Ben Roethlisberger as my backup and sure enough he's there. I like him slightly better than Andy Dalton and much better than Joe Flacco and the uncertain status of Michael Vick. With my next selection just a few away, I'm going to grab Big Ben here. Wanting a WR with my next selection, I see Vincent Brown and Greg Little as names who stand out. I'll take the chance one of them is available next pick, despite a string of WRs like Kendall Wright, Ryan Broyles and Chris Givens who went right before I took Ben.
The Pick – Ben Roethlisberger, QB
Round 11, Pick 3
Both Brown and Little are available, but my pick is Brown. We kept waiting for him to return last year to be the Bolts most talented receiver but it never happened. Now with Danario Alexander out for the year, we should see a lot of Brown.
The Pick – Vincent Brown, WR
Round 12, Pick 12
Once we get to this point in the draft, you start to have the option of taking kickers and defenses if you see something there that you like. Some of each have already come off the board, but a skill position name I see that I like is Jacquizz Rodgers of Atlanta. Taking Rodgers here makes him my RB5, but with an aging Steven Jackson the starter, Rodgers certainly has a chance to get on the field if something happens to Jackson.
The Pick – Jacquizz Rodgers, RB
Round 13, Pick 3
The Vikings are one of the better defenses on the board here and it's not a bad pick at this point to make sure you have one. I sometimes like to be done thinking about kickers and defense...
The Pick – Vikings, D/ST
Round 14, Pick 12
I was hoping guys like Brandon LaFell or Julian Edelman might fall to this pick but it didn't happen. They were taken since my last selection. Bilal Powell is on the board here but I find it hard to believe Ivory doesn't emerge with that job, so I'm going to address kicker. PCD is telling me Crosby, but it seems as if his struggles are continuing from last year.
The Pick – Steven Hauschka, K
Round 15, Pick 3
My final pick is Jacoby Jones. The names were pretty thin at this point but Jones is deep down my rosters at WR.
The Pick – Jacoby Jones, WR
Overall my team looks like this:
QB – Manning, Roethlisberger
RB – Foster, Murray, D. Richardson, P. Thomas, J. Rodgers
WR – Wayne, Wallace, G. Tate, V. Brown, Ja. Jones
TE – Olsen
K – Hauschka
DEF – Vikings
I like the way this team turned out and so does PC Drafter. It ranks me first in total points and starter points. In total points I have a 119-point advantage over the next highest team. Starter points are pretty close. I'm 33 ahead of the second place team, and less than 60 points separates the top-five teams. I kind of figured it may be close, though.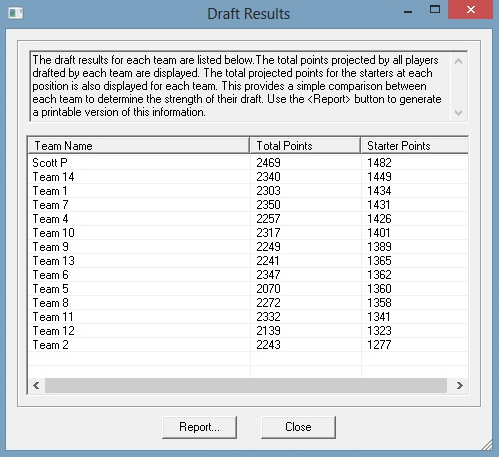 I was actually surprised at the roster depth I was able to get deep into the draft. Guys like Pierre Thomas, Jacquizz Rodgers, Vincent Brown, and even Roethlisberger at QB, could all contribute at some point on this team.
With the help of PC Drafter, I like to think I have a pretty good shot at being successful in this league. I feel like I'm in a very good spot at QB and RB, perhaps a little thin at WR. Of course, that would be an area to target on the wire. Names seem to come and go quite often at WR, so I don't worry too much about being a little thin there going into the season.
Draft Results

                                            
Rnd  Pck  League Team         Player Name              Pos    Team     ADP
===============================================================================
1    1    Team 1              Peterson, Adrian           RB    MIN  Rd:01/Pk:01
1    2    Team 2              Martin, Doug               RB    TB   Rd:01/Pk:02
1    3    Scott P             Foster, Arian              RB    HOU  Rd:01/Pk:03
1    4    Team 4              Charles, Jamaal            RB    KC   Rd:01/Pk:04
1    5    Team 5              Johnson, Calvin            WR    DET  Rd:01/Pk:05
1    6    Team 6              Spiller, C.J.              RB    BUF  Rd:01/Pk:06
1    7    Team 7              Rice, Ray                  RB    BAL  Rd:01/Pk:07
1    8    Team 8              Richardson, Trent          RB    CLE  Rd:01/Pk:08
1    9    Team 9              Lynch, Marshawn            RB    SEA  Rd:01/Pk:09
1    10   Team 10             McCoy, LeSean              RB    PHI  Rd:01/Pk:10
1    11   Team 11             Green, A.J.                WR    CIN  Rd:01/Pk:11
1    12   Team 12             Bryant, Dez                WR    DAL  Rd:01/Pk:12
1    13   Team 13             Morris, Alfred             RB    WAS  Rd:01/Pk:13
1    14   Team 14             Rodgers, Aaron             QB    GB   Rd:01/Pk:14
2    1    Team 14             Forte, Matt                RB    CHI  Rd:02/Pk:01
2    2    Team 13             Marshall, Brandon          WR    CHI  Rd:02/Pk:02
2    3    Team 12             Jones, Julio               WR    ATL  Rd:02/Pk:03
2    4    Team 11             Jackson, Steven            RB    ATL  Rd:02/Pk:04
2    5    Team 10             Graham, Jimmy              TE    NO   Rd:02/Pk:05
2    6    Team 9              Johnson, Chris             RB    TEN  Rd:02/Pk:06
2    7    Team 8              Thomas, Demaryius          WR    DEN  Rd:02/Pk:07
2    8    Team 7              Brees, Drew                QB    NO   Rd:02/Pk:08
2    9    Team 6              Jones-Drew, Maurice        RB    JAX  Rd:02/Pk:09
2    10   Team 5              Ridley, Stevan             RB    NE   Rd:02/Pk:10
2    11   Team 4              Fitzgerald, Larry          WR    ARI  Rd:02/Pk:11
2    12   Scott P             Manning, Peyton            QB    DEN  Rd:02/Pk:13
2    13   Team 2              White, Roddy               WR    ATL  Rd:02/Pk:12
2    14   Team 1              Newton, Cam                QB    CAR  Rd:02/Pk:14
3    1    Team 1              Cobb, Randall              WR    GB   Rd:03/Pk:01
3    2    Team 2              Johnson, Andre             WR    HOU  Rd:03/Pk:02
3    3    Scott P             Murray, DeMarco            RB    DAL  Rd:03/Pk:03
3    4    Team 4              Bush, Reggie               RB    DET  Rd:03/Pk:04
3    5    Team 5              McFadden, Darren           RB    OAK  Rd:03/Pk:05
3    6    Team 6              Miller, Lamar              RB    MIA  Rd:03/Pk:06
3    7    Team 7              Wilson, David              RB    NYG  Rd:03/Pk:07
3    8    Team 8              Cruz, Victor               WR    NYG  Rd:03/Pk:08
3    9    Team 9              Gronkowski, Rob            TE    NE   Rd:03/Pk:09
3    10   Team 10             Gore, Frank                RB    SF   Rd:03/Pk:10
3    11   Team 11             Nelson, Jordy              WR    GB   Rd:03/Pk:11
3    12   Team 12             Bowe, Dwayne               WR    KC   Rd:03/Pk:12
3    13   Team 13             Jackson, Vincent           WR    TB   Rd:03/Pk:13
3    14   Team 14             Ryan, Matt                 QB    ATL  Rd:03/Pk:14
4    1    Team 14             Colston, Marques           WR    NO   Rd:04/Pk:01
4    2    Team 13             Ball, Montee               RB    DEN  Rd:04/Pk:02
4    3    Team 12             Bell, LeVeon               RB    PIT  Rd:04/Pk:03
4    4    Team 11             Amendola, Danny            WR    NE   Rd:04/Pk:04
4    5    Team 10             Brady, Tom                 QB    NE   Rd:04/Pk:05
4    6    Team 9              Nicks, Hakeem              WR    NYG  Rd:04/Pk:06
4    7    Team 8              Sproles, Darren            RB    NO   Rd:04/Pk:07
4    8    Team 7              Smith, Torrey              WR    BAL  Rd:04/Pk:08
4    9    Team 6              Welker, Wes                WR    DEN  Rd:04/Pk:09
4    10   Team 5              Davis, Vernon              TE    SF   Rd:04/Pk:10
4    11   Team 4              Luck, Andrew               QB    IND  Rd:04/Pk:11
4    12   Scott P             Wayne, Reggie              WR    IND  Rd:04/Pk:12
4    13   Team 2              Mathews, Ryan              RB    SD   Rd:04/Pk:13
4    14   Team 1              Witten, Jason              TE    DAL  Rd:04/Pk:14
5    1    Team 1              Garcon, Pierre             WR    WAS  Rd:05/Pk:01
5    2    Team 2              Brown, Antonio             WR    PIT  Rd:05/Pk:02
5    3    Scott P             Wallace, Mike              WR    MIA  Rd:05/Pk:03
5    4    Team 4              Decker, Eric               WR    DEN  Rd:05/Pk:04
5    5    Team 5              Gonzalez, Tony             TE    ATL  Rd:05/Pk:05
5    6    Team 6              Lacy, Eddie                RB    GB   Rd:05/Pk:06
5    7    Team 7              Bradshaw, Ahmad            RB    IND  Rd:05/Pk:07
5    8    Team 8              Shorts, Cecil              WR    JAX  Rd:05/Pk:08
5    9    Team 9              Smith, Steve-L             WR    CAR  Rd:05/Pk:09
5    10   Team 10             Vereen, Shane              RB    NE   Rd:05/Pk:10
5    11   Team 11             Stafford, Matthew          QB    DET  Rd:05/Pk:11
5    12   Team 12             Mendenhall, Rashard        RB    ARI  Rd:05/Pk:12
5    13   Team 13             Jackson, DeSean            WR    PHI  Rd:05/Pk:13
5    14   Team 14             Austin, Tavon              WR    STL  Rd:05/Pk:14
6    1    Team 14             Ivory, Chris               RB    NYJ  Rd:06/Pk:01
6    2    Team 13             Bernard, Giovani           RB    CIN  Rd:06/Pk:02
6    3    Team 12             Johnson, Steve             WR    BUF  Rd:06/Pk:03
6    4    Team 11             Williams, Mike             WR    TB   Rd:06/Pk:04
6    5    Team 10             Kaepernick, Colin          QB    SF   Rd:06/Pk:05
6    6    Team 9              Jones, James               WR    GB   Rd:06/Pk:06
6    7    Team 8              Boldin, Anquan             WR    SF   Rd:06/Pk:07
6    8    Team 7              Brown, Andre               RB    NYG  Rd:06/Pk:08
6    9    Team 6              Griffin-III, Robert        QB    WAS  Rd:06/Pk:10
6    10   Team 5              Alexander, Danario         WR    SD   Rd:06/Pk:10
6    11   Team 4              Gordon, Josh               WR    CLE  Rd:06/Pk:11
6    12   Scott P             Richardson, Daryl          RB    STL  Rd:07/Pk:10
6    13   Team 2              Jennings, Greg             WR    MIN  Rd:06/Pk:12
6    14   Team 1              Britt, Kenny               WR    TEN  Rd:06/Pk:13
7    1    Team 1              Hilton, T.Y.               WR    IND  Rd:06/Pk:14
7    2    Team 2              Austin, Miles              WR    DAL  Rd:07/Pk:01
7    3    Scott P             Olsen, Greg                TE    CAR  Rd:07/Pk:05
7    4    Team 4              Rudolph, Kyle              TE    MIN  Rd:07/Pk:02
7    5    Team 5              Green-Ellis, BenJarvus     RB    CIN  Rd:07/Pk:03
7    6    Team 6              Romo, Tony                 QB    DAL  Rd:07/Pk:04
7    7    Team 7              Moore, Lance               WR    NO   Rd:07/Pk:06
7    8    Team 8              Seahawks, Seattle          D     SEA  Rd:07/Pk:06
7    9    Team 9              Ingram, Mark               RB    NO   Rd:07/Pk:07
7    10   Team 10             Cook, Jared                TE    STL  Rd:07/Pk:08
7    11   Team 11             Wilson, Russell            QB    SEA  Rd:07/Pk:09
7    12   Team 12             Finley, Jermichael         TE    GB   Rd:07/Pk:11
7    13   Team 13             Gates, Antonio             TE    SD   Rd:07/Pk:12
7    14   Team 14             Tate, Ben                  RB    HOU  Rd:07/Pk:13
8    1    Team 14             Brown, Bryce               RB    PHI  Rd:07/Pk:14
8    2    Team 13             Floyd, Michael             WR    ARI  Rd:08/Pk:01
8    3    Team 12             49ers, San-Francisco       D     SF   Rd:08/Pk:02
8    4    Team 11             Sanders, Emmanuel          WR    PIT  Rd:08/Pk:02
8    5    Team 10             Stewart, Jonathan          RB    CAR  Rd:08/Pk:03
8    6    Team 9              Moore, Denarius            WR    OAK  Rd:08/Pk:04
8    7    Team 8              Rice, Sidney               WR    SEA  Rd:08/Pk:05
8    8    Team 7              Manning, Eli               QB    NYG  Rd:08/Pk:06
8    9    Team 6              Daniels, Owen              TE    HOU  Rd:08/Pk:07
8    10   Team 5              Hopkins, DeAndre           WR    HOU  Rd:08/Pk:09
8    11   Team 4              Myers, Brandon             TE    NYG  Rd:08/Pk:08
8    12   Scott P             Tate, Golden               WR    SEA  Rd:09/Pk:01
8    13   Team 2              Williams, DeAngelo         RB    CAR  Rd:08/Pk:11
8    14   Team 1              Blackmon, Justin           WR    JAX  Rd:08/Pk:10
9    1    Team 1              Bears, Chicago             D     CHI  Rd:08/Pk:12
9    2    Team 2              Franklin, Johnathan        RB    GB   Rd:08/Pk:14
9    3    Scott P             Thomas, Pierre             RB    NO   Rd:11/Pk:10
9    4    Team 4              Jeffery, Alshon            WR    CHI  Rd:08/Pk:12
9    5    Team 5              Broncos, Denver            D     DEN  Rd:09/Pk:03
9    6    Team 6              Gresham, Jermaine          TE    CIN  Rd:09/Pk:03
9    7    Team 7              Ballard, Vick              RB    IND  Rd:09/Pk:04
9    8    Team 8              Bennett, Martellus         TE    CHI  Rd:09/Pk:05
9    9    Team 9              Dobson, Aaron              WR    NE   Rd:09/Pk:06
9    10   Team 10             Texans, Houston            D     HOU  Rd:09/Pk:07
9    11   Team 11             Hillman, Ronnie            RB    DEN  Rd:09/Pk:07
9    12   Team 12             Randle, Rueben             WR    NYG  Rd:09/Pk:08
9    13   Team 13             Hartline, Brian            WR    MIA  Rd:09/Pk:09
9    14   Team 14             Pierce, Bernard            RB    BAL  Rd:09/Pk:10
10   1    Team 14             Patriots, New-England      D     NE   Rd:09/Pk:11
10   2    Team 13             Pead, Isaiah               RB    STL  Rd:09/Pk:11
10   3    Team 12             Leshoure, Mikel            RB    DET  Rd:09/Pk:13
10   4    Team 11             Bengals, Cincinnati        D     CIN  Rd:10/Pk:01
10   5    Team 10             Heyward-Bey, Darrius       WR    IND  Rd:09/Pk:12
10   6    Team 9              Pettigrew, Brandon         TE    DET  Rd:10/Pk:01
10   7    Team 8              Jackson, Fred              RB    BUF  Rd:10/Pk:07
10   8    Team 7              Wright, Kendall            WR    TEN  Rd:10/Pk:02
10   9    Team 6              Broyles, Ryan              WR    DET  Rd:10/Pk:03
10   10   Team 5              Patterson, Cordarrelle     WR    MIN  Rd:10/Pk:04
10   11   Team 4              Givens, Chris              WR    STL  Rd:10/Pk:05
10   12   Scott P             Roethlisberger, Ben        QB    PIT  Rd:11/Pk:02
10   13   Team 2              Ravens, Baltimore          D     BAL  Rd:10/Pk:06
10   14   Team 1              Woodhead, Danny            RB    SD   Rd:10/Pk:08
11   1    Team 1              Dalton, Andy               QB    CIN  Rd:10/Pk:09
11   2    Team 2              Keller, Dustin             TE    MIA  Rd:10/Pk:11
11   3    Scott P             Brown, Vincent             WR    SD   Rd:10/Pk:10
11   4    Team 4              Packers, Green-Bay         D     GB   Rd:10/Pk:09
11   5    Team 5              Little, Greg               WR    CLE  Rd:10/Pk:06
11   6    Team 6              Chargers, San-Diego        D     SD   Rd:10/Pk:12
11   7    Team 7              Allen, Dwayne              TE    IND  Rd:10/Pk:13
11   8    Team 8              Flacco, Joe                QB    BAL  Rd:10/Pk:12
11   9    Team 9              Steelers, Pittsburgh       D     PIT  Rd:10/Pk:14
11   10   Team 10             Gostkowski, Stephen        K     NE   Rd:11/Pk:03
11   11   Team 11             Davis, Fred                TE    WAS  Rd:10/Pk:14
11   12   Team 12             Vick, Michael              QB    PHI  Rd:11/Pk:04
11   13   Team 13             Browns, Cleveland          D     CLE  Rd:11/Pk:02
11   14   Team 14             Fleener, Coby              TE    IND  Rd:11/Pk:07
12   1    Team 14             Housler, Rob               TE    ARI  Rd:11/Pk:09
12   2    Team 13             Cutler, Jay                QB    CHI  Rd:11/Pk:05
12   3    Team 12             James, LaMichael           RB    SF   Rd:11/Pk:06
12   4    Team 11             Bryant, Matt               K     ATL  Rd:11/Pk:10
12   5    Team 10             Floyd, Malcom              WR    SD   Rd:11/Pk:10
12   6    Team 9              Palmer, Carson             QB    ARI  Rd:11/Pk:10
12   7    Team 8              Freeman, Josh              QB    TB   Rd:11/Pk:10
12   8    Team 7              Rams, St.-Louis            D     STL  Rd:11/Pk:03
12   9    Team 6              Brown, Josh                K     NYG  Rd:11/Pk:10
12   10   Team 5              Schaub, Matt               QB    HOU  Rd:11/Pk:10
12   11   Team 4              Tannehill, Ryan            QB    MIA  Rd:11/Pk:10
12   12   Scott P             Rodgers, Jacquizz          RB    ATL  Rd:11/Pk:10
12   13   Team 2              Bradford, Sam              QB    STL  Rd:11/Pk:10
12   14   Team 1              Prater, Matt               K     DEN  Rd:11/Pk:10
13   1    Team 1              Cameron, Jordan            TE    CLE  Rd:11/Pk:10
13   2    Team 2              Rivers, Philip             QB    SD   Rd:11/Pk:10
13   3    Scott P             Vikings, Minnesota         D     MIN  Rd:11/Pk:05
13   4    Team 4              Walsh, Blair               K     MIN  Rd:11/Pk:10
13   5    Team 5              Smith, Alex                QB    KC   Rd:11/Pk:10
13   6    Team 6              Roberts, Andre             WR    ARI  Rd:11/Pk:10
13   7    Team 7              Hartley, Garrett           K     NO   Rd:11/Pk:10
13   8    Team 8              Dawson, Phil               K     SF   Rd:11/Pk:10
13   9    Team 9              Locker, Jake               QB    TEN  Rd:11/Pk:10
13   10   Team 10             LaFell, Brandon            WR    CAR  Rd:11/Pk:10
13   11   Team 11             Dickson, Ed                TE    BAL  Rd:11/Pk:10
13   12   Team 12             Ponder, Christian          QB    MIN  Rd:11/Pk:10
13   13   Team 13             Weeden, Brandon            QB    CLE  Rd:11/Pk:10
13   14   Team 14             Tucker, Justin             K     BAL  Rd:11/Pk:10
14   1    Team 14             Edelman, Julian            WR    NE   Rd:11/Pk:10
14   2    Team 13             Bailey, Dan                K     DAL  Rd:11/Pk:10
14   3    Team 12             Forbath, Kai               K     WAS  Rd:11/Pk:10
14   4    Team 11             Tolbert, Mike              RB    CAR  Rd:11/Pk:10
14   5    Team 10             Kerley, Jeremy             WR    NYJ  Rd:11/Pk:10
14   6    Team 9              Janikowski, Sebastian      K     OAK  Rd:11/Pk:10
14   7    Team 8              Reece, Marcel              RB    OAK  Rd:11/Pk:10
14   8    Team 7              Streater, Rod              WR    OAK  Rd:11/Pk:10
14   9    Team 6              Burleson, Nate             WR    DET  Rd:11/Pk:10
14   10   Team 5              Nugent, Mike               K     CIN  Rd:11/Pk:10
14   11   Team 4              Bush, Michael              RB    CHI  Rd:11/Pk:10
14   12   Scott P             Hauschka, Steven           K     SEA  Rd:11/Pk:10
14   13   Team 2              Crosby, Mason              K     GB   Rd:11/Pk:10
14   14   Team 1              Powell, Bilal              RB    NYJ  Rd:11/Pk:10
15   1    Team 1              Bell, Joique               RB    DET  Rd:11/Pk:10
15   2    Team 2              Lewis, Marcedes            TE    JAX  Rd:11/Pk:10
15   3    Scott P             Jones, Jacoby              WR    BAL  Rd:11/Pk:10
15   4    Team 4              Hunter, Kendall            RB    SF   Rd:11/Pk:10
15   5    Team 5              Moreno, Knowshon           RB    DEN  Rd:11/Pk:10
15   6    Team 6              Sanu, Mohamed              WR    CIN  Rd:11/Pk:10
15   7    Team 7              Cooper, Riley              WR    PHI  Rd:11/Pk:10
15   8    Team 8              Eifert, Tyler              TE    CIN  Rd:11/Pk:10
15   9    Team 9              Randle, Joseph             RB    DAL  Rd:11/Pk:10
15   10   Team 10             Baldwin, Jonathan          WR    KC   Rd:11/Pk:10
15   11   Team 11             Redman, Isaac              RB    PIT  Rd:11/Pk:10
15   12   Team 12             Chandler, Scott            TE    BUF  Rd:11/Pk:10
15   13   Team 13             Miller, Heath              TE    PIT  Rd:11/Pk:10
15   14   Team 14             Quick, Brian               WR    STL  Rd:11/Pk:10

                                                                     
                                             
Team Owner: Owner 1
Team Name: Team 1

Pos   Player Name                   Team    Bye    Points    ADP Rank  
===============================================================================
D     Bears, Chicago                CHI     8      125       Rd:08/Pk:1
K     Prater, Matt                  DEN     9      122       Rd:11/Pk:1
QB    Newton, Cam                   CAR     4      365       Rd:02/Pk:1
QB    Dalton, Andy                  CIN     12     292       Rd:10/Pk:0
RB    Peterson, Adrian              MIN     5      298       Rd:01/Pk:0
RB    Woodhead, Danny               SD      8      84        Rd:10/Pk:0
RB    Bell, Joique                  DET     9      65        Rd:11/Pk:1
RB    Powell, Bilal                 NYJ     10     65        Rd:11/Pk:1
TE    Witten, Jason                 DAL     11     125       Rd:04/Pk:1
TE    Cameron, Jordan               CLE     10     91        Rd:11/Pk:1
WR    Cobb, Randall                 GB      4      165       Rd:03/Pk:0
WR    Garcon, Pierre                WAS     5      150       Rd:05/Pk:0
WR    Hilton, T.Y.                  IND     8      140       Rd:06/Pk:1
WR    Britt, Kenny                  TEN     8      126       Rd:06/Pk:1
WR    Blackmon, Justin              JAX     9      90        Rd:08/Pk:1
===============================================================================
Total Player Points:2303                                     



Team Owner: Owner 2
Team Name: Team 2

Pos   Player Name                   Team    Bye    Points    ADP Rank  
===============================================================================
D     Ravens, Baltimore             BAL     8      119       Rd:10/Pk:0
K     Crosby, Mason                 GB      4      115       Rd:11/Pk:1
QB    Bradford, Sam                 STL     11     263       Rd:11/Pk:1
QB    Rivers, Philip                SD      8      262       Rd:11/Pk:1
RB    Martin, Doug                  TB      5      231       Rd:01/Pk:0
RB    Mathews, Ryan                 SD      8      138       Rd:04/Pk:1
RB    Williams, DeAngelo            CAR     4      129       Rd:08/Pk:1
RB    Franklin, Johnathan           GB      4      63        Rd:08/Pk:1
TE    Keller, Dustin                MIA     6      69        Rd:10/Pk:1
TE    Lewis, Marcedes               JAX     9      67        Rd:11/Pk:1
WR    Johnson, Andre                HOU     8      174       Rd:03/Pk:0
WR    White, Roddy                  ATL     6      168       Rd:02/Pk:1
WR    Brown, Antonio                PIT     5      162       Rd:05/Pk:0
WR    Austin, Miles                 DAL     11     142       Rd:07/Pk:0
WR    Jennings, Greg                MIN     5      141       Rd:06/Pk:1
===============================================================================
Total Player Points:2243                                     



Team Owner: Scott P
Team Name: Scott P

Pos   Player Name                   Team    Bye    Points    ADP Rank  
===============================================================================
D     Vikings, Minnesota            MIN     5      113       Rd:11/Pk:0
K     Hauschka, Steven              SEA     12     115       Rd:11/Pk:1
QB    Manning, Peyton               DEN     9      403       Rd:02/Pk:1
QB    Roethlisberger, Ben           PIT     5      306       Rd:11/Pk:0
RB    Foster, Arian                 HOU     8      250       Rd:01/Pk:0
RB    Murray, DeMarco               DAL     11     190       Rd:03/Pk:0
RB    Thomas, Pierre                NO      7      135       Rd:11/Pk:1
RB    Richardson, Daryl             STL     11     133       Rd:07/Pk:1
RB    Rodgers, Jacquizz             ATL     6      84        Rd:11/Pk:1
TE    Olsen, Greg                   CAR     4      107       Rd:07/Pk:0
WR    Wayne, Reggie                 IND     8      154       Rd:04/Pk:1
WR    Wallace, Mike                 MIA     6      150       Rd:05/Pk:0
WR    Brown, Vincent                SD      8      127       Rd:10/Pk:1
WR    Tate, Golden                  SEA     12     121       Rd:09/Pk:0
WR    Jones, Jacoby                 BAL     8      81        Rd:11/Pk:1
===============================================================================
Total Player Points:2469                                     



Team Owner: Owner 4
Team Name: Team 4

Pos   Player Name                   Team    Bye    Points    ADP Rank  
===============================================================================
D     Packers, Green-Bay            GB      4      117       Rd:10/Pk:0
K     Walsh, Blair                  MIN     5      121       Rd:11/Pk:1
QB    Luck, Andrew                  IND     8      336       Rd:04/Pk:1
QB    Tannehill, Ryan               MIA     6      265       Rd:11/Pk:1
RB    Charles, Jamaal               KC      10     239       Rd:01/Pk:0
RB    Bush, Reggie                  DET     9      171       Rd:03/Pk:0
RB    Bush, Michael                 CHI     8      69        Rd:11/Pk:1
RB    Hunter, Kendall               SF      9      62        Rd:11/Pk:1
TE    Rudolph, Kyle                 MIN     5      108       Rd:07/Pk:0
TE    Myers, Brandon                NYG     9      87        Rd:08/Pk:0
WR    Fitzgerald, Larry             ARI     9      185       Rd:02/Pk:1
WR    Decker, Eric                  DEN     9      149       Rd:05/Pk:0
WR    Gordon, Josh                  CLE     10     137       Rd:06/Pk:1
WR    Givens, Chris                 STL     11     106       Rd:10/Pk:0
WR    Jeffery, Alshon               CHI     8      105       Rd:08/Pk:1
===============================================================================
Total Player Points:2257                                     



Team Owner: Owner 5
Team Name: Team 5

Pos   Player Name                   Team    Bye    Points    ADP Rank  
===============================================================================
D     Broncos, Denver               DEN     9      122       Rd:09/Pk:0
K     Nugent, Mike                  CIN     12     115       Rd:11/Pk:1
QB    Schaub, Matt                  HOU     8      284       Rd:11/Pk:1
QB    Smith, Alex                   KC      10     256       Rd:11/Pk:1
RB    Ridley, Stevan                NE      10     205       Rd:02/Pk:1
RB    McFadden, Darren              OAK     7      183       Rd:03/Pk:0
RB    Green-Ellis, BenJarvus        CIN     12     106       Rd:07/Pk:0
RB    Moreno, Knowshon              DEN     9      60        Rd:11/Pk:1
TE    Davis, Vernon                 SF      9      129       Rd:04/Pk:1
TE    Gonzalez, Tony                ATL     6      124       Rd:05/Pk:0
WR    Johnson, Calvin               DET     9      213       Rd:01/Pk:0
WR    Alexander, Danario            SD      8      146       Rd:06/Pk:1
WR    Hopkins, DeAndre              HOU     8      109       Rd:08/Pk:0
WR    Little, Greg                  CLE     10     90        Rd:10/Pk:0
WR    Patterson, Cordarrelle        MIN     5      74        Rd:10/Pk:0
===============================================================================
Total Player Points:2216                                     



Team Owner: Owner 6
Team Name: Team 6

Pos   Player Name                   Team    Bye    Points    ADP Rank  
===============================================================================
D     Chargers, San-Diego           SD      8      116       Rd:10/Pk:1
K     Brown, Josh                   NYG     9      123       Rd:11/Pk:1
QB    Griffin-III, Robert           WAS     5      344       Rd:06/Pk:1
QB    Romo, Tony                    DAL     11     340       Rd:07/Pk:0
RB    Spiller, C.J.                 BUF     12     232       Rd:01/Pk:0
RB    Jones-Drew, Maurice           JAX     9      196       Rd:02/Pk:0
RB    Miller, Lamar                 MIA     6      168       Rd:03/Pk:0
RB    Lacy, Eddie                   GB      4      151       Rd:05/Pk:0
TE    Daniels, Owen                 HOU     8      104       Rd:08/Pk:0
TE    Gresham, Jermaine             CIN     12     65        Rd:09/Pk:0
WR    Welker, Wes                   DEN     9      147       Rd:04/Pk:0
WR    Broyles, Ryan                 DET     9      100       Rd:10/Pk:0
WR    Roberts, Andre                ARI     9      96        Rd:11/Pk:1
WR    Burleson, Nate                DET     9      87        Rd:11/Pk:1
WR    Sanu, Mohamed                 CIN     12     78        Rd:11/Pk:1
===============================================================================
Total Player Points:2347                                     



Team Owner: Owner 7
Team Name: Team 7

Pos   Player Name                   Team    Bye    Points    ADP Rank  
===============================================================================
D     Rams, St.-Louis               STL     11     115       Rd:11/Pk:0
K     Hartley, Garrett              NO      7      120       Rd:11/Pk:1
QB    Brees, Drew                   NO      7      434       Rd:02/Pk:0
QB    Manning, Eli                  NYG     9      323       Rd:08/Pk:0
RB    Rice, Ray                     BAL     8      211       Rd:01/Pk:0
RB    Wilson, David                 NYG     9      176       Rd:03/Pk:0
RB    Bradshaw, Ahmad               IND     8      144       Rd:05/Pk:0
RB    Brown, Andre                  NYG     9      137       Rd:06/Pk:0
RB    Ballard, Vick                 IND     8      56        Rd:09/Pk:0
TE    Allen, Dwayne                 IND     8      73        Rd:10/Pk:1
WR    Smith, Torrey                 BAL     8      162       Rd:04/Pk:0
WR    Moore, Lance                  NO      7      140       Rd:07/Pk:0
WR    Wright, Kendall               TEN     8      96        Rd:10/Pk:0
WR    Streater, Rod                 OAK     7      89        Rd:11/Pk:1
WR    Cooper, Riley                 PHI     12     74        Rd:11/Pk:1
===============================================================================
Total Player Points:2350                                     



Team Owner: Owner 8
Team Name: Team 8

Pos   Player Name                   Team    Bye    Points    ADP Rank  
===============================================================================
D     Seahawks, Seattle             SEA     12     126       Rd:07/Pk:0
K     Dawson, Phil                  SF      9      120       Rd:11/Pk:1
QB    Freeman, Josh                 TB      5      290       Rd:11/Pk:1
QB    Flacco, Joe                   BAL     8      272       Rd:10/Pk:1
RB    Richardson, Trent             CLE     10     211       Rd:01/Pk:0
RB    Sproles, Darren               NO      7      165       Rd:04/Pk:0
RB    Jackson, Fred                 BUF     12     87        Rd:10/Pk:0
RB    Reece, Marcel                 OAK     7      71        Rd:11/Pk:1
TE    Bennett, Martellus            CHI     8      90        Rd:09/Pk:0
TE    Eifert, Tyler                 CIN     12     64        Rd:11/Pk:1
WR    Thomas, Demaryius             DEN     9      191       Rd:02/Pk:0
WR    Cruz, Victor                  NYG     9      165       Rd:03/Pk:0
WR    Shorts, Cecil                 JAX     9      156       Rd:05/Pk:0
WR    Boldin, Anquan                SF      9      145       Rd:06/Pk:0
WR    Rice, Sidney                  SEA     12     119       Rd:08/Pk:0
===============================================================================
Total Player Points:2272                                     



Team Owner: Owner 9
Team Name: Team 9

Pos   Player Name                   Team    Bye    Points    ADP Rank  
===============================================================================
D     Steelers, Pittsburgh          PIT     5      117       Rd:10/Pk:1
K     Janikowski, Sebastian         OAK     7      117       Rd:11/Pk:1
QB    Palmer, Carson                ARI     9      290       Rd:11/Pk:1
QB    Locker, Jake                  TEN     8      244       Rd:11/Pk:1
RB    Lynch, Marshawn               SEA     12     233       Rd:01/Pk:0
RB    Johnson, Chris                TEN     8      196       Rd:02/Pk:0
RB    Ingram, Mark                  NO      7      106       Rd:07/Pk:0
RB    Randle, Joseph                DAL     11     56        Rd:11/Pk:1
TE    Gronkowski, Rob               NE      10     118       Rd:03/Pk:0
TE    Pettigrew, Brandon            DET     9      86        Rd:10/Pk:0
WR    Nicks, Hakeem                 NYG     9      164       Rd:04/Pk:0
WR    Jones, James                  GB      4      154       Rd:06/Pk:0
WR    Smith, Steve-L                CAR     4      149       Rd:05/Pk:0
WR    Moore, Denarius               OAK     7      123       Rd:08/Pk:0
WR    Dobson, Aaron                 NE      10     96        Rd:09/Pk:0
===============================================================================
Total Player Points:2249                                     



Team Owner: Owner 10
Team Name: Team 10

Pos   Player Name                   Team    Bye    Points    ADP Rank  
===============================================================================
D     Texans, Houston               HOU     8      122       Rd:09/Pk:0
K     Gostkowski, Stephen           NE      10     133       Rd:11/Pk:0
QB    Brady, Tom                    NE      10     363       Rd:04/Pk:0
QB    Kaepernick, Colin             SF      9      346       Rd:06/Pk:0
RB    McCoy, LeSean                 PHI     12     219       Rd:01/Pk:1
RB    Gore, Frank                   SF      9      187       Rd:03/Pk:1
RB    Vereen, Shane                 NE      10     141       Rd:05/Pk:1
RB    Stewart, Jonathan             CAR     4      82        Rd:08/Pk:0
TE    Graham, Jimmy                 NO      7      180       Rd:02/Pk:0
TE    Cook, Jared                   STL     11     91        Rd:07/Pk:0
WR    Floyd, Malcom                 SD      8      103       Rd:11/Pk:1
WR    LaFell, Brandon               CAR     4      94        Rd:11/Pk:1
WR    Heyward-Bey, Darrius          IND     8      92        Rd:09/Pk:1
WR    Kerley, Jeremy                NYJ     10     90        Rd:11/Pk:1
WR    Baldwin, Jonathan             KC      10     74        Rd:11/Pk:1
===============================================================================
Total Player Points:2317                                     



Team Owner: Owner 11
Team Name: Team 11

Pos   Player Name                   Team    Bye    Points    ADP Rank  
===============================================================================
D     Bengals, Cincinnati           CIN     12     120       Rd:10/Pk:0
K     Bryant, Matt                  ATL     6      128       Rd:11/Pk:1
QB    Stafford, Matthew             DET     9      360       Rd:05/Pk:1
QB    Wilson, Russell               SEA     12     348       Rd:07/Pk:0
RB    Jackson, Steven               ATL     6      209       Rd:02/Pk:0
RB    Hillman, Ronnie               DEN     9      87        Rd:09/Pk:0
RB    Tolbert, Mike                 CAR     4      84        Rd:11/Pk:1
RB    Redman, Isaac                 PIT     5      54        Rd:11/Pk:1
TE    Davis, Fred                   WAS     5      90        Rd:10/Pk:1
TE    Dickson, Ed                   BAL     8      90        Rd:11/Pk:1
WR    Green, A.J.                   CIN     12     193       Rd:01/Pk:1
WR    Nelson, Jordy                 GB      4      154       Rd:03/Pk:1
WR    Williams, Mike                TB      5      148       Rd:06/Pk:0
WR    Amendola, Danny               NE      10     146       Rd:04/Pk:0
WR    Sanders, Emmanuel             PIT     5      121       Rd:08/Pk:0
===============================================================================
Total Player Points:2332                                     



Team Owner: Owner 12
Team Name: Team 12

Pos   Player Name                   Team    Bye    Points    ADP Rank  
===============================================================================
D     49ers, San-Francisco          SF      9      125       Rd:08/Pk:0
K     Forbath, Kai                  WAS     5      118       Rd:11/Pk:1
QB    Vick, Michael                 PHI     12     280       Rd:11/Pk:0
QB    Ponder, Christian             MIN     5      243       Rd:11/Pk:1
RB    Bell, LeVeon                  PIT     5      172       Rd:04/Pk:0
RB    Mendenhall, Rashard           ARI     9      144       Rd:05/Pk:1
RB    Leshoure, Mikel               DET     9      62        Rd:09/Pk:1
RB    James, LaMichael              SF      9      33        Rd:11/Pk:0
TE    Finley, Jermichael            GB      4      96        Rd:07/Pk:1
TE    Chandler, Scott               BUF     12     64        Rd:11/Pk:1
WR    Bryant, Dez                   DAL     11     199       Rd:01/Pk:1
WR    Jones, Julio                  ATL     6      189       Rd:02/Pk:0
WR    Bowe, Dwayne                  KC      10     163       Rd:03/Pk:1
WR    Johnson, Steve                BUF     12     144       Rd:06/Pk:0
WR    Randle, Rueben                NYG     9      107       Rd:09/Pk:0
===============================================================================
Total Player Points:2139                                     



Team Owner: Owner 13
Team Name: Team 13

Pos   Player Name                   Team    Bye    Points    ADP Rank  
===============================================================================
D     Browns, Cleveland             CLE     10     117       Rd:11/Pk:0
K     Bailey, Dan                   DAL     11     119       Rd:11/Pk:1
QB    Cutler, Jay                   CHI     8      286       Rd:11/Pk:0
QB    Weeden, Brandon               CLE     10     237       Rd:11/Pk:1
RB    Morris, Alfred                WAS     5      225       Rd:01/Pk:1
RB    Ball, Montee                  DEN     9      156       Rd:04/Pk:0
RB    Bernard, Giovani              CIN     12     137       Rd:06/Pk:0
RB    Pead, Isaiah                  STL     11     78        Rd:09/Pk:1
TE    Gates, Antonio                SD      8      90        Rd:07/Pk:1
TE    Miller, Heath                 PIT     5      61        Rd:11/Pk:1
WR    Marshall, Brandon             CHI     8      200       Rd:02/Pk:0
WR    Jackson, Vincent              TB      5      172       Rd:03/Pk:1
WR    Jackson, DeSean               PHI     12     146       Rd:05/Pk:1
WR    Floyd, Michael                ARI     9      122       Rd:08/Pk:0
WR    Hartline, Brian               MIA     6      95        Rd:09/Pk:0
===============================================================================
Total Player Points:2241                                     



Team Owner: Owner 14
Team Name: Team 14

Pos   Player Name                   Team    Bye    Points    ADP Rank  
===============================================================================
D     Patriots, New-England         NE      10     121       Rd:09/Pk:1
K     Tucker, Justin                BAL     8      119       Rd:11/Pk:1
QB    Rodgers, Aaron                GB      4      443       Rd:01/Pk:1
QB    Ryan, Matt                    ATL     6      374       Rd:03/Pk:1
RB    Forte, Matt                   CHI     8      212       Rd:02/Pk:0
RB    Ivory, Chris                  NYJ     10     174       Rd:06/Pk:0
RB    Pierce, Bernard               BAL     8      107       Rd:09/Pk:1
RB    Tate, Ben                     HOU     8      106       Rd:07/Pk:1
RB    Brown, Bryce                  PHI     12     70        Rd:07/Pk:1
TE    Housler, Rob                  ARI     9      87        Rd:11/Pk:0
TE    Fleener, Coby                 IND     8      71        Rd:11/Pk:0
WR    Colston, Marques              NO      7      163       Rd:04/Pk:0
WR    Austin, Tavon                 STL     11     130       Rd:05/Pk:1
WR    Edelman, Julian               NE      10     92        Rd:11/Pk:1
WR    Quick, Brian                  STL     11     71        Rd:11/Pk:1
===============================================================================
Total Player Points:2340