2023 Post Combine Dynasty Rookie Rankings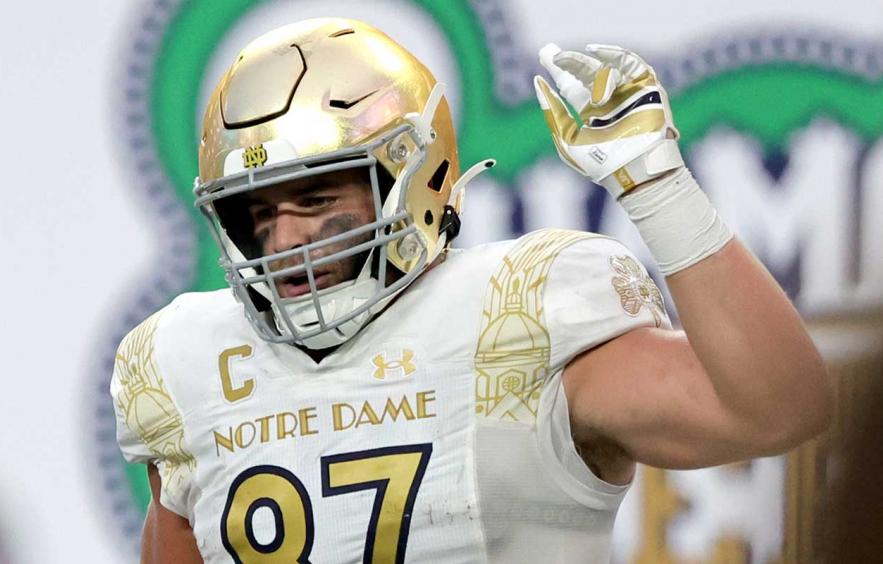 Ethan Miller/Getty Images
The 2023 NFL Combine is in the books and, as a result, I've updated my rookie rankings and player evaluations as we now wait for free agency to take place and, of course, the NFL Draft at the end of April.
---
More Dynasty Rankings: 4for4 Top 250 | 4for4 Top 250 Superflex | DLF 2023 Dynasty Rookies | DLF Dynasty Cornerstone Rankings | 2023 Rookie Superflex | Dynasty IDP Rankings |
---
2023 Rookie Draft
The 2023 rookie draft class lost a lot of its value as the 2022 collegiate season progressed, primarily due to the wide receivers not performing as expected. Aside from running back Bijan Robinson, I could make an argument for seven players following Robinson as the potential 1.02 selection in rookie drafts. This is far from ideal for those holding high selections and needing rookie impact.
At the same time, if you're holding late-first rookie selections, this is a great year to sit tight, or even acquire picks in that range. The NFL Draft is certain to shrink the pool as top players go to less-than-ideal situations, but there's also the possibility that some lower-ranked players increase in value, replacing those who fall.
If you aren't selecting first-overall (Robinson), the sweet spot for this draft could be 1.05, making for an intriguing trade-back opportunity from 1.02-1.04. The strategy here is to acquire other pick/player assets in return for a move back to 1.05, allowing other coaches to make their selections ahead of you, taking what remains from the draft's top five. A closer look at my rankings below will shed more light on the players I believe you'll be able to select at this early juncture. Changes leading up to the draft are certain to occur.
I often seek players in my top-three tiers as I've found those have the highest hit rate in fantasy. The lines between tiers are often not clearly defined and it's not always easy to separate players accordingly. In 2023, my top eight players are relatively defined, meaning I have a level of confidence in their ranking and potential production at the next level, almost regardless of drafted situation. As is always the case, it's the running back position that tends to rise or fall in relation to other positions following the draft.
The 'glue' of each draft is usually found in its wide receivers and in 2023, it's a thin group outside of the first round. This year's running back class is far more intriguing with good size up and down my rankings. There's going to be second and third-round rookie draft value this year. While I'm not fond of rookie tight ends, this may be the best class at the position in 10-15 years. Don't overdraft and let players come to you, especially into the third round.
Following are my 36 ranked rookies and my currently assigned tiers. For an expanded listing, be sure to check out all DLF's rookie rankings here.
Rookie Rankings & Tiers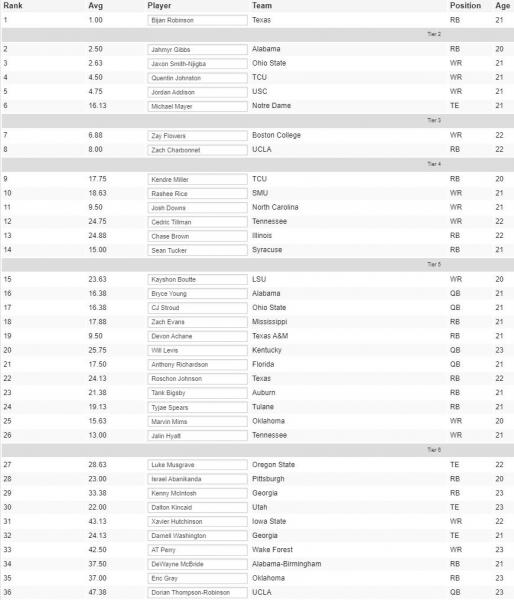 When surveying my current rankings and tiers, a few things stand out.
Working through Tier 3, I'd like to see more depth than eight players, but we don't have it this year. That's not to say players beyond 1.08 should be faded, just that there's more variability and less visibility than I normally see. This increases risk-on elements for selections beginning at selection 1.09, but also suggests a greater likelihood of a good player slipping in value due to NFL drafted situation, it happens every year. This is what I always look for as my drafts enter the last picks of the first round.
Part of the issue we have in 2023 is that many of the running backs chose to run limited, or no, drills during the Combine. Backs such as Kendre Miller, Sean Tucker, Tyjae Spears, Zach Evans, and Israel Abanikanda to name a few, either didn't participate at all or in a limited fashion. This creates uncertainty in ranking and tier placement in this period between the combine and the NFL Draft.
Quarterbacks
We still have clearly four top quarterbacks and all others will be distant selections. Don't worry superflex players, I've got you covered here with a look at where these four currently place in my rankings: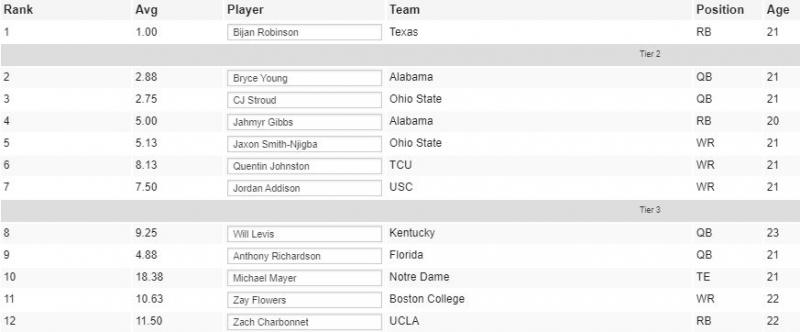 The hardest placement is with the ultra-intriguing Anthony Richardson. He blew up the combine with his 40 (4.43), vertical jump (40.5"), and broad jump (10'9") while displaying a huge arm. He sits atop a list of five past quarterbacks in terms of athleticism scores at the combine. So where's the issue? The other five names are Robert Griffin, Tyree Jackson, Trevor Knight, and Tyrod Taylor. You see the issue here.
In all likelihood, Richardson has moved up and will be selected ahead of Will Levis in dynasty. A swing for the fence isn't bad if you're looking for a developmental name behind two quality starters in superflex or in the second round of 1QB drafts behind an already established name.
C.J. Stroud and Bryce Young are now neck and neck after Young elected not to work out but weighed in at 204 lbs. I fully suspect much of this weight was added via fluids which could have impacted his on-field performance. It will be interesting if he elects to measure during Alabama's pro day. Stroud could still easily be the first-overall quarterback selected due to what many have called the best combine performance by a rookie quarterback ever. It's close, very close.
Running Backs
It's a very deep class without a lot of separation between RB2 and RB10. Most have good size and show enough on tape to be intriguing. There's going to be value here into the late second round.
Jahmyr Gibbs is undersized at 199 lbs. but he's the easy selection after Robinson is off the board. I also believe Kendre Miller and Zach Charbonnet are underrated. Chase Brown showed well and is rising. I was disappointed to not see Tucker at the combine and I've dropped his ranking. Like Pierre Strong in 2022, he could drop further in both rookie drafts and the NFL Draft.
Zach Evans also didn't perform and Devon Achane continues to fall on my list due to size. I want to like Evans more than I do following each tape session. He just doesn't show well enough to raise him in my rankings. My riser in this position is Roschon Johnson. I expect he'll rise again on my list, most likely into the top 18. He's built for the NFL, was stuck in the shadow of the NFL but has three-down potential.
Again, there's going to be value here into the late second round so don't feel the need to aggressively trade up to target a specific player unless there's a defined reason to do so. Let your rookie draft come to you following the NFL Draft.
Wide Receiver
It's a very thin group after the top three, expanding to five with the inclusion of Zay Flowers and Josh Downs. I'm not a huge fan of Downs though he'll have a role in the NFL and many NFL pundits are high on him. I always consider the fact I could be wrong in my assessment, but I still stick to my own research and rankings.
I'm inclined to eventually move Cedric Tillman above Downs but have more tape review to complete before I can make that move. Kayshon Boutte is falling and could fall further leading up to the draft.
After those names, I don't see enough intrigue with Marvin Mims, Jalin Hyatt, Xavier Hutchinson, etc. to target any particular name. It's a poor draft if you need help at the position. I would strongly urge you to consider trading out, capitalizing on post-combine draft pick inflation if you are looking for a receiver in the second round of rookie drafts. Explore your options here.
Tight End
As mentioned previously, this is the strongest class at the position in potentially 15 years.
Michael Mayer is a legitimate threat though not ultra-dynamic. Some have predicted up to four tight ends in the NFL Draft's first round, but I think we see two. Luke Musgrave or Dalton Kincaid could be back-end selections with the massive Darnell Washington potentially being a surprise TE2 selection. I'll admit, he looked much more fluid and less stiff at the combine than he does on tape. He'll be a true "Y" player but that doesn't preclude fantasy production.
Luke Musgrave is the intriguing option here due to his performance, but he has multiple injury flags waving.
Summary
Following the combine, I'm sticking with my original assessment and suggestion for a strategy with what we know so far.
The 1.01 is locked in with Bijan Robinson. It's as in-stone as any 1.01 we've seen in the past. At 1.02, if you have a need at running back, your best bet is to trade out of the pick altogether or risk a selection of Jahmyr Gibbs. Drafted situation could be a problem here. Beyond Gibbs, do not force any selection at running back.
The pivot point of the first round remains at selection 1.06, where Michael Mayer will begin to enter consideration. His potential selection will be contested by Zay Flowers, Josh Downs, and Zach Charbonnet based on what I see now. With need at receiver, I'm trading back to 1.05 and taking the player who falls. I don't possess the confidence in any name enough to pound the table between the top three.
If I'm rebuilding or looking for draft pick assets, I'm trading out of picks 1.02 through 1.05, back to 1.06 to 2.02, to capitalize on players slipping during the rookie draft. This is also a fine year to be looking at trading out of the first round altogether in return for "known production" players, letting other coaches take the risk of selecting. Don't force trades here, explore instead.
If you have need at tight end, you have options into the third round and it's a good setup. Stand pat. The top four tight ends in this class will be selected over the first three rounds of rookie drafts.

Hope you enjoyed this look at my post-combine rookie rankings, tiers, and commentary. Players are sure to move as I perform more reviews so stay tuned!
Give me a follow on Twitter (@DLF_Jeff) and let me know your thoughts on this list. Be sure to check back as I adjust these ranks as this offseason progresses leading up to the draft.
As always, be happy, be well and, please, be good to each other!