2023 Post-Combine Dynasty Rookie Mock Draft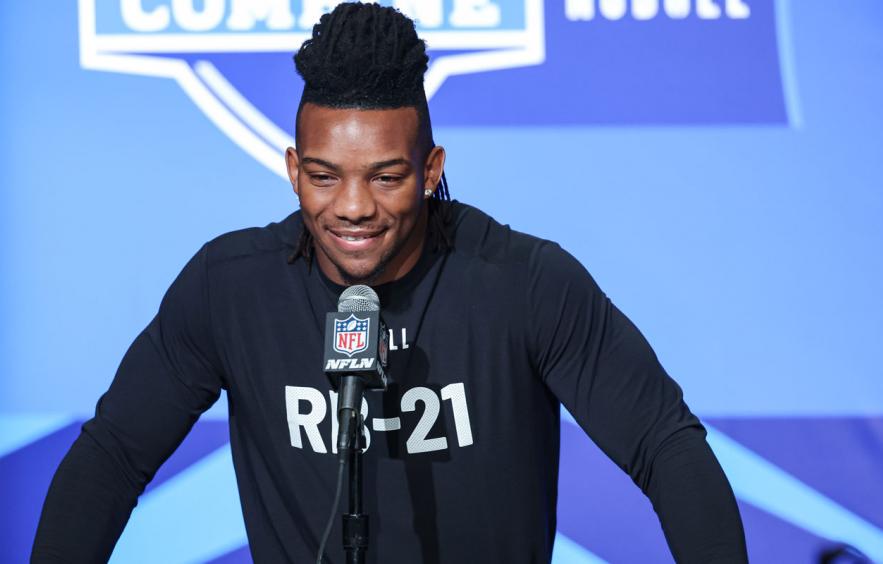 Michael Hickey/Getty Images
We all have our preconceived notions as to where players should be valued and what to expect early in the year in dynasty leagues. Analyzing opinions helps us prepare for the rookie draft.
Prior mocks have generated a starting point for most of us. Now that the combine is over and we've had time to process the results, it's time for us to go through the data and re-think our opinions as to where rookies should be valued. Who are the movers and shakers? Who are your new players to target with your rookie picks?
The following is a two-round composite mock draft for a 12-team PPR single-quarterback league. Each player mentioned will be compared with mock drafts from MyFantasyLeague, followed by tags to help you see the changes in player value over that time and my opinion on that player's position in the mock.
If you like what you see, follow me on Twitter @MikeEHavens. I don't post often, but when I do I try to make it as insightful and profound as possible.
---
Dynasty Rankings: 4for4 Top 250 | 4for4 Top 250 Superflex | DLF 2023 Dynasty Rookies | DLF Dynasty Cornerstone Rankings | 2023 Rookie Superflex | Dynasty IDP Rankings | Dynasty Rookie Locks & Sleepers
---
Round 1
1.01
Bijan Robinson

, RB Texas – (Previously 1.01: Unchanged)

This is unlikely to change barring a headline-grabbing setback of some kind. Robinson has been tagged as the top pick in dynasty drafts since last year, and no other rookie between now and Draft Day is likely to challenge this position.
1.02
Jaxon Smith-Njigba

, WR Ohio State – (Previously 1.02: Unchanged)

It's not often you see a rookie who barely played due to injury vault toward the top of the draft chart, but that's exactly what Smith-Njigba has done with his head-turning performance at the combine. There are injury concerns, but his potential alone gives him a nudge above the rest of the field.
1.03
Jahmyr Gibbs

, RB Alabama – (Previously 1.03: Unchanged)

All Alabama does is make running backs. Over the past seven years, we've had Derrick Henry, Damien Harris, and Najee Harris come out of Alabama. However, this time around we're getting a smaller package so he's not going to mow people over. He's quicker than the usual products, and his skills jump out at you.
1.04
Jordan Addison

, WR USC – (Previously 1.04: Unchanged)

We've seen what polished route-runners can do in this league. Addison is a smaller guy so he'll need to go to a team that utilizes quick-passing offense to maintain his value. I question taking Addison this high, however, given his subpar junior season and combine numbers that didn't seem to match his tape.
1.05
Quentin Johnston

, WR TCU – (Previously 1.05: Unchanged)

Johnston only had one decent season, and with virtually no metrics to compare it to by declining a full workout at the combine, one can't help but wonder if he's hiding something. Still, the tape looks great so why risk devaluing his product? I understand his choice, I just wish I had more to go on.
1.06
Zach Charbonnet

, RB UCLA – (Previously 1.06: Unchanged)

For a big guy, Charbonnet looked quick and fast and that got a lot of people excited. I like him too, but the sixth spot in the draft is too rich. There are other backs in this draft you can select later on, so passing for the next best wide receiver or trading back would be my choice if the first five listed here go off the board.
1.07
Zay Flowers

, WR Boston College – (Previously 1.09: Rising)

Similar to Jordan Addison, Flowers is fast but small. He seems to be able to grab anything in his radius, which would be excellent for any less-than-accurate quarterback on a quick passing offense. The NFL Draft will greatly dictate his value.
1.08
Josh Downs

, WR North Carolina – (Previously 1.10: Rising)

It's only fitting to see Downs in this spot directly after Zay Flowers due to the same speed and similar build. These two guys may swap spots here and there as we inch closer to Draft Day.
1.09
Jalin Hyatt

, WR Tennessee – (Previously 1.11: Rising)

By now you should be noticing the switch from tall and strong wide receivers to smaller and quicker route runners. Hyatt is the fourth such wide receiver on this list. His blazing speed and incredible broad jump (11' 3") impressed scouts enough to move him up on everyone's board.
1.10
Anthony Richardson

, QB Florida – (Previously 2.10: Rising)

Perhaps the most ridiculous rise in value came from a Florida kid who dazzled everyone in attendance at the Combine. I agree that it was an impressive showing, but combines aren't supposed to propel players this much. The purpose of the combine is to support what we see on film and get measurements in a controlled environment. I encourage everyone to pump the brakes on this kid.
1.11
Tyjae Spears

, RB Tulane – (Previously 2.05: Rising)

It's a weird jump for a guy who didn't participate in the 40-yard dash at the combine and only managed to run a 4.47 on his pro day. A jump from the mid-second round to late in the first round isn't warranted for that kind of rise. He's not one of my favorites yet, but I understand the appeal.
1.12
Devon Achane

, RB Texas A&M – (Previously 1.12: Unchanged)

Achane may have had the fastest 40 time (4.32), but he also weighed in at 188 pounds. His value is far too high for a man this size. I would advise you to look elsewhere for running back production.

Round 2
2.01
C.J. Stroud

, QB Ohio State – (Previously 2.06: Rising)

If you need a quarterback you should thank Richardson for having a great combine, because that gives you less competition to take one of the real studs in this draft with Stroud. A late first or early second will probably give you a good shot at this selection.
2.02
Kendre Miller

, RB TCU – (Previously 2.03: Rising)

Miller has great size but comes with slightly slower speed. He'll need to be drafted to a team that utilizes a power running game to be successful. If he goes to a team like Miami you should panic. If he's drafted by Tennessee you should be thrilled. Draft Day will dictate his true value.
2.03
Bryce Young

, QB Alabama – (Previously 2.07: Rising)

Rookie quarterbacks always seem to increase in value as Draft Day approaches. I wouldn't reach for a quarterback, but if one such as Young fell in my lap later in the draft, I'd happily pull the trigger.
2.04
Kayshon Boutte

, WR LSU – (Previously 1.08: Falling)

This was one of the worst Combine performances of 2023, weighing 10 pounds under expectation and performing at or below average in all categories. That does not bode well for Boutte, hence the drop in value. I usually avoid players like this, and I almost never regret it.
2.05
Sean Tucker

, RB Syracuse – (Previously 2.01: Falling)

Tucker wasn't one of my standout running backs, to begin with, and his value further dropped after he was medically red-flagged at the Combine. That prevented him from participating in any workouts altogether. He also did not participate in his team's pro day due to the same condition. This could be serious. Keep an eye on it here, as you're either getting a great or terrible value. A true lottery pick.
2.06
Dalton Kincaid

, TE Utah – (Previously 2.12: Rising)

In perhaps the most confusing risers of the bunch, Dalton Kincaid finds himself jumping up six spots despite the fact that he did not perform during the Combine or his pro day, by choice. With 70 catches, 890 yards, and 8 touchdowns on his resume as a junior, he's still projected to be a late day one or early day two pick.
2.07
Roschon Johnson

, RB Texas – (Previously 2.08: Falling)

One of my favorite picks in the draft is Johnson, the man who patiently waited for reps behind Bijan Robinson and made them count when given a chance. Anything in the mid-to-late second round is a steal for this kid. His Combine performance wasn't amazing, but it matched his tape, and that's all I ever wanted.
2.08
Michael Mayer

, TE Notre Dame – (Previously 2.02: Falling)

Mayer weighed in 16 pounds lighter than expected, then underperformed in all categories at the Combine. This is not looking good. There's no point in taking a tight end this early anyway when there's value at running back and wide receiver still to be had.
2.09
Marvin Mims

, WR Oklahoma – (Previously 2.11: Rising)

Let the stature of shorter wide receivers continue! Mims turned in a solid performance at the combine which matched his ability to create explosive plays that we saw on tape. The difference between Mims and Hyatt at 1.09 shouldn't be this wide. I smell a value.
2.10
Zach Evans

, RB Mississippi – (Previously 1.07: Falling)

Evans was a bubble prospect, to begin with, so missing the Combine activities with a hamstring injury is only going to reduce his value. He also weighed in at 13 pounds under expectation. You'll need to be careful if you're considering this pick.
2.11
Rashee Rice

, WR SMU – (Previously 2.09: Falling)

Rice turned in a solid combine, and I fully expected his value to increase. The fact that he dropped a few spots is mind-boggling. The day he's drafted is the day his value will go back up. A mid-second round price would still be great value.
2.12
Tank Bigsby

, RB Auburn – (Previously 2.04: Falling)

You're not getting the razzle-dazzle from Tank Bigsby that you can get from other running backs. He had a productive career at Auburn, but it was clear to me that he's not a speed back with elite quickness, so lower Combine numbers weren't a negative for me. If he goes to the right team, he'll be just fine.
The Bottom Line
The NFL Draft will be the ultimate barometer of a player's true value, but for now, it will be mocks like these that can help you assess which players could be available in your rookie drafts. Try not to fall in love with just one guy. Make a list of players you'd like to acquire, then sit back and relax as those players eventually fall to you. It will keep you from trading away too much to move up in the draft.
If you're a DLF subscriber, keep an eye out for my rookie running back series, which should be starting in a few weeks. I'll go into great detail with every back, and give you my top value-pick of the bunch. Hint: He's not listed above. Stay tuned!