Round by Round Locks & Sleepers for 2023 Dynasty Rookie Drafts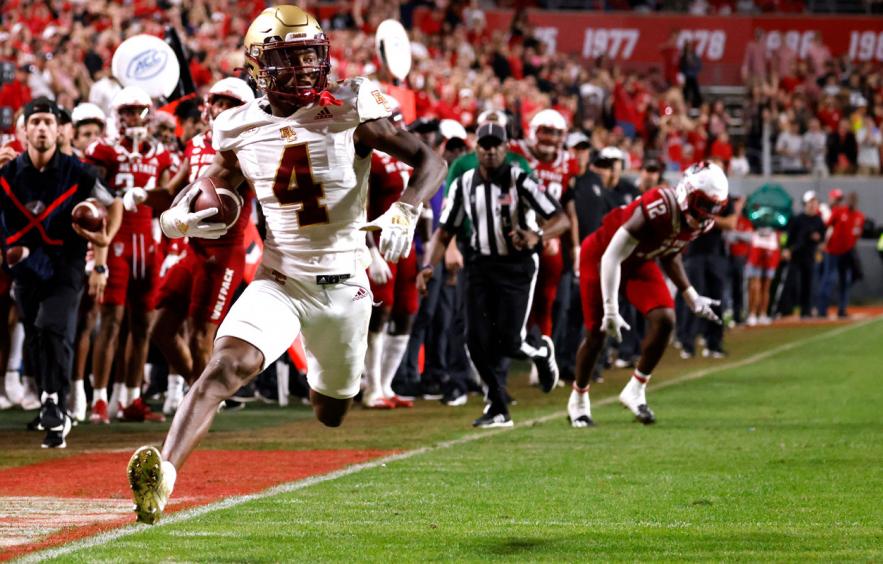 Lance King/Getty Images
In this period between the NFL Combine and the first selection in the NFL Draft, dynasty coaches are pushing in their chips to position themselves for their rookie drafts which usually begin in early May. It's an exciting time!
If you've been following my work here on 4for4.com, you are already up to speed with my thoughts and strategy for the upcoming dynasty rookie drafts which will be here before we know it. If you're not familiar with my work, it's a great time to get caught up here. You can also head over to Dynasty League Football for anything and everything related to the dynasty format.
Most dynasty rookie drafts are three or four rounds, many with interspersed NFL veterans also available for drafting if available. With such a deep player pool, it's no wonder many dynasty coaches find themselves out of touch with available players after the second round. While we're all familiar with the big names in each draft, that may not be true beyond the first 20-25 players in many cases. It's important to assemble your rankings and have draft targets for each round at hand, especially if you have only minutes to select.
---
Dynasty Rankings: 4for4 Top 250 | 4for4 Top 250 Superflex | DLF 2023 Dynasty Rookies | DLF Dynasty Cornerstone Rankings | 2023 Rookie Superflex | Dynasty IDP Rankings |
---
Following is a list of those players who I believe are a lock to be drafted in each round and should serve as a guaranteed selection if they fall to that round. Going beyond this "lock," I'm also giving you a sleeper who presents upside but could slip to the back half of each round. In this way, you'll have a player you hope to select when you're on the clock, and a fallback option as well.
Drafted situation for players can be a huge determinant in early-career success and, while it's always difficult to perform these types of exercises prior to the NFL Draft, many players project well to the next level even without knowing their drafted situation. Talent rules all, but variables like quarterback and coach quality can greatly impact a player's early-career production potential. And those early years for rookies are extremely important.
Let's get to the players!
Round 1
Lock:
Jaxon Smith-Njigba

, WR

The easy choice here would be to use Bijan Robinson as my lock but he is so locked into the 1.01 draft slot that there's little chance he slips to 1.02. Jaxon Smith-Njigba (JSN) had a terribly disappointing 2022 campaign due to a nagging hamstring injury, and he didn't run the 40 during the NFL Combine. That said, he posted elite agility numbers in the 3-cone and 20-yard shuttle drills and has solidified himself as a top receiver in this class.

JSN is an even-odds chance of being the first receiver off the board versus Quentin Johnston in the NFL Draft. Both profile well to the next level but for different reasons. JSN isn't a speed prospect but he's arguably the top route-runner in this class and is very polished. He's now the WR1 on DLF's rookie rankings.
Sleeper:
Zay Flowers

, WR

This is a deep running back class such that good backs will fall to dynasty's second round while some push into the bottom of the first round. This fact could cause the diminutive Zay Flowers to drop late into the first and, in some drafts, even to the top of the second round. If he slips anywhere close to 1.12, I'll be buying with both fists.

Some prefer Josh Downs over Flowers but I don't think it's that close. Flowers gained 13 pounds of muscle and still ran a 4.42 40-yard dash. While only 5'9", his 182 lbs. showed well and his route tree speaks for itself. He could be a bit of a "fit" (similar to Jalen Reagor) selection during the NFL Draft, which provides a risk-on element, but we'll know more following the NFL Draft.
Round 2
Lock:
Kendre Miller

, RB

My original choice was Zach Charbonnet with this selection but he did enough during the NFL Combine to push into the first round of rookie drafts. Kendre Miller will likely slip to the second round and for teams needing running back help, he profiles well to the next level. We will need to wait until TCU's pro day before seeing his long speed, but he's built for the NFL at 5'11/215 lbs., he's a gritty runner and I think he has more upside than currently billed.
Sleeper:
Cedric Tillman

, WR

Tillman continues to fly below the radar and his 4.54 40-time was largely lost among faster times from other rookie performers. At 6'3/213 lbs., injuries curtailed his senior season but that could work in your favor as he continues to slip late into the second round of rookie mock drafts. He's not a speed or agility freak but his game is a match for an "X" role at the next level. If he slips into the back half of the second round in rookie drafts, he's an easy selection for ceiling. I'm hoping for a selection by the Chargers or Steelers.

Round 3
Lock:
Roschon Johnson

, RB

Johnson existed in the shadow of Bijan Robinson and didn't wow with a 4.58 40-time, but speed and elusiveness are not his calling cards. He's a physical, downhill, and dependable back who takes care of the football can operate across all three downs, and has better agility than given credit for at 6'/219 lbs. The NFL is elevating the production of backs with his profile and if he slips to round three in dynasty rookie drafts, he'll be an easy selection.
Sleeper:
Will Levis

, QB

Levis continues to slip as all the buzz centers on Bryce Young, C.J. Stroud, and Anthony Richardson. There's little way he's selected in the first two rounds of 1QB formats and there's a good chance he slips late into the third round. Superflex players take note, Will Levis is beginning to slide in this format as well and it's not out of the question he dips into the top of the second round. He possesses an effortless big arm, enough mobility to escape the pocket, and the prototypical size (6'4/229) desired in the NFL. If you have need for a developmental quarterback, Levis is a name to track as the NFL Draft unfolds.
Round 4
Lock:
A.T. Perry

, WR

Perry is starting to percolate higher as the dynasty community begins to understand he had a very good combine performance. Measuring over 6'3" at 198 lbs., Perry has the size that most of this year's class doesn't. The lighter weight helped him turn in a 4.47 40-time as well. Two seasons at Wake Forest eclipsing 1,000 yards with a total of 26 touchdowns finds him rising on draft boards.
Sleeper:
Jayden Reed

, WR

Reed is a flexible receiver who can play across the formation at the next level, ran a 4.45 5'11/187 lbs., and continues to climb on draft boards. When surveying rumors and scouting notes, Reed's name continues to appear. He plays at good speed off his stem and possesses enough elusiveness following the reception to churn out yardage. While he doesn't receive high marks for agility or hips, there's enough present to develop into a receiver similar to Diontae Johnson. He needs to improve his focus to reduce drops. Reed is almost certainly going to be an afterthought during dynasty rookie drafts but he's a great late-round sleeper, especially should he find his way to a notable quarterback situation.

Hope you enjoyed this look at two targets within each round of dynasty rookie drafts. My player rankings are sure to move continually as we head toward the NFL Draft so stay tuned.

Give me a follow on Twitter (@DLF_Jeff) and let me know your thoughts on this list. Be sure to check back as I adjust these ranks as this offseason progresses leading up to the draft.

As always, be happy, be well and, please, be good to each other!