Fantasy Football Week 17 Recap: 14 Things You Need To Know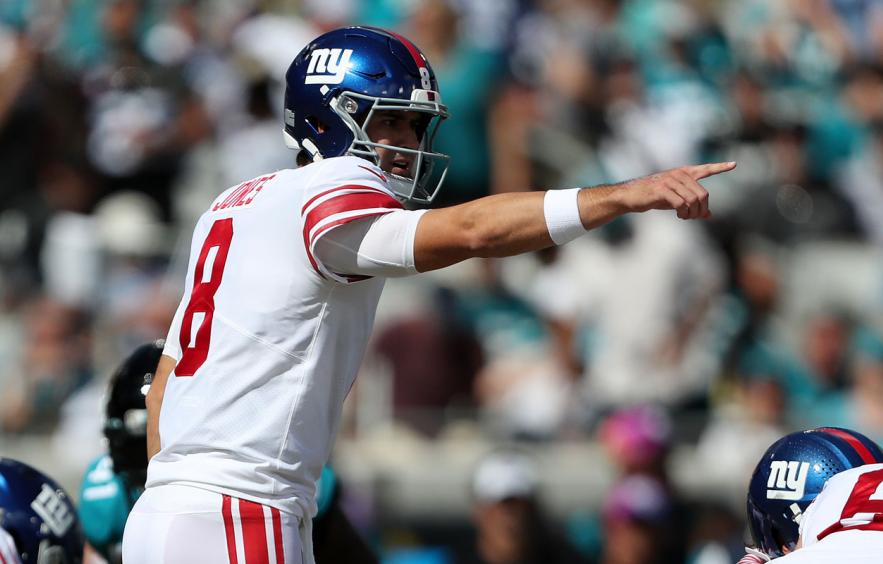 Courteny Culbreath/Getty Images
Week 17 of the NFL season was championship week for most fantasy leagues. This time of year you just hope the stars that carried you this far have a little bit more magic in them. Instead, New Year's Day brought us several surprise performers, some of who had not had a decent fantasy performance in weeks. It served as a reminder that nothing is ever certain in fantasy football.
Bright Stars
Mike Evans was fantasy's biggest star in Week 17. It just makes you wonder where he has been. Held without a touchdown since Week 4 against Kansas City, Evans exploded for three touchdown grabs on Sunday. He hauled in 10-of-12 targets for an amazing 207 yards. An oft-prolific fantasy scorer over the past nine seasons, Evans set a career-high with 48.7 points in PPR scoring.
Mike Evans is the first Buccaneer ever to record 200 receiving yards and three touchdowns in a single game.

— Scott Smith (@ScottSBucs) January 1, 2023
Daniel Jones posted his highest fantasy total of the season. Jones was unlikely to be in any championship lineups on Sunday when he accounted for four touchdowns against the Indianapolis Colts. He threw for 177 passing yards and a pair of passing scores. Jones also led the Giants in rushing gaining 91 yards on 11 carries with two trips to the end zone.
Austin Ekeler promised big and delivered for fantasy managers. Ekeler took to Twitter to pledge to score crucial fantasy points in championship week. He was not bluffing. Ekeler rushed for 122 yards on 10 carries. He twice reached the end zone including a 72-yard scamper in the second quarter. Ekeler added 39 receiving yards catching all four of his targets. It was his third 30+ point performance in PPR scoring.
Davante Adams ended his fantasy season on a high note. In the first game since Derek Carr's demotion, Adams made a frequent target for the new quarterback. Adams saw 11 targets and brought down seven of them. He tallied 153 yards and recorded two receiving touchdowns. Like Ekeler, Adams posted 30+ PPR points for the third time this season.
D'Andre Swift peaked in the championship. He made an impact on the ground and through the air. Swift ran the ball 11 times for 78 yards with an end zone visit. He caught each of his four targets resulting in 39 yards and another score. It was his first multi-touchdown game of the year.
Dim Stars
Trevor Lawrence did not show up for fantasy managers. In his most disappointing fantasy outcome of the season, Lawrence threw for just 152 yards. He also tossed an interception. With two yards rushing, he did no damage with his feet. If he was in any championship lineups, things probably did not turn out well.
Kirk Cousins abruptly ended his hot streak. After three consecutive weeks of 24 or more fantasy points, Cousins had become something of a playoff hero. The ride stalled in Lambeau Field. Cousins turned the ball over four times with three interceptions and a lost fumble. He passed for one touchdown and ran for 39 yards to partially salvage the day.
David Montgomery saw limited use in an excellent matchup. Against a porous Lions' defense, the Bears scored on their first drive and then not again. Montgomery earned six carries and took them for 24 yards. He caught two of three targets for 12 yards.
Justin Jefferson saved his worst for last. In a championship week he likely carried many teams to, fantasy's top receiver bombed. Despite being targeted five times, Jefferson had a lone catch for 15 yards. He had been one of the most consistent fantasy performers throughout the year.
DK Metcalf collapsed against a tough Jets defense. He made one reception for three yards. Quarterback Geno Smith targeted him five times, but the two were unable to connect more than once.
Rising Stars?
Trey McBride had his best game yet. The rookie tight end earned double-digit targets for the first time with 10. He caught seven passes for 78 yards and a sliding touchdown early in the second quarter. McBride figures to see a rise in value over the off-season.
Jarrett Stidham showed well in his first career start. Stidham began a string of at least two games as the Las Vegas Raiders' starting quarterback with aplomb. He threw for 355 yards and three touchdowns against a strong San Francisco defense. Stidham churned out 34 yards on the ground. He did throw two interceptions on the day.
Richie James is on a roll. For the third time in four weeks, James caught at least seven passes. This time, he converted the seven catches in 78 yards. James added a receiving score, his fourth in seven weeks.
Brock Purdy continued his success. For fantasy managers who like to stream the quarterback position, Purdy was a breath of fresh air. Scoring no fewer than 16 points in any of his four starts, Purdy has provided borderline QB1 numbers each week.
Jarrett Stidham and Brock Purdy going toe to toe as playmakers.
Just like we all expected at the start of the season.

— Stephania Bell (@Stephania_ESPN) January 1, 2023