O-Line Rankings and Matchups to Exploit: Week 13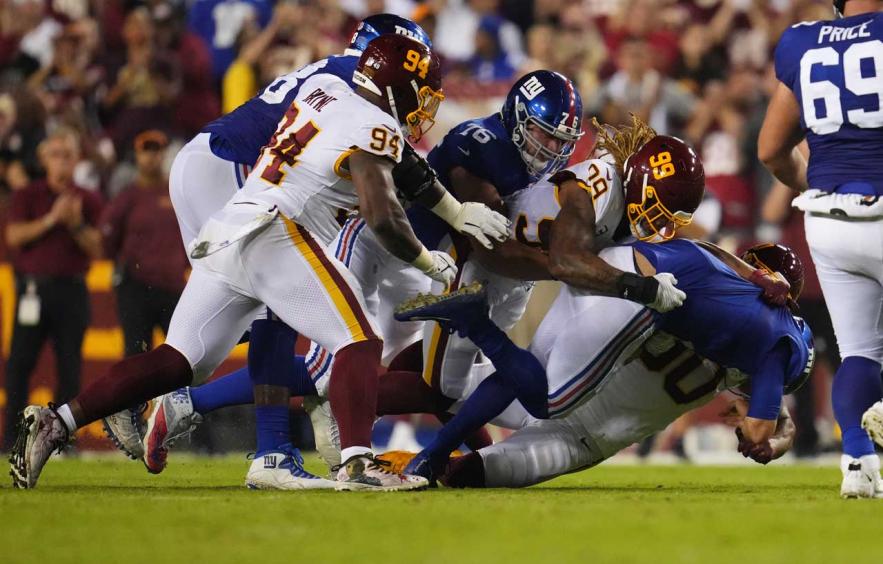 Cooper Neill/Getty Images
Evaluating offensive line play regarding its effect on fantasy football output has been a stone unturned throughout our game within a game. Here at 4for4, we're dedicated to looking at fantasy pieces from all angles, and that includes the positive and negative impact an offensive line has on that team's fantasy assets.
Below I'm going to be digging into specific weekly matchups between offensive lines and the opposing defense's aFPA —one of the many useful tools available to us here at 4for4. Many sites publish raw fantasy points allowed by position, but 4for4 goes a step further and adjusts those numbers for a defense's relative year-to-date schedule strength. These numbers will continue to strengthen through more data points as the season progresses and when compared to a team's advantages within the trenches will expose fantasy pieces we may not have otherwise considered.
---
Editor's note: Check out the complete set of Week 13 rankings here.
---
Let's begin by diving into the passing game to see what o-line/defense match-ups we can exploit.
Favorable Quarterback Matchups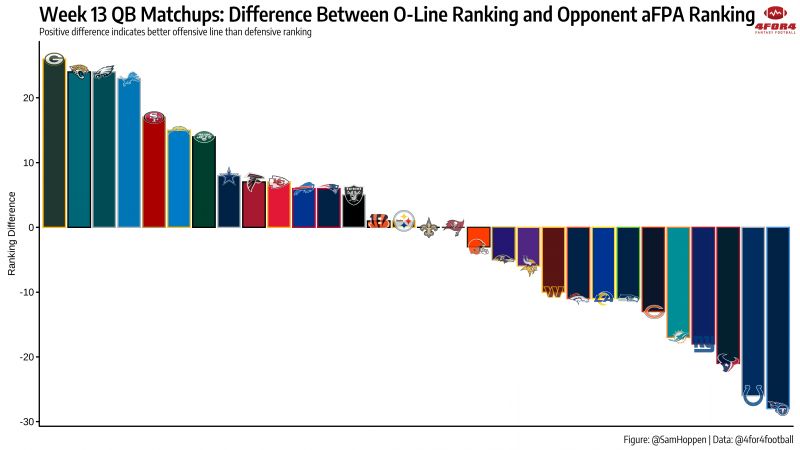 Packers

@

Bears

We're going to operate under the assumption that Aaron Rodgers plays in Week 13; the only issue is, this matchup might be so good that they end up plugging Jordan Love in, which would clearly limit Rodgers' ceiling against one of the worst pass rushes in the league. The Bears' defense currently ranks 28th in adjusted sack rate, 31st in pressure rate, and 31st in DVOA, allowing opposing quarterbacks to operate with all the time they need. This could greatly benefit one Christian Watson, who leads the league in average depth of target since his Week 10 coming-out party, catching 12 of his 20 targets for 265 and six touchdowns. Though the scores could fall off at any moment, his 18.6 aDOT over that span gives us a peek into where on the field the team would like to use him, and that should match well against this giving defense.
Jaguars

@

Lions

Trevor Lawrence has a prime opportunity to build on the best quarter of his career after he led three separate scoring drives in the final minutes of an upset win over the Ravens last week. He and his offensive line will get a much softer test in Week 13, against a Lions team that doesn't typically offer much in the realm of quarterback pressure outside of Aidan Hutchison, and even he was blanked last week. The Jaguars' o-line has a clear strength and weakness, ranking third in adjusted sack rate (5.9%), but 29th in adjusted line yards (4.08); alas, they could be set up for a running-game reprieve, as Detroit's defense allows a 31st-ranked 5.2 yards per carry while teams have scored a league-high 18 touchdowns against them.

The Lions' minuscule pass rush has allowed teams to tee off on them in the passing game, where their pass EPA per play, explosive pass%, and play success% all rank in the bottom four of the league. Trevor Lawrence, Christian Kirk, and yes, even Zay Jones should be played with confidence this week.
Jets

@

Vikings

The Minnesota Vikings have been a true test in the age-old question of whether a good pass rush or a good secondary is more important to stop the pass and mark this down as a data point in favor of the secondary. Even with quarterback maulers like Za'Darius Smith and Danielle Hunter screaming off the edge all season long, their defense has allowed the most schedule-adjusted fantasy points to opposing wide receivers while ranking 30th in both completion% (69.9%) and yards per attempt (9.5) when teams target WRs.

Minnesota offers a challenge to a still-developing Jets offensive line, so I believe their best course of attack will be to pick on their weak secondary by getting the ball out quickly. This could put Corey Davis back in the WR3/Flex discussion like he was when the season opened, and Tyler Conklin could get some more work over the middle of the field, making him a Week 13 streaming option.
Favorable Defensive Matchups
Seahawks

@

Rams

Per Jourdan Rodrigue of the Athletic, the Rams have started a different offensive line combination in every single game this season. Throughout the course of the year, the team has played four left tackles, four left guards, three centers, and five right guards. As such, their quarterbacks —namely, Matthew Stafford— have been terrorized, and their run game has been miserable, ranking dead last in adjusted line yards (3.91). On the other side of this Week 13 matchup, the Seahawks defense has been very suspect at times throughout the season, including giving up 40 points to the Raiders last week, but they rank fourth in takeaways (19) and a modest 15th in sacks (28), giving their fantasy D/ST a nice floor to operate with.
Commanders

@

Giants

The New York Giants have begun to come to earth as of late, going 1-3 over the last month, with that lone victory coming against a hapless Houston Texans team. Now their struggling offensive line is going to have to face a brutal Washington pass rush in back-to-back games, with only a bye week separating the savagery. While rookie Evan Neal is slated to return to action this Sunday, it's hard to say how big of a boost that will be at this point in his development; he had allowed five sacks through his first six games, including a three-sack stinker against the Cowboys in Week 3.

Not only are Neal and the rest of the line going to have to deal with Montez Sweat and Jonathan Allen, but there's also a good chance that the team rotates in Chase Young, who ended up missing last week with an illness, further delaying his return to action. The Commanders —who already pressure the quarterback at the second-highest rate in the league— have a high floor heading into Week 13 with or without Young, but become just a little more dangerous if he's active.
Favorable Running Back Matchups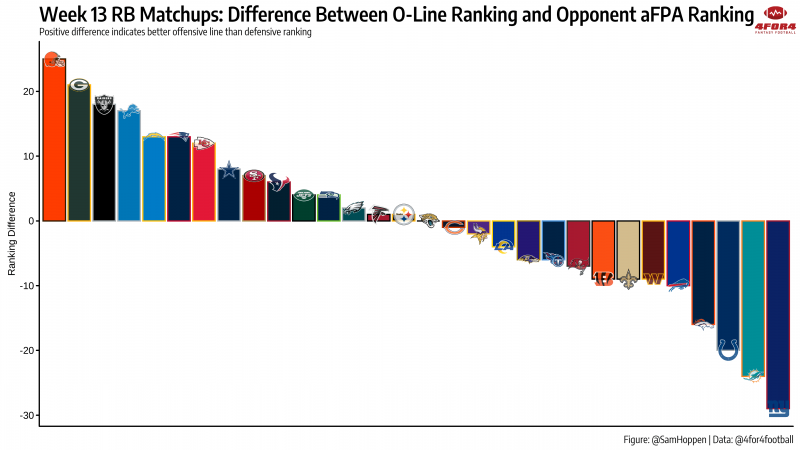 Patriots

vs.

Bills

The Buffalo Bills' defense felt like an elite unit through the first quarter of the season, but in hindsight, they were playing some offenses we didn't realize were in ruin quite yet, the Rams, Titans, and Steelers among them. Since their bye week, they have allowed 23.6 points per game and, more importantly to our exercise here, 141 rushing yards per contest. Though he's not typically considered a run-stuffing maven, losing Von Miller is not going to help their cause in any facet of the game.

This week they'll take on a Patriots team that is slated to see the return of veteran center David Andrews, who will provide a huge spark to the running game. Through the first seven weeks of the season, with a healthy Andrews, the team as a whole ranked seventh in rushing EPA per play and 11th in explosive rush%, yet have dropped to 32nd and 23rd, respectively, over the subsequent weeks. His return will help Rhamondre Stevenson crush on Thursday Night Football.
49ers

vs.

Dolphins

Through 11 games, the Miami Dolphins run defense has been middling, while most teams have been forced to take to the air to play catch-up opposite their explosive passing offense. Their 17th-ranked run defense, according to running back aFPA, will be tested often against a San Francisco team that ranks eighth in neutral-paced run rate. While the Dolphins' biggest weapon along the defensive line, Jaelan Phillips, is most likely to line up over Mike McGlinchey for much of the game, it may behoove the 49ers to pound it behind left tackle Trent Williams as often as possible.

While Christian McCaffrey is a must-start any time he's on the field, for those looking to dig deep, it would appear that the best bet to be CMC's direct backup is rookie Tyrion Davis-Price. According to beat writer Matt Barrows, he has the impression that Davis-Price will be the offensive RB2 while Jordan Mason will be better utilized in his usual special teams role. TDP would be a desperation play, but one that I would consider in at least one of my leagues where I'm very desperate.

Running Backs with Bad Matchups
As opposed to breaking down every bad match-up through the rest of the slate, here are some running backs I'm looking to avoid because of their poor offensive line and/or the strong defensive fronts they will be facing: