Week 12 Thanksgiving Single-Game NFL DFS: Top FanDuel & DraftKings Plays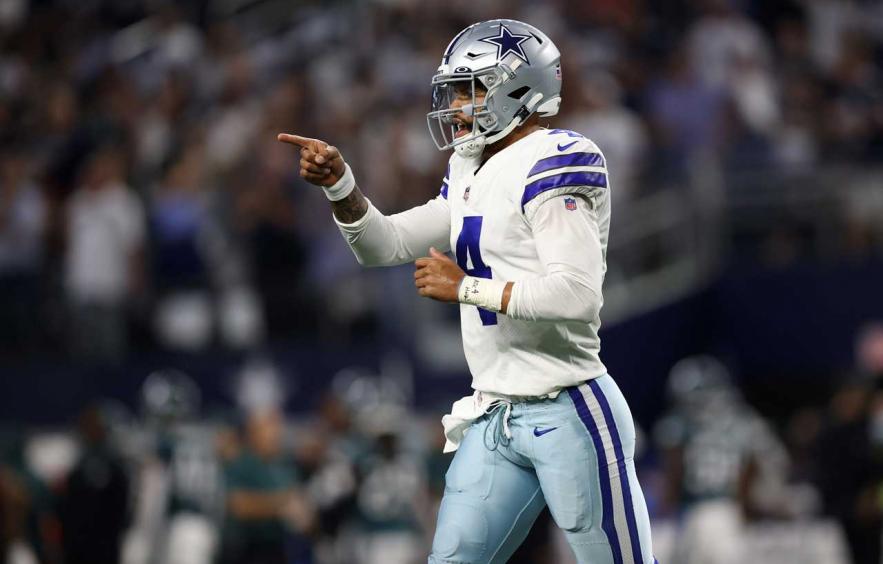 Tom Pennington/Getty Images
The turkey may have been consumed or is just about ready to come out of the oven. Whether you've enjoyed yours or are minutes away from doing so, the Dallas Cowboys will be welcoming the New York Giants to Jerry World, looking to chase Daniel Jones like a turkey looking for a pardon.
It is vital to remember that single-game slates are not simply a "max salary, play as many big names as possible, and submit" format, especially in larger tournament fields. We need to identify players that can be pieces in their offense's success, whether in the lead or trailing, as well as the players that could be focal points in a neutral game script. The ability to then take those players and identify which will succeed in the single-game format will put us in a better position to succeed as daily fantasy players.
It is not just about finishing in first place in Showdown, it is about finishing in solo first. This format is one of the easiest to chop top prize because of the smaller player pool. Therefore, being different (and correct) in roster construction is the difference between doubling your entry cost and taking down a GPP. Let's take a look at this week's important notes and players I am focusing on when building for Showdown formats on DraftKings and Fanduel.
Vegas Total and Spread
Dallas is a 10-point home favorite with an over/under of 45.5 points. The Cowboys have an implied team total of 27.75 points, while the Giants have a 17.75 implied team total.
Potential Gameflow Scenarios
The 10-point spread is less of an indictment on the Giants and more praising the Cowboys. Both teams are 7-3, but the Cowboys have outscored their opponents by 84 points, even without Dak Prescott ($16,000 FD/$11,000 DK) for five games. Since returning from his thumb injury in Week 7, Prescott has a 76% completion rate and at least 20.6 fantasy points in three of four games. That comes with an 8:3 TD/INT ratio and a ninth TD on the ground. That has boosted the values of CeeDee Lamb ($13,500 FD/$10,800 DK), Dalton Schultz ($9,000 FD/$7,000 DK), and Tony Pollard ($14,500 FD/$9,800 FD). Pollard has been especially boosted because of the injury situation surrounding Ezekiel Elliott's ($12,000 FD/$8,000 DK) knee.
After missing two games (three weeks because of a bye), Zeke returned to play 21 of 72 snaps, touching the ball 16 times (one reception) in his limited work. That may be how he is used going forward with Pollard averaging 154.67 total yards and 1.67 TDs per game Since Week 8. The Giants defense ($8,500 FD/$5,600 DK) is 9th in schedule-adjusted fantasy point allowed (aFPA) to running backs but allowed Pollard to rush for 105 yards in Week 3 and are coming off a four-TD rushing performance by the Lions Week 11.
Daniel Jones ($15,000 FD/$9,200 DK) has shown improvement this season and sits as the QB10 heading into Week 12. Not for nothing, the Giants offense has allowed the 7th-fewest schedule-adjusted fantasy points to opposing defenses, a far cry from the s-show that was the Giants offense in 2021. Brian Daboll is confirmed to be one of the better offensive minds in the NFL and has done a lot with little. Aside from Saquon Barkley ($16,500 FD/$10,400 DK), there were a lot of question marks at the offensive skill positions. Injuries have eliminated the majority of the Giants pass catchers, but the re-emergence of Darius Slayton ($11,500 FD/$7,200 DK) is further proof of Daboll's abilities.
Barkley is the key to the Giants offense, full stop. The Cowboys defense ($10,000 FD/$5,600 DK) just shut down a top three WR and top 10 RB with relative ease, and the Giants do lack a top 15 of anything if we consider Jones's full resume. If Evan Neal and Andrew Thomas can be active for the Giants, they at least stand a chance to slow down and equally beat up Cowboys defense. The difference between the Giants O-Line and Cowboys defense is that one has depth, and the other is the Giants. Multiple Cowboys injuries make New York a lot more likely to cover a double-digit spread.
Here are players to target based on various game flow scenarios:
Close, low-scoring game
Close, high-scoring game
Blowout for home team
Blowout for road team
Cheap/Unique Stacking Option
Traditional stacks such as QB/WR1 or WR2, QB/TE, and RB/DEF are stacks seen used in winning lineups. The obvious choice is not always the winning choice. Below is a cheap stack with at least one unique quality that could break the slate.
Daniel Jones

($15,000 FD/$9,200 DK)/

Lawrence Cager

($7,000 FD/$1,200 DK)/

Dalton Schultz

($9,000 FD/$7,000 DK)

As unsightly as the prices look on FanDuel, this stack opens avenues to multiple pass catchers that apply to all game scripts. The difference I like here is playing Schultz as a bring-back as opposed to CeeDee Lamb. This is also a stack that forces a fade on Saquon Barkley, a player likely to be in a lot of Cowboys Showdown onslaughts. The Cowboys have allowed running QBs to get theirs (Jones had 79 rushing yards Week 3), and if a few of the questionables sit out, Jones/Cager, and the Giants offense become a lot more viable.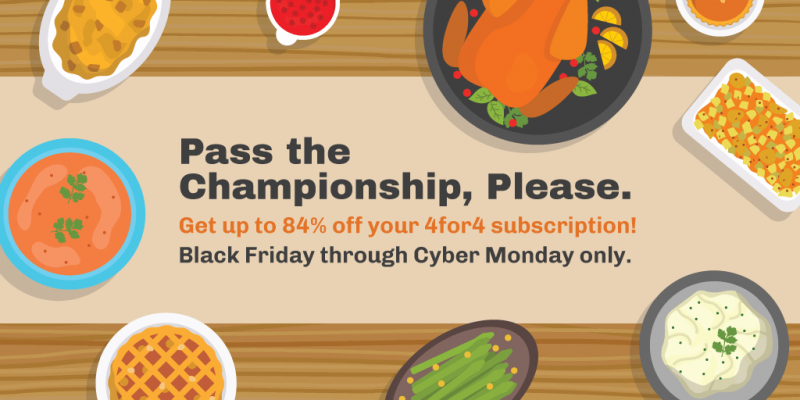 Low-Priced Volatile Players
Noah Brown

($7,500 FD/$4,400 DK)

Despite being in the mid-tier pricing range on DK, Brown is volatile. He benefits from a healthy Prescott as witnessed by his 35-yard catch Week 11, but his downside is attached to having one more TD than you or I (a rushing score, no less).
Jake Ferguson

($5,500 FD/$1,800 DK)

Ferguson has been running as the TE2 for Dallas based on snap share but is seeing a similar target share as Peyton Hendershot ($5,000 FD/$400 DK). Hendershot may see as many targets, but I'd rather take a chance on the player seeing more playing time.
Tanner Hudson

($5,000 FD/$200 DK)

Hudson has fallen behind Lawrence Cager in both snaps and targets, but had eight targets prior to Week 11's goose egg.
Marcus Johnson

($7,000 FD/$200 DK)

The loss of Wan'Dale Robinson to an ACL tear opens the door for Johnson to force his way into more snaps. He has a whopping eight snaps the past two games, but that gives him the early edge over David Sills and maybe Richie James ($9,000 FD/$5,200 DK) if he is active and at well less than 100%.
Captain/MVP Picks
Saquon Barkley

($16,500 FD/$15,600)

Despite losing touches in Week 11, Barkley still has 50 rushing attempts and three catches on six targets since New York's Week 9 bye. Usage kings stay kings, and with the NFC East arguably the best division in the NFL, both of these teams are going to do whatever it takes to win, including a monster touch share game from Barkley. Barkley also has 28 red zone rushes, top 10 in the league.
Dak Prescott

($16,000 FD/$16,500 DK)

A healthy Dak is a dangerous Dak. Prescott has three straight games with at least 20 fantasy points, and his lone dud was his first game back in Week 7. That deserves a pass as he worked back into game speed. Prescott has six legit passing options (yes Zeke is an option), and choosing one pass catcher to be your CPT/MVP with Prescott has been difficult.
CeeDee Lamb

($13,500 FD/$16,200 DK)

Adoree Jackson will not be 100% if he is active on Thanksgiving. The last thing the Giants need is another injury to overcome, and Jackson's potential absence may be the worst one this week. If Jackson is out, Lamb's CPT/MVP ownership will rise.
Darius Slayton

($11,500 FD/$10,800 DK)

Nobody expects Darius Slayton! Aside from two goose eggs in Weeks 2 and 3 when he was clearly in the team doghouse, Slayton has only had two other single-digit fantasy performances. He saw 10 targets in comeback mode last week, and if the spread holds at 10 or more, Slayton could see another double-digit target workload while offering some salary relief.
Lawrence Cager

($7,000 FD/$1,800 DK)

Two reasons for this option. 1. The Cowboys could be down multiple defensive starters and are 19th in TE aFPA, and 2. Crazy things have happened on Turkey Day in Texas. If Dallas returns the majority of their injured starters, feel free to pretend this blurb never happened.

Note: I will be in the 4for4 Discord NFL DFS channel talking Turkey Day SD for the earlier games unless the turkey I'm smoking goes full Daniel Jones on me.