How Gerald Everett's Return to L.A. Impacts Fantasy Football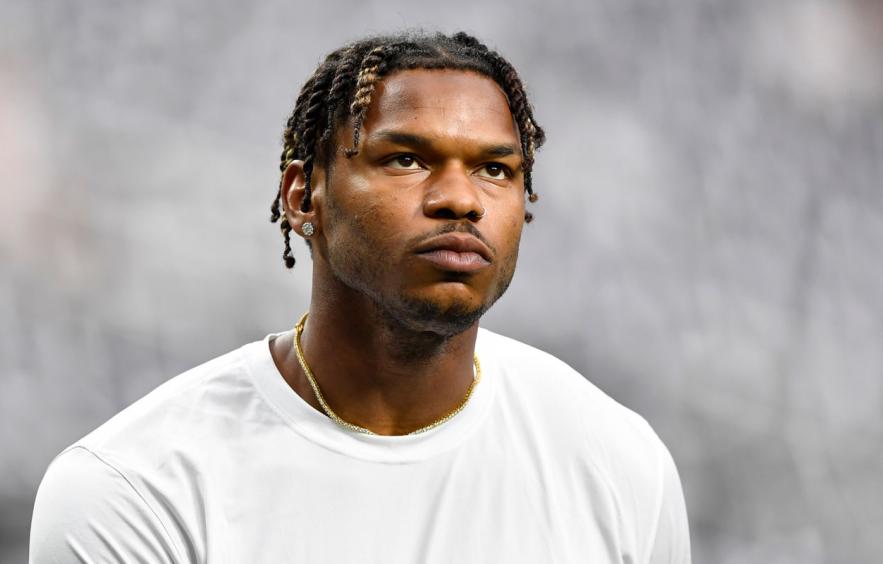 Chris Unger/Getty Images
On March 20, Gerald Everett signed a two-year, $12 million contract to return to the city that drafted him in 2017, only this time, he'll be a Charger. Everett will try to build on his career-best 2021 season in which he turned 63 targets into a 48-478-4 stat line, all four categories adding up to career highs.
---
Click here for more 2022 Player Profiles!
---
Below we will touch on his departure from the Seattle Seahawks and focus on how his arrival back in Los Angeles will influence the 2022 fantasy football season.
A Prove-It Deal for Everett Left Unproven
In 2021, after four long seasons of sharing the field with fellow tight end Tyler Higbee with the Los Angeles Rams, Gerald Everett finally had his chance to flourish as an offense's TE1. Everett's season could optimistically be described as a success, with a few hiccups in the road. Most notably missing games due to a positive COVID test and a miserable seven-yard outing in Week 10 that saw him commit three devastating turnovers; one on the opponent's five-yard line, one in the end zone, and the other on the Seahawks' 20-yard line. He finished as fantasy's TE20 in half-PPR points per game, doing his best to counter-balance what is historically a top-heavy target tree in Seattle.
Tyler Lockett

&

DK Metcalf

Combined Target Market Share

| Year | Targets | Team Market Share |
| --- | --- | --- |
| 2019 | 210 | 40.6% |
| 2020 | 260 | 46.2% |
| 2021 | 234 | 47.3% |
Even with Tyler Lockett and DK Metcalf dominating the team's market share of target distribution and sharing a tight end room with an emerging option in Will Dissly, Everett was able to eke out a 12.7% target share. Though they were sprinkled in sporadically through the season, he had six TE1 performances in his 15 games played; nearly impossible to start in traditional non-TE premium leagues, but not what is considered a wasted pick in best ball formats. No matter which way you slice it, there was a lot of production left on the field from Everett's first and only season in Seattle.
With Russell Wilson leaving town in the trade that brought Noah Fant to Seattle, there is no way of knowing if offensive coordinator Shane Waldron will use the new tight end in the same manner as the last. Fantasy managers, though, can likely expect more consistency, regardless of who is throwing Fant the ball.
Going, Going, Back, Back, to Cali
While other teams were spending between $10-$11 million a year on franchise tags and 31-year old Zach Ertz, the Los Angeles Chargers bided their time to replace veteran Jared Cook. That left them with a considerable discount to fill the position with our subject today, basically swapping out the declining 35-year old for a spry Gerald Everett (27), who out-performed the former in nearly every rate stat you can come up with.
Everett vs. Cook, 2021 Rate Stats

| Player | Catch% | Yards/Route Run (Rank) | Yards/Target | EPA/Target |
| --- | --- | --- | --- | --- |
| Gerald Everett | 76.2% (7th/39) | 1.5 (20th/39) | 7.6 (16th/39) | 0.13 (20th/39) |
| Jared Cook | 58.5% (35th/39) | 1.2 (30th/39) | 6.9 (24th/39) | -0.02 (32nd/39) |
Though Gerald Everett's fantasy ceiling in his new digs isn't likely to make him an every-week TE1 option, I do believe there is some room for a relative breakout in the Chargers offense in 2022. The largest reason is the 21.9% target rate that the tight end position received in Joe Lombardi's first year as the offensive coordinator, a rate that ranked a modest 12th in the NFL. This mark was mostly attained with Jared Cook (12.2%) —who has clearly lost a step over his 13-year career—rookie Tre McKitty (1.2%), and red zone-only threat Donald Parham (4.0%). Not only can Everett potentially usurp all of Cook's target share, but there is also reason to believe there is more in store. Much of that could come in the way of two aging veterans teetering on the edge of the age cliff.
While it's ridiculous to write off both running back Austin Ekeler (heading into his sixth year) and wide receiver Keenan Allen (heading into his 10th year), it is perfectly reasonable to assume that at least one of them could take a step back in usage during the 2022 season. Even if that presumption proves incorrect, Everett is basically a one-for-one replacement of Jared Cook in an offense that didn't make any changes in the offseason, even going as far as re-signing Mike Williams when it was long rumored that he might have been leaving L.A. before draft season.
Despite his two-game absence due to COVID in 2021, Everett has still only missed five games over his five-year NFL career, further solidifying that he could easily be the recipient of all 83 targets Jared Cook had last season. Doing basic math with Everett's rate stats would put a 2022 stat line in the 63 catch, 630-yard range for the upcoming season. That type of production would make him a borderline TE1, so it's reasonable to knock those counting stats down a peg and picture Everett as more of a TE15-TE18 with the possibility of having some explosive weeks.

Bottom Line
It may be fitting that Gerald Everett is replacing an aging Jared Cook because you don't have to squint too hard to see the former following a career path similar to the latter; passing-game specialist tight end who isn't asked to stay in for pass protection very often. Everett has an excellent chance of building on his career-highs from 2021.
Everett squeezes into a ready-made situation on one of the most explosive offenses in the league.
If the age cliff comes for either Austin Ekeler or Keenan Allen, the tight end has a chance to share an even bigger piece of the pie.
Currently ranked as 4for4's TE22, Gerald Everett's Underdog ADP is TE24, making him an excellent grab to shore up tight end depth in the 15th/16th round.