Fantasy Football Debate: Mike Evans vs. Tyreek Hill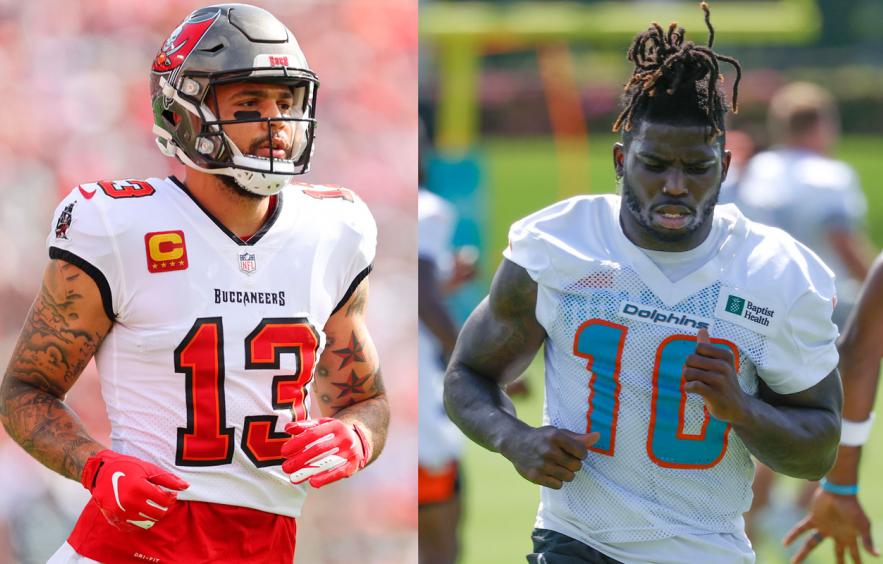 Michael Reaves & Joel Auerbach/Getty Images
Wide receivers Mike Evans and Tyreek Hill are currently being selected 16th and 21st on Underdog. In this debate, 4for4's Chris Allen will explain why he prefers Evans while Pranav Rajaram takes a stand for the Miami WR.
---
Click here for more 2022 Player Profiles!
---
The Case for
Mike Evans
Chris: I can (overly) simplify the 'Evans vs. Hill' into two easy pros for Evans.
He didn't switch teams and still catches passes from Tom Brady.
I've reduced an, albeit short, article into a tweet. So, I'll give a few more details. Evans has been a top-12 wide receiver in five of his eight seasons. Longevity, or the fact he's been in the Top 12 before, isn't a reason for assuming he'll be great in 2022. However, it's how he's played and the evolution of his game giving him the edge.
Random Highlight of the Day: #Buccaneers WR Mike Evans started off his career recording 5 seasons of at least 1,000 yards.



He posted career high 1,524 yards last season with 17.7 yards per catch. pic.twitter.com/JE06sux21K

— Dov Kleiman (@NFL_DovKleiman) June 14, 2019
His highlight reels are unreal. At 6'5"-231 lbs, his ability to blow past corners or jump cut through traffic shouldn't look so easy. Regardless, he's played the traditional X-receiver role well. And it's led to productive results. But, his archetype, the 'perimeter only' guy, loses favor in the eyes of fantasy managers.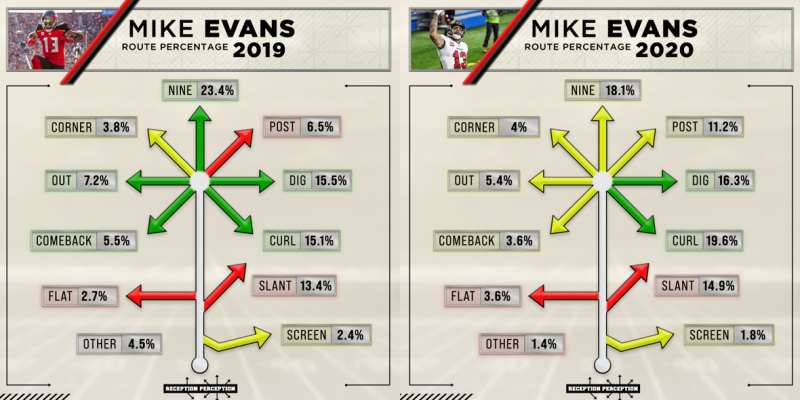 Matt Harmon's charting matches the video highlights above. We'll see some short-area attempts, but the 'Winston-Evans' deep-ball connection was fun to watch. Evans had nearly a third of Ryan Fitzpatrick's downfield passes. But elite wide receivers have a wider route tree, and their average target depth is 10 – 12 yards with more time in the slot. Evans is yet to match his peers, but there's been a shift in his on-field deployment.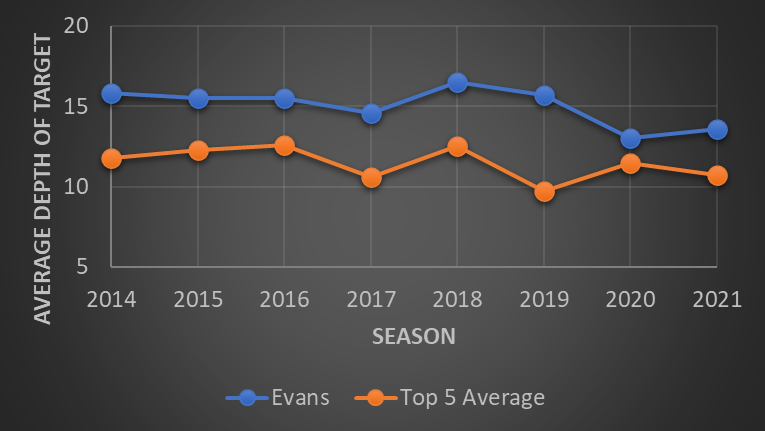 Evans's lack of short targets isn't skill-related. In fact, Mike Evans has had a greater EPA per Target from the slot than Chris Godwin over the last two seasons. To go with the efficiency, Evans has seen a significant drop in his average target depth (aDOT), bringing him closer to the wide receivers typically finishing in the top five. So, he's not just accounting for the largest share of Tampa's air yards on intermediate and deep attempts. Evans nearly matched a career-high slot rate last season at 35.8%, with 33.6% of his targets traveling five air yards or less. And, he may have less competition to start the season.
Chris Godwin is still rehabbing from his torn ACL and his absences have pushed more work towards Evans in the past.
Evans's Opportunity With and Without Godwin.

| | Baseline | w/out Godwin |
| --- | --- | --- |
| Target Share | 19.2% | 21.8% |
| Airyard Share | 36.4% | 47.4% |
| Red-zone Targets | 19.4% | 21.8% |
The Buccaneers have a projected win total of 11.5, with their closest division rival (New Orleans) at 8. They brought in Russell Gage, retained Leonard Fournette, and drafted Rachaad White. There's less pressure for Godwin's early-season return between the primary options and developing players. And, as history has shown, more opportunity shifts to Evans without Godwin on the field.
Evans is seeing a positive role change on a team that was second in pass rate over expectation last season. Plus, there's a chance he'll open the season with weaker competition for targets. I'd gladly get aggressive at his WR7 ADP to capture the early-season uptick in targets while locking in a significant share of one of the league's most efficient offenses. Hill simply doesn't have the same outlook. The quarterback comparison alone tilts the scales towards Evans and the projected run-heavy scheme also does Hill no favors. Unless you're expecting Hill to have the same after-the-catch ability as Deebo Samuel or Cooper Kupp at age 28, the choice is clearly Evans.

The Case for
Tyreek Hill
Pranav: For the first time in his NFL career, Tyreek Hill will be rocking a uniform different from the Chiefs' red and gold. The speedy wide receiver will be taking his talents to South Beach this season after the Dolphins traded five draft picks for him in April and signed him to a four-year, 120-million-dollar contract extension. Hill currently finds himself going around the back of the second round in fantasy drafts this season, often going off the board just after Mike Evans. 4for4's rankings reflect this, with Hill right behind Evans and projected just five fewer points than him.
We've all heard it before but I'll say it again: in Fantasy Football, volume is king, and Tyreek Hill is set to potentially receive the biggest target share of his career. Despite his fantasy dominance with Kansas City (Hill has been top-10 in fantasy points per game at the WR position for five straight seasons), Tyreek only led the Chiefs in targets once due to the presence of Travis Kelce. In Miami, this is bound to change. While budding star Jaylen Waddle will certainly see his fair share of the pie, Hill is the far more established receiving option and should easily be the top receiver in the offense.
The understandable knock against Hill for fantasy this season is the dropoff he will see at quarterback. Going from Patrick Mahomes, arguably the best QB in the league over the last four seasons, to Tua Tagovailoa will certainly be an adjustment. However, skeptical fantasy managers should look to Hill's 2017 season as a blueprint for his success this year. With Alex Smith under center for the Chiefs, the Cheetah still managed to rack up 1,183 receiving yards and seven touchdowns en route to being the overall WR5 in fantasy points per game. Tua will likely not be anything close to Mahomes, but it's perfectly reasonable to imagine a scenario where he takes a step up in his game and has an Alex Smith-esque season. If Tua isn't able to make a leap and struggles, he will get benched for Teddy Bridgewater, who is another player that has a playstyle comparable to Smith.
One thing that fantasy managers will likely miss out on from Hill is the big plays. With a less dynamic option at quarterback, the chances that we see the iconic "Tyreek down there somewhere" 75-yard touchdowns are greatly reduced. However, Hill should be able to make up for this lack of explosiveness with his manufactured touches. Tua ranked in the bottom-5 among QBs in average depth of target last year, and Hill should benefit from this in a big way. His craftiness and speed will allow him to take easy catches in the short game and potentially turn them into bigger gains, and he should be peppered with targets to boost his floor.
While Mike Evans is undoubtedly a fantastic player—his eight straight 1,000-yard seasons speak for themselves—his consistency concerns put him just a tick below Hill for me. Evans has always been a little touchdown-dependent for fantasy, leaving him susceptible to some stinkers: last season alone, he had weeks as the WR92, WR80, WR76, and WR71. He's also never been a big volume guy, with a career average of about 75 receptions. While Hill might not have the same overall WR1 upside as Evans does, he has the makings of being the more reliable fantasy option and should be taken before him in drafts this season.