Dameon Pierce is in the Best-Worst Spot for Fantasy Production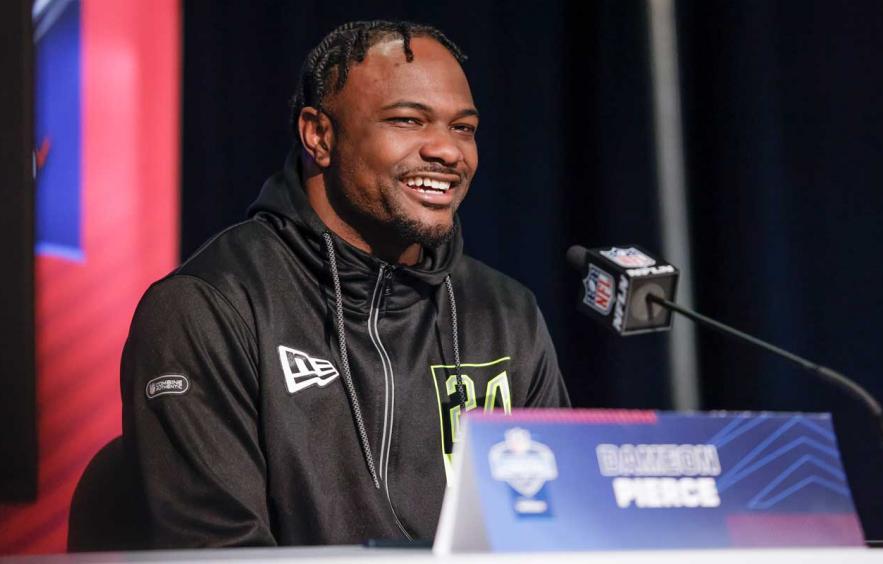 Michael Hickey/Getty Images
With the 107th pick (4.02) of the 2022 NFL Draft, the Houston Texans selected 5'10", 218-pound running back Dameon Pierce from the University of Florida. Pierce was a consistent presence within the Florida offense but never took the full workload, topping out at 106 rush attempts during 2020.
---
Click here for more 2022 Player Profiles!
---
The rookie finds himself in a loaded but uninspiring Texans backfield filled with veteran castaways; Marlon Mack, Rex Burkhead, Dare Ogunbowale, and Royce Freeman. Pierce will have to prove that he can handle and/or deserve a heightened workload at the next level before becoming the leader on this island of misfit toys, and that first step may be his involvement in the passing game. But before we dig into his year one prospects, let's take a look back at his college career to get an idea of why he went as the second pick in the fourth round of the NFL Draft.
A Handful of Touches in Gainesville
Taken from a "tread on the tires" standpoint, you can construe Dameon Pierce's lack of touches at Florida as a positive if you're that type of optimist. The fact is, Pierce was one of the least-used running backs in this entire draft class, as reflected in his 21.7% college dominator (39th-percentile) and his 1,806 career rushing yards despite being involved in the team's offense in all four of his years there. He did add 422 career receiving yards, but he topped out at 19 receptions (2021), splitting time between the backfield and special teams all the way up to and including his senior season.
When he does get the ball in his hands, Pierce runs with a bruising style and great contact balance due to his low-gravity, stocky frame. According to Sports Info Solutions numbers, Pierce ranked 14th amongst draft-eligible running backs in missed tackles per 100 touches but fourth in broken tackles per 100 touches, exemplifying where he wins in the open field; he is rarely going to juke a second-level player; he's simply going to try to run them over. This brings a high floor to his runs, as he is rarely if ever, going to get caught behind the line of scrimmage unless the play completely implodes. This is reflected in his class-leading 58% positive run%; a metric SIS uses to measure the percentage of carries that result in positive expected points added (EPA).
Pierce's running style and physical limitations also mean we are unlikely to see him hit a homerun or pull away from the defense in the open field with any sort of consistency. This isn't necessarily a bad thing; running backs come in all shapes and sizes; you just have to know what you're getting ready to see on film/what you would be putting on your fantasy team. When it comes down to it, I have to admit that it's hard for me to separate what Dameon Pierce did with the ball in his hands in college from how his coaching staff didn't seem to trust him enough to keep him on the field. Playing all four seasons and never seeing more than 106 attempts in any of them —or more than 23 backfield snaps in a single game— is leaving a bad taste in my mouth.
Houston: It Could Be Worse
As mentioned in the introduction, Pierce couldn't have landed in a better spot to potentially come in and see a lot of workload as a fourth-round selection. Marlon Mack hasn't seen 60 snaps in a season since 2019, Rex Burkhead is 32 years old, Dare Ogunbowale has never touched the ball more than 56 times in his five-year career, and Royce Freeman carried the ball 35 times after being acquired by the team in Week 11 of last year. Not only do all of these options provide minimal roadblocks for Pierce to touch the ball, but half of those guys also may not even be on the team by September.
The problem lies not in the competition for touches but rather in the offense as a whole. Though the rumored trade of Laremy Tunsil never did come to pass, this still isn't an offensive line that we want to be hitching our running backs to. The Texans' line finished in the bottom-ten (again) of 4for4's rankings and finished dead last in Football Outsiders' adjusted line yards (3.33) last season, though they did add left guard Kenon Green to the team with the 15th-overall pick in this year's draft. Though they did draft a need here, it's worth noting that Green was projected to go 12-to-15 spots later across most big boards ahead of the draft. Houston's offense faltered behind a weak line in 2021, finishing 30th in points scored and 32nd in scrimmage yards, so any boost is a positive here.
During Davis Mills' 11 starts (across two stints; Weeks 3-8 and Weeks 13-17), he targeted running backs at an 18.7% clip, a target share that would have ranked 21st in the league if extrapolated across a full season. With the Texans ranking 30th in pace of play (+/- six points), that meant that running backs were not getting the type of volume we are looking for to equate to consistent fantasy success. David Johnson would end up leading the backfield in targets (42) but would finish the year as the overall RB62. Houston's leading running back in terms of fantasy points would be Mark Ingram, who finished the year with 97.1 half-PPR points, good enough for the overall RB48.
If this is painting a bleak picture for Dameon Pierce's year one fantasy output, then I'm doing my job because that's exactly how I think 2022 is going to go for him; bleak. I don't see Pierce has the type of talent who is going to elevate the offense and make it into something it hasn't been since Deshaun Watson last took a snap in a Texans uniform. Though he has the surest chance at an immediate workload —behind maybe Breece Hall, Tyler Allgeier, or Kenneth Walker III— the ceiling on Pierce's rookie season is severely capped.
The best-case scenario for Pierce is to take the goal-line work for himself immediately, but on a team that is very likely to be a bottom-five scoring entity this season, how much is that honestly even worth?

Bottom Line