2022 NFL Draft: First Round Pick Odds, Predictions & Bets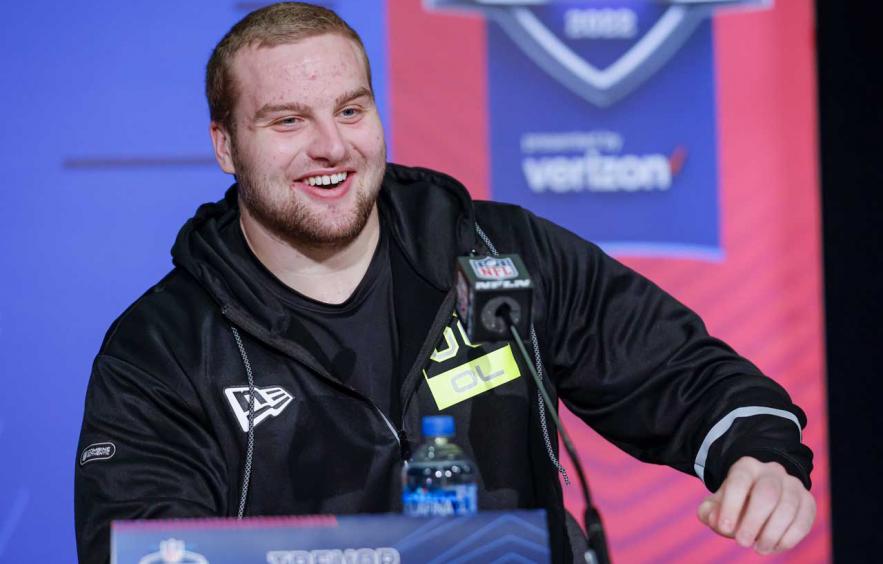 Michael Hickey/Getty Images
Every year someone asks me what my favorite time of the year is as a sports bettor. I'm sure they anticipate me saying the NFL or NCAAB season as those are the two core sports I bet on. The answer is neither one of those sports, though, it's the NFL Draft. Every year I have more action on the draft than half an NFL season combined. You might think that's insane but the reality is it's the softest market of the year, and it's solely information-based. Even if you have the right read on a football or basketball game, anything can happen. A corner trips and some fifth-string wideout burns the secondary for a 40-yard touchdown. College basketball's NCAA tournament has been coined "March Madness" for a reason.
In the NFL Draft, crazy things can happen relative to public expectation but there is no game to be played. It's just a group of people in a war room making what they consider to be educated decisions based on their evaluations and team needs. Reading the tea leaves, understanding each team and how they make decisions, as well as a few well-placed sources, can make betting on the NFL Draft extremely profitable. I'm coming off my fourth-straight year of beating the NFL draft prop market. We ripped off 12 units in the first round alone last year. If you want just our best bets, find out how to get a subscription ($179) for $10.
During draft season, I'll be breaking down a bunch of the different 2022 NFL Draft betting markets available on FanDuel Sportsbook. If you missed it, I already broke down both the top-5 and top 10 pick markets, as well as the first QB, first WR, first OL, first CB, and first RB markets.
---
2022 Draft NFL Draft Date & Time
Date: Thursday, April 28 (Round 1), Friday, April 29th ( Rounds 2 & 3) & Saturday, April 30th (Rounds 4-7)
Time: 8:00 PM EST (Round 1), 7:00 PM EST (Rounds and 3), &12:00 PM EST (Rounds 4-7)
Channels: NFL Network, ESPN & ABC, also FuboTV Livestream
---
More 2022 NFL Draft Resources: Mock Draft | Big Board | Dalton Kates' Prop Bets | Draft Podcast Notes | Move the Line Props Betting Tracker | Draft Betting Odds & Tracker
---

Odds to be a First-Round Pick
First-Round Pick Notes and Bets
Trevor Penning, OL, Northern Iowa
Odds: -700
O/U: 16.5
It's pretty surprising FanDuel is even offering Trevor Penning as an option. He is a potential top-10 pick with a floor in the late-teens. His odds of -700 convert to an implied probability of 87.5%. I would probably put this at 99%, barring a gas mask bong video or suffering a serious injury between now and the draft. A feature FanDuel just started offering is parlaying players in the same market. Including a guy like Penning in those is essentially a free-square.
Treylon Burks

, WR, Arkansas

Odds: -500

O/U: 22.5

Initially regarded by many as the No. 1 WR of this class, Treylon Burks disappointed at the NFL Combine, running a 4.55 40-yard dash. He is now likely to be a mid-first-round draft pick for those who want to trust the tape and don't believe in combine testing. He also recorded a top speed of 22.6 MPH during one game which would have been the fastest speed among all wideouts in the NFL last season. Burks has gone in 100% of sharp mock drafts over the past two weeks so I consider him to be a great bet here at -500 and another to include in your top-32 parlays.
Daxton Hill, S, Michigan
Odds: -160
O/U: 29.5
Daxton Hill is an uber-versatile athlete capable of playing both safety and potentially slot corner at the NFL level. His fit differs from team to team but the reality is he's capable of playing at multiple positions. He elevated his draft stock at the NFL Combine by sprinting for a 4.38 40-yard dash. Daniel Jeremiah has him ranked 19th among his top 50 players, which holds real weight in today's NFL world as Jeremiah has consistent communication with NFL front offices and worked in the Ravens' front office prior to becoming a media talent. I expect Hill to be a mid-to-late first-round pick.
Desmond Ridder

, QB, Cincinnati

Odds: -135

O/U: 31.5

Desmond Ridder is very much in play towards the back half of the first round. Multiple credible NFL sources have mentioned every team they talked to has a first-round grade on Desmond Ridder. I took a small position on Ridder being drafted in the first round as the Steelers (pick No. 20), Titans (pick No. 26), and Lions (pick No. 32) all need a quarterback to varying degrees. There is also the potential for a team trading into the back half of the first round for a quarterback in order to ensure they get his fifth-year option on the rookie deal.
Kyler Gordon, CB, Washington
Odds: -115
O/U: 33.5
Recent reports from plugged-in media members have said almost every team has a first-round grade on Kyler Gordon and no teams think he makes it to the second round. Given those reports and the number of teams needing secondary help in the back end of the first round, I would play this up until -130.
Tyler Smith, OT, Tulsa
Odds: +120
Tyler Smith comes in at 6-foot-5, 324 pounds. He could play tackle or guard at the next level. He performed well at the combine, posting an 8.76 relative athletic score (RAS). Among a poll from a number of executives Bob McGinn ran, Smith ranked right behind Trevor Penning. Tyler Smith is very much in play as early as the middle of the first round.
---
This article is intended for entertainment purposes and adult users only. Call 1-800-GAMBLER if you have a gambling problem