2022 NFL Draft: First Running Back Odds, Predictions & Bets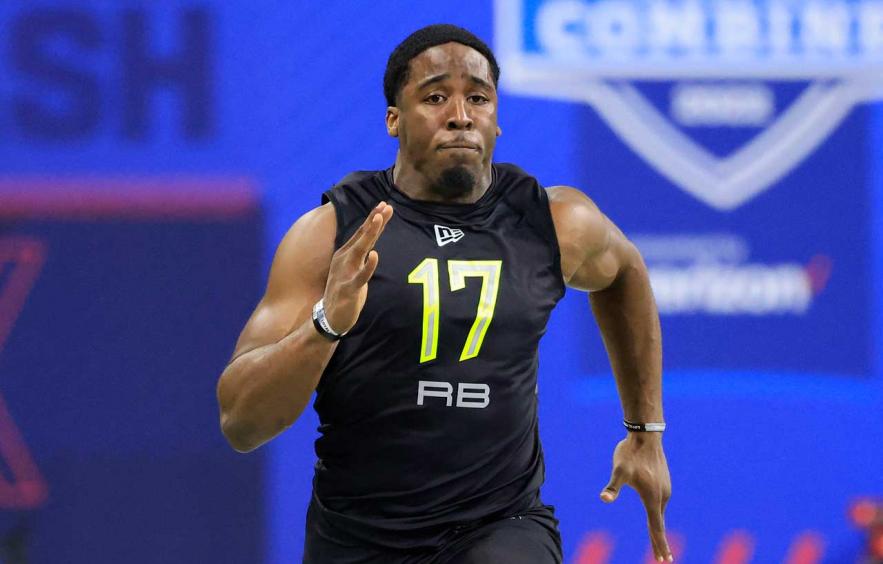 Justin Casterline/Getty Images
Every year someone asks me what my favorite time of the year is as a sports bettor. I'm sure they anticipate me saying the NFL or NCAAB season as those are the two core sports I bet on. The answer is neither one of those sports, though, it's the NFL Draft. Every year I have more action on the draft than half an NFL season combined. You might think that's insane but the reality is it's the softest market of the year, and it's solely information-based. Even if you have the right read on a football or basketball game, anything can happen. A corner trips and some fifth-string wideout burns the secondary for a 40-yard touchdown. College basketball's NCAA tournament has been coined "March Madness" for a reason.
In the NFL Draft, crazy things can happen relative to public expectation but there is no game to be played. It's just a group of people in a war room making what they consider to be educated decisions based on their evaluations and team needs. Reading the tea leaves, understanding each team and how they make decisions, as well as a few well-placed sources, can make betting on the NFL Draft extremely profitable. I'm coming off my fourth-straight year of beating the NFL draft prop market. We ripped off 12 units in the first round alone last year. If you want just our best bets, find out how to get a subscription ($179) for $10.
During draft season, I'll be breaking down a bunch of the different 2022 NFL Draft betting markets available on FanDuel Sportsbook. If you missed it, I already broke down both the top-5 and top 10 pick markets, as well as the first QB and first WR markets.
---
2022 Draft NFL Draft Date & Time
Date: Thursday, April 28 (Round 1), Friday, April 29th ( Rounds 2 & 3) & Saturday, April 30th (Rounds 4-7)
Time: 8:00 PM EST (Round 1), 7:00 PM EST (Rounds and 3), &12:00 PM EST (Rounds 4-7)
Channels: NFL Network, ESPN & ABC, also FuboTV Livestream
---
More 2022 NFL Draft Resources: Mock Draft | Big Board | Dalton Kates' Prop Bets | Draft Podcast Notes | Move the Line Props Betting Tracker | Draft Betting Odds & Tracker
---

First Running Back Drafted Odds
First Running Back Drafted Bets and Notes
Breece Hall

, RB, Iowa State

Odds: -250

Breece Hall originally opened at +200 to be the first running back taken. That number was swiftly gobbled up by sharp bettors and continuously hammered until he became a substantial favorite. At one point, Hall was as high as -300 to be the first running back off the board. He absolutely crushed the combine, posting a 9.96 Relative Athletic Score (RAS) out of 10. His score is in the top 10 of all running backs since 1987. He matched his athleticism with adequate college production, averaging 5.6 and 5.8 yards per carry the past two seasons, respectively, and rushing for 1,572, and 1,472 yards. Beyond his rushing prowess, Hall's greatest differentiator is his pass-catching ability. He caught 36 passes for over 300 yards last year. According to most scouts, rankings, and analysts, Breece Hall is the clear top running back in this class. For what it's worth, I also agree. The issue is, that's more than factored into his price.

The other concern is that Hall is not projected to be a top-20 pick. Once you get outside of the top-15 picks and head closer to the back end of the first round, it's extremely hard to project which teams like certain players better. We saw it in the 2020 NFL Draft where Clyde Edwards-Helaire was picked before both Jonathan Taylor and D'Andre Swift. Both of them had better profiles on paper and were around +200 to be the first RB Drafted while Edwards-Helaire was 5/1 or higher for most of draft season. Edwards-Helaire somehow snuck in there and was drafted by the Chiefs with the last pick of the first round, ahead of both Taylor and Swift. I'm not saying the same thing will happen here but there are other running backs further down the board who are better than Hall at certain aspects of the position. If Hall's odds were to move back to -110, I would play it, but at -250, I'm not touching it and would prefer to sprinkle some bets on a few longer shots in hopes of a 2020 repeat.
Kenneth Walker III, RB, Michigan State
Odds: +280
As I mentioned above, there are other running backs in this class with better attributes than Hall. Kenneth Walker III is regarded as the best "pure runner" in the class but only caught 19 passes in his collegiate career. This argument comes about every year that if a player didn't catch passes in college, he is incapable of doing so. That's not always the case but generally, when we look at prospects who don't catch the ball much in college, they generally don't in the pros either. I don't like to entertain the argument because there are examples on both sides but the reality is many front offices look at prospects that way.
That being said, Walker isn't a bad play at +280 considering he is likely an early second-round pick and Hall is likely a fringe first-round pick. If Hall falls into the second round I think the odds become much closer to 50/50 entering Day 2. Hall is still the favorite but shouldn't be -250 at that point. Right now the odds on a running back to be drafted in the first round are pretty heavily favored for there not to be one at -182 in round one. Given all the information we have, you are better off taking stabs at Walker or another player further down the board than Hall.

James Cook

, RB, Georgia

Odds: +3000

James Cook is getting buzz in some circles that he could go much higher than expected. The former Bulldog showed chops in both the rushing and receiving game. Cook was the second running back in the rotation behind Zamir White but recorded higher yards per carry and yards per reception numbers. No one will mistake him for a bell cow at just 5-foot-11,199 pounds, but teams looking to draft him probably envision some type of pass-catching-plus role, similar to Alvin Kamara. Cook also performed well in athletic testing, recording an 8.78 RAS score after running a 4.42-second, 40-yard dash. If you want to take a stab at a long shot, this is not a bad place to look. At 30/1 odds, the implied probability of this bet is 3.23%. I think the actual probability is closer to 10% and would sprinkle a small amount on this until 20/1.
---
This article is intended for entertainment purposes and adult users only. Call 1-800-GAMBLER if you have a gambling problem