2022 NFL Draft: First Wide Receiver Odds, Predictions & Bets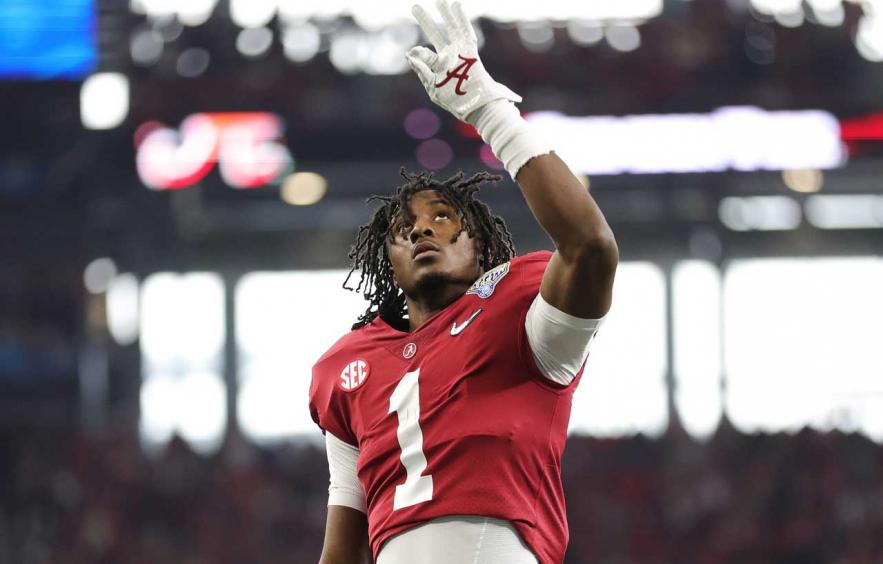 Carmen Mandato/Getty Images
Every year someone asks me what my favorite time of the year is as a sports bettor. I'm sure they anticipate me saying the NFL or NCAAB season as those are the two core sports I bet on. The answer is neither one of those sports, though, it's the NFL Draft. Every year I have more action on the draft than half an NFL season combined. You might think that's insane but the reality is it's the softest market of the year, and it's solely information-based. Even if you have the right read on a football or basketball game, anything can happen. A corner trips and some fifth-string wideout burns the secondary for a 40-yard touchdown. College basketball's NCAA tournament has been coined "March Madness" for a reason.
In the NFL Draft, crazy things can happen relative to public expectation but there is no game to be played. It's just a group of people in a war room making what they consider to be educated decisions based on their evaluations and team needs. Reading the tea leaves, understanding each team and how they make decisions, as well as a few well-placed sources, can make betting on the NFL Draft extremely profitable. I'm coming off my fourth-straight year of beating the NFL draft prop market. We ripped off 12 units in the first round alone last year. If you want just our best bets, find out how to get a subscription ($179) for $10.
Over the next two weeks, I'll be breaking down a bunch of the different 2022 NFL Draft betting markets available on FanDuel Sportsbook. If you missed it, I already broke down both the top-5 and top 10 pick markets, as well as the first QB selected market.
---
2022 Draft NFL Draft Date & Time
Date: Thursday, April 28 (Round 1), Friday, April 29th ( Rounds 2 & 3) & Saturday, April 30th (Rounds 4-7)
Time: 8:00 PM EST (Round 1), 7:00 PM EST (Rounds and 3), &12:00 PM EST (Rounds 4-7)
Channels: NFL Network, ESPN & ABC, also FuboTV Livestream
---
More 2022 NFL Draft Resources: Mock Draft | Big Board | Dalton Kates' Prop Bets | Draft Podcast Notes | Move the Line Props Betting Tracker | Draft Betting Odds & Tracker
---

First Wide Receiver Odds
First Wide Receiver Bets and Notes
Garrett Wilson

, WR, Ohio State

Odds: +150

Garrett Wilson has been viewed as the top wideout in the NFL Draft after Jameson Williams tore his ACL late in the college football season. Wilson stands at just 6-foot-0 and 192 pounds but he ran a 4.38-second 40-yard dash at the NFL Combine. His raw speed is good, but when adjusted for size, his overall Relative Atheltic Score (RAS) is just 7.7 out of 10. Good, but not necessarily elite. Wilson averaged 15.1 yards per reception in college and finished his collegiate career with a bang, racking up 126, 126, and 119 yards in his three final games as a Buckeye. Wilson is undoubtedly a strong prospect, but I'm not excited to lay the chalk given the next two prospects' prowess.
Drake London

, WR, USC

Odds: +200

Drake London didn't perform athletic testing at the combine so we are missing some information in regards to his overall profile but we know the kid can play. He led the FBS in contested catches despite only playing eight games. He racked up 1,087 yards in that eight-game span despite having erratic quarterback play. He finished with more receiving yards than Wilson despite playing in three fewer games. London only played in eight games due to a season-ending ankle injury—a small concern entering draft season. His recovery has been going very well, though, and he is expected to perform well at his Pro Day. Barring a catastrophic performance at his Pro Day, he should be a top-10 pick and is squarely in play to be the first wide receiver selected.
Jameson Williams

, WR, Alabama

Odds: +200

Jameson Williams would have been the consensus No. 1 WR in this class if he hadn't suffered a torn ACL in the National Championship game. He racked up over 1,500 yards on the season and shredded a loaded Georgia defense for 7/184/2 in the SEC Championship game. He was clocked running at 22.20 MPH last season, which would have been the fastest timed speed in the NFL last year.
The fastest ball-carrier in the NFL last year was Jonathan Taylor who reached a max speed of 22.13 MPH last year.



Jameson Williams hits 22.2 MPH here⚡️



(Tech from @RAanalytics)pic.twitter.com/opimACimJJ

— Connor Allen (@ConnorAllenNFL) April 15, 2022
We already took a pretty heavy position on his under at 16.5 and 14.5. In addition to that, we took him to go top-10 and top-five at longer odds. He is the best wide receiver in this class and his ACL recovery has reportedly been going smoothly. He'll likely start the season on the Physically Unable to Perform (PUP) list, missing the first six games of the season. Once he is fully recovered, he possesses game-breaking talent. The issue is betting him to be the first wide receiver. I think it is still worth a stab at +200 but would rather take him to go top-10 for a similar price. The reason is that there are multiple wide receiver needy teams inside the top 10, including the Jets, Giants, and Falcons. That makes up literally half of the top 10 picks considering the Giants and Jets both have two top-10 picks. My point is, there are paths Williams goes inside the top 10 but isn't the first wide receiver selected. There are fewer outs picking him as the first wideout off the board because it seems unlikely all of those teams would pass on a wide receiver. There will be at least one wideout in the top 10, if not all three of Wilson, Williams, and London.
Treylon Burks

, WR, Arkansas

Odds: +1600

Treylon Burks was regarded as one of the top wideouts in the NFL Draft but didn't perform well at the combine with just a 4.55 40-yard dash. His RAS score of 5.78 wasn't encouraging and made him fall a bit down draft boards. His current draft position over/under of 23.5 is about fair. It's tough to project him making the leap to be the first wideout selected when we have three strong options ahead of him.

Chris Olave
Odds: +2000
This is a mispricing but that doesn't make it necessarily a good play. Chris Olave's over/under is pretty widely 17.5, six spots higher than Burks'. The Washington Commanders have shown serious interest in Olave at pick No. 11. If for some reason none of the big three wideouts at the top go in the top 10 there's an outside chance they would pick Olave. I still don't think it's worth anything more than a speculative sprinkle if you really want action on this market. Both London and Williams are probably better bets to be the first WR taken at +200.
---
This article is intended for entertainment purposes and adult users only. Call 1-800-GAMBLER if you have a gambling problem