2022 NFL Draft: First Offensive Lineman Odds, Predictions & Bets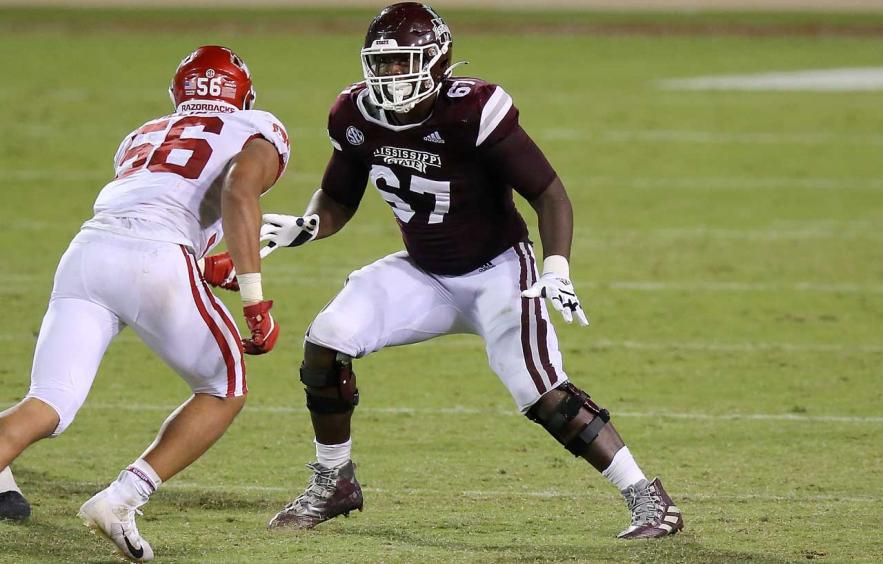 Jonathan Bachman/Getty Images
Every year someone asks me what my favorite time of the year is as a sports bettor. I'm sure they anticipate me saying the NFL or NCAAB season as those are the two core sports I bet on. The answer is neither one of those sports, though, it's the NFL Draft. Every year I have more action on the draft than half an NFL season combined. You might think that's insane but the reality is it's the softest market of the year, and it's solely information-based. Even if you have the right read on a football or basketball game, anything can happen. A corner trips and some fifth-string wideout burns the secondary for a 40-yard touchdown. College basketball's NCAA tournament has been coined "March Madness" for a reason.
In the NFL Draft, crazy things can happen relative to public expectation but there is no game to be played. It's just a group of people in a war room making what they consider to be educated decisions based on their evaluations and team needs. Reading the tea leaves, understanding each team and how they make decisions, as well as a few well-placed sources, can make betting on the NFL Draft extremely profitable. I'm coming off my fourth-straight year of beating the NFL draft prop market. We ripped off 12 units in the first round alone last year. If you want just our best bets, find out how to get a subscription ($179) for $10.
During draft season, I'll be breaking down a bunch of the different 2022 NFL Draft betting markets available on FanDuel Sportsbook. If you missed it, I already broke down both the top-5 and top 10 pick markets, as well as the first QB, first WR markets, and first RB markets.
---
2022 Draft NFL Draft Date & Time
Date: Thursday, April 28 (Round 1), Friday, April 29th ( Rounds 2 & 3) & Saturday, April 30th (Rounds 4-7)
Time: 8:00 PM EST (Round 1), 7:00 PM EST (Rounds and 3), &12:00 PM EST (Rounds 4-7)
Channels: NFL Network, ESPN & ABC, also FuboTV Livestream
---
More 2022 NFL Draft Resources: Mock Draft | Big Board | Dalton Kates' Prop Bets | Draft Podcast Notes | Move the Line Props Betting Tracker | Draft Betting Odds & Tracker
---

First Offensive Lineman Drafted Odds
| Player | Odds |
| --- | --- |
| Ikem Ekwonu | -150 |
| Evan Neal | +150 |
| Charles Cross | +600 |
| Trevor Penning | +7500 |
| Tyler Linderbaum | +7500 |
First Offensive Lineman Drafted Notes & Bets
Ikem Ekwonu, OT, North Carolina State
Odds: -150
Over/Under: 3.5
Ikem Ekwonu opened at 100/1 to be the No. 1 overall pick but started to pick up steam quickly when Daniel Jeremiah slotted him at No. 1 overall in a very early mock draft. Ekwonu is a physical specimen who ran a 4.93 40-yard dash at 310 pounds. He is a powerful run-blocker and adequate pass-blocker. I'm fairly confident the first two picks will be Travon Walker and Aidan Hutchinson. This would leave the Texans on the clock at pick No. 3 with Ekwonu, Alabama OT Evan Neal, and Cincinnati CB Ahmad "Sauce" Gardner still available. Reports have been pretty steady that most teams prefer Ekwonu to Neal but a Texans-specific rumor notes they prefer Neal to Ekwonu. This makes laying the juice at -150 a bad bet in my opinion. Even if you don't believe the Texans-specific report, it seems to be more of a coinflip than a 60% probability, which is what a -150 Moneyline suggests. If you get past the Texans, there is a good chance Ekwonu is the first offensive lineman off the board but that's a big if. Jets Insider Connor Hughes has mentioned multiple times the Jets would have a tough time passing on Ekownu, even though their plan is likely EDGE and WR at picks No. 4 and No. 10. There's a chance this market evens out prior to the NFL Draft starting, especially if we hear any more Neal-to-Texans steam. I won't be betting on Ekwonu unless that happens.
Evan Neal, OT, Alabama
Odds: +150
Over/Under: 4.5
Evan Neal is a three-year starter in the almighty trenches of the Crimson Tide, playing a different position every year. He started his career at right guard, moved to right tackle as a sophomore, and then switched to left tackle as a junior. The versatile lineman has been one of the favorites to go first overall since the odds re-opened a couple of months ago. He and Ekwonu now sit at 16/1 to be the first overall pick. As I mentioned earlier, the first opportunity for either lineman to be selected will likely be at No. 3 overall to the Texans. If I'm betting on this specific market, I would take Neal at +150 to be the first offensive lineman off the board because I believe the Texans take him. That being said, the best way to approach that theory is by betting on him to be the No. 3 overall pick, which is available at +300 or better at most books.
Charles Cross, OT, Mississippi State
Odds: +600
Over/Under: 7.5
The closer we get to the draft, the more condensed Neal, Ekwonu, and Charles Cross seem to be getting. Cross is a different prospect than either Neal or Ekwonu because he came from a Mike Leach offense where he racked up over 1200 snaps of pass-protection and did very little run-blocking. The New York Giants reportedly really like Cross, which puts him squarely in play to be the first lineman off the board. There's a very real scenario the draft starts with Travon Walker, Aidan Hutchinson, Ahmad Gardner, and Kayvon Thibodeaux at picks 1-4. In that scenario, the Giants will have their choice of any of the lineman and could very well opt to choose Cross if he is their favorite. The other way to bet on that scenario is by grabbing Cross at +400 to go No. 5 overall to the Giants. That's certainly a bit safer considering Neal or Ekwonu could go three, then Cross could go five and you would still win your bet with a juicy payout. I'm personally holding tight on this market but if you are looking to make a bet I think Cross at +600 is just as viable as Neal +150 to be the first offensive lineman off the board.

Trevor Penning, OT, Northern Iowa
Odds: +7500
Over/Under: 16.5
This probably shouldn't be 75/1 but his chances of climbing into the top five are slim-to-none. There are scenarios where the uber-athlete is scooped up by the Seahawks at pick No. 9, but none of the teams in the top five have been linked to Penning at all. It wouldn't surprise me if Penning went as high as No. 6 to the Panthers but that would still be a bit of a shock. Even though the odds should probably be closer to 30/1, you are still very likely wasting money betting on Penning to be the first lineman taken.
---
This article is intended for entertainment purposes and adult users only. Call 1-800-GAMBLER if you have a gambling problem