2022 NFL Draft: First Cornerback Drafted Odds, Predictions & Bets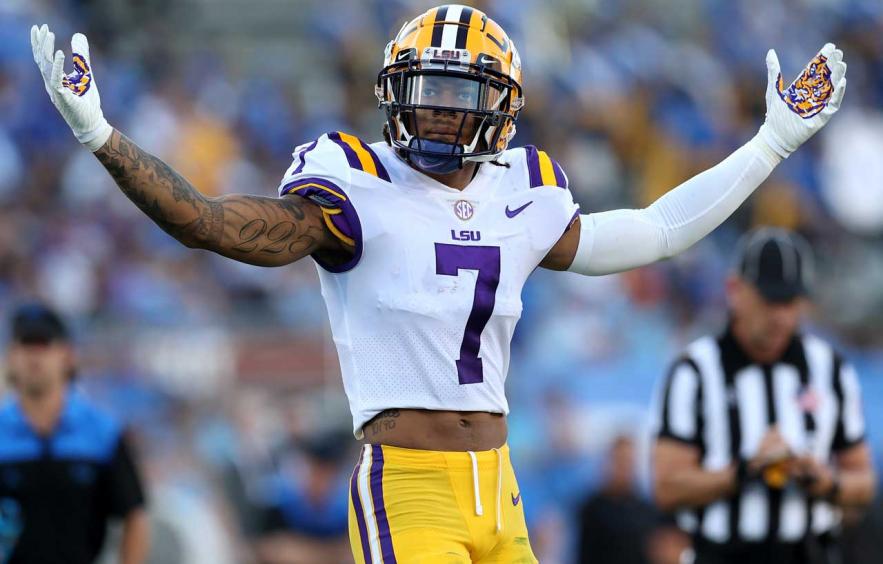 Ronald Martinez/Getty Images
Every year someone asks me what my favorite time of the year is as a sports bettor. I'm sure they anticipate me saying the NFL or NCAAB season as those are the two core sports I bet on. The answer is neither one of those sports, though, it's the NFL Draft. Every year I have more action on the draft than half an NFL season combined. You might think that's insane but the reality is it's the softest market of the year, and it's solely information-based. Even if you have the right read on a football or basketball game, anything can happen. A corner trips and some fifth-string wideout burns the secondary for a 40-yard touchdown. College basketball's NCAA tournament has been coined "March Madness" for a reason.
In the NFL Draft, crazy things can happen relative to public expectation but there is no game to be played. It's just a group of people in a war room making what they consider to be educated decisions based on their evaluations and team needs. Reading the tea leaves, understanding each team and how they make decisions, as well as a few well-placed sources, can make betting on the NFL Draft extremely profitable. I'm coming off my fourth-straight year of beating the NFL draft prop market. We ripped off 12 units in the first round alone last year. If you want just our best bets, find out how to get a subscription ($179) for $10.
During draft season, I'll be breaking down a bunch of the different 2022 NFL Draft betting markets available on FanDuel Sportsbook. If you missed it, I already broke down both the top-5 and top 10 pick markets, as well as the first QB, first WR, first OL, and first RB markets.
---
2022 Draft NFL Draft Date & Time
Date: Thursday, April 28 (Round 1), Friday, April 29th ( Rounds 2 & 3) & Saturday, April 30th (Rounds 4-7)
Time: 8:00 PM EST (Round 1), 7:00 PM EST (Rounds and 3), &12:00 PM EST (Rounds 4-7)
Channels: NFL Network, ESPN & ABC, also FuboTV Livestream
---
More 2022 NFL Draft Resources: Mock Draft | Big Board | Dalton Kates' Prop Bets | Draft Podcast Notes | Move the Line Props Betting Tracker | Draft Betting Odds & Tracker
---

First Cornerback Drafted Odds
| Player | Odds |
| --- | --- |
| Ahmad Gardner | -500 |
| Derek Stingley Jr. | +250 |
| Trent McDuffie | +2000 |
| Andrew Booth Jr. | +5000 |
| Kaiir Elam | +10000 |
| Tariq Woolen | +10000 |
| Kyler Gordon | +10000 |
| Roger McCreary | +10000 |
| Martin Emerson | +10000 |
| Marcus Jones | +10000 |
First Cornerback Drafted Notes & Bets
Ahmad "Sauce" Gardner, CB, Cincinnati
Odds: -500
Over/Under: 5.5
Ahmad "Sauce" Gardner is a lengthy cornerback who made a name for himself at Cincinnati by not allowing a single touchdown in coverage. He followed that up at the NFL Combine by running a 4.41 40-yard dash at 6-foot-2, 187 pounds. He has long been the betting favorite to be the first cornerback off the board but the steam in recent days has only increased his odds. I grabbed a small position on him to be the first cornerback at -300 a few weeks ago and now he is all the way up to -500. We also took a position on the under at pick number 8.5 and 7.5 in the 4for4 subscriber Discord. His over/under now sits at 5.5, which is about right.
Gardner is very much in play anywhere from pick No. 3 on and could go as late as pick No. 7 to the Giants. There has been a lot of buzz the Texans at No. 3 are very much in play for Gardner as he is someone who would instantly transform their secondary into a formidable unit. Odds of -500 is a lot of juice to lay and I'd probably prefer just taking the under on 5.5 if you really like him to be the first cornerback selected. Derek Stingley Jr. has also been getting a serious amount of buzz, so if Gardner falls out of the top five, your -500 first cornerback bet gets a little bit dicey. At that price, I'm staying away.

Derek Stingley Jr., CB, LSU
Odds: +250
O/U: 10.5
As I mentioned above, Derek Stingley Jr. has been getting some serious top-10 buzz as of late. It all started with his successful return from a Lisfranc injury he suffered in August of last season. He performed well at his Pro Day, running a 4.40 40-yard dash and recording a 38.5-inch vertical. The Giants are in the market for a cornerback and have long been linked to Gardner at picks five or seven but there is a real domino effect if Sauce is selected at pick No. 3. This could force the Giants to consider a player like Stingley at pick No. 7 to help fill some of their secondary issues. On top of that, Seahawks insiders have mentioned Stingley repeatedly as a target of theirs at ninth overall. His floor seems to be the Vikings at 12 overall as he would be a perfect fit and would get to work under fellow LSU alum Patrick Peterson.
How does this all factor into the first cornerback market? It helps to think about what scenario Stingley Jr. goes ahead of someone like Gardner. Admittedly, there aren't many. Dane Brugler mentioned the Texans have done serious research on both Gardner and Stingley but I think some of that is geared more towards their second pick at No. 13. It would also be a massive shock to pick Stingley at pick No. 3 over Gardner and their choice of any of the top tackles. I'm willing to throw that scenario out the window completely. Another scenario would be the Giants prefer Stingley to Gardner and it was a well-kept secret. If Gardner isn't picked third overall, I think the Giants picking Stingley over Gardner is the most viable path to Stingley being the first cornerback off the board. At +250, this converts to a 28.5% probability. I think that's a bit high and wouldn't really consider taking this until it was +400 (20% implied probability). Given it probably doesn't get there, I'm not making a bet on this market.
Best of the Rest
No one else in this class has much of a chance to be the first cornerback off the board. The next closest is Trent McDuffie, who sits at 20/1 to be the first cornerback taken and an over/under of pick 17.5. He is more of a mid-late first-round pick and has gotten zero top-10 buzz. The rest are fringe first-rounders who could even be closer to 200/1 to be the first corner, who you shouldn't consider.
---
This article is intended for entertainment purposes and adult users only. Call 1-800-GAMBLER if you have a gambling problem